I was recently sent some samples of Vovox Initio speaker cable and single-ended interconnect cable. You may have read Mike Peshkin's recent review of the Vovox Textura cable line here on PFO (see Issue 43 at http://www.positive-feedback.com/Issue43/vovox.htm), but if not, I wouldn't be surprised if this brand is new to you. Though not yet well known in the USA, Vovox manufactures cable for the prosound and recording industry, in addition to their line of audiophile cables.
A Swiss company, Vovox claims that their designs, which utilize solid core silver-plated copper, are based mainly on material science and not electrical engineering. By this, I assume they are referring to what their website calls "unusually large spacing between conductors" (see the pictures of the Initio speaker cable and Initio Direct interconnect).
Electrical engineering tells us that the wider the spacing between the conductors, the higher the inductance and the lower the capacitance. Vovox uses a wide spacing in both interconnects and speaker cables. Again, from the perspective of electrical engineering and based on the differences in voltage, current and impedance requirements of the two cable types and the equipment with which they will interface, it is common practice to make the interconnect as low in capacitance as possible, while making speaker cable as low in inductance as possible. This is done in order to maximize signal transmission within the audio band, without the cable acting as a filter. So, upon first seeing the Initio speaker cables, my eyebrows raised a bit in skepticism. The company claims that this wide spacing helps prevent detrimental magnetic field interaction between the conductors.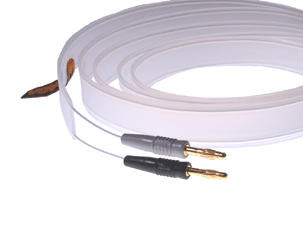 Once past my initial reaction, it was obvious upon inspecting these cables that they are manufactured to a consistently high standard. In addition to high quality conductor material, these designs are based on high purity, high tech plastics without plasticizers or color pigments. In their website FAQ, Vovox explains that their approach provides new insights that complement rather than contradict the electrical engineering viewpoint. The Vovox credo… "The clearer the sound that reaches the ear, the more it moves us".
Move Me
I decided to first install the Initio interconnect between my Esoteric DV-50 universal player and the preamp, and then move on to the speaker cables after my initial impressions. These interconnects are terminated with Eichmann Bullet connectors. In my experience, connectors are nearly as important as cables in reproducing a clean signal, and the Eichmann connectors are excellent.
My first musical selection was from the recent Doors box set called Perception (Rhino R2 77645). If you haven't seen or heard this, it is worth checking out. This is a DVD-A set containing each of the six original Doors albums. Each disk contains bonus tracks, and everything here was remastered by Bruce Botnick, the original Doors engineer and producer. There are also separate CD versions of each DVD-A disk, a real convenience and an added value for the set. In this instance, I picked the Morrison Hotel album.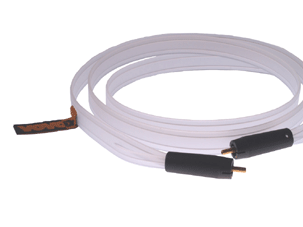 Listening to, among other cuts, "The Spy," I was struck by how smooth and extended the sound was. The DVD-A's higher resolution, especially in the treble, allowed me to hear what the Initio interconnect could do on top. This cable seems very evenhanded in its presentation, neither spotlighting nor obscuring the musical detail. Soundstaging was also well handled, the images being open and dimensional.
Next up, I spun the new (2007) John Fogerty CD, Revival (Fantasy FCD-30001). Cut 2, "Gunslinger," also exhibited some of the same overall characteristics of smooth extended sound. Fogerty's boogie factor was undiminished by the Initio interconnect. I did, however, feel that the bass was a bit lighter than with my standard reference Soundstring cables.
In order to get a better sense of the bass performance I spun the 2000 Steely Dan disc, Two Against Nature (Giant 9 24719-2). This disc has really good punch in the bass and lots of funk factor. The Initio interconnect did a good job of conveying the essence of this music. Dynamics were very good and though I did feel that the bass was less prominent, it wasn't enough so to be of major concern.
Movin' and Groovin'
At this point I added the Initio speaker cable to the system. My first musical selection was the eponymous Keb' Mo', 1994 (Okeh/epic EK 57863). I have several other discs by this artist, but this one is still my favorite. It is well recorded, with a rich intimate sound and excellent soundstage. All the positive things I've mentioned above about the Initio interconnect also apply to the speaker cables, with one interesting exception. The combination of the Initio interconnects and speaker cable completely eliminated my concern over bass performance. Obviously, these cables are intended to work well together, and they do, enhancing all the positive factors for smooth, open and detailed sound.
I played many other discs, including the Ray Charles SACD from 2004, Genius Loves Company (Concord SACD-1033-6); Muddy Waters Folk Singer on CD, originally released in 1964 and reissued by Mobile Fidelity as UDCD 593; Albert King/Stevie Ray Vaughan In Session SACD (STAX SXSA-7501-6); and Sonny Rollins Tenor Madness on SACD, a 2004 reissue of the original 1956 recording on Prestige PRSA-7047-6 with consistently good results.
Conclusions
I reread Mike Peshkin's review of the Vovox Textura cable line and noticed that he had similar things to say about those cables. To quote him, "Extension of highs and air is what this wire seems to excel at." There appears to be a family resemblance, in that the Initio cables could be described in much the same way. I very much enjoyed my time with these cables and found much to like about them. Compared to what you can pay for boutique audiophile cables these days, the Initio line seems reasonably priced and very well made. I predict that Vovox will enjoy a good future in the American marketplace if they keep to their current model.
I would also like to say a special thanks to Vinh Vu, the US distributor for his kindness and patience with me. My review process was somewhat delayed due to illness, and he was quite understanding.
As with any audio product, it is always best to try it in your own system to make sure that it is a synergistic match with your setup, and has a presentation that is to your taste. With that caveat, I can easily recommend these products. Will Wright
Initio Interconnects
Retail: 1 meter pair of Direct: USD $275, 1 meter pair of Shielded Protect: USD $325
Initio Speaker Cable
Retail: 250cm pair of single-wire cables: USD $275, 250cm pair of bi-wire cables: USD $500
Norvinz, Inc.
web address: www.norvinz.com
Norvinz is a marketing company representing several manufacturers including Sanders Sound Systems, Merrill-Scillia Research, RL Acoustics, TBI Sound and Ginko Audio.