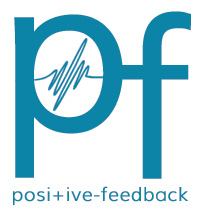 You are reading the older HTML site
Positive Feedback ISSUE
45

september/october 2009
Notes of an Amateur, September, 2009. Part I
by Bob Neill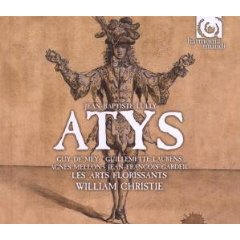 Jean Baptiste Lully, Atys, Les Ars Florissants, William Christie, director. Harmonia Mundi HML 5901257/59
Baroque opera, once we moderns come to accept it as oratorio rather than musical drama like its nineteenth century descendent, is a treasure trove. French baroque—Lully, Marais, Rameau, Charpentier—is harmonically rich and sweet, full of the spirt of dance and ceremony. But it also has a deliciously expressive and sensuous melancholy that escapes the operas of German/English Handel and Italian Vivaldi, who excel instead in melody and esprit. This particular quality of French baroque comes out as much in how the instruments are played as it does in the how the texts are sung.
Lully's Atys (1676) pretty much began French baroque opera and has remained a touchstone. Heard here with a gallery of the best singers of the time of the recording (1987) and led by the dean of the genre, American William Christie, who moved to France in 1970 to study and perform this music, it is a rapturous success. It has long been one of my favorite vinyl recordings. Harmonia Mundi have reissued it here on CD with a full libretto and handsome booklet, in celebration of the 30th birthday of Christies's group of singers and period instrumental musicians, Les Ars Florissants.
Christie and LAF made numerous visits to the US in the 1980's, mainly to the Brooklyn Academy of Music, to do full staged and costumed performances of several French baroque operas in an effort to restore to modern musical experience an aesthetic form lost to us for centuries. (He did a performing edition of Henry Purcell's The Fairie Queene in Boston's Jordan Hall that was the most moving musical experience I've ever had.) Christie made these trips to the US in the belief that unless we heard this music 'live' so we could immerse ourselves in the world it creates, there was no way we could begin to apprehend its lyrical power. To get past the artificiality of the form alone is a challenge for most of us who are not students of baroque music. You have to hear through the elaborate artifice, suspend disbelief; and Christie believed that would require a restoration of the 'live' experience. I think he underestimated us, but who knows? The performances at BAM were a huge commercial success, and the end result of his work is that baroque opera has become a going concern for the recording world for a generation now. That Harmonia Mundi can release recordings of most of Handel's operas and Opus 111/naive virtually all of Vivaldi's operas is probably a tribute to the groundwork done by Christie.
I think Harmonia Mundi chose the right recording to reissue and urge especially those of you for whom this genre remains exotic and alien to have a taste.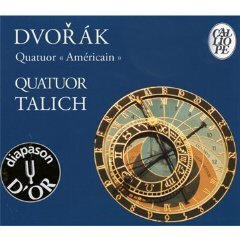 Dvořák, Quartets No. 11 ('American') and No. 12. Talich Quartet. Calliope CAL 4617.
This is a reissue of an extremely well received recording of two of Dvořák's most popular quartets by the 'original' Talich Quartet, which evolved into the 'new' Talich Quartet around a decade ago, when the senior Jan Tallich (violist) retired and the younger Jan Tallich (first violin) took over. I could tell 'the why' of this reissue after just a few notes. This original group is a more beautiful sounding ensemble, and the analogue tape from which this new re-release is made reinforces this quality. This is a truly lovely sounding CD, which probably compares favorably with its vinyl original released in 1976. The new Tallichs are a more vibrant and exciting ensemble. I love vibrancy and excitement but beauty gets me every time. These are probably performances the composer would recognize and favor, but who knows?
The 'American' Quartet was composed in the U.S. the same year (1893) as Dvořák's justly famous and admired Symphony No. 9 'For the New World,' and has much the same feel to it. The composer claims its vision is more rural than that of the symphony. Quartet No. 11 was written two years earlier back home in Czechchoslovakia.
For those unfamiliar with his work, Dvořák has a characteristic sound, which comes through in the lyrical quality of the writing and in an overall 'lightness of being.' He has the spirit of a romantic but a classical love of clear textures and lithe movement. Even his passion is notable for its grace.
It is easier to prefer the dark richness of Brahms and the high energy and balletic verve of Tchaikovsky, Dvořák's principal contemporary peers, and CD sales figures and concert listings tell us that many do. Dvořák is often lost in the romantic crowd. But his body of work—especially the late symphonies, cello concerto, and chamber music—is among the best.
This is extremely enjoyable music, wonderfully played, and at mid-price a true bargain as well.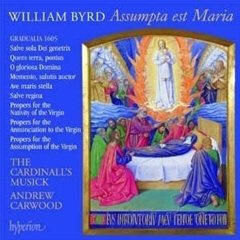 William Byrd, Assumpta est Maria. Propers for the Nativity, Annunciation, and Assumption of the Virgin. The Cardinal's Musik's Byrd Edition, Volume 12. The Cardinal's Musik, Andrew Carwood, director. Hyperion CDA 67675.
To my musically enthusiastic but unschooled ears, English renaissance choral music is less refined and a bit more earthly than its European counterpart. It took me some time away from the ultra-refined Tallis Scholars, who tend to etherealize everything they sing (to great effect) from either side of the Channel, to come to this view. I enjoy and admire Flemish Josquin and Italian Palestrina, as I should. But William Byrd calls emotionally in ways his continental peers don't quite. And as performed by Carwood's (who himself sings with the Tallis Scholars these days!), ensemble, Byrd has even more than his customary appeal.
Unless you know Latin, renaissance choral music is essentially instrumental music for the voice. It is also music that is more abstract than melodic, moving lines of harmonic sound which suggests melody but resist its directness of appeal. It is music we must go to and ride with; it seldom comes to us. With Byrd, I have always found this easier than with many others, perhaps for the reason I began this note with: Byrd's conception of religious meaning as conveyed by music is more appealing than exalted.
Carwood's group has dedicated itself primarily to recording English music for over twenty years now, having given us substantial editions of Nicholas Ludford, William Cornish, Robert Fayrfax, and the first nine volumes of their Byrd edition all on ASV before moving to Hyperion. The Byrd Edition has now reached twelve volumes, the most recent three for Hyperion.
This CD is a fine place to enter the stream.
System used for this audition: Audio Note CDT3 transport and Dac 4.1 Balanced Signature. Blue Circle BC 3000II GZpz preamplifier and BC204 amplifier. Jean Marie Reynaud Orfeo loudspeakers. With Blue Circle BC6000 line conditioner. Audio Note Pallas and Sootto interconnects; Audio Note Sogon speaker cables.
Bob Neill, in addition to being an occasional equipment and regular music reviewer for Positive- Feedback Online, is also proprietor of Amherst Audio in Amherst, Massachusetts, which sells equipment from Audio Note, Blue Circle, and JM Reynaud, among others.