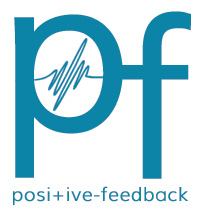 You are reading the older HTML site
Positive Feedback ISSUE
45

september/october 2009
Notes of an Amateur, October, 2009 Part 2
by Bob Neill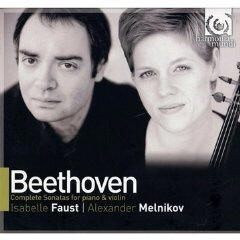 Beethoven, Complete Sonatas for Piano and Violin. Isabelle Faust,violin; Alexander Melnikov, piano. Harmonia Mundi. HMC 902025/27
Albums like this one cater to those of us who like to go after a large block of a single composer's oeuvre in search of some additional insights into to his or her musical identity and sense of the world. With a minor composer, one who had a few great creative moments or who has one good musical idea that gets repeated over the course of a career, this is not very rewarding. But listening to all of Bartok's or Shostakovich's string quartets or all of Schubert's piano sonatas can give a different kind of reward than listening to one work.
Beethoven's ten sonatas for piano and violin have always appealed to me singly but I've never really taken a week and turned it over to them. Isabelle Faust's and Alexander Melnikov's new release of the ten in one album, the result of a sustained study by the two musicians (discussed and demonstrated by them in the album's accompanying DVD), was just what was needed to get the project going. The last time I listened to several of the Beethoven sonatas at a go, they were played by Pamela Frank, violin, with father, Claude Frank playing piano. Their approach wears well. Predictably less romantic and less conspicuously beautiful than the better known version by Gidon Kremer and Martha Argerich. Very satisfying.
Isabelle Faust was one of Harmonia Mundi's "nouveaux interpretes" at the turn of the new century, and she has since become one of their most recorded musicians. Melnikov is an established soloist and accompanist, whom we have heard with the likes of violinist Vadim Repin, and cellists Trüls Mork and Jean-Geihen Queyras. Together, they come at Beethoven with an 'expressive' style—and Melinokov is a full partner—these are true duets. Nobody is accompanying anybody; or rather, Beethoven passes the lead back and forth. Faust's tone is exquisite, a quality that comes through even in bold and incisive passages. Melnikov is percussive, his notes remarkably clear. He is also an accomplished performer on the forte-piano, which is reflected in the clarity of his playing style. Compared with the Franks, there is more intensity here from both musicians. Where the Franks flow, Faust and Melnikov twist, jump, pounce, whisper. There is more drama, understood in the sense of conflict, contrast. And individual phrases, individual moments—even sometimes individual notes—seem to have lives of their own that we are irresistibly drawn to. We do not flow from one phrase to the next. The music is restless. The Franks are more easy-going, Kremer and Argerich more rich and rapturously tidal. Both are less restless and less lucid than Faust and Melnikov. Even the most melodic passages in the hands of Faust and Melnikov have an urgent clarity I haven't heard from any other performers of this music.
So who is Ludvig Van Beethoven, according to this music and in these performances? A passionate Mozart bursting the seams of the classical style. Faust's and Melnikov's Beethoven helps us understand both the eighteenth and nineteenth centuries and feel an inevitability in the arrival of the latter - feel how inevitable it must have felt to Beethoven himself.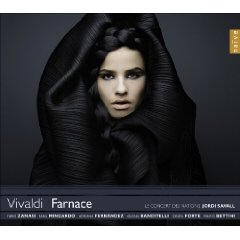 Vivaldi, Farnace, Le Concert de Nations, Jordi Savall, director. Naďve OP 30471
As I wrote recently in a review of Lully's opera, Atys, many of us unschooled lovers of baroque opera have come to listen to it as oratorio rather than as opera: to hear it as pure music rather than music drama. That is likely our loss, but recovering the past in the case of baroque opera is a formidable challenge for the modern imagination. The melodramatic classic nineteenth century opera is already a challenge for many.
I enjoy Vivaldi's operas more than those of his contemporaries Handel, Lully, Charpentier, and Rameau, as rich as they are, primarily because the Italian composer's capacity for melodic imagination is so great. His style is neither complex nor particularly variable, which fools casual listeners into thinking he lacks the very thing in which he excels. It is the brilliance and emotional interest that emerges from inside Vivaldi's style that is his glory. And this comes out in his operas even more than in the many concertos for which he is best known.
Farnace is the twelfth release of operatic material in Naive's ongoing Vivaldi Edition—"the most ambitious recording project of the 21st century. It's principal objective is to record the massive collection of Vivaldi autograph manuscripts preserved today in the Biblioteca Nazionale Unversitaria in Turin, some 450 works."
This particular recording was released in 2002 on Savall's own label, Alia Vox and is being re-released now as part of the new Alia Vox - Naive collaboration. It is a superb recording and performance. Clearly Savall was drawn to this particular work because he knew he would show off his troops at their best. Once heard, it is almost impossible to keep the music out of your head for days at a time. So consider this a recommendation by both Savall and Neill as a great place to stick your toes into the rich melodic universe of Vivaldi opera.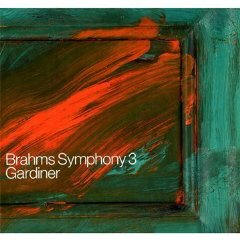 Brahms, Symphony No. 3 (and six choral works). Orchestre Révolutionnaire et Romantique, Monteverdi Choir. John Eliot Gardiner, director. Soli Deo Gloria SDG 704.
That John Eliot Gardiner's Brahms symphony cycle comes with modern abstract paintings on its outside sleeves is presumably no accident. Gardiner, who presumably approved the images, understands that the 'period music' movement at its most enlightened is not an antiquarian project but rather a modernist one, an attempt to cleanse pre-twentieth century music of the varnish with which its mid-twentieth century interpreters covered and darkened it and to give it a form we moderns can respond to naturally.
And Gardiner is not only out to find new life in Brahms' symphonies but also a good deal of his choral music as well. What this means for the five choral works that introduce this CD and the one that closes it, is quite literally to lighten them: they are less weighty sounding and lit, not from within in the Rembrandt way we usually hear it, but from without. The effect of this approach to the choral music is not to thin it but to remind us that Brahms himself looked back to the music that preceded him more than to the music around him in the age we have come to call 'romantic.' It is no coincidence that Gardiner comes to his Brahms project from his Bach cantata cycle.
The lightening and lighting of Symphony No. 3, the main work on the program, gives us a swirling 'romantic' style but on an eighteenth century orchestral scale, which is also the early twentieth century style of the neo-classic modernists! Textures and individual instruments are clearer than we are accustomed to with Brahms. Feeling is closer to the surface rather than buried deep out of sight. We are not so far from Mahler as we imagined. The idea that authentic feeling lies deep in the psyche rather than in complex variations dancing in and out of the trees of our daylight consciousness is not so convincing as it once was. Some of what Gardiner is taking off Brahms here is Freudian varnish, just what Boulez takes off Mahler.
Gardiner is not the first to find a modern aesthetic in Brahms. Roger Norrington's Brahms symphony cycle in the mid 1990s for EMI (not to be confused with a new set on DVD released in 2006) has always been one of my favorites but has left the catalog. I won't throw out my Norrington, but there is something special about the Gardiner.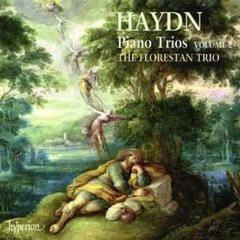 Haydn, The Piano Trios. Volume 2. The Florestan Trio. Hyperion. CDA 67757
In this second volume of the Florestan Trio's Haydn Piano Trios, I hear something I skipped over or took for granted in the first, a sophisticated puckishness. This is an essential element of Haydn that the last generation of performers underplayed and that some of the 'early music' groups overplay, turning it into something less appealingly else. Pianist Susan Tomes sets the tone with the exquisite taste for which she is noted. She colors her evident affection for the music with a touch of the gallante, resulting in an eighteenth century elegance that is knowing as well as charming. Anthony Marwood, one of the world's most versatile violinists (his recording of Ades' new violin concerto is due out 'soon'), shares Tomes' understanding of Haydn. And appropriately light but sure handed cellist Richard Lester, in the continuo role the composer assigns him, keeps the spirit of the performance consistent. A heavier hand would have killed it.
Haydn's piano trios are among his very best music. In his singularly broad oeuvre, which includes great numbers of symphonies, string quartets, piano sonatas as well as concertos, oratorios and operas, a case could be made that these trios (there are 45 of them in all) are the most perfect and eloquent of his creations. An even stronger case could be made that the Florestan Trio have become the best piano trio we have. The level of their excellence has not declined through a recorded and performing repertoire that now includes, in addition to Haydn, Mozart, Beethoven, Schubert, Schumann, Brahms, Mendelssohn, Dvorak, Faure, Debussy, Ravel, Martinu, Saint-Saens, Smetana,and Ysaye. There are currently nineteen CDs available. A visit to their website, www.florestantrio.com, offers a modest hint of their accomplishments.
I urge you to buy their new Haydn and to check our their concert schedule on the website. They are due back in the U.S. in 2020.
Systems used for this audition: Audio Note CDT3 transport and Dac 4.1 Balanced Signature. Audio Note M6 preamplifier and Neiro monoblocks. Audio Note E/SPe HE speakers. Audio Note Pallas and Sootto interconnects; Audio Note Sogon speaker cables.
Bob Neill, in addition to being an occasional equipment and regular music reviewer for Positive- Feedback Online, is also proprietor of Amherst Audio in Amherst, Massachusetts, which sells equipment from Audio Note, Blue Circle, and JM Reynaud, among others.