Among the last of the larger investments for many audiophiles, if at all, is a purpose designed and built audio rack. For years I relied on a $325 Studio Tech four-platform rack that did me well, at least as far as I knew. However, like power cords or dedicated circuit lines, there comes a time when a serious audio rack should be considered. That time came for me earlier this year.
Practicality mandates that an audiophile rack be selected based on design, looks, function and performance; all to a much greater extent then most components reviews. Given my system shares space in our "family" (man cave) room, appearance was almost as important as getting a rack that would eek out the last bit of performance from my carefully selected system.
Prior to committing to the Audiav Reference Rack's Zirconia, which is the subject of this review, I had contacted no less then 5 other manufactures. One, an upstart, invited me to visit the designer's home where a new and "unique" rack was unveiled. Unfortunately, the system used to demonstrate the "complete system" was so ear-bleedingly poor, I had no reference point by which to compare the contribution of the rack. Further, the design, yet innovative, was simply impractical. The other companies' were more traditional and likely known to most audiophiles. One company, after exchanging several emails and my decision to go forward with their product, simply stopped communicating. I called and emailed but got no responses. I mention these only to demonstrate the lengths I was going to find a decent rack that looked good and performed excellently. And to infer the importance of customer service and support, which should be carefully considered for a rack purchase like any other component.
From my first contact with Audiav's Jared Poiry, there was a difference. Jared was certainly more interested in his own products than any of the other company's I spoke to, and his desire to satisfy the customer was more than apparent.
So, excited about Jared's enthusiasm to get his product some exposure, I moved forward with Audiav. The company has three product lines: the Zirconia being the "entry level" rack, followed by the Crystal, and then their all out Diamond racks. All their designs can be built to the customer's exact specifications and desires. While they do have "standard" multi-platform racks and amp-stands, having a rack configured for your own specific needs costs no more and includes as many "CAD" mock ups as needed to get it right. I went through at least four or five iterations before I decided on the layout for my own rack.
What started out as a standard four-platform systems with a couple of amp-stands, evolved into a two-column rack of varying heights.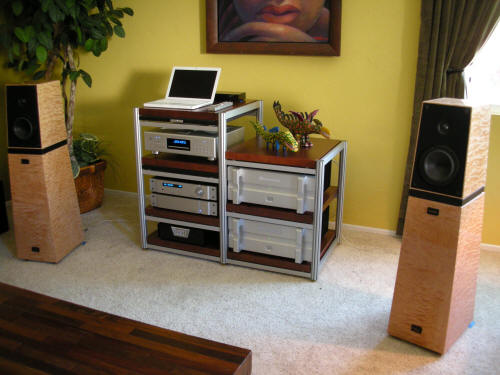 In general, each Audiav line is a system of shelves, crossbars, and bracing that is assembled by the end user, including of course, the Zirconia. Think IKEA construction on steroids. The Zirconia's bracing and cross-bars are attached to main "pillars" with unique "clamps" which bite into the CNC's groves of the pillars. In the end, each hand made platform sits on four sorbothane half-balls stuck onto the front and rear support bars. Assembled correctly, these points of contact are the only contact point between the shelving and the rack; each platform is designed and built with the corners concave cut to avoid any contact with the pillars.
The shelves, or "platforms", come in a multitude of color/finish options (including carbon fiber) and several configurations, I ended up using the "standard" 1 ½ " thick shelves for all but two "Signature" shelves, which are not only a 1 ½ " thicker than the standards but that mass is gained by additionally layers of damping materials. Audiav advertises the Signature Platforms as having the following:
Nineteen (19) Specific Material Layers

Three (3) Stage Vibration Decoupling

Dual, Specialty Fabricated Viscoelastic Pads

Military Grade Elemental Shielding Plates

Genuine Resins and Asphalt Copolymers

Multi-Band Interference Shielding Plates

Inherent Wide-Band Radiation, X-ray & Beta Control

Electro-Static Discharge (ESD) Protection

Complete Thermal / Heat Transference Blocking

Quad HPL Coated, Inert Mineral Layered Composite

Scientifically Proven Ferrite and Non-Ferrite Plate Spacing

Thicker Platforms Also Add Greater Weight Handling
One of the Signature platforms is being used under my Cary 306 Pro SACD/CDP and the other under my MacBook and external HD. They cost more then the standard but are well worth it when placed under your more sensitive gear.
Aesthetically I couldn't be more pleased. With the Audiav's assistance and patience I was able go through several iterations before I settled on a design and layout. As you can see, it is consistent with the silver look of my equipment; the aluminum cross-bars against the darker maple shelves made for a sharp and decidedly contrasting look.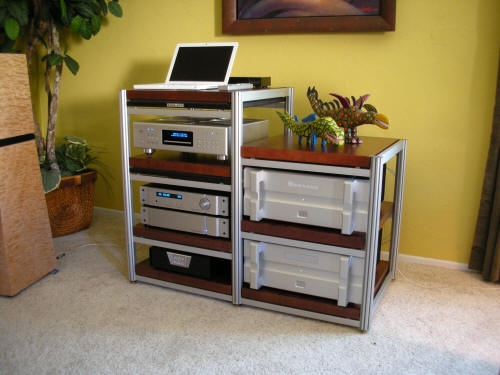 As noted, packaging was first class. Each piece was individually wrapped and many were boxed individually. Assembly was not overwhelming in the least and once you went through the process of attaching one front/rear bar/cross-bar to the pillars, you pretty much are set. Close attention has to be paid to leveling the bars, which in turn, levels the platforms - as well as the specific heights to allow your equipment to fit in as intended. Finally, I learned the clamps are not screws. The more you turn the locking mechanism does not imply it is now tighter to the pillar. Once lined up and laid out, a 180 degree turn of the clamping mechanism is all that is required; no less and no more.
As for the impact on the sound—I liken the audible improvement to the decision I made a few years ago to use the same brand and model range for all my wires from the wall to the speakers: Crystal Cable Reference Connect. As reported, using a complete system of similarly designed wires brought a synergy to my system(s) I had never before realized.
With the Zirconia, those previously set boundaries of synergy was pushed even further. Any bit of digital edginess (which was marginal at best) that could have been identified in my system's sound were now settled and washed away. Not that the rack dulled the sound, that it certainly did not. It's just that it was brought together a "whole" a bit more than it had sounded prior to the Zirconia's insertion into the system. I cannot say the improvement was "like a newly opened window" or that it "transformed" the signature of my gear, but the change was audible and most importantly, an improvement.
Improved in the way the sound is transmitted and received. No one area of the frequency range was accentuated or diminished. It was more of an overall "raising of the bar". Same sound; just more refined and more synergistic. Bass notes were a touch clearer and more stable, but not significantly deeper or tighter. Midrange became more enticing and enveloping, but sounded as real as they had prior to placing the rack in service.
On the other hand, if I had to say any one area had improved more than any other, it was my computer based output. This, I credit the Signature platform as much as the rack as a system, which the MacBook and external hard drive are sitting atop. To say that I have been impressed with the advancements in computer audio would be an understatement. Before I installed the Zirconia, I listed to digital files 80% of the time; since the Zirconia, I listen via the MacBook 98% of the time. That is the highest complement I can give this rack system and that is saying a lot. That last few percents of refinement is typically very expensive and out of the reach of many audio nuts. While my particular designed rack is not cheap, a standard 3 or 4 platform design is affordable and one can later add a Signature platform or two and then a couple of amps stands. With that, you are good to go. Before the Zirconia, I had the MacBook sitting on a Symposium Svelte shelf and while it was certainly better then Studio Tech rack, the Zirconia added more refinement while greatly diminishing the sound of digital artifacts.
A rack is a difficult product to review and can be even more difficult to fully appreciate. Regardless, if your system is refined and sensitive enough to appreciate the compliment of a good rack, then you owe it to yourself and your system's performance to eek out its very best. The Zirconia certainly did that in terms of me getting that last bit of refinement and synergy; most of which I didn't even know was lacking. Interestingly enough, as I sit here drafting this review, I have an electrician in the house pulling a dedicated direct 20 amp line for my Bryston 28B SST Sq. I am doing so for more pragmatic reasons than the foreseeable audible benefits, but with the Zirconia rack in place I am more than confident that should this direct circuit and cryo-treated outlet improve the sound, the rack will convey every bit of such an improvement. Truth be told, I am more confident in the rack itself than I am the electrical work actually improving my amplifiers' performance. (I have gone out kicking against such minute tweaks as being really worth their costs; and each time I end up being wrong).
Also, should my (or your) needs and equipment change in the future, all Audiav racks are infinitely adjustable and easy to add or subtract pillars, cross-bars, and shelves. Finally, I would be remiss if I did not point out the cabling management systems Audiav offers. Various sized "boxes" slip into the pillar groves and guide the cabling in a neat and orderly fashion between components. I have three rectangular, but hollow boxes, attached to the back of my rack. With these in place it no longer looks like the rats' nest it once did. Aside from the aesthetic value, the cable management system makes it so much easier to keep the "what goes where" straight.
I can, and do, fully recommend the Zirconia rack system; and just as important I wholly recommend Audiav and Jared Poiry. My experience from design to assembly was a very good experience. The Zirconia is worth it. I am so pleased I spent the time and effort I did to research and select Audiav and the Zirconia. The rack improved my musical experience and I am looking forward to many years of enjoyment. Yes, I am the proud owner of this beautiful and functional rack. John Brazier
Zirconia Rack
Approximately $5000 for the rack as configured. Contact Audiav for pricing.
Audiav
web address: http://www.audiav.com