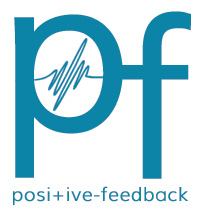 You are reading the older HTML site
Positive Feedback ISSUE
45

september/october 2009
Wonderful Classical Releases from Naxos, Chandos, LSO, and more.
by Karl Lozier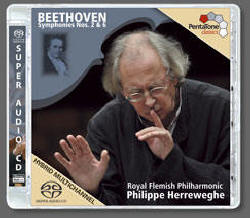 Beethoven, Symphonies Nos. 2 and 6. Orchestra: Royal Flemish Philharmonic. Conductor: Philippe Herreweghe. PentaTone Hybrid Multichannel SACD PTC 5186314
Many music lovers consider legendary composer Ludwig Beethoven's nine symphonies to represent his greatest achievements. If so, the best of them are generally considered to be the third, fifth and the extraordinary ninth (choral symphony). Personally, I think symphony number seven deserves to be included in that group. No matter, neither of the two symphonies reviewed reviewed here are included in the "famous" grouping". Listeners often are uncertain whether to include his symphonies one and two with the preceding eras featuring Mozart and other strictly "Classical Period" composers. Symphony number three by Beethoven is universally agreed to be of a new era or musical period introduced and dominated by the great Beethoven.
Conductors have or take some latitude in performing or perhaps, at times, almost interpreting the composition they conduct. Here conductor Herreweghe leans toward the later or mature Beethoven by giving us a powerful performance with strong hints of what Beethoven would eventually be offering. I have often slighted my time with Beethoven's second symphony but no more. Here is a superb performance of an often neglected work. The orchestra is fully up to the conductor's leadership and is beautifully recorded, easily revealing the beautiful effort by the strings. This, as usual is particularly evident from the SACD layer of the disc. The beautiful sixth symphony is an old favorite of mine though it is not typical Beethoven. This "Pastoral" symphony is many things though not of "Beethoven at war with the gods". In the golden-age of recordings some conductors displayed special affinity to this piece. I remember Bruno Walter and Pierre Monteux bringing out more of the countryside's beauty than others did. Whatever subtleties that might remain hidden here, are easily balanced by the outstanding playing of this relatively unknown to me, Royal Philharmonic Flemish Orchestra. The audio quality is again not to be faulted, with a particularly clearly defined and detailed treble range while letting every detail of the middle and bass ranges to be fully revealed. An excellent release in all respects and quite a value with well over an hour of satisfying music, limited possibly only by the quality of your player, hopefully a fine SACD model. For beginning classical music lovers, many would not consider these two compositions to be part of a basic collection for Beethoven, though I would never be without a fine recording of his sixth symphony and this recording is particularly fine.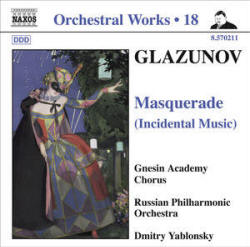 Alexander Glazunov, Masquerade (Incidental music). Two Pieces for Orchestra Op.14. No.1 : Idylle. No.2 : Reverie orientale. Pas de caractere, Op.68. Romantic Intermezzo, Op.69. Orchestra: Russian Philharmonic. Conductor: Dmitry Yablonsky. Chorus: Gnesin Academy. Naxos Orchestral Works CD 8.570211
Glazunov is not quite as well known as some of the other Russian composers active almost a century ago. After studying with Rimsky-Korsakov, he eventually was regarded as one of the circle of Russian composers that somehow combined a bit of the others better attributes into some of his compositions. He can be counted on, as with other Russian composers of his era, to give us attractive and very melodic music- no harsh modernistic compositions. Here the featured incidental music to an earlier play is almost immediately appealing, melodic in the extreme and simply out going and uplifting. It is simply meant to be enjoyed for the most part. Colorful scoring, common among other Russian nationalist composers, is abundant here.
Fortunately the Naxos recording delivers their increasingly common fine, solid audio qualities without noticeable faults. Adding distinctive and very attractive accents and atmosphere is the fine choral accompaniment at very appropriate times. Yes, this is appealing music that can easily appeal to classical music newcomers. Look closely at the titles of the other shorter pieces offered here. The words in the titles are accurate descriptions of the aural effects of the flowing longer lines of music they contain, Idylic, Reverie and Romantic. A reasonable introduction to Glazunov's music, though not his best known compositions, offers listeners a fine variety for listening pleasure. A very enjoyable release with excellent orchestral playing, excellent choral accents and a fine recorded audio quality makes recommendation easy.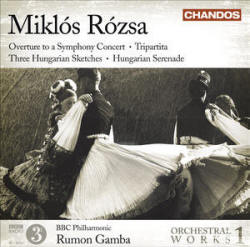 Miklos Rozsa, Orchestral Works, Volume 1. Overture to a Symphony Concert, Three Hungarian Sketches, Tripartia, Hungarian Serenade. Orchestra: BBC Philharmonic. Conductor: Rumon Gamba. Chandos CD 10488
If the name Miklos Rozsa sounds familiar to you it is because he was so famous and prolific as the composer of ninety-five film scores, including many of the most famous movies of all time, while receiving thirteen Oscar nominations! However he led a true double life as a composer. His unique movie contracts allowed him to spend summers in Italy and there write only serious or classical music. He seemingly did not allow his compositions to intermingle. His film music stayed in the movies, period. He seemed proud to keep the two careers entirely separate and mentioned it as not being like other film composers. Even so, at times listening to these selections, I wondered what sort of film or film scene they would serve as audible background. My familiarity with his movie scores never strayed far for me.
It would require far too much space to try to describe the many selections (and their sections) on this excellent new release. So I will use a broad brush to try to paint them pretty much together. Melodic and outgoing in nature are accurate beginning comments. To those, are added variety and upbeat with no hint of modern or atonal irritations. His scoring is very colorful with great use of horns and brass, naturally recorded here with hints of band music. Variety is great and the feeling of being familiar with the music is often present. Those featured sections of the orchestra are simply playing without fault. Not being very familiar with Rozsa's classical music I can easily say that is hard to imagine it being better played. I enjoyed every bit of it. The Chandos recording is simply excellent and as many of you know, they routinely use 24-bit recording technology instead of the usual 16-bit technology. Years ago attending workshops given by audio research experts, many of them believed that anything greater than 20-bit technology made no further improvement in regular or "redbook" CD recordings. That thinking may have changed. The recording quality is simply excellent with notably solid lower bass response and a lack of any audible distortion or edginess in the high end. All that was clearly revealed and probably aided by my newly upgraded player. If you hear any distortions from this excellent disc, check out your player and if need be, replace or upgrade it. It is also nice to have a fairly steady stream of excellent CD and particularly SACD recordings for we music lovers. A fine recommendation is easily earned by this Chandos' release offering excellent sound and good music that is new for most of us and entertaining at the same time.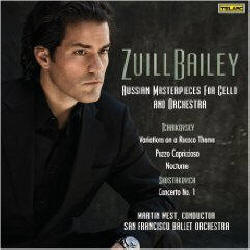 Russian Masterpieces for Cello and Orchestra, Tchaikovsky : Variations on a Rococo Theme, Pezzo Capricioso, Nocturne. Shostakovich: Cello Concerto No. 1. Cellist: Zuill Bailey. Orchestra: San Francisco Ballet. Conductor: Martin West. Telarc CD – 80724
The fine liner notes by Benjamin Folkman, makes a very interesting opening statement, "surely the voice of the cello is uniquely suited to the qualities of passion and melancholy that endear Russian music to listeners." I, as a lover of the cello and music for cello, agree whole heartedly. Compositions for the violin number in the thousands probably. Music written for all three of the other stringed instruments viola, bass and cello together would not begin to equal the number for the violin. It would not surprise me to find out that perhaps a fourth of the best or most popular compositions featuring the cello are on this particularly fine recording! When talking about excellent compositions featuring the cello, I and many others place the great and immediately appealing Dvorak Concerto at the top of any list. It and the selections on this excellent recording would be an outstanding pair of cello recordings for any beginning classical music lover or collector. It has been my good fortune to have heard live, many of the greatest cello players of the past half century. That includes Janos Starker, Mstislav Rostropovich and Lynn Harrell. I have difficulty placing or ranking recorded performers with ones I have heard live. I would believe that Zuill Bailey, the featured cellist on this outstanding CD recording might be in the group of "top 10 cellists of the recent past fifty years".
Tchaikovsky's emotional ties to Mozart and his compositions is well known. Therefore much of the Variations on a Rococo Theme is reminiscent of the preceding period or era of musical compositions. It is worthwhile to listen to them repeatedly to appreciate the outstanding variations by Tchaikovsky. His compositions are always full of tuneful melodies, so sit back, listen and enjoy the gorgeous audio quality afforded the cello and the orchestra on this excellent release. The Shostakovich Cello Concerto No. 1, is slightly more modern or contemporary sounding and is a bit of a showpiece both for the cello and the orchestra. Everything is beautifully recorded including various other instruments that are spotlighted at times. It many sections or passages on this outstanding Telarc CD, the sound quality is as good as it gets on regular or so-called Redbook CD audio quality. As you have guessed by now this is a top recommendation bathed in gorgeous audio quality.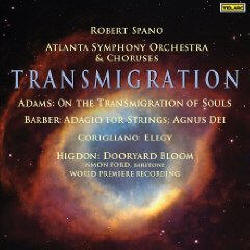 Transmigration. Barber: Adagio for Strings. Higdon: Dooryard Bloom, Nmon Ford, Baritone. Corigliano: Elegy. John Adams: On the Transmigration of Souls. Atlanta Symphony Orchestra Chorus. Guinett Young Singers. Barber: Agnus Dei. Ochestra: Atlanta Symphony. Conductor: Robert Spano. TELARC Multi-Channel Hybrid SACD-60673
Depending on listeners' backgrounds, sooner or later it will become apparent that much if not most of this somewhat unique recording revolves around death, human death that is, not the possible death of the famous Telarc recording company's leadership in sound quality evidenced by their leadership and promotion of the highest current audio quality recordings, Super Audio Compact Discs or simply SACD. That is a separate situation and story. The first selection here is Samuel Barber's doubly famous Adagio for Strings. Famous as a movement from one of America's great string quartets it became famous on its own, with encouragement by legendary conductor Arturo Toscanini, for Barber to rescore or rework it for full string orchestra. Then Toscanini almost assured its success by recording it. Its famous legacy as a noble musical legacy began with radio play with the announcements of U.S. President Roosevelt's death in 1945. It still remains to this day, in the USA, as the most widely known music associated with the death of famous/great public individuals. Seemingly the sad and slowly moving expression of this music is easy for a string orchestra to play and rather difficult to be embarrassed by a poor performance at such a large public event. Barber created another version of this famous adagio for unaccompanied mixed chorus as a setting for the traditional Latin prayer, "Agnus Dei" and it is the postlude for this unusual and rather remarkable recording production offered here with Telarc's well known SACD quality!
Higdon, best known for her composition, blue cathedral in response to her brother's death, here puts forth her efforts to tie her composition with Walt Whitman's justly famous poem, When Lilacs Last in the Dooryard Bloom'd. Here she has poem set to music and sung by a baritone with orchestral accompoaniment. The poem and title are derived from Whitman's writing. Corigliano, perhaps now known best for his attractive Academy Award winning soundtrack music for The Red Violin (film definitely recommended by me) is the third and impressive composition here. It is dedicated for Samuel Barber, as he was still alive when Corigliano composed it. The titled and featured composition for this release is Adam's On The Transmigration Of Souls. If you are not aware of the meaning of that word or don't figure it out, I will let you know at the end of the review. This ambitious composition is the product of a commission by the New York Philharmonic in the memory of the infamous attack on the World Trade Center. It is not the sort of work that many would expect. It is often very subtle and even restrained to a great extent. The composer calls it "a memory space – where you can go and be alone with your thoughts and emotions." This unique and appealing composition received the 2003 Pulitzer Prize for Music, and deservedly so in my mind. This work must be heard to be appreciated and attempts to explain some of the unusual trappings that go along with it have to be heard to be appreciated; reading about them just does not do them or it justice. It is a unique composition, deeply felt, almost spiritual in nature and beautifully performed and recorded. The SACD version or layer, is as usual, to be preferred over the very good CD version that is fine in its own right. Overall the SACD's audio quality is not to be faulted. Every section of the orchestra is presented without highlighting nor submerged by adjacent sections. "Transmigration" is not heard regularly in conversations by that name; it is usually referred to as reincarnation. In no way does that detract from the appeal of this recent composition.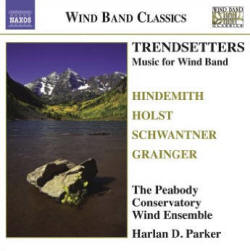 Trendsetters, Music for Wind Band. Paul Hindemith, Symphony in B flat. Gustav Holst First Suite in E for Military Band. Joseph Schwantner, And the Mountains Rising Nowhere. Percy Grainger, Lincolnshire Posy. Band: Peabody Conservatory Wind Ensemble. Conductor: Harlan D. Parker. Naxos Wind Band Classics Series CD8.572242
The music presented here offers precious little in the way of marcher for wind band. Most of the music on this release is rather serious. There are relatively few memorable melodic passages though plenty of attractive passages. A great deal of the interest in this release may come from high school and college band students. Hopefully they developed some interest in classical music and would like to hear some selections that utilize the instruments they played or played with in their respective high school or college marching bands. If so, here it is. The first selection, by Hindermith was a commission by the leader of the U.S. Army Band and first played in 1951. The second movement opens with a duet between cornet and alto saxophone. There are melodic passages and development and a great abundance of contrapuntal writing that Hindemith was well known for. This wind symphony supposedly helped other classical composers to compose for wind bands.
Holst's Suite, written a hundred years ago brings back memories of popular band music. In fact the last movement is titled "March" and sounds it plus having seemingly familiar flowing melodies at the same time. Any former student band member should feel at home with this.
Schwantner, well known for chamber music writing, here dedicates this unusual titled composition to Carol Adler and to the Eastman Wind Ensemble who performed its premiere. There is a powerful passage for drums here that is clearly and powerfully recorded. In addition to the winds, scoring includes amplified contrabass, piano and forty-six percussion instruments to be played by six players.
Grainger's Lincolnshire Posy is rather well known with a few very familiar passages and is considered to be his finest composition based on folk-music settings. Each of the six sections here are from or about folk stories, with titles and passages to be read or sung. This may be the most popular or easiest of the four selections for beginning classical music lovers. The selections were recorded over a period of ten years with expected changing of the student performers. The typical very good Naxos audio quality is revealed to be consistent over those ten years.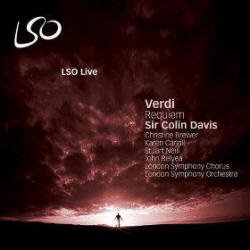 Verdi, Requiem. London Symphony Orchestra. Sir Colin Davis, conductor. London Symphony Chorus. Joseph Cullen, director. LSO Live Hybrid SACD (2) LS))683
This new outstanding release has attracted a great deal of interest. Much of it due to music lovers continuing to hope for at least an excellent performance coupled with superior SACD audio quality. Great conductors and singers litter the long history of Verdi's requiem. It is not referred to as a mass nor is particularly religious in nature. Many music lovers feel that there is much opera or perhaps too much opera to qualify as a great requiem. Toscanini's fiery, forceful and dynamic interpretation was perhaps the first to tempt requiem lovers to consider it as great. His choral director, Robert Shaw, followed that performance closely many years later that seemed to attract little attention even with superior audio quality. Verdi thought that Alessandra Manzoni had authored "the greatest book of our time." Manzoni's death inspired this remembrance by Verdi. Many of the great singers have had solo roles in recorded Verdi Requiems including Luciano Pavarotti.
As do opera lovers, many requiem lovers just have to have a particular soloist or conductor to seriously consider the performance or the recording. They will undertake serious argument to prove their choice. I take no preference usually and certainly not here. Seemingly solid performances by all involved including lyricism when called for and propulsive palpable power as needed. A popular web site that seems to cater to would be and genuine audiophiles has seen much written about the sometimes' failing of LSO Live audio engineers to overcome the well known shortcomings of the orchestra's usual recording venue, the Barbican Center in London. Recently an apparent lack of depth or three dimensionality has been mentioned prominently. All of us need to remember, this and other LSO releases are live recordings and remarkably free from audience distractions and limitations imposed on the audio engineers. My usual reference loudspeakers, the Genesis G 6.1 models do have features that greatly aid the creation of soundscape depth. Each loudspeaker, for example the circular ribbon tweeters are used in front and rear covering frequencies to beyond 36kHz from both the front and rear while the lightweight titanium midrange cone is mounted open to the back and so are the mid-bass couplers. The result is that all the drivers above the subwoofers radiate as dipoles with sound radiated and dispersed equally front and rear and well suited to large scale classical music, which this Verdi Requiem certainly is. Open panel loudspeakers such as electrostatics and magnaplanar types usually offer this dipole radiation characteristic also. Any listener desiring more depth of field or soundscaping, should investigate designs such as these. A caveat is that to extract those unique performance properties those loudspeakers need to be positioned well out from any wall behind them. Somewhere between two and three feet will usually suffice. In other words, I was not aware of any significant lack of depth or soundscape with this newly released LSO two disc SACD release.
I found the overall performance to be quite good and with fine commitment of the orchestra to conductor Davis' lead. Once in awhile I might appreciate a tad more forward momentum and I found the overall sound level to be a bit low necessitating increasing the gain level by 2 to 3 db. When the drums enter, they are accorded full and clean bass response down into the low bass range. This was also distinctly aided by the addition of VSEI's new Uber Clock that appears to significantly enlarge and better define overall dimensionality and ambiance in addition to numerous other aspects of music reproduction. I have to believe that most Verdi Requiem lovers will or should be happy with this version, though it will not be everything to everybody, but that is usually true of large-scale productions.