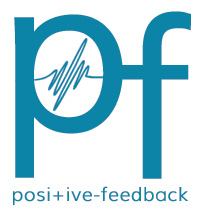 You are reading the older HTML site
Positive Feedback ISSUE
45

september/october 2009
New SACDs from Spain's Non Profit Music
by Teresa Goodwin
Three Portraits With Shadow, Lola Casariego (mezzo soprano in Marinero en Tierra, Canciones Portuguesas, and Tres Ciudades). Extremadura Symphony Orchestra. Jesus Amigo (conductor). Stereo/Multichannel Hybrid SACD. Non Profit Music NPM 0909
Jorge Grundman, Project Director confirmed these recordings were made using 96kHz 24 Bit PCM. They were recorded with SoundField Microphones and processed with a Fairlight Console. Three Portraits With Shadow contains all world premiere recordings with the exception of Sinfonia Breve which is the first time on SACD.
The SACD comes housed in a beautiful hardcover 36 page Digibook with text in both English and Spanish. It offer's very complete information of the musical compositions, their history and style as well as the biographies of the performers with lots of full color pictures. The look and feel of the book is elegant and must have been expensive to produce.
As with all my reviews these SACDs were auditioned in high resolution 2-channel stereo for us 2-channel diehards, as reviews of the multichannel mix seldom give an indication of how the high resolution program sounds in Stereo. The multichannel mix is said to be from the point of view of the conductor, however the 2 channel stereo sounds like a traditional audience mix.
The first composition is by Rodolfo Halffter who lived between 1900-1987. It is his "Suite para Orquesta" and it is an utterly gorgeous composition with a very Spanish flavor, very tonal yet very modern sounding. The second piece also by Rodolfo Halffter features the beautiful sounding mezzo soprano Lola Casariego with orchestra, it is entitled "Marinero en Tierra" This exciting piece is full of splashes of spicy Spanish percussion heavily influenced by Manuel de Falla.
Next up is "Canciones Portuguesas" also for mezzo soprano and orchestra is more romantic in nature with touches of sadness and joy it is by Ernesto Halffter (1905-1989) who is Rodolfo's brother.
"Tres Ciudades" also for mezzo soprano and Orchestra was written by Julián Bautista (1901-1961);
The first two movements Malagueña and Barrio de Cordoba I found very sad and solemn, while the third movement Baile I found quite exciting, this piece is a real carousel of emotions.
The SACDs ends with Sinfonia Breve which is very solemn and quite lovely and the least Spanish sounding of all the works.
This SACD is full of hauntingly beautiful feelings bathed in beautiful sound!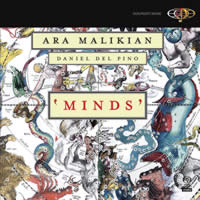 Minds, Ara Malikian (violin), Daniel del Pino (piano). Stereo/Multichannel Hybrid SACD. Non Profit Music NPM 0911
Astor Piazzolla (1921-1992): Tanti Anni Prima
Lera Auerbach (1973-): Postlude
Gerald Finzi (1901-1956): Elegy
Zoltán Kodály (1882-1967): Adagio
Fernando Egozcue(1959-): Agua y Vino
Marjan Mozetich (1948-): Desire at Twlight
Jorge Grundman (1961-): What Inspires Poetry
Elena Kats-Chernin (1957-): Russian Rag
Minds offers compositions from the twentieth and twenty-first century and includes three absolute world premiere recordings: Agua y Vino, Desire at Twilight and What Inspires Poetry. The remaining works are first time in SACD.
This SACD offers very realistic piano sound, however I found the violin string tone not as smooth as I prefer, it's not strident as with most CDs but not as smooth as the best DSD recordings, it is still quite lovely and enjoyable. Like the above Three Portraits With Shadow SACD this one is also 96kHz 24 Bit PCM and comes housed in a beautiful hard cover 36 page Digibook.
These are all lovely and emotional compositions quite tonal and very approachable.
Non Profit Music as a record company, has born with the aim of bringing the lesser known artists' and musical compositions to the music buying public and at the same time to gather funds for humanitarian reasons. All the benefits collected with the sale of their recordings go directly dedicated to Doctors Without Borders and medicusmundi, who audit the sales of the publications.
The Foundation Non Profit Music arises as a response to the current incidence that classical music has in the world, the progressive decrease of top degree students in the music conservatoires, the lack of motivation of the of the public to assist representations of classical music, an example could be the "chamber music", and the loss of sensibility towards the social and humanitarian action.
The Foundation Non Profit Music believes that it is possible to create initiatives that will help solve these deficiencies in our society, and even that those initiatives could act in a combined manner. This way, the activities of the Foundation Non Profit Music will be directed to the promotion and broadcasting of the musical culture and, simultaneously, sensibilizing the population towards the solidarity and the collection of funds for social and humanitarian purposes.
You can read more about Non Profit Music's foundation and record label at the website: http://www.nonprofitmusic.org/