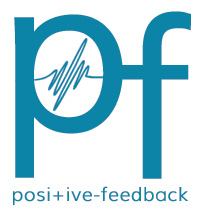 You are reading the older HTML site
Positive Feedback ISSUE
45

september/october 2009
Rocky Mountain Audio Fest 2009: Part I - Photo Essay, and an Audio Oasis! Award or Two…
by David W. Robinson
[All photographs and image processing by Robinson]
Denver, and me for mile high audio again!
The 2009 Rocky Mountain Audio Fest was held at the Marriott Tech Center on October 2-4, and once again proved to be the most fun you can have at an American audio show. (Uh, no, CES is not in the running for that honor.) The ingredients for a successful and popular fine audio event are pretty clear: a central location; a large facility without the high costs of Las Vegas, New York City, San Francisco, or Los Angeles; an attractive venue with many hotels, restaurants, stores within easy driving distance; and a non-corporate, personal-touch approach to show setup and administration. I tip my hat to Marjorie Baumert and her dedicated crew of showsters; once more, attending RMAF had a terrific fun-to-exhaustion ratio. (CES is not in the running for that ratio, either.)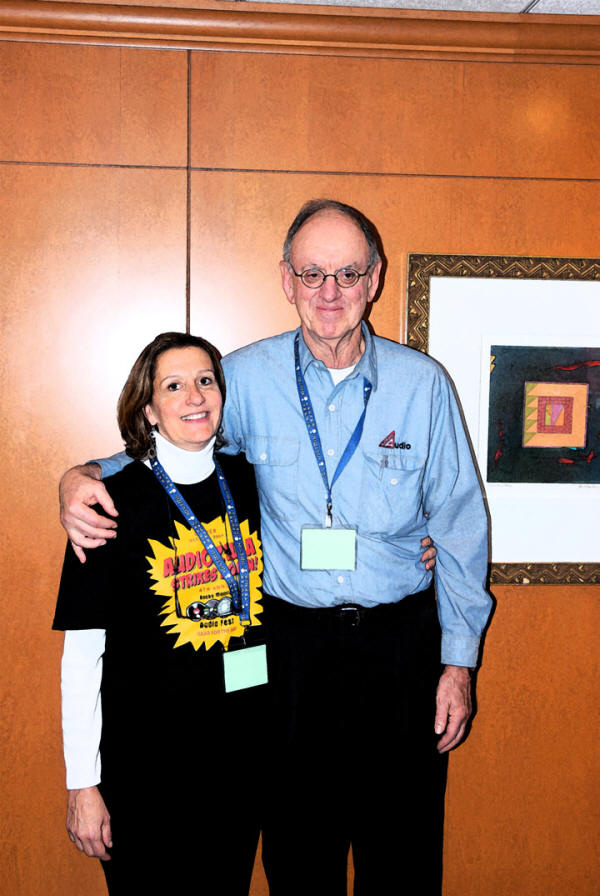 Marjorie Baumert and Al Stiefel at RMAF 2007; image and fresco by Robinson
Marjorie and company soldiered on this year without Al Stiefel, who passed away earlier in the year. While we will all miss Al, I will say that the transition to Marjorie's leadership proceeded without any problems that I saw. And that is a significant accomplishment for her, and for the group that so ably assisted her. While the final attendance numbers weren't in during the show, Marjorie told me that Internet advance ticket sales were up in 2009, showing a 12% gain over 2008's sales. In fact, things went well enough that the date for RMAF 2010 has already been set: October 15-17, 2010.
I missed RMAF 2008…the only one that I've ever missed…during my shift to Virginia for professional reasons last year, so it had been two years since being in Denver. My agenda for this year's show was somewhat different than past years. Instead of driving hard to see and hear as many rooms as possible, I deliberately made more time for some of the seminars and panel discussions. These were of particular interest to me this year, since there were four sessions that caught my eye: "Adventures in Mastering" (Chad Kassem, Steve Hoffman, and Gus Skinas), the ongoing serious problem of "volume wars" in audio engineering (John Atkinson), a panel discussion of computer-based audio (John Atkinson as moderator, with the likes of Joe Harley, Charles Hansen, Gordon Rankin, Gus Skinas batting the opinions around), and Harry Pearson opining on the "past, present, and future" of high-end audio. This was all great stuff, so I carved time out of the two days that I was there to attend. I'll be sharing some news and thoughts from these valuable meetings later in this essay.
I have to say that some of my favorite rooms from years past were not in attendance at this year's RMAF. The MIA included perennial powerhouses like Walker Audio, Blue Light Audio, Lamm, darTZeel, and Linn (which for some strange reason seems to think that abandoning the USA market is a good idea). And keep in mind that I was not able to get into every room, due to my foreshortened two-day schedule. If I don't mention a room, it doesn't mean that it wasn't good… it may well mean that I didn't hear it at all.
For now, a word or three about the better rooms that I did hear, and the Audio Oasis! awards thereof…
MA Recordings/The Signal Collection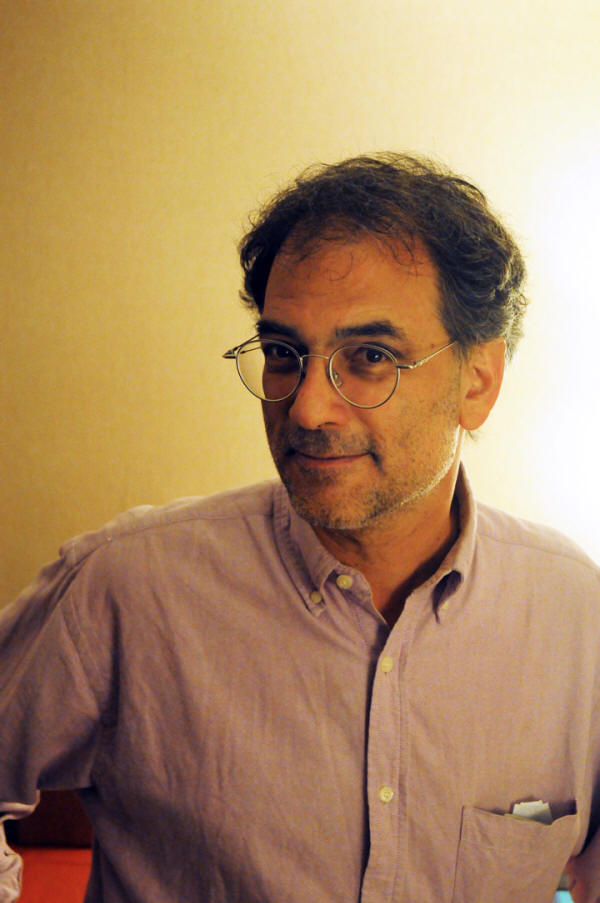 Todd Garfinkle of MA Recordings
I confess to having a long-time appreciation for the work of Todd Garfinkle of MA Recordings. In fact, I've collected very nearly every CD that MA has released. Todd's discography is a unique record of his location recordings around the planet…in fact, is a remarkable and eclectic collection of music and venues from world cultures. Harmonia Mundi has a larger and likewise eclectic body of work, but MA's catalog is adjunctive, and not overshadowed by HM. Personally, I own recordings from both catalogs, and would recommend the same to my readers. Todd's work is now numbered sequentially into the 80's, and is listed on MA Recordings' website at http://www.marecordings.com/main/default.php.
The thing I especially like about Todd's recordings is that they reflect a purity and minimalism that allows the artists, the music, and the settings to be as clearly heard as Red Book CD will allow. He has been using high resolution (96kHz/24-bit) in the field for a number of years now. Simple stereo mic configurations, carefully placed, allow for rich and atmospheric recordings. Superior CD playback systems allow the resulting MA discs to shine, despite the limitations of Red Book PCM.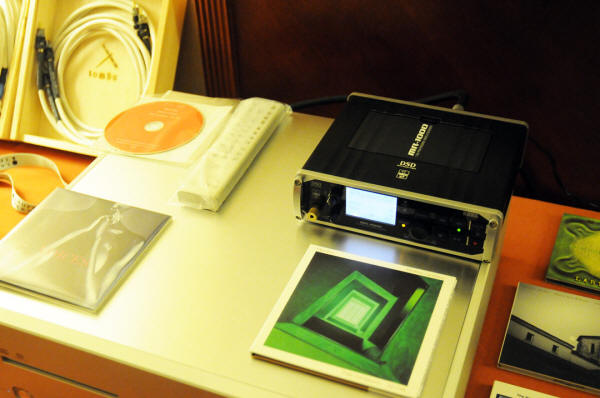 Much better yet, more recently it turns out that Todd has been using DSD at 5.6mHz (128fs) as his recording format of choice. He's now using the Korg MR-1000 portable professional grade DSD recorder to do his field work. During RMAF 2009, Todd teamed up with Chris Sommovigo of The Signal Collection to provide playback of his pure DSD masters via "The Studio" Draco interconnects to a David Berning Siegfried outfitted with 811-10 triodes. TOMBO TRIŌD loudspeaker cables provided a path to the speakers, which were the Gemme Audio Vivace single driver loudspeakers, and the Davone Rithm coax loudspeakers. This room didn't have piles of gear or exorbitant price tags… just stellar sound from pure DSD of wonderful performances while I was there. (There were also DVDs of 96/24 and 176.4/24 .WAV files on hand; I have these here now for review.) The ease and naturalness of uncompromised DSD was simply mind-(but not ear-) blowing. All other RMAF rooms would have benefitted noticeably from such exceptional source material.
(Note to other exhibitors: DSD. Get it. Get it?)
For this reason, I am awarding the MA Recordings/The Signal Collection room one of my PFO Audio Oasis! Awards. And very well deserved, too.
All that I am asking of Todd is to release SACDs, my friend….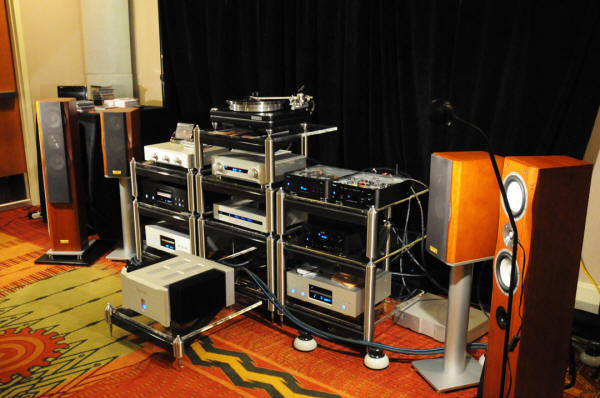 Esoteric/Sounds Real Audio
The Esoteric/Sounds Real Audio room was another place with some very pleasing playback. Esoteric was featuring a bevy of sources, all playing back through their A-03 stereo amplifier into their MG-20 floor-standing loudspeakers while I was there. I have been very impressed with the quality of Esoteric sources for a long time; perhaps the time is coming for me to give a listen to a preamp and amplifier, too.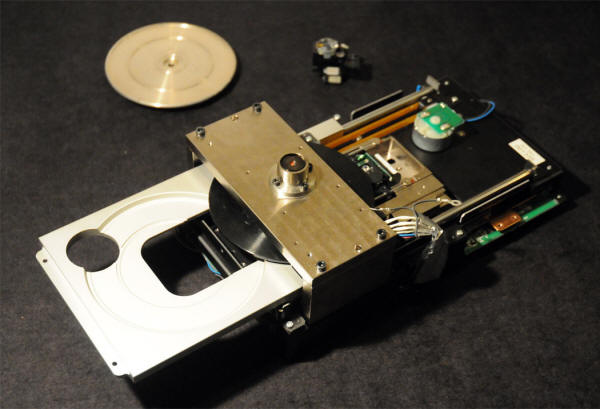 Esoteric transports: works of industrial art!
The sound was clear and clean and extended, without being at all clinical or overly analytical; in fact, the playback on my reference DV-60 universal player in DSD mode (for SACDs, and PCM/DSD mode for PCM sources) is exceptionally pleasing… thus my Brutus Award for the DV-60. Soundstaging and imaging under show circumstances, and with such an array of gear, was hard to assess. So I won't.
A pleasant room, nonetheless, one that I spent some time in.
Another PFO Audio Oasis! site for me; an award for them.
Kubala-Sosna/E.A.R./Marten/VYGER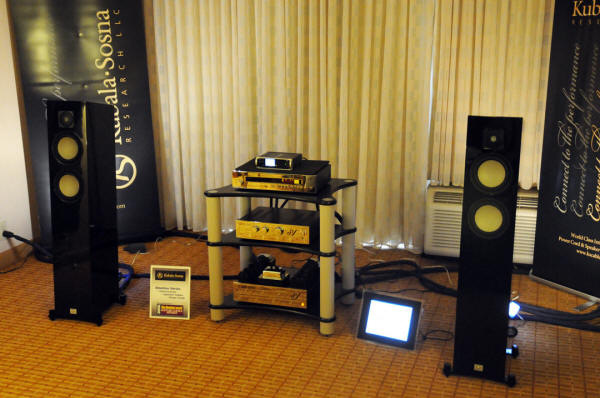 Here was another room with superior sound… but this was no surprise, given the quality present in the combination of Kubala-Sosna, E.A.R. omponents, Marten Design Miles speakers, and… hmmm! Looks like another of those Korg MR-1000's with its DSD playback! Didn't get to hear the VYGER turntable, unfortunately.
Great sound for show conditions: clear, focused, detailed, but musical withal. Soundstaging was very fine, which it definitely was not in many rooms. I listened for a while, and found myself relaxing and enjoying… generally a sign of an Audio Oasis! room at shows. E.A.R. electronics are very special, and they always seem to mate well with the Marten Design speakers. I've heard this synergy on a number of occasions at shows, without a bad session. They seem to like the Kubla-Sosna cables quite a bit, too.
This was a no-brainer: Consider the PFO Audio Oasis! given.
Ayre Acoustics/Transparent/Wilson Audio/Grand Prix Audio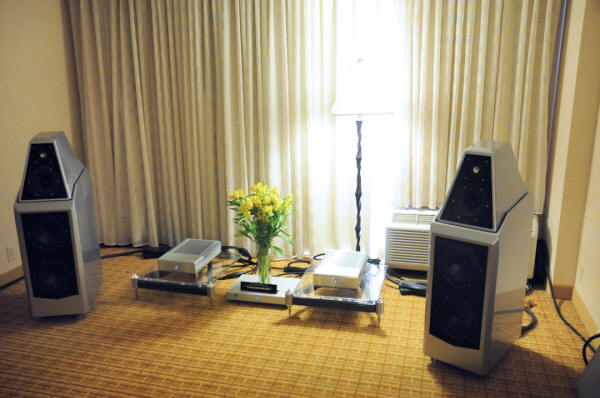 The more that I've listened to Ayre Acoustics gear, the more I've become impressed with the results that Charlie Hansen and company are getting with their solid, no-nonsense engineering approach to the challenges of top-notch audio reproduction. (You'll be seeing my very favorable review of the CX-7e MP CD player in the near future.) Normally, Wilson speakers are not at the top of my list of preferred transducers, but I admit that they were sounding quite good in the Ayre room. The MX-R monos on their Grand Prix Audio stands and Transparent cabling @ 300 WPC into 8 Ohms/600 WPC into 4 Ohms were making the Wilsons pay attention! I sat for a while, just listening, which is always a positive sign for me at any audio show. Otherwise, it's just walk on….
Good sound; good vibes. Good-o!
I enjoyed this room big time… mark it as a PFO Audio Oasis!
Luxman/Synergistic Research/Vivid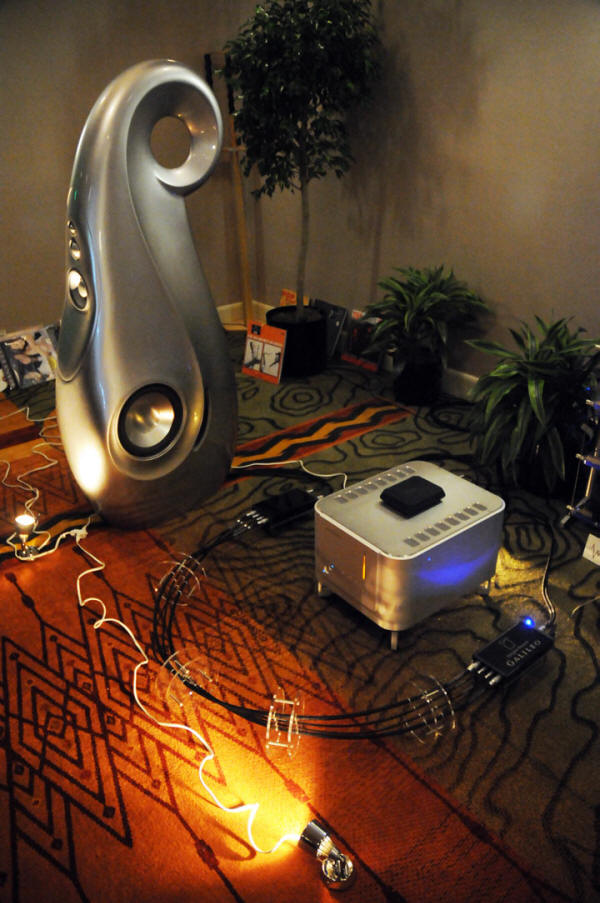 The Vivid Giya loudspeakers and Luxman B-1000f monoblock, connected by Synergistic Research's brilliant new Galileo cabling system—note the intelligent suspension structure developed for the cable array.
On Friday night a goodly chunk of the PFO gang hung out in the Luxman/Synergistic Research/Vivid room for drinks and munchies. Philip O'Hanlon was our pleasant host, guaranteeing a good time to be had by all. The Cabernet was decent, which was to be expected with Philip providing the pours, but the quality of the music was quite fine. Considering the fact that 50-60 people (or more?) was in the room, I was pretty surprised. Even allowing for the "Cabernet tweak" (drink wine until the music sounds good), the playback got my attention.
As I recall, the source was a Luxman DU-80 universal player, with a pair of Luxman B-1000f monoblocks cracking the whip on a pair of the startling Vivid Giya loudspeakers. Handling the flow of electrons was Synergistic Research's remarkable Galileo cable system.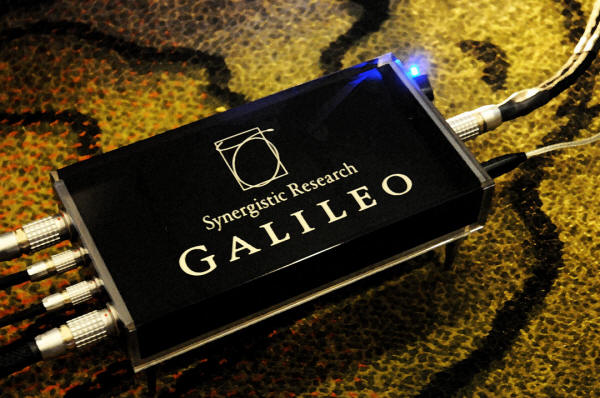 The Synergistic Research Galileo's transmission module, in watercolor…
Ted Denney explained that this was an active-shielded, bi-wired, air dielectric design with a magnetic isolation design that de-coupled the signal from continuous physical conductance. And I mean de-coupled: Ted showed me that it was possible to unplug one of the speaker conductors on the fly, without powering down the amplifier. No pops, no zaps, no blown tweaters… no damage or sounds at all. Bloody amazing. Furthermore, the user has his or her choice of conductors (e.g., gold, silver, copper), and can mix and match different metals to optimize the sound of their own audio system.
The multi-cable array would normally be a major hassle to hoist off the floor to avoid cable/floor dielectric effects, but no fear: Synergistic Research developed an ingenious circular suspension structure that gets the job done without snarls and curses. (See the opening photograph in this section.)
Extremely cool, extremely advanced, and extremely fine sounding in this room.
Alas. It's also extremely expensive.
Still, I think that Ted Denney and company are really on to something here. Those who are looking (and listening) to get the best out of their audio systems, and have bucks to burn, will want to give Synergistic Research a call about this one.
Exceptionally good, under show party circumstances…I was really sucker punched by this room.
And so it receives one of my PFO Audio Oasis! awards.
HeadRoom's Headphone/Desktop Audio space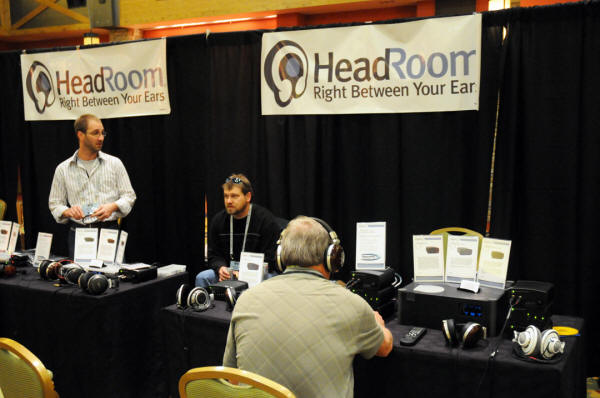 Not all the spaces that floated my boat were traditional audio rooms. In fact, a couple of the PFO Audio Oasis! winners are not traditional exhibition rooms at all.
For example, I had a rippin' good time at the HeadRoom space in the Lobby CanJam area. I've had years of experience with the HeadRoom line… in fact, I'm completing a review of the HeadRoom Desktop Reference system right now… and I've gotten a lot of audio enjoyment out of Tyll Hertsen's efforts. I made some time during this RMAF to spend some time listening to some of the wares via the HeadRoom Ultra Desktop Amp, the very unit that I am reviewing now.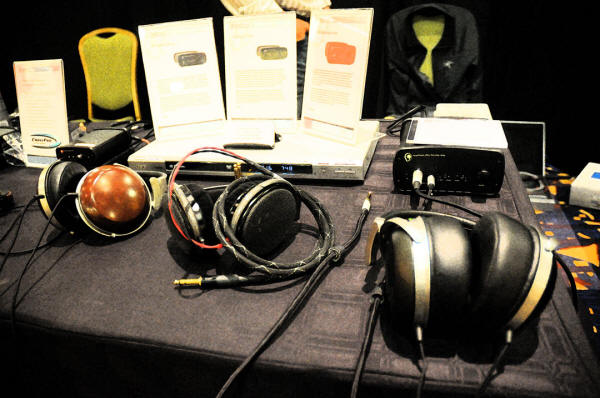 A bevy of great headphones in fresco at one of the HeadRoom tables…
I have a lot of experience with my Beyer Dynamic DT-990s, the Sennheiser HD-650s with both the standard and Cardas cable upgrade, and Grado GS-1000s; each has its own strengths, and will be prized by different kinds of listeners and their headphone systems. So I looked at 'phones that were less familiar to me. I was particularly taken by the sound of the new Denon AH-D7000 headphones via the HeadRoom Ultra that the HeadRoom rep shared with me. They were light on my head (weight and comfort are extremely important with 'phones), sealed nicely, and gushed forth a terrific, holographic presentation during my listening. At an MSRP of a kilobuck (well, $999.99 to be accurate), these aren't cheap, but the $1000 - $1500 range is where most of the giants live in things headphonish.
I really enjoyed my time at the HeadRoom space, and wished that I had more time… a good sign.
A PFO Audio Oasis! award to Tyll Hertsens and company, then!
JH Audio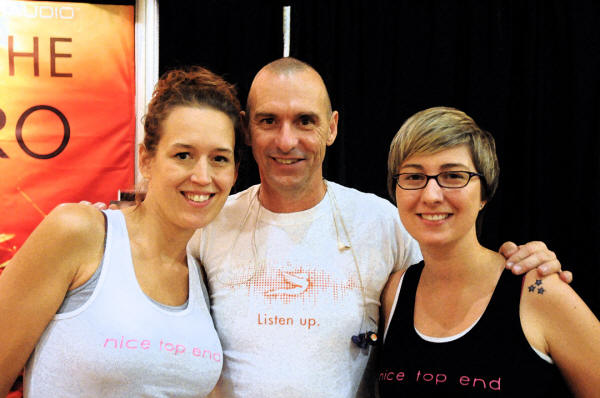 Jerry Harvey with two of his audio accessories at RMAF 2009's CanJam space; a pair of his JH 13 Pro in-ear monitors. (To the left in white is Jerry's wife and co-owner of JHAudio, Brittany Harvey. The the right, in black, is Jerry's daughter and Administrative Director for JHA, Jaime Harvey.)
Here's a mouse that roared! While checking out the CanJam space, a group of PFOers got hooked by the JH Audio space. The design luminary here is Jerry Harvey (thus the "JH"). He designs a whole line of some pretty amazing in-ear "monitors." While Lila Ritsema was checking out the JH Pro 5 (dual low drivers, single high driver, at MSRP $399), I was being floored by the performance of the top-of-the-heap JH Pro 13 (dual low drivers, dual mid drivers, dual high drivers, and a claimed frequency response of 10Hz to 20kHz).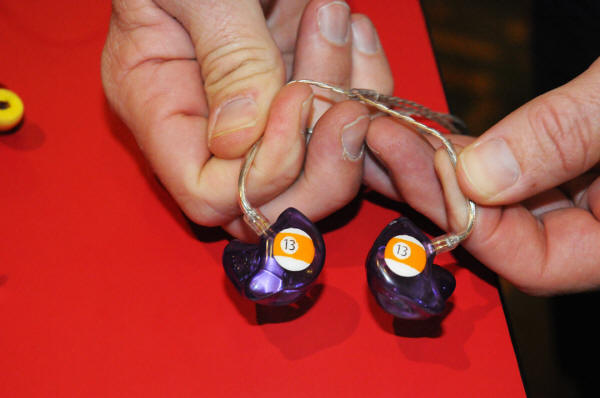 The JH Audio 13 Pro Monitor (stock version, without custom ear channel sculpting)
Caramba! These in-ears were absolutely the best thing I've ever heard for in-ear playback! Jerry used some putty to create a temporary test seal for listening; when you purchase a pair, they are customized to your particular ear canals by being sculpted from molds that he was doing at RMAF. Remote customers can simply have their audiologist do a mold of the ear canal, and then ship those to JH Audio for production. This assures the best possible fit, and the highest quality of acoustical isolation for in-ear listening. I have a pair of Sony noise-cancellation in-ears that weren't cheap; I use them while flying to listen to the music on my iPhone 3G. Unfortunately, I've found that noise cancellation is a blunt instrument, and very imperfect when it comes to getting the best out of my iPhone/iPod in flights, and also in shutting out the rest of the world. The 13 Pro was a wonder; music was brilliantly presented, top to bottom, with excellent extension, while even with the temporary putty, the outside world was almost totally subtracted from the experience. It was almost eerie, listening to music while in a very large room full of people, none of whom I could hear hardly at all.
The JH Audio 13 Pro's aren't cheap… an MSRP of $1099… but brother, these are the very best in-ears I've ever listened to. Bloody amazing, for sure…wish I could have afforded them at RMAF. (Lila did purchase a pair of the JH 5 Pro's; I'm envious!)
The JH Audio 13 Pro is completely worthy of a PFO Audio Oasis! award, gladly given.
PS Audio
Another room that I stayed in a while was the PS Audio room. They had set up a larger room on the 11th floor, and were featuring their PerfectWave Transport and DAC, supporting higher resolution PCM (up to 192kHz/24-bit) directly from disc (either .WAV files at 96/24 or HRx at 176.4/24). There's no hard disk aboard, so it isn't a music server, and the Ethernet network bridge won't be out until first quarter of 2010, so it isn't LAN or WAN aware yet, but it will play PCM optical formats that conform to its file specification (no music files in folders…everything in the root!) Once the network bridge is in place, then the PS Audio PW stack will be able to locate music servers/sources on your local network (computers and Network Attached Storage [SAN] devices, for example) or on the Internet (HDTracks at http://www.hdtracks.com), and be able to play back the stream, even at higher resolutions. Very promising stuff.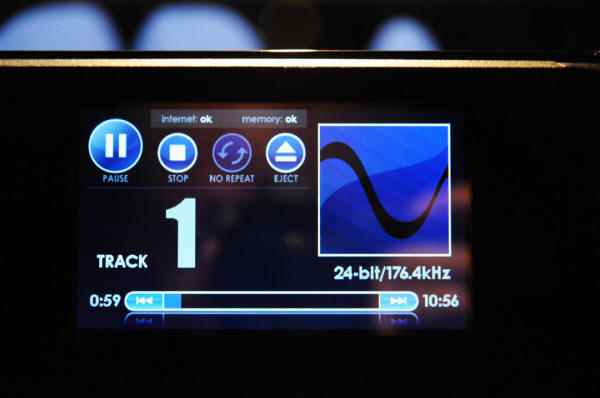 The PerfectWave does play HRx discs, as you see above. There's no metadata available for the format yet, but 176.4 kHz played just fine, as you see from the display while the Reference Recordings HRx of Rachmaninoff was playing. And the improvement in sound was quite substantial over the Red Book HDCD™ of the same performance.
Metadata is handy, though; the Red Book did have the enhanced content to take your mind away from the fact that things had dropped down to 44.1/16. HDCD™ or not, there was no comparison; the HRx disc hammered this Red Book version right into the ground. (Reference Recordings has begun to release SACDs, though, and these remain the top o' the heap for me, frankly. RR indicates that there will be more SACD releases in 2010, which is great news.)
Nevertheless, high resolution PCM looks promising if we can have optical transport devices with LAN and Internet connectivity. The quality of the sound in the room was very fine in high resolution mode.
A PFO Audio Oasis! award winner, for sure.
Merlin/Cardas/Joule Electra/Critical Mass Systems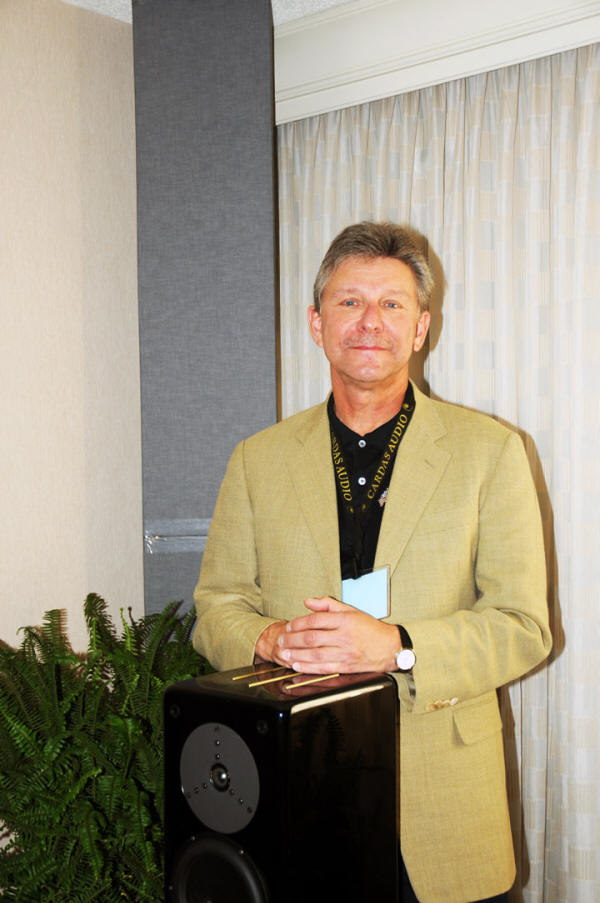 Bobby Palkovic of Merlin Music
No surprise here: year in, and year out, the combination of Merlin Music, Joule Electra, and Cardas Audio makes magic for me. Whether it's RMAF or CES, the VSM-MXe, this combination of a classic two way design that Bobby is tweaking to the maximum (and now enhanced with some seriously upgraded capacitors), Jud Barber's 100 WPC Marquis Mk. 4 633C-based OTLs on their Critical Mass Stands (excellent stands, by the way), the Marianne Electra Balanced Memorial Preamp (LA-300 ME), and George Cardas' always-terrific cables, makes MUSIC.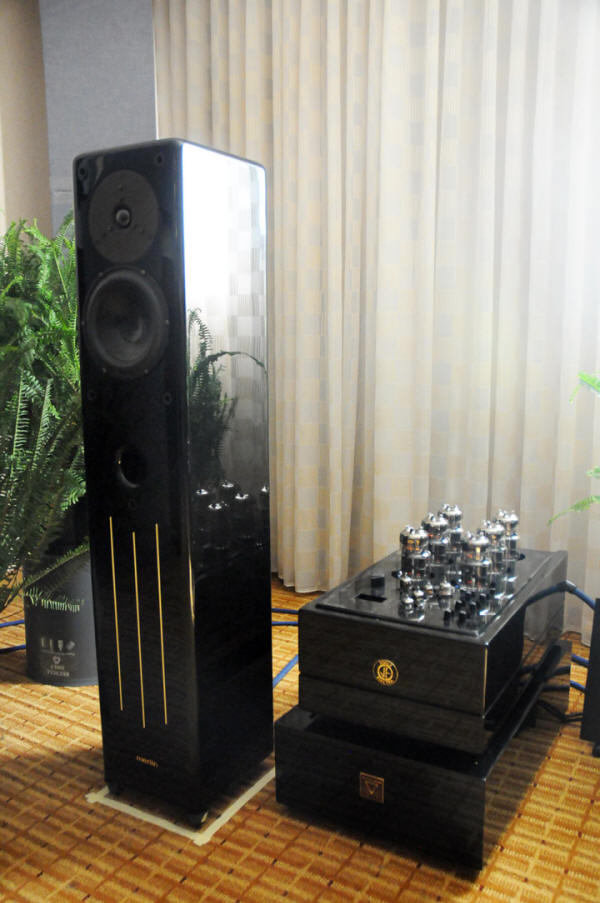 The Merlin VSM-MXe towers above its partner, a Joule Electra Grand Marquis Mk. 4 OTL amplifier on its matching Critical Mass Systems stand.
Which is what Bobby was playing a lot of in his room, with one listener after another bringing their favorite tunes along for a spin. (PFO's Roger Gordon among them… "Mr. Eclectic," for sure!)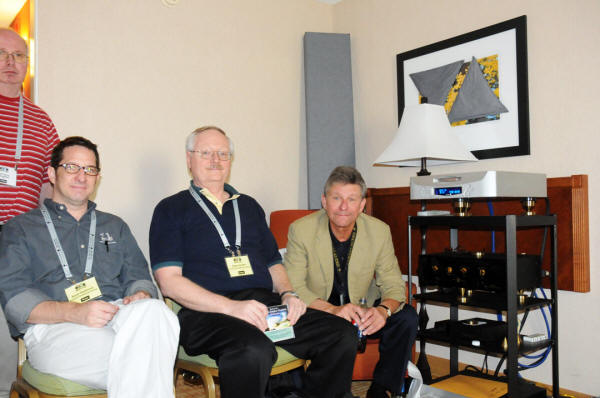 Left to right, PFO's Bryan Gladstone and Roger Gordon soaking up the tunes with Bobby Palkovic. Too bad that Rich Brkich of Signature Sound wasn't there!
The sound was detailed and clean, with excellent base and great soundstaging; I like the new caps a lot.
No doubt about it: once more, Merlin/Cardas/Joule Electra/CMS deserves a PFO Audio Oasis! award.
Duly given.
ModWright/Daedalus Audio/Abingdon Music Research/Dynamic Design/EquaRack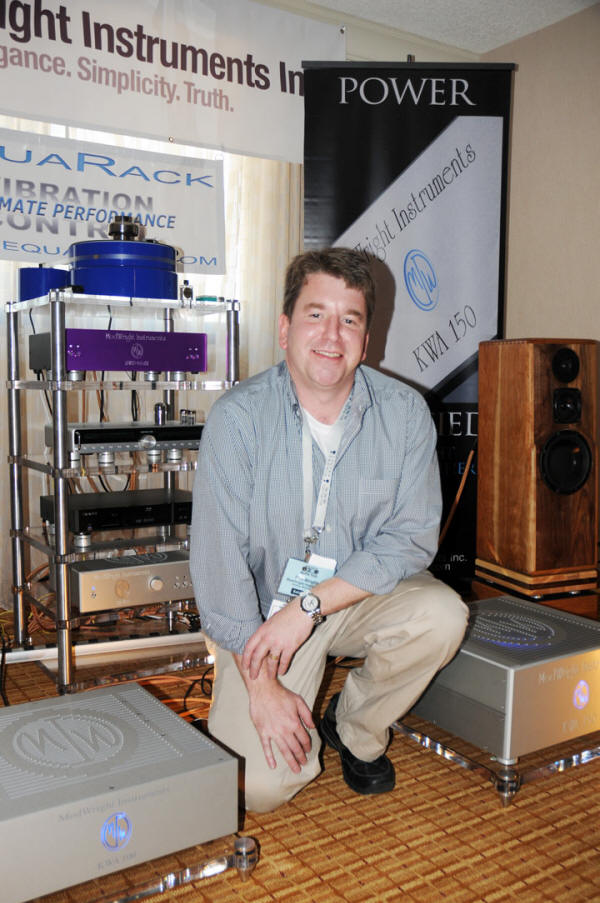 Dan Wright of ModWright Instruments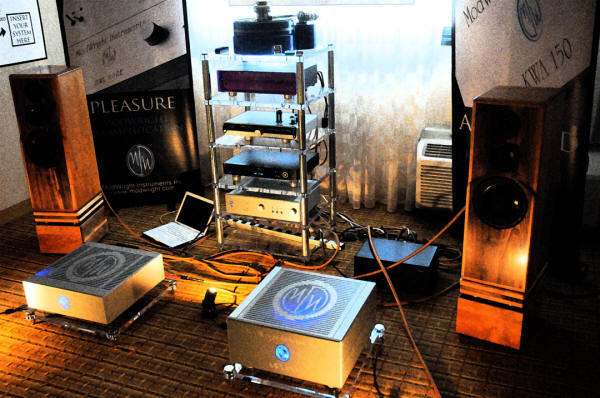 This was another room with good sound, rich, dynamic, and always musical. Dan Wright's ModWright components have been producing superior audio playback for many years now, and his line is now mature and sophisticated. I am not familiar with the Daedalus speakers, but what I heard was promising in the way of high-efficiency speakers. They certainly synergized well with the ModWright electronics.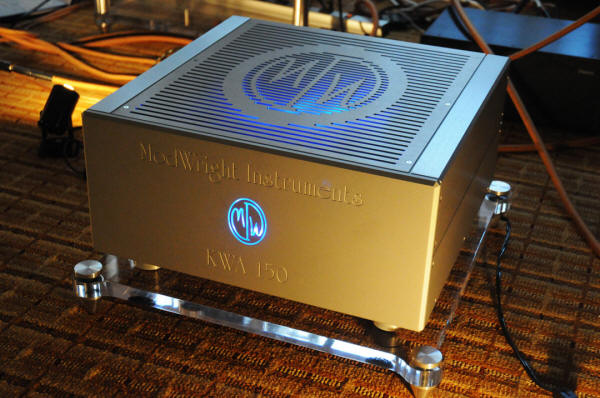 The ModWright KWA 150 amplifer on its EquaRack stand
What can I say? This was another relaxing, musical, pleasant room.
A PFO Audio Oasis! award for this one, too.
I Didn't Get to See Everyone…
As I said in my opening, I did not get anywhere near seeing and hearing every room that I wanted to, and regret missing some that I had on my list. Two days just isn't enough; I may have to look at doing three days in the future, difficult as it is to do on my schedule. I strongly suspect that there were several other rooms that would probably have taken an Audio Oasis! this year had I made it by with enough time to listen. Apologies to any that I didn't get to… and a tip o' the bottle from PFO's Carol Clark by way of a promise to try again next year, Lord willing!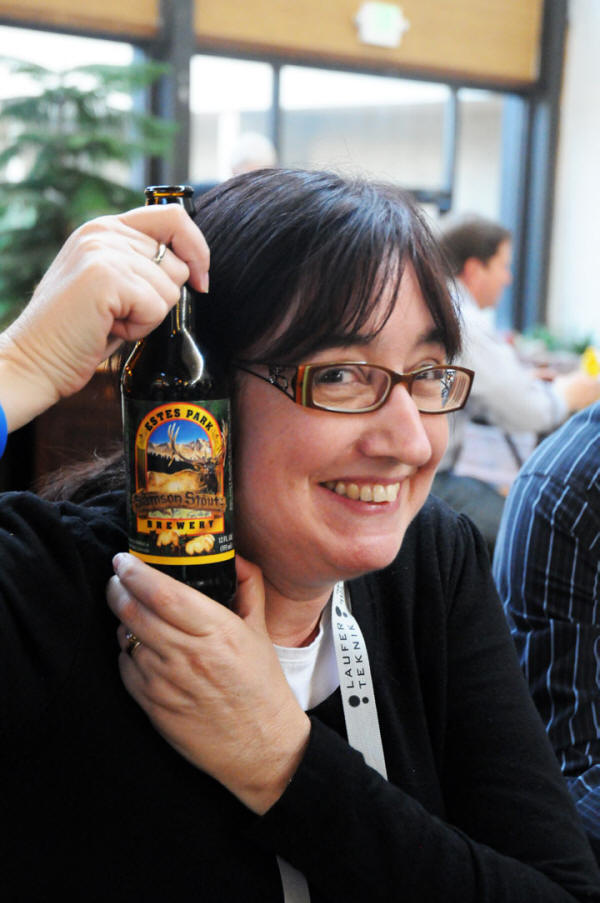 I'll be wrapping up my RMAF 2009 notes with a brief summary and reflections on the panels and presentations that I heard. I learned some very important things at these, and will be sharing them with you in the next day or two….