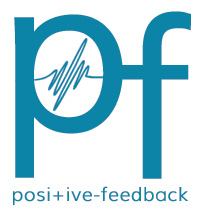 You are reading the older HTML site
Positive Feedback ISSUE
46

november/december 2009
Notes of an Amateur, December 2009, Part 2
by Bob Neill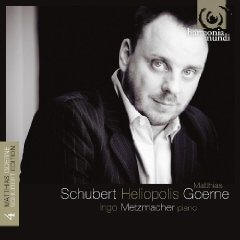 Schubert, Heliopolis. Lieder. Volume 4. Matthias Goerne, baritone, Ingo Metzmacher, piano. Harmonia Mundi HMC 902035.
Matthias Gorne is back with Volume 4 of his monumental series of Schubert lieder with Harmonia Mundi. No telling how many volumes it will extend to but if quality is to be determining factor, it could go on forever.
From tender to bold and back again, from exquisitely lyrical to passionate and back again. This is the full and complex Schubert we get from Alain Planès in the piano sonatas. No hint of the monochromatic melancholic of romantic legend. Goerne tells us on the helpful and suggestive, if somewhat coy DVD that accompanies this release, that Schubert is the core and heart of nineteenth century European song and then proceeds once again to dramatize his claim. Even more forcefully than his famous predecessor, Dietrich Fischer-Diskau, Goerne with an emotional range that matches his vocal mastery, shows us with sweetness and ferocity a Schubert that does indeed seem to encompass and transcend the range from Schumann, Brahms, Wolf, to Mahler. Without the orchestral richness that Wagner brought to arias and that Mahler depended on in his orchestral songs, there is a directness and immediacy to this music that is sometimes startling. It is utterly present and human, where Wagner and Mahler can be dreamlike and subliminal. With Goerne, Schubert's music is harder to ignore—it is insistent, even when it is hushed and elegiac. Both its 'beauty and truth' are all boldly before us.
This is a compelling view of the composer. Some gentle lovers of Schubert's music may find it too much to bear, which would be very sad indeed. There are a handful of recorded series being issued these days that will be looked back upon as landmarks of our time. This is surely one of them.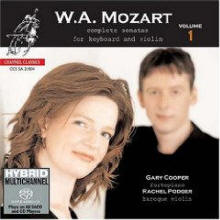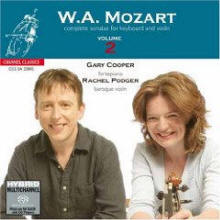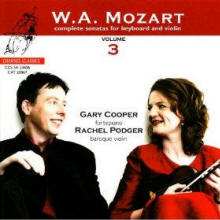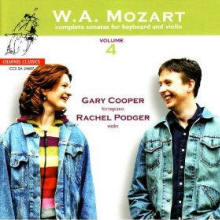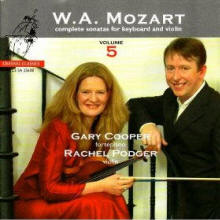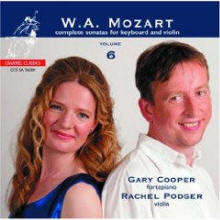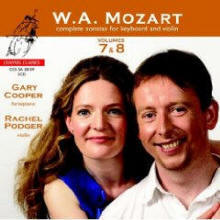 W.A. Mozart, Complete Sonatas for Keyboard and Violin. Vols. 1-8. Rachel Podger, baroque violin; Gary Cooper, fortepiano. Channel Classics.
What is the real lesson taught by the Original Instrument/Early Music movement? That we have played Bach, Beethoven, and Brahms too rich; Mozart and Schubert too beautiful. We have played them all too Victorian. And the leaner and more modernist the new twentieth century music of Stavinsky, Bartok, Prokofiev, and Shostakovich and even Britten became, the more anti-Victorian, the more Victorian we played their predecessors, creating from them a refuge from the new.
We know this, but it can still be a shock to hear Mozart's music that used to comfort us (and allegedly educate our babies in their sleep!) with the same urgency, passion, and clarity we hear from the modernists. The first time I heard Podger and Cooper play Mozart's sonatas for keyboard and violin, I heard primarily what their performance was not: it was not the elegant and refined Mozart of Lupu and Goldberg. Understandable, Lupu and Goldbert play wonderful and, for many music lovers, definitive Mozart. But recently, several years after my first hearing of Podger and Cooper and coming from Podger's new Mozart & Haydn release reviewed last time out—and not having listened to Lupu and Goldberg for quite a while, I heard what Podger's and Cooper's performance is. Joyful, passionate, arch, lyric. And disruptive. They would burst the doors of a Victorian drawing room. An eighteenth century salon? Ah, that's a whole different matter. We don't really know what Mozart sounded like in 1780. Just using eighteenth century instruments can't tell us that—it's how they're played. Delicately? With a slight tartness? Or robustly and delicately? Samuel Richardson's sentimental eighteenth century or Swift's, Henry Fielding's, and Lawrence Sterne's lusty and witty one?
What we do know from Podger and Cooper is that Mozart must have sounded something like this. How could he not?! Traditional Mozart can be transporting, there is no denying that. But it can't be this various—each sonata sounds like a different Mozart, this emotionally complex, this much fun. Podger can play sweetly but there is always texture to her sweetness. She does not transport us, she brings us home. She can play as bold as rich British bitter and as tart as hard cider. She can dance, boogie, whisper, reflect, even rhapsodize. She can take one note through several moods with her bow! And Cooper plays along with and against her, according to the composer's demands and his own utterly persuasive intuition. He is every bit as present in this Mozart as Podger, as he should be: these are sonatas for keyboard and violin. We focus primarily on the violin because Podger is the star we came go hear, but Cooper is her equal here. And thankfully, his fortepiano has weight as well as clarity, not always the case when the wrong recording engineer is at work. It never has the dreaded 'forte piano sound' so many of us have learned to fear from performers who aim to rattle us with piquancy. To hear a fortepiano as clear, rich, and strong as this, as clear, rich and strong as Podger's baroque violin, is a rare treat.
When I listened again to Volume 1 of this series doing background listening for the Podger Mozart/Haydn review, I heard it as if for the first time. And immediately ordered Volumes 2-8. And they're all I've had on the player this week. I will not get rid of my Lupu and Goldberg or even my Uchida and Steinberg. But all the rest are gone. Life is too short for second best Mozart.
For those of you who care about this sort of thing—and producer/engineer Jared Sacks cares passionately - this whole series is on SACD.
Systems used for this audition: Audio Note CDT3 transport and Dac 4.1 Balanced Signature. Blue Circle BC 3000 II/GZPz tubed preamplifier and BC 204 hybrid amplifier. Jean Marie Reynaud Offrande Supreme loudspeakers. With Blue Circle BC6000 line conditioner. Audio Note Pallas, Sootto, and Sogon interconnects; Audio Note Lexus speaker cables.
Bob Neill, in addition to being an occasional equipment and regular music reviewer for Positive- Feedback Online, is also proprietor of Amherst Audio in Amherst, Massachusetts, which sells equipment from Audio Note, Blue Circle, and JM Reynaud, among others.