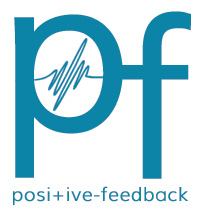 You are reading the older HTML site
Positive Feedback ISSUE
46

november/december
2009
Wonderful Music
by Karl Lozier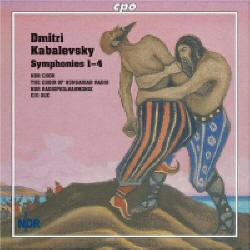 Dmitri Kabalevsky, Symphonies (Complete Nos.1-4). Orchestra: NDR Radio Philharmonic. Chorus: The Choir of Hungarian Radio. Conductor: Eiji Oue. CPO 2-CDs 999-833-2
Kabalevsky is widely remembered for a variety of compositions that were very popular with the general public following an unusual burst of symphonic output earlier. In the early nineteen thirties she composed three symphonies in about two years. The solemn sounding (to me) third Symphony also referred to as Requiem for Lenin, adds a chorus and is actually not a symphony. This recorded performance is its world premiere! Then over twenty years later, Kabalevsky finished his fourth and last symphony. CD number one contains symphonies one and two totaling only forty-five minutes of early symphonic composition. Not great symphonies by any common standards though I found them to be very enjoyable and upbeat in a unique light-weight scoring manner. Also, they are heard in excellent overall audio quality with particularly fine detailed clarity even into the solid very deep bass range. I thoroughly enjoyed this first CD!
CD number two was very different to my way of thinking and I found the misnamed symphony number three, with chorus to be well performed and actually interesting. Then to top it all off, the longer and much later symphony number four to also be very interesting, excellently played and also enjoyable, though not in the same way as his first symphony, and it held up under repeated listening. Particularly with the older monster Sony player with VSEI's very latest upgrades including their superb ultimate bit clock, the Terra Firma Uber clock, the superb audio quality here and with some other recent releases comes close to equaling most SACD discs used in stereo mode. I have not had time to compare my VSEI upgraded new Sony model5400 ES CD/SACD player. A highly recommended release particularly for listeners looking for something new or a little different!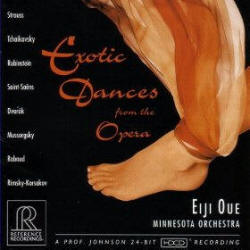 Exotic Dances from the Opera, Orchestra: Minnesota Symphony. Conductor: Eiji Oue. Reference Recordings RR-71 SACD
Quite ironic that after many years of resisting SACD releases for his company's releases, Tam Henderson has evidently given in to some outside pressures. Peculiar in that some companies have gone the other way and stopped or almost stopped SACD releases. Talking to Tam Henderson some years ago he had specific reasons for resisting the push toward SACD for the very highest quality. At that time I had a player that had the kind of rare decoding chip to get the very best out of RR's HDCD releases, not just playing them on a compatible player. HDCD discs player back on a player with the correct chips for decoding do offer excellent sound, as superior to regular CD though I never though I never had a chance to compare " full Blown" HDCD playback with full blown SACD.
My guess, only a guess, is that it would be comparable in two channel playback. This release is one of the first by RR. The popular group of selections is from eight operas only half of which are well known by most listeners. There is a tendency, with my reference system, for this release to be a bit on the lush side of neutral and subtly lacking in live presence. The impressive, very much so, deep bass response is not what many, if not most listeners, will find at their local concert halls. Tam, how about the SACD treatment for that great RR-96 of Rachmaninoff's Symphonic Dances with the conductor and orchestra listed here?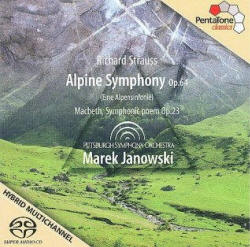 Richard Strauss, Macbeth Symphonic Poem. Alpine Symphony. Pittsburg Symphony Orchestra. Conductor: Marek Janowski. Penta Tone SACD Hybrid PTC5186 339
The symphonic tone poem Macbeth is supposedly not in the style of Liszt's famous tone poems but is close enough for our descriptive and listening purposes. Based on the play, here the hero, Macbeth, is represented by the lower range of musical instruments and Lady Macbeth represented by the warlike and foreboding playing range of the woodwinds plus some soothing passage of course. Strauss easily equals Liszt when it comes to sophisticated tone poems.
The other tone poem offered here is misnamed as a symphony and it is definitely not a symphony. This Alpine Symphony is a showpiece orchestral work for a huge virtuoso orchestra of at least 125 to meet the score requirements! There is a definite leaning toward the bass side of the audio spectrum with Bass Trombone, Tuba, Bass Clarinet, 3 Bassoons, Contrabassoon, wind and thunder machines and organ added to large orchestra. Audiophiles should be alerted. Symphonic tone poems depicting a period of time, such as a day are common. In this instance, the time period is one full day starting with the first section titled "Night" and ending with section 22, titled "Night" The beginning "Night" is followed by Sunrise, At the Waterfall, On the Glacier, On the Summit, Calm before the storm, Thunder and Tempest to name some of the sections. This "audio painting" can easily be followed by music lovers. The liner notes suggest this to be the most realistic musical portrayal of natural phenomena in history. Listen and decide for yourself while nearly all symphonic musical instruments are painting the audible landscapes of a day in the "high Alpine mountains of Bavaria where Strauss had lived. Fascinating at a minimum and almost over whelming to others at the opposite extreme. This is Strauss' greatest, longest and last symphonic poem. Do not expect to hear it at most local concert programs; the huge musical forces needed are seldom available.
Extended listening revealed overall excellence. As you would guess from the wide variety of scenes in this very descriptive tone poem, the melodic pastoral passages are as beautifully done as any ever, in this fine SACD release. Though the brass playing was excellently handled by the orchestra and audio engineers, in some of the earlier passages I thought that I came close to hearing that high frequency distortion edge that results from microphones trying to capture a bit too much of powerful high frequency passages. Overall the fine Pittsburg Symphony lives up to its heritage from a long line of outstanding conductors, the equal of any in the USA though not as widely known. Let's have more from them PentaTone!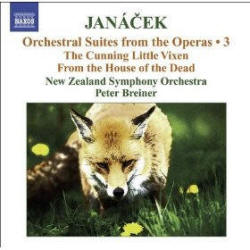 Janacek, Orchestral Suites from Operas 3: The Cunning Little Vixen, From the House of the Dead. Arrangements: Peter Breiner. Orchestra: New Zealand Symphony. Conductor: Peter Breiner. Naxos CD 8.570706
Leos Janacek is a rather unique composer with the ability to often create a distinctive sound in his orchestral works. I highly recommend investigation of his offerings. In addition to his operas and vocal music such as the cantata Amarus and Glagolitic mass, do not miss his outstanding Sinfonietta that continues in popularity decade after decade and is a personal favorite. Janacek felt a need to make the quaint story behind the Cunning Little Vixen more powerful or profound or whatever and so he added the Vixen's death. Even so, the music is contagiously melodic and often inventive. Highly recommended; I would purchase the recording just for that music though opera lovers would never give up their favorite vocal version that probably would be the famous version featuring Lucia Popp as the Vixen. The background for Janaceks last opera, From the House of the Dead, is a rather bleak depiction of life in a Siberian Prison. The orchestration is accordingly appropriate with a distinctly more aggressive feeling, definitely more post romantic or even contemporary to a great extent. Here it appears to be recorded a bit closer than the Vixen was or simply released with a very slightly higher output level. These two are a good introduction, but very incomplete to realize Janacek's abilities in this coupling. Highly recommended and Gaven Plumley's liner notes are outstanding.
Extensive listening, specifically to evaluate audio quality was very interesting. Audio components used specifically on this recording include the well known Keith Herron's, latest unadvertised, newly upgraded tubed preamplifier and a pair of his new power amplifiers, as usual, solid state models with no audible traces of solid state sound, the very latest Bill Thalmann's upgraded VSEI Sony SCD-1 CD/SACD monster player with the ultimate Terra Firma Uber bit clock. The almost unique Genesis G 6.1 design by Arnie Nudell loudspeakers with a "limited to and guaranteed" ultra wide-range response of 16 Hz to 36kHz are still my relatively affordable choice with quiet attractive design by Gary Koh and are basically dipole radiators. "Waiting in the wings" if had been needed for multichannel here, are the VSEI modded and upgraded, including Allen Wright's Terra Firm Lite bit clock, Sony's newest and possibly last, multichannel SACD/CD player, SCD-XA5400ES and the latest Oppo 83 design for Blue-ray and everything else—also modded/upgraded including, of course, Allen Wright's now famous Terra Firma Lite bit clock and whatever else needed, installed and checked out by Music Technology's Bill Thalmann.
The audible results were almost a music lover's ultimate delight. Perspective was somewhere near mid-hall with excellent soundscape (remember the dipole radiation). It is relaxed listening as if I was there and not a hint of distortions at any time. At the end of track one there were three solid and very deep bass drums strokes just like I am used to hearing live most of the time, providing a realistic solid foundation, not showing off or exaggerated.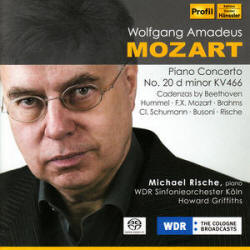 Mozart, Piano Concerto No. 20. Cadenzas by: Beethoven. Hummel, F.X.Mozart, Brahms. Cl. Schumann, Busoni, Rische. Orchestra: WDR Symphony Koln. Conductor: Howard Griffiths. Pianist: Michael Rische. Profil Hybrid SACD PH09006
WHOA! Wait a minute or a bit more. This is not just a fine performance, very well recorded of a well-known staple of the piano concerto repertoire. Far more and in my experience this release is unique in a number of ways. First of all it is important if you know, really know what a cadenza is. If you are a concert attendee you have at least a strong hint of the what and why of a cadenza. If you look thoroughly over your program for the concert, if a concerto is to be played there is a distinct possibility it will mention a cadenza or even two or three of them. The potential shocker would be if the program notes list a different composer for the cadenza(s) ! What would be going on then?
Some background is called for here. Briefly a cadenza is a flourish for the performer to show off his or her virtuosity even if the composition does not seem to do that. A couple of centuries ago, composers toured extensively playing their own compositions and would often throw in a few showoff passages and as they might not be written in the score, next time they might throw in an entirely different passage! Soloists love to showoff and why not. If the composer was not an excellent pianist, for example then he would be reluctant to put in virtuoso passages that he could not perform himself. Perhaps it might backfire on a pianist that chose to do a cadenza that might become popular and be beyond the capabilities of the composer to play in his own composition. I believe that Mozart and Beethoven then wrote showoff cadenzas that they expected to be performed exactly as written. However, to this day, some famous pianists play some personal favorite compositions with someone else's cadenzas, at times their own. By now you have guessed that this concerto has been a favorite for others to compose their own cadenzas at three places in this outstanding composition. This excellent disc is uniquely designed so that you can easily play the recording with a choice of four cadenzas by different composers including Beethoven, Hummel, Brahms and Mozart at three places in the concerto! Think you are really sharp when it comes to classical music, then give this unheard recording to someone else to play it for you with all the different cadenzas while you or others decide who composed each one, like a party game.
Good luck.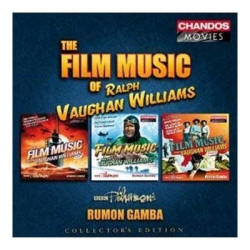 Ralph Vaughan Williams, Film Music. Volumes No. 1, 2 and 3. Orchestra: BBC Symphony. Conductor: Rumon Gamba. Chandos 3-CD Set Chan 10529(3)
What a fine production, beautifully handled with three discs, three booklets and nine of the eleven film scores by the deservedly famous British composer Ralph Vaughan Williams. Fascinating information abounds in the accompanying booklet's pages. I do not have the space to go into detail and there is simply so much of it! Some of the film music comes right out of some of his famous compositions such as symphony number six and some of it is taken from the film's composition and later worked into his symphonies and other compositions. About half of the compositions in these releases are world premiere recordings-film buffs take note! All of his film score writing came after 1940 and after the age of 67 years. Yes, the deservedly famous Scott of the Antarctic is included here. So is the particularly fine49th Parallel, released as The Invaders in the United States. If you do not know that tale and what was behind it, do some research and find out all aspects of it. I can give you my famous "almost guarantee" you will be fascinated! Simply do it, as it is too long (all interesting) for me to include all the necessary details here. According to the liner notes these recordings were done over a three year period, one per year. The results are consistently excellent and should satisfy any music lover. Actually as common for Chandos the overall audio quality is a bit better than many other companies and Chandos believes that is at least partly due to regularly using 24 bit digital recording technology even for regular CD releases. That is slightly controversial though accepted as necessary for SACD and other high-resolution formats. The results have been consistently good in my listening sessions. An absolutely top recommendation for film music aficionados.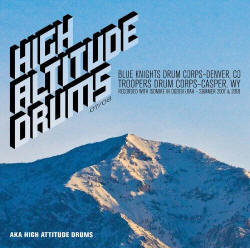 High Altitude Drums, Blue Knights Drum Corps- Denver, CO. Troopers Drum Corps-Casper WY. ISOMIKE Productions SACD # HAD-01
This outstanding though unusual production will probably have rather limited appeal but to those it does, the appeal will be great, really great. Despite the title, this a perfectionist's attempt for an ear perfect recording of a Drum and Bugle Corps. The recording is evidently outdoors and at least partly at the field at Weber State College. Oh, it brings back the memories of the formerly well known Acoustic Research loudspeaker company recording a very small group (trio?) outdoors then having them playing on stage with their AR brand loudspeakers behind the few musicians and after some time the musicians put their instruments down to show that at least part of the time the audience had been fooled that they had been listening to the recording and not the musicians on stage!
Things are different here. A drum and bugle corps is commonly heard outdoors. To record them anywhere else would add the acoustic effects of that environment. A definite No-No to a perfectionist recording person such as Ray Kimber. Group 1 now you can hear in your own home, or someone else's, the live unaltered sound of a fine Drum and Bugle Corps thanks to the fine Isomike microphone/baffle system. Group #2 now you can hear exactly how these instruments sound for your enjoyment. Then turn up the volume and get with it. Some of what you will hear is like practice drills. Some like my personal favorites is simply for musical enjoyment; as is excerpts from a Shostakovich symphony, Ghost Riders in the Sky and Amazing Grace. This is not for everybody, but how about you?