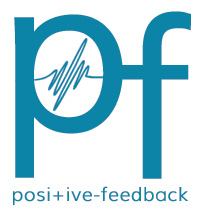 You are reading the older HTML site
Positive Feedback ISSUE
46

november/december
2009
Impressions: Your Desktop Can Rock - HeadRoom's Bi-Amped Audiophile Desktop Package with the Harbeth HL-P3ES-2 Monitor Loudspeakers and the Oppo Digital BDP-83/BDP-83 Signature Edition
by David W. Robinson
[All photographs and image processing by Robinson]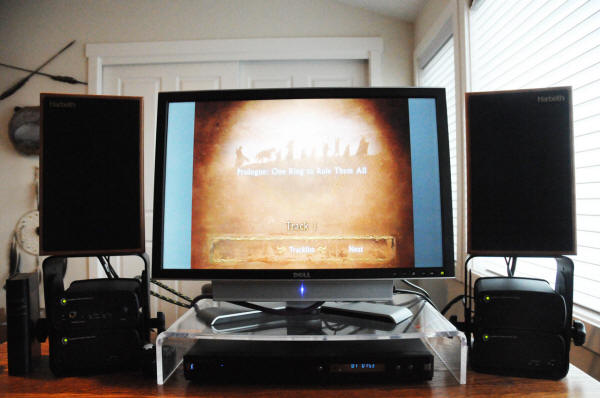 The HeadRoom Bi-Amped Audiophile Desktop Package in place in Ye Olde Editor's office, fed by the Oppo Digital DV-980H universal player; on screen, the DVD-A splash screen for The Lord of the Rings, The Complete Recordings: The Fellowship of the Ring. The complete set of all three volumes is smashing, and each volume comes with both a DVD-A and a CD set of the music in an exhaustive treatment.
This is a background project that's been going for quite a while now. The good folks at HeadRoom (http://www.headphone.com) sent me one of their desktop reference playback systems, together with three reference sets of headphones, to test fly. I've been using the system for quite a while now, and wanted to give you all a concise summary of what I've found.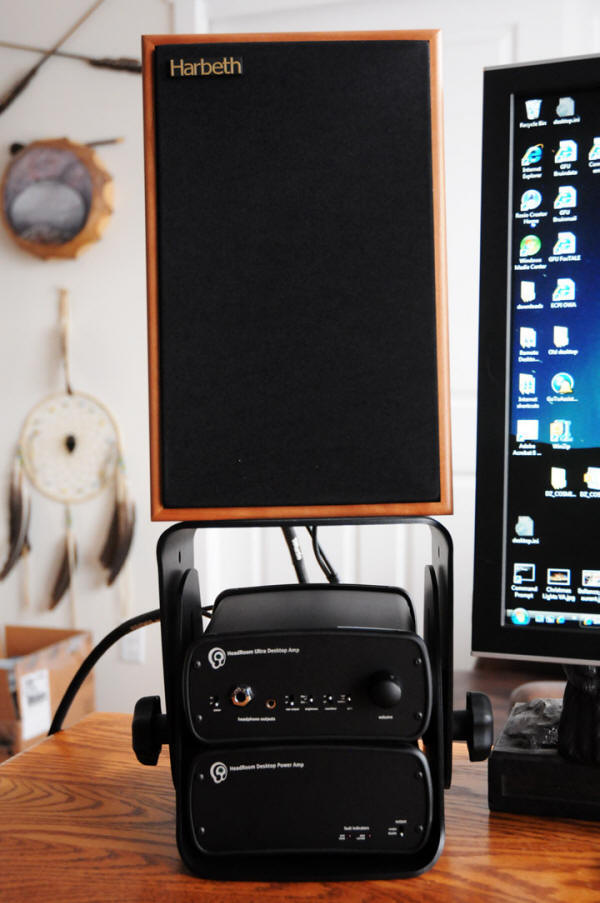 The Harbeth HL-P3ES-2 speaker on the adjustable HeadRoom speaker stand; below are the HeadRoom Ultra Desktop Amp and one of the two HeadRoom Desktop Power Amps.
The system sent for review consists of the following
1 HeadRoom Ultra Desktop Amp

2 HeadRoom Desktop Power Amps, wired in bi-amp mode

1 HeadRoom Desktop Power Supply

1 pair of Harbeth HL-P3ES-2 two-way speakers, bi-wired

1 pair of HeadRoom Desktop Speaker Stands

DiMarzio bi-wire speaker cables and cross-connector interconnect

1 pair of Sennheiser HD650 headphones with the Cardas cable upgrade

1 pair of Grado GS1000 headphones

1 pair of Denon HL-5000 headphones
My comments on the headphones will follow at a later date; headphones are such different beasties….
I really wanted to work out the desktop system itself, a process that was interrupted seriously while I was in Virginia in late 2008/early 2009. Once I got back to Portland, I was able to pick up the thread again. Since then, I've taken the opportunity to give the HeadRoom gear a true workout over a number of months. I've used as sources the Oppo DV-983H DVD/universal player (now discontinued), the new unbelievable bang-for-the-buck Oppo BDP-83 Blu Ray/universal player, the DVD-RW drives in both of my Dell workstations (Precision M90 notebook, and the big-guy Precision T7400 workstation), and downloaded music via HDTracks (http://www.hdtracks.com, up to 96kHz/24-bit .FLAC), amazon.com .MP3, and my Apple iPhone/iTunes. To really toss the maximum music at the system, I've used both direct analog outputs from the sources, as well as digital feed (S/PDIF, USB, and TOSLINK optical) sent to the Cary Audio Xciter DAC. Of all these sources, and the Cary Xciter, more anon… alas, there is not enough time or room for that in this review.
Piles of SACDs, my preferred reference format, have floated downstream…way too many to name, though the labels are a mixed array: RCA Living Stereo, Top Music, 2L, MCA/Universal, Analogue Productions, and so on. Since shifting to the handy-dandy Oppo BDP-83 Blu Ray/Universal player, I've also taken the opportunity to listen to some Blu Ray audio. Neil Young's enormous and magnificent Archives, Vol. I on Blu Ray are top notch for fans of his. (I'm one.) There are also several releases from 2L in very smart dual-pack Blu Ray and SACD that got seriously twirled. 2L's dual-pack is a great idea, by the way… I don't have to choose between the formats. There are some very fine recordings here: the Trondheim Solistene's Divertimenti, which has rightly earned high praise from a number of reviewers; the Dena Piano Duo's Mozart/Grieg: Werke fur Zwei Klaviere (which I'm listening to with real appreciation right now as I write), Ellen Sejersted Bødtker's SONaR, a real treat for fans of the harp, Fred Berg's Flute Mystery as performed by Ashkenazy and the Philharmonia Orchestra… even their sampler, 2L: The Nordic Sound is a treat, and gives you a feel for what the label is doing.
Heck, there were even some DVD-As of favorite albums that have spent many hours with me at my desktop. (The terrific Beatles Love, say, or David Crosby's If I Could Only Remember My Name, or the very fine The Doors: Perception box set from Rhino, or the complete and enormous triple box set of the Lord of the Rings soundtrack, or some R.E.M., or Aaron Neville, etc., etc., etc. Too bad these labels and titles never made it to SACD; then again, the world is filled with clueless people.) This has given me an excellent opportunity to see how well the HeadRoom system measured up, and I didn't miss the chance.
The System
It doesn't take a lot of horsepower to realize that desktop/computer audio is a different type of audio experience than stereo, surround sound, or home theater. The experience is near-field, not full-range— subwoofers are available, but do not integrate seamlessly—and generally trades transparency and some timbre for dynamics and immediacy. (Planar desktop systems like the Eminent Technology system I still own can be exceptions to that rule, of course.)
HeadRoom's has several approaches to the question of reference-grade desktop/headphone playback. One way is to go with dual HeadRoom Desktop Power Amp monoblocks (150-watts per channel @ 4ohms) with a single set of binding posts for the speaker, with either single cable sets or a bi-wire cable for speakers with dual binding posts; or you can choose HeadRoom's Desktop Bi-Amp Power Amp monoblock configuration (50-watts per channel @ 4ohms), with two pairs of binding posts allowing separate paths for two pairs of speaker cables. This latter is the way that I chose to go, and is what the factory sent to me. Note that you must make this choice at the point of sale, as these are completely different models, not selectable via jumpers on site.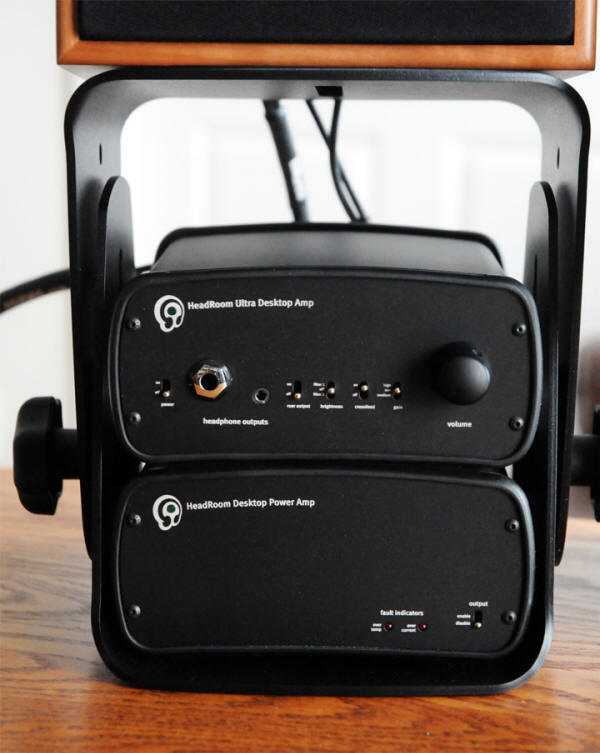 The HeadRoom Ultra Desktop Amp and Desktop Power Amp in the base of the HeadRoom speaker stand. This clever construction allows your components to rest out of the way, and yet remain accessible, while providing some additional ballast for the speaker stands themselves.
For a preamp/processor and headphone amp, I selected the HeadRoom Ultra Desktop Amp. This unit is an amplifier for headphones only; otherwise it acts as a preamp/control module and DAC for digital inputs. As an upgrade, HeadRoom sent along one of their Desktop Power Supply units to provide improved power to the system.
The HeadRoom Ultra Desktop Amp is a compact design, very intelligently thought out—judging by the sound, it's well executed, too. As you can see from the image above, the Ultra's 6.25" x 6.25" x 3.33" form factor is tight. It tips the balance at only 1.8 pounds, a welcome light-weight for desktop operation. The claimed frequency response is a plenty decent 10Hz - 50kHz, ± 0.3. The front panel has a set of goodies, mostly in the form of micro-switches. From the left in the photograph above: the de rigueur power switch; a ¼" stereo cannon jack for headphones; a 1/8" stereo jack for headphones; a rear speaker output on/off switch (on for loudspeakers, off for headphone listening); a brightness control (off, filter 1, and filter 2); a crossfeed switch (off for loudspeakers; on for headphone listening); a three-way gain switch (low, medium, high) for level matching; and a volume knob to the right. There's a green indicator light to show when the Ultra is powered up, with useful indicator lights for overheating or over-current conditions.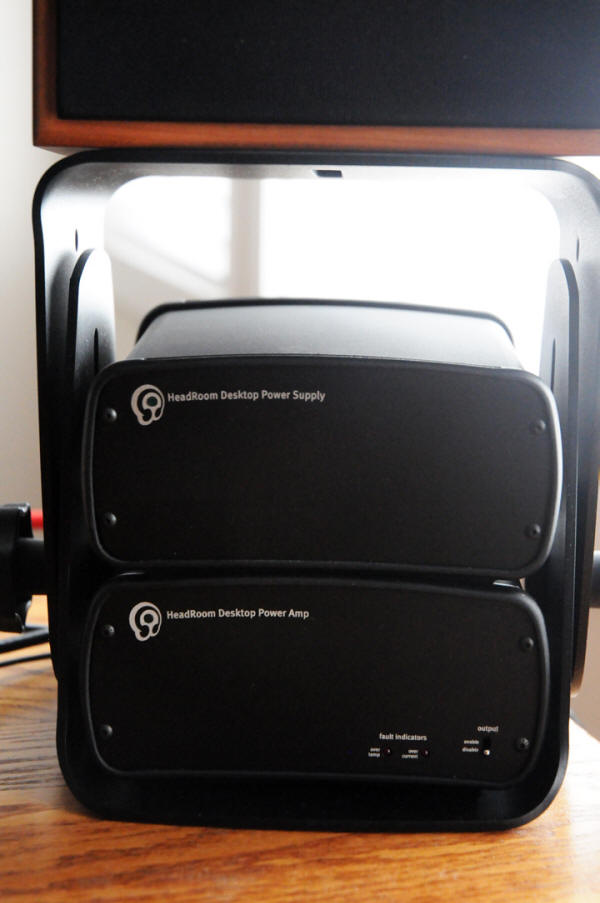 The HeadRoom Desktop Power Supply is a dedicated unit that can supply either one or multiple HeadRoom units (as was done here). It features a handy switch for floating the ground…good stuff!...and provides superior dedicated power that is exactly crafted to match the requirements of the HeadRoom gear. HeadRoom recommends that if you're interested in a no-holds-barred approach to desktop sound, that you get a Desktop Power Supply for each HeadRoom component. We stayed with a single unit for the three other components. Note that the form factor is the same as the Ultra.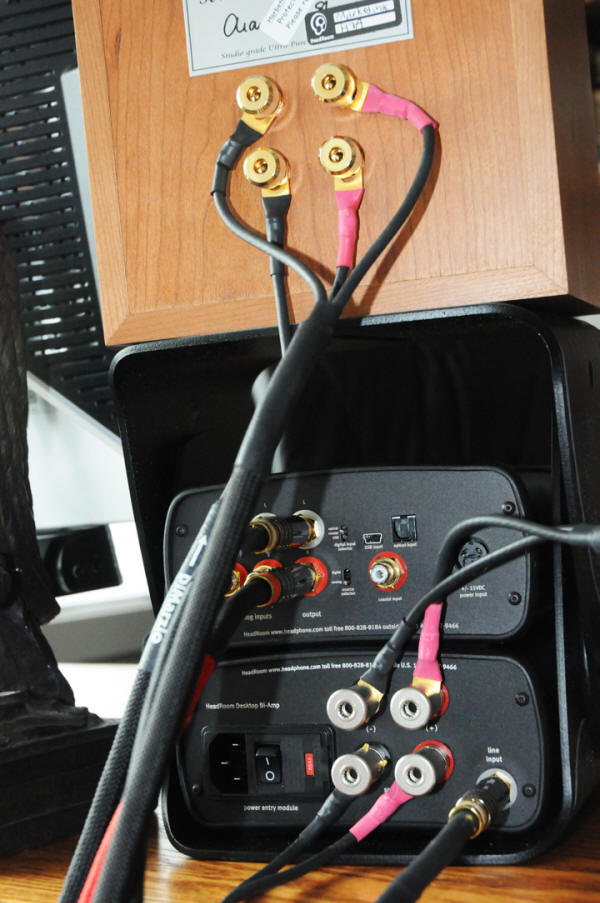 In this rear view of the Ultra/Desktop Bi-Amp, you can see the Bi-Amp below, with its dual binding posts. Above it is the Ultra, with two pairs of analog inputs, one pair of analog outputs (the left of which is going to the line input of the Bi-Amp below), and its three digital inputs: mini-USB, S/PDIF, and TOSLINK. The three-way mini-switch in the middle above next to the mini-USB port is for the selection among the three digital inputs; the two-way mini-switch below is for toggling between digital and analog inputs. Not visible in this photograph—to the left top, behind the DiMarzio speaker cables—is a two-way mini-switch that toggles between analog input one (up) and analog input two (down). The power input to the middle right will be filled by the HeadRoom Desktop Power Supply unit; ditto for the Desktop Power Amp on the other side.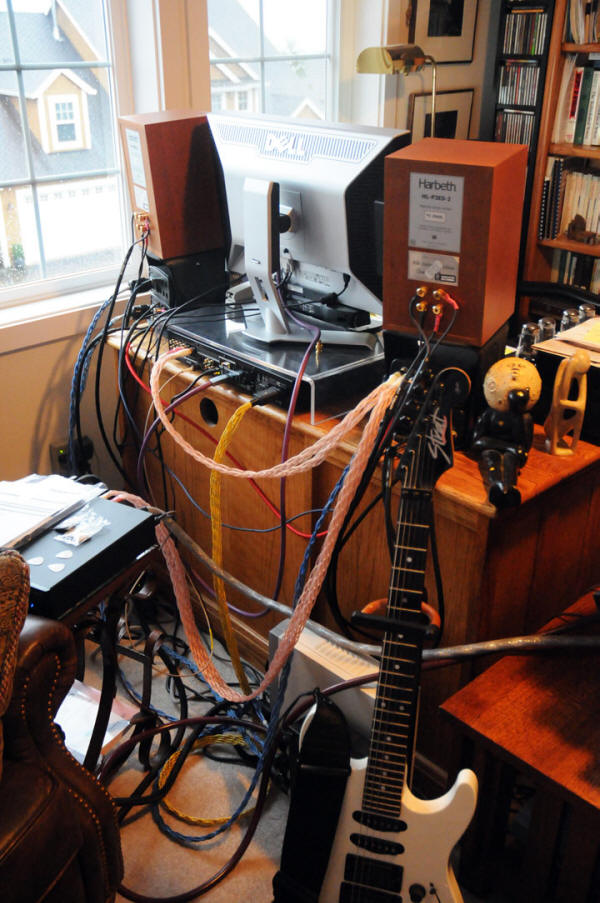 Once everything was plugged in and cabled up… not a difficult process due to the very clear, scenario-based documentation…the results looked like what you see above. DiMarzio supplied the speaker cables and preamp-to-amp interconnects; JENA Labs supplied the power cables and other analog interconnects that ran directly from the Oppo Digital DVP-980H, which was rapidly replaced by an upgrade to the Oppo Digital BDP-83, and then in turn by the Oppo Digital BDP-83 Signature Edition just a few weeks ago. On the digital side of the fence, feeds from either the Oppo sources for optical discs (S/PDIF), or my Dell PrecisionT7400 (Toslink) or Dell Precision M90 notebook (USB 2.0) provided signals for the Cary Audio xCiter DAC (my notes on the xCiter DAC will be coming in the near future). Cabling for the S/PDIF is a vintage Stereovox from Chris Sommovigo; USB 2.0 cabling used the superb Locus Design Group Cynosure; while the Toslink was a generic Radio Shack model. (Hmmm…no reference grade TOSLINK around here!)
And for the curious, the Strat HM (1990 USA vintage) is by Fender, nacherly. Sweetness, amigos.
After some experimentation, I selected the high gain setting for the Harbeths, which allowed me to keep standard listening volume at 9:00. The speakers struck me as a good bit less than efficient… sure enough, when I checked the specifications, Harbeth claims 83dB/Watt/meter. Online research indicated that impedance dips to about 4ohms… yep, high output was called for. Some 'philes prefer the gain setting to be more granular, with standard output around noon; that's fine, the Ultra will easily accommodate you.
I should note in passing that I used a pair of UPS's to provide protection and line filtering/conditioning for the computers and desktop system: a smaller Tripplite 1100 VAC unit for the HeadRoom system, and a larger 1500 VAC for the computers. UPS's are SOP for my computing systems, audio-attached or not.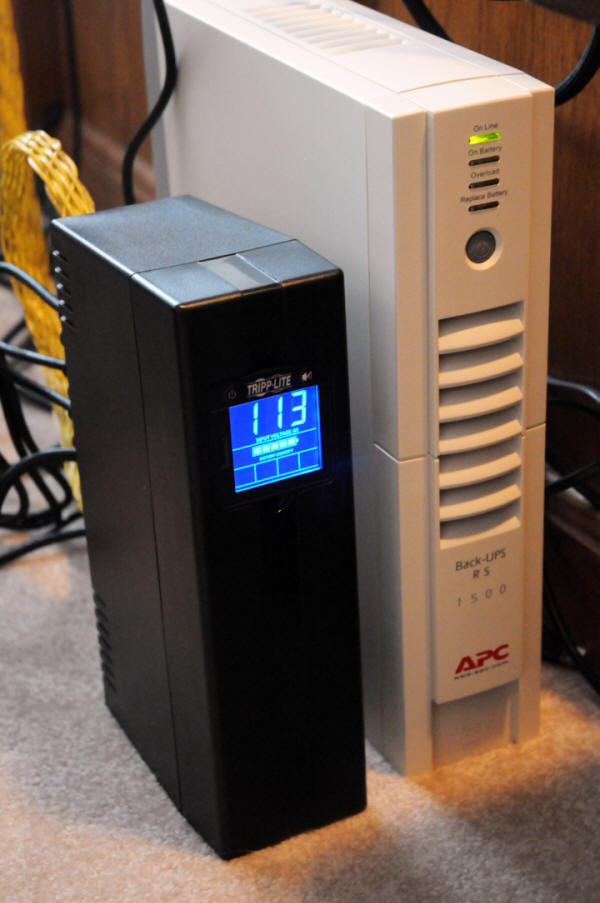 For loudspeaker playback, turned on rear output, set crossfeed to off (this is for inter-aural fill-in during headphone listening, to avoid extreme left-right effects), and went with brightness off as well. To allow for the 24" diagonal Dell 2408 WFP LCD between them, the Harbeths were spaced at 25". When I'm sitting close at my computer desk, the listening triangle is nearly equilateral: 25" x 28" x 28". When I'm back in a more relaxed position, the triangle is definitely isosceles: 25" x 36" x 36". After a good bit of experimentation, I ended up with the speakers toed-in, but not pointed directly at me… that was too narrow a sweet spot. Instead, I positioned them so that the point just over each shoulder, providing just enough center fill to keep a hole from forming at the flat panel's position, and yet presenting a pleasantly wide field. Listening at a desktop is far more dynamic in placement, since I move a lot while I work, and shift forward and back. Naturally this means that soundstaging and imaging will shift around, but that's OK. It's the nature of the beast….
Finally, I removed the speaker grills, which I usually consider to be decorative only on most loudspeakers. A quick before-and-after test showed that the Harbeths sounded better without them; the clarity of the sound was noticeably improved when running bare.
The Sound
Once configured and fired-up, the HeadRoom Bi-Amped Audiophile Desktop Package performed without a single problem. Reliability was excellent. Everything worked as it should…a good thing. Since the amps are Class D in operation, heat was not an issue, even when listening at elevated levels. (At a distance of 2.5-3.0 feet, that doesn't take much volume, though.)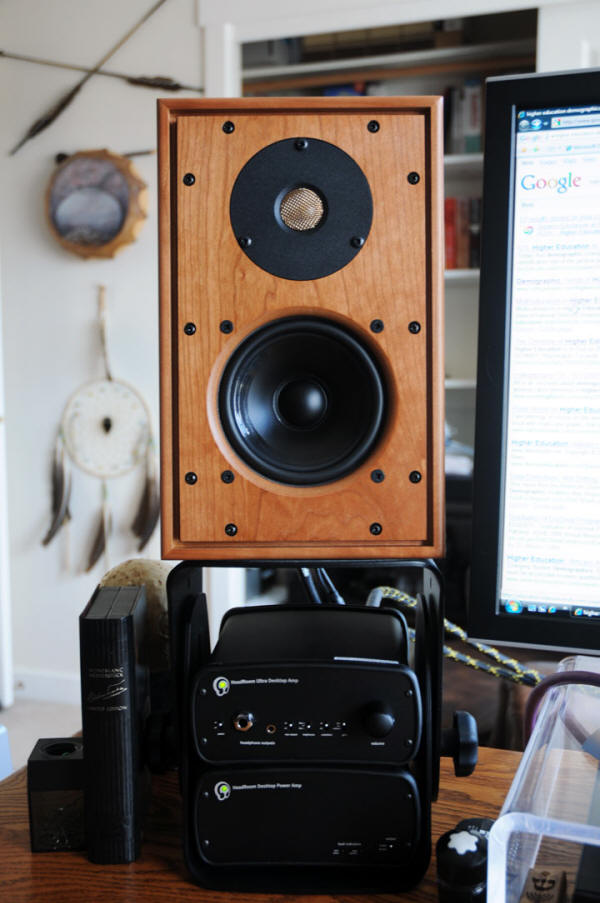 The Harbeth HL-P3ES-2 with its front grill cover removed; you can see the adjustment knob for the speaker stand to the right
To my ears, it took the system around 100-125 hours to hit its stride. At first, the sound was a bit lean, and the Harbeths struck me as a bit closed in and boxy. Since the Harbeth HL-P3ES-2's are two-way sealed boxes, this isn't surprising. Several days of vigorous listening loosened things up, and within a few weeks the playback really bloomed. (It's handy to be able to work while this goes on.) Despite the fact that the Harbeth cabinets are not inert, neither do they ring. Their performance is further enhanced by the HeadRoom speaker stands, which hoist them 9" into the air, tilt them back slightly (this is adjustable), and keep the speakers from sliding by providing a thin rubberized layer for them to rest on (there's another rubberized layer on the base of the stands to keep the stands firmly in place… works great!). While there are no tiptoes for the speaker, neither do I think they're warranted.
The reason for this is simple: the Harbeth's, like all mini-monitors, do not provide the bottom octave and two-thirds; below about 80 Hz, there really isn't much there. (The claimed frequency response is 80Hz - 20kHz ± 3dB.) Deep bass devotees would have to research a subwoofer option if they really had to have it. So don't worry too much about the tiptoes either.
No, this is probably not a computer/desktop system intended for use with local gaming/online gaming, or full-range movie watching. Instead, the HeadRoom Bi-Amped Audiophile Desktop Package is intended to provide a truly audiophile-grade musical experience in the near-field, and this it does splendidly. Midrange and treble are reasonably well integrated at the ear-level that the HeadRoom speaker stands provided for a person of my height, just a bit over 6'. In my listening, I didn't notice any dreaded disconnect between the two drivers; out at 36"-38", the sound had enough distance to integrate, creating a decent harmonic coherence. No beaminess of the higher frequencies; no vertical picket-fence effect. So far, so good; the fundamentals were sound.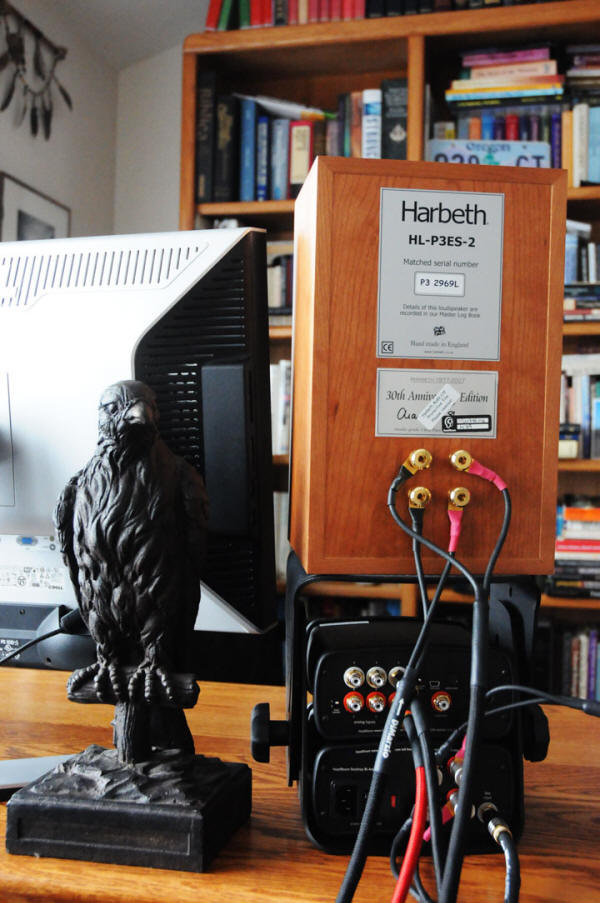 The good news: once the HeadRoom Bi-Amped Audiophile Desktop Package is broken in and hitting the groove, you know it. The chief virtues became evident to me over time: the system produced nicely (not obscenely!) dynamic reproduction of full orchestral music. For example, the slam of SACDs like Analogue Productions' magnificent new SA, The Power of the Orchestra was conveyed quite convincingly, with excellent verve and rhythm. The HeadRoom Ultra and Bi-Amped Desktop Power amps never tapped out at any reasonable listening level (but don't be an idiot in the near-field, eh?), even during the most demanding passages. I admit to being surprised and pleased at the lack of congestion in the presentation.
I have to give special mention to a favorite movie soundtrack: the complete Howard Shore Lord of the Rings cycle on DVD-A and CD. If you love the books and the movies as much as I do, I can tell you that you'll definitely want to purchase The Lord of the Rings: The Complete Recordings. It's a monumental pile of music, in three box sets, each with a set of CDs plus one DVD-A in high-resolution surround/stereo mixes. Beaucoup hours of music in each set…check out the following Amazon links for details:
The Fellowship of the Ring:
http://www.amazon.com/Lord-Rings-Fellowship-Complete-Recordings/dp/B000BNI90O/ref=sr_1_4?ie=UTF8&s=music&qid=1258936310&sr=1-4
The Two Towers:
http://www.amazon.com/Lord-Rings-Towers-Complete-Recordings/dp/B000IZJZIK/ref=sr_1_7?ie=UTF8&s=music&qid=1258936310&sr=1-7
The Return of the King:
http://www.amazon.com/Lord-Rings-Return-Complete-Recordings/dp/B000V6BE6M/ref=sr_1_5?ie=UTF8&s=music&qid=1258936310&sr=1-5
True confession: I listened to the entire cycle several times while doing the review of this HeadRoom desktop system. The result was haunting: in near-field listening via the HeadRoom, the music made an immediate emotional connection with me. The deep bass of this wonderful set of recordings was surprisingly well rendered by the HeadRoom/Harbeth combination. It provided a foundation for the luscious strings, and the percussives were very well rendered. No sense of being closed in or boxy, and nothing nasal sounding to make you wince. The midrange was where it should be harmonically, which made the Harbeth very appealing to listen to. This is the sort of thing that leads to you wandering from one disc to the next, all day long… a very good sign! And this was particularly so after I made the final upgrade in source, going to the Oppo Digital BDP-83 Signature Edition. (The improvement that the Sabre32 chipset upgrade made to the sonic performance of this little wonder has to be heard to be believed! Blu Ray/DVD video, SACD, plus universal, a full output set in stereo and surround… and at $899.00 full retail?! Run, children, run, and glom on to one of these lovelies now! It has "Brutus Award" written all over it….)
Piano music was likewise a pleasure via the HeadRoom/Harbeth system. One of my favorite recent SACDs of piano music came from 2L, a truly brilliant company headquarted in Norway. Entitled Edvard Grieg: Piano Concerto, it is available in a two pack, with both SACD and Blu Ray discs. I won't talk about some of the remarkable production work done to make these discs…let's just say that listening to Wedding Song at Troldhaugen on SACD was a revelation and an emotional experience at several levels. And with the volume at 9:00, my reasonably trusty Cen-Tech indicated a peak of 94dB (C-weighted, Fast mode). There was obviously no problem there; and consistent levels of 80-85dB on all discs were a walk in the park. During pauses, the HeadRoom electronics were absolutely quiet. Silent. Good stuff!
Jazz sounds delicious on this system. I am a subscriber to the Analogue Productions Blue Note series on SACD. It is a flat-out delight to hear these brilliant re-masterings as presented in the near-field by the HeadRoom/Harbeth combination. I was able to introduce the new Oppo Digital BDP-83 Signature Edition before completing these notes… brother, what a significant step forward in the sound! Given the limitations of having a flat panel between the speakers, I didn't expect to hear as much soundfield depth… and I didn't… but the dynamics, the sense of swing and rhythmic rightness, had me bopping and tapping my toes more than I ever have at my desk! The immediacy of the music while listening to Art Blakey and the Jazz Messengers (Blue Note 4003; Analogue Productions SACD CBNJ 84003 SA) was just incredible. Punchy, clean, and always musical, Chad Kassem's crew (Steve Hoffman and Kevin Gray for the mastering, and Gus Skinas for the SACD authoring on the Sonoma workstation) has produced SACDs that really sound smashing on the combination of the Oppo Digital BDP-83 Signature Edition and HeadRoom Bi-Amped Audiophile Desktop Package. "The Drum Thunder" on that disc really makes you forget that you're listening on mini-monitors… it really does. Or check out John Coltrane's Blue Train (Blue Note 1577; Analogue Productions SACD CBNJ 81577 SA); "Blue Train" and "Moment's Notice"… not to mention "I'm Old Fashioned"… just leap off the SACD while I was listening with this playback chain.
Such dynamics were a real advantage on all rock recordings, of course. In fact, rock 'n rollers (both classic and modern/alternative) will really get a huge charge out of the sound of this HeadRoom system. The sound is big and bold, and can push you back in your chair if you like. (But watch those SPL's, eh? This system really can create some serious volume in high gain mode… 'ware the tinnitus!) Every rock SACD (e.g., the Police, the Rolling Stones, the Byrds, the Doobie Brothers, etc., etc.) really rocked, while the Bob Dylan SACDs sounded much better in my desktop system than they ever have here. This was underscored by the Doors box set on DVD-A, David Crosby's If I Could Only Remember My Name on DVD-A (a particular favorite recording of mine from the early '70s, which sounded quite tasty), and, of course, The Beatles Love on DVD-A. (The hugest mistake in the audio world? Not issuing the Beatles catalog on hybrid SACD!! Get with it, brothers!)
With the Oppo BDP-83 Signature Edition's new Sabre32 chipset, I have to admit that even Red Book on my desktop sounded really pretty spiff. For example, the new re-mastered Beatles stereo box set is much cleaner and obviously more atmospheric than the old later '80s CDs (blech) were. (No comparison, in fact.) Every re-mastered CD is better than the oldy-moldy issues, as comparative listening here made painfully clear. If you don't have this CD set, by all means get it…unless you have the original Parlophone LPs, and don't like discs that aren't black.
Or take my latest alt-folk find, Sufjan Stevens, an absolutely wonderful newgen artist. Here's a fellow doing clean recordings… many in his own digs… and making Red Book CDs sound like make some audiosense. This is what happens when you don't screw up recordings by overproducing them, "fixing" them in the mix. The sense of presence is really quite good…for CDs. Check out Seven Swans or Illinois… wonderful stuff! The sound of Stevens' guitars, banjos, trumpets, accordions, and all the other instruments he works into his remarkable music are clean, clear, and pretty true for CD sound. (And the even better news is that many of his titles are also out on LP. Good man!) The sound of plucking and attack on his guitar and banjo strings are very good; the yearning in his voice is heart-breaking, and rendered with a pleasing sense of rightness. It's a genuine pleasure to listen to quality CDs in the near-field via the combination of the BDP-83 Signature Edition and HeadRoom/Harbeth. And it's rare to get me to compliment the sound of CDs, eh?
It's not like listening on my main stereo reference system, of course… then again, what's the point of making that comparison? Those are definitely two different worlds.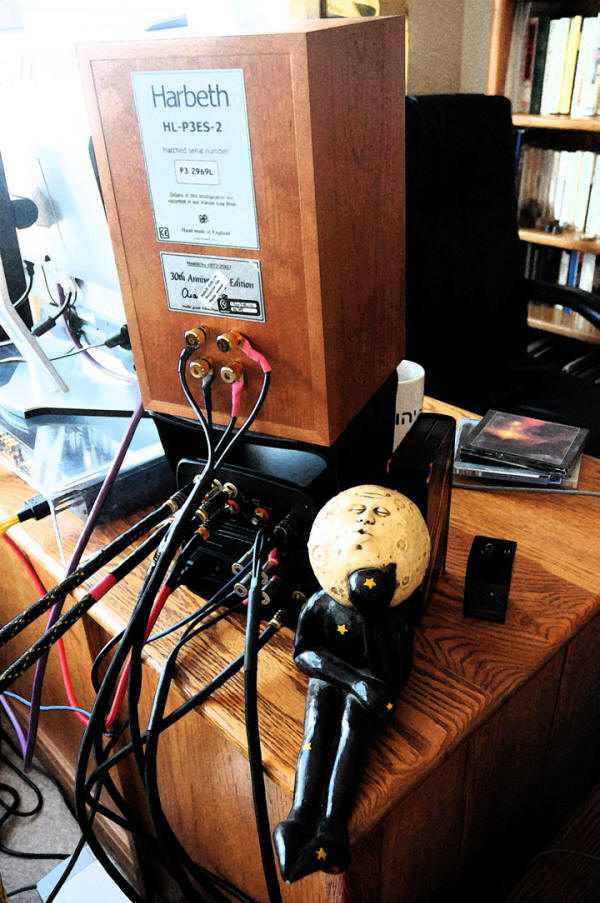 Conclusion
Well, what does the balance sheet look like after many months of extended listening?
Overall, it's pleasantly to the plus. The HeadRoom Ultra Desktop Amp, monoblock bi-amp Power Amps, and Desktop Power Supply showed themselves to be a winning and synergistic combination of power, heat- and energy-efficient design, and near-field nuance. The Harbeth speakers paired up well, and when properly setup and broken in provided a very fine near-field listening experience for me. Frequency ranges were well integrated and coherent; there was no sense of the sound being boxy or constricted in the upper frequencies. Dynamics were truly excellent for a system of this type, truly more than you'll ever need for near-field listening. The HeadRoom/Harbeth system particularly shone in this category, provided that one operated in the high gain mode… at least, at my preferred volume settings.
There were a couple of points on the other side of the sheet. I should note that imaging and soundstaging were reasonable for a desktop system, but that the presence of my 24" widescreen LCD flat panel prevented the development of soundstage depth that is one of the great strengths of DSD/SACD playback. That is not the fault of the HeadRoom system, of course; any stereo system with a monitor between the speakers will suffer a certain loss of soundstage depth. Note also that computer-based systems will not necessarily have the support of back walls for soundstaging, imaging, or bass reinforcement. As I've said, it's the nature of the beast.
I should also observe that the transparency and sense of spaciousness of the HeadRoom Bi-Amped Audiophile Desktop Package was not quite the same as my Eminent Technology planar system…then again, that is one area that planars have a certain innate advantage. I would not mark the HeadRoom/Harbeth system down in any significant way for this result. In fact, I'd say that the Harbeths narrowed the gap with planars quite noticeably.
Finally, please remember what I said early on about the bottom couple of octaves. If you absolutely must have deep bass in your computer/desktop system, you'll want to check with HeadRoom about subwoofer interface possibilities. Personally, I think that it's unnecessary in this setting and application, but each person must make this decision for themselves.
Otherwise, I consider the HeadRoom Bi-Amped Audiophile Desktop Package to be an exceptionally musical system, of true audiophile-grade character. I would rate it as the best desktop/computer audio system that I have ever heard. I shall be extremely sorry to see it go; I've grown extremely attached to it… my writing has certainly benefitted from having such a good friend right at hand!
This one is a definite winner, without a doubt.
I therefore give the HeadRoom Bi-Amped Audiophile Desktop Package Ye Olde Editor's Highest Recommendation!
Retail: USD $5860.80
For more information, see http://www.headphone.com/packages/bi-amped-audiophile-desktop-package.php.
HeadRoom
2020 Gilkerson Drive
Bozeman, MT 59715
TEL: 800.828.8184
email address: sales@headphone.com
web address: http://www.headphone.com