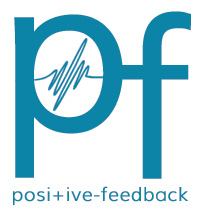 You are reading the older HTML site
Positive Feedback ISSUE
46

november/december
2009
Sonic Satori - JH Audio JH-13 earbuds
by Michael Mercer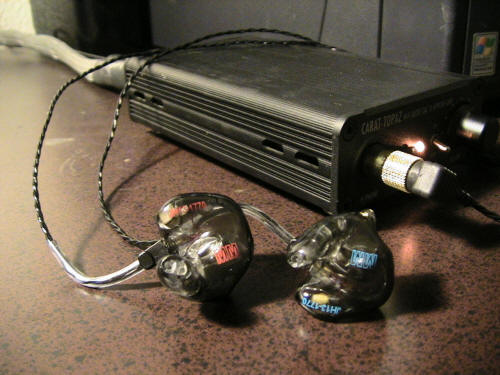 Hate is a strong word, but to be brutally honest; I hate earbuds. I think far too many people are walking around, killing their hearing with those little terrors. I'm not holding the earbuds themselves responsible of course; it is the user that tends to overdue it with too much volume, music filled with bass and noise rather than substance, and an attitude that will render an entire generation deaf by the age of fifty-five (of course many drivers are guilty of far worse in their vehicles). Because of these feelings I have never used stock Apple earbuds with any of my iPods (and I have tried them, believe me), rather I always choose an on-ear headphone that more closely approximates the units I use when either DJing or refining a mix in the project studio. This may sound like the antithesis of journalistic objectivity but it's just the way it is.
I do believe however, after working in live sound for years, that in-ear monitors are an essential tool for artists on stage, especially lead singers/performers that need to hear themselves (and whatever instrument/musician/track) while performing live. They allow the artist to hear, without bleed-through and excess noise, what's going on in the mix. Jerry Harvey, the brains behind JHAudio (and previously Ultimate Ears) has been building in-ear monitors for artists for many years now, and he knows how to build an accurate and musical headphone. The man is about the music, and while his designs incorporate cutting edge technologies, the products showcase his love and respect for the art form itself. Anytime you have a designer this dedicated to his art, and that art has been proven effective in the field, you're going to get a glimpse of their brilliance, whether you are a fan of the product or not.
Jerry knew about my distaste for in-ear headphones, so when I saw him at this year's Rocky Mountain Audio Fest (a fantastic surprise) he told me I needed to hear his latest creation and I knew I had to give it a shot. While I was at Atlantic Records we entrusted him with the task of providing monitors for many of our multi-platinum artists. This required complete confidence in his ability to provide a superior product, as well as to take care of our artists without endangering their hearing! If something went wrong you can be sure my tenure at the label would have come to an abrupt end, and with good reason. We never had a problem, and all these years later, there I was, listening to his newly released JH-13 pro in-ear monitors in the JHAudio booth at CanJam during RMAF. To say that I was blown away would be an understatement.
Luckily I had brought my iPod along, and while enjoying some of my current top-ten (including Radiohead, Dirty Projectors, Grand Archives, Blitzen Trapper, and Via Tania) I also managed to turn his daughter Jamie onto some new music, which is something I always cherish. The moment I fired up the JH-13s the experience changed my whole outlook on the possibilities for great sound using an in-ear monitor for at-home listening. Now, I must also admit I prefer the visceral when it comes to experiencing music. I use headphones while DJing, and if I want to hear something loud after my wife has gone to bed I occasionally use them to keep the house quiet, but otherwise I need to feel the music (literally, on my chest, the hairs on my arms and legs standing up, the overall feeling of air moving throughout the room) in order to be transported to another time and place—which is my goal when listening to music.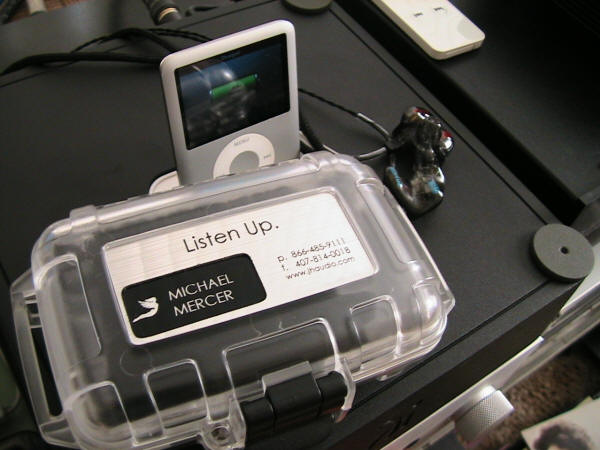 There was something wholly different about the sound through the JHAudios compared to other headphones I had heard that day. The music was happening between my ears, as with all headphones, but the sound was as big and dynamic as anything I had heard at the show (in the Marriott rooms—the physical stereo systems). In addition, there seemed to be more air, more space between the instruments and the vocals, than any other headphone (on or in-ear) I had heard before. This spaciousness is something I often seek in stereo systems, but barely get most of the time. There was fluidity to the way sounds trailed off, the natural reverb of a guitar string for example, that I had only heard from great two channel reference systems. I was hooked instantly and found myself longing to spend more time with the JH-13s than I could at CanJam.
I get to hear a lot of toys, and I am fortunate in that regard, but the last time I was this excited about a new product was when I first heard the Nordost Thor power distribution center (a component that forever changed the sound of my system). Because of the exacting set-up of the JHAudios the company needs to take a mold of your ear in order to get your units fitted properly. If you are shopping online they provide the details for a local audiologist in order to get your own molds done. They took mine right there at the counter, and the man doing the work was a real pro (no pain, and no discomfort). Naturally there was going to be a bit of a wait for my units to arrive at home.
The anticipation killed me, but a week or so after the show my cans arrived and I tore through the packaging like a kid on the first night of Chanukah. At $1099 the units are not cheap, but Harvey and company know how to make you feel like the money is well spent. The JH-13s come in a rugged, clear plastic road case that locks, and is seemingly water resistant (not water-proof). They also inscribe your name onto the metal faceplate atop the case. The phones themselves are snug in a velvet bag with drawstrings, and when you open the case you feel like you've purchased something made especially for you (in fact they have been, as the mold is specific to your own ears—so unfortunately no sharing folks). They actually embossed my initials onto the JH-13s, making them truly mine. In addition you get a cleaning brush for maintenance and long-term care. Had enough of the consumer reporting fodder? Now for the goopy stuff (as Jack Kerouac used to write), the sound:
Speaking of Kerouac; a record getting loads of spins in the Mercer household lately is Jay Farrar and Ben Gibbard's One Fast Move or I'm Gone: Kerouac's Big Sur (released on Atlantic Records just last month). The album features the music of Gibbard and Farrar set to words from Kerouac's book Big Sur; his novel of alcoholic nervous break-downs and gorgeous poetic prose written during his stay in Ferlinghetti's seaside cabin. The music is almost as precious as the novel (and I say almost because Big Sur is a visual literary masterpiece—it's Kerouac for Christ's sake, c'mon) and fans of Son Volt and Death Cab for Cutie should eat it up immediately. "California Zephyr"; the album's opener, has this drifting, airy guitar that blends wonderfully with a classic-sounding organ and Gibbard's lighthearted lyrical delivery. The sound is like a sunset at peak, flowing and warm-sounding. The JH-13s drew me deeper into this music than I had been before, like sharing the stage with the artists. This characteristic may sound typical of all headphones, as they put the soundstage in your skull, but the 13s did this without being too aggressive, as if allowing me to peer into the music without beating me over the head with it. All the subtleties were there, the details, but they existed in their own space without congesting.
Now for one of my acid tests: Donny Hathaway's "A Song for You" (off the A Donny Hathaway Collection on Atlantic)—this is not an easy track to get right on a Hi-fi system. The song opens with this piano that floats across the stage, and it's almost as if the late, great Tom Dowd managed to capture the sound of the actual studio itself. You can actually hear and feel the air in the studio, the other musicians and Hathaway's presence. The Reference 3A Dulcets in my system are one of the first loudspeakers that I've come across in years that captured the harmonics of Hathaway's voice in a way that brought tears to my eyes. He's clearly tortured by his demons, but is seemingly trying to convey a message of hope for the people in his life. There is an intimacy to this recording that is sublime and as engaging as it gets. Listening through the JH-13s brought me through the pleasure and the pain in the music. I felt like I was there, like he was singing to me. I had to listen to the song over and over (perhaps about five times) as the magic enveloped me. This is what Hi-Fi should do to the listener: Make the hairs on the back of your neck stand up. The only downfall was I couldn't share the experience with Alexandra (my wifey)! She would absolutely love the sound of the JH-13s; or rather I think she would love the sound of music through the JH-13s.
We are also Matisyahu devotees, and for my birthday Alex got me a copy of his latest release: Light on Epic. "I Will Be Light" is a beautiful roots reggae style ballad. The song kicks off with dreamy synth pads, a pounding kick drum, floating guitars (think Bob Marley in his later years) and Matisyahu getting back to basics with a genuine rub-a-dub lyrical style. There's a great uplifting bounce and message in the song, the kind of track that makes you hit the repeat button more than once if you need a little pick-me-up. The bass response of the JH-13s is staggering in weight and velocity. The sound punches as hard as anything you're likely to hear, but it is not exaggerated (as so many speakers and headphones are these days). As a matter of fact, I was bobbing my head and moving to the music way too much to concentrate on writing anything, and perhaps that is the best compliment I can pay the folks at JHAudio.
Overall I'd say the JH-13 pro in-ear monitors are, quite literally, the best and most involving headphones I have ever experienced, and I have heard a lot of cans over the years. They provide vivid images of the soundstage and capture the magic in both the perfection and imperfection of music; the soul in other words. They act like an audible window into your record collection, and because they fit so snug into your ear they are naturally noise-canceling. No vacuums, no blue lights and gadgets, just the headphones fitting into your ear like custom earplugs.
The most amazing thing about these little cans is they incorporate dual drivers for the lows, mids, and highs! That's right, these little headphones contain six drivers and a rather complex (obviously) crossover network housed in a chassis small enough to fit into your ear! This is another testament to Jerry Harvey's brilliance; the way in which all this tiny componentry works in unison to create liquid-like sound. This coming from a reviewer who prefers two-way loudspeakers! I usually have a problem with complex crossovers, as I feel they can get in the way of the music sometimes. I didn't have a single thing to complain about here, which is actually a bit troublesome. Was I too in love with their performance to be objective? Perhaps, but my previous distaste for in-ear designs might have made me a prime target for Jerry Harvey and his team at JHAudio. They struck hard, and they won me over with little effort. I am never going to give up my pair of JH-13s, and I have a feeling they are going to accompany me on many fantastic sonic voyages! Whatever you have to do in order to hear these, do it. You will not regret it.
JHAudio
web address: http://www.jhaudio.com
JH-13 in-ear monitors
Retail: $1099