Two of my three music reference systems are based around integrated amplifiers, one system with the 15 watt vacuum tube Leben CS-300X Limited as its beating heart, and the other with the 30 watt vacuum tube Leben CS-600 providing the musical inspiration. I think you could safely say I'm an integrated amplifier enthusiast, and my enthusiasm is well founded, because it's not unusual for a well chosen integrated amplifier based Hi-Fi rig to humble even the most expensive and exotic systems based on separate components, as evidenced by the continuing success of Jonathan Halpern of Tone Imports with the Leben CS-600 integrated at North American Hi-Fi shows.
For example, at the 2008 Festival Son and Image Show in Montreal both Robert Deutsch and John Atkinson of Stereophile reported how impressed they both were with the combination of the Leben CS-600 and the ProAc Response D Two loudspeakers. John said, "In some ways—particularly the overall balance and the sheer accessibility of the music—this was the best I heard at the Show despite the system's affordable price." In 2009 at the Salon Son and Image Show Stephen Mejias of Stereophile awarded the Leben CS-600 integrated and RS-30EQ phono stage, in combination with the DeVore Fidelity Gibbon Nine loudspeakers and a Clearaudio Champion Wood turntable, his "Best Music of the Show". John Atkinson reported that he was "equally impressed" with the Leben, DeVore, and Clearaudio combination.
I think that for many music lovers an integrated amplifier is by far the best choice for building a satisfying Hi-Fi system, one that will provide the maximum musical satisfaction from your hard earned money. A quality integrated amplifier's combination of high value and high performance allows you to place more emphasis on choosing a synergistic combination of loudspeakers and source to go with it, often providing spectacular results as the above Hi-Fi shows examples attest to.
Not everyone wants vacuum tube amplification in their system for one reason or another, and I get quite a lot of emails from music lovers around the world asking me to recommend a solid-state integrated amplifier that excels in sonic performance and musicality on par with the best vacuum tube integrated amplifiers. I've always had to answer back that I wasn't aware of any solid-state gear that I could enthusiastically recommend, as I had felt the gulf in musical performance between the best solid-state and fine vacuum tube integrated amplifiers like the Lebens was just too large to overcome—until now.
The Lavardin Technologies Model IT integrated amplifier has changed the way I think about the performance of solid-state amplification, and with the Model IT I now have a superbly capable solid-state integrated amplifier that I can enthusiastically recommend to music lovers everywhere.
Lavardin Technologies
Lavardin Technologies was founded in 1996 near its namesake village of Lavardin, France, which is considered one of the most beautiful French villages extant with its ruins of the medieval Lavardin castle, a Gothic church, a 14th century bridge, and 15th century chateau. The Lavardin Model IT integrated amplifier was Lavardin's first product, which was developed over "12 years of research and thousands of hours of listening tests", and incorporated Lavardin's "Memory Free" technology (more about that in a moment). As word began to spread about the performance of the Lavardin Model IT, the increasing demand necessitated a move to a larger manufacturing facility in 2000, to the city of Tours in the Loire Valley, known as "Le Jardin de la France", or "The Garden of France" in English.

Currently Lavardin produces a full range of audio amplification electronics that includes three integrated amplifiers, a line preamplifier, and four power amplifiers, as well as a line of cables that includes RCA interconnects, a digital interconnect, speaker cables, and a power cable. All Lavardin products are designed and manufactured in-house with fanatical attention to quality and performance, starting with the original design drawings, and all the way through to the final performance testing of production units. Lavardin uses its own proprietary printed circuit boards that are designed and manufactured in-house, chassis that are machined from solid aluminum stock and then anodized, and even control knobs that are machined from solid aluminum stock. I was very impressed with the high quality and the superb fit & finish of the Lavardin Model IT integrated amplifier, which was provided for review by Walter Swanbon of Fidelis AV, the US importer.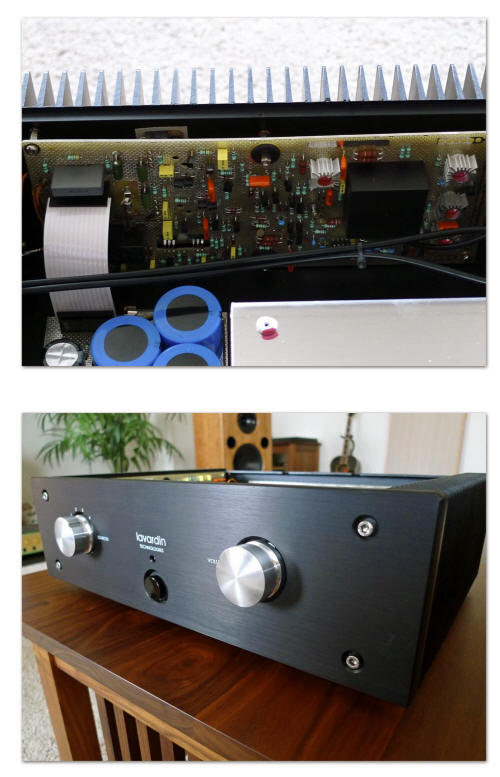 Lavardin says its engineers discovered a type of distortion in solid-state circuits that they have called 'memory distortion,' and they believe that it is the greatest discovery in analog audio design in the last twenty years. That's quite a claim. Lavardin says that memory distortion is the primary reason that tube amplification has always kicked the poop out of solid-state designs when it comes to musicality, and that it accounts for the reputation of solid-state amplification sounding 'shrill and mechanical' (and the Lavardin Model IT is about as far from shrill and mechanical as you can get, but more about that in a moment).
According to Lavardin, classical methods of distortion measurement use a simple static model that doesn't measure the way electronic circuits really work when playing music, as the time element of the music is ignored. Lavardin points out that audio circuit performance is not independent of time, as "the main difference between noise and music is organization in time," so if you don't factor in the time element with solid-state circuits you end up with a musical performance. Lavardin refers to the difference between classical static distortion measurements and their dynamic distortion measurements as 'memory distortion,' and says that circuit characteristics have to be linked to the musical signal in real time for solid-state electronics to address the issue of memory distortion. Lavardin says that when these dynamic memory distortions are dealt with, then the true performance of solid-state circuits can begin to emerge: "Tube technology allows electrons to travel through a vacuum which leaves no storage or memory effect, but solid-state amplifiers use silicon components which keep a trace of current flow that has gone through. New electron flow is continuously affected by the pattern of the immediately preceding electron flow. As soon as the memory effect of these solid state circuits is reduced, all the improvements that transistor technology brings, such as unlimited power, accuracy, very low harmonic distortion and extended and linear frequency response, can be added to the most alive and silky musical rendition of the best single-ended triode designs."
Lavardin says they design their products to last a lifetime, and I don't doubt it after looking over my review Model IT with its finely machined exterior. However, Lavardin says that their attention to quality goes more than skin deep, with all of their internal electronics modules being performance tested before insertion into the circuit, and then further tested on the bench after assembly is completed ensure that each amplifier performs at its rated power and bandwidth. After that each amplifier is rigorously tested for four days with power on and off cycles to check for any possible malfunctions. Finally, each amplifier is subjected to a listening test with reference recordings to make sure that it plays music at the level it was designed to, before being sent to its happy new home in your listening room—that's an impressive dedication to quality and performance.
The Lavardin Technologies Model IT Integrated Amplifier
The Lavardin Model IT is a 55-watt per channel minimalist design high-performance solid-state integrated amplifier that sells for $7995 USD. The Model IT has only a volume control, a power switch, and a source selector across its front panel. Across the back panel are four RCA source inputs, a pair of RCA tape outputs, left and right speaker binding posts, and a detachable power cord.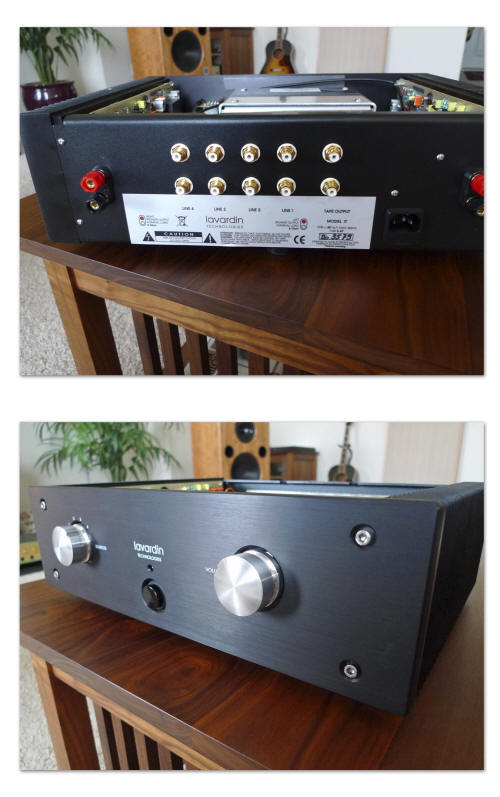 Lavardin is rather secretive about and protective of their circuit innovations, and other than the general information I described above, I couldn't really pry any specific information loose about what's going on under the hood of the Model IT, but that didn't stop me from popping off the top and taking some photos for you to look over. I was very impressed with the layout and the internal quality of construction.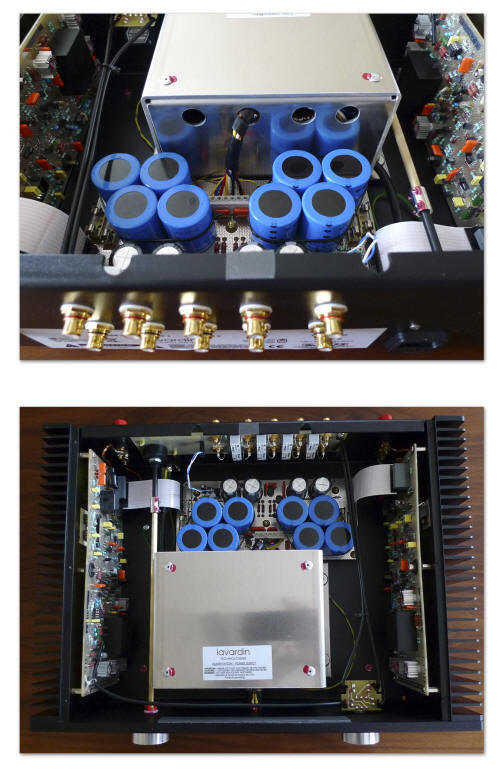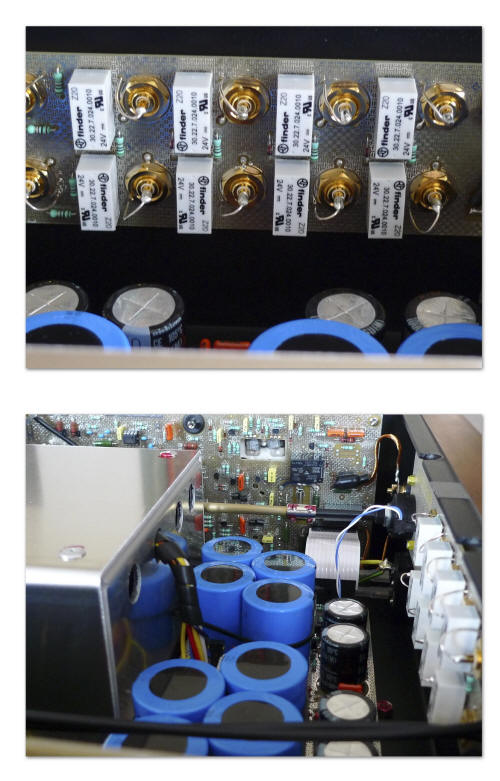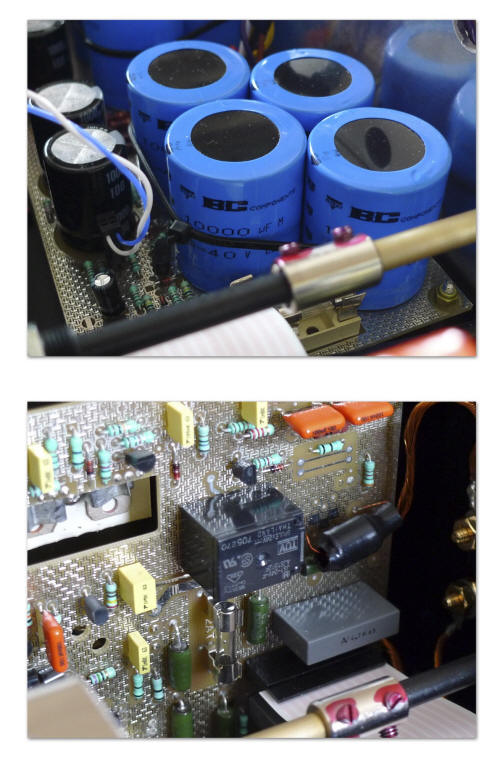 My review sample Lavardin Model IT integrated amplifier was provided with Lavardin's CMR power cord ($600 USD), Model CLR 83 Ultra Low Memory interconnects ($600 USD), and Model CHR 317 Ultra Low Memory speaker cables ($1500 USD) that were designed to extract the maximum performance from the Model IT integrated amplifier.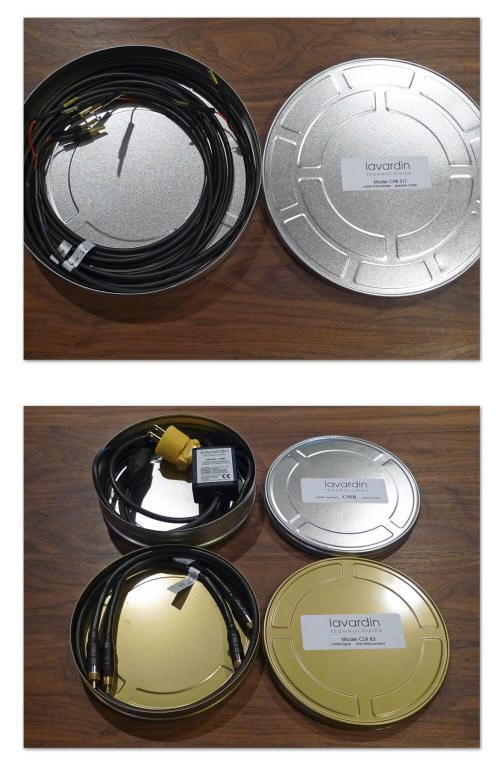 Listening Impressions
For this review I thought it'd be fun to assemble a simple 'super-system' in the spirit of those that did so well at Festival Son and Image Show in Montreal over the last few years, with the Lavardin Model IT doing the amplification duties. As a benchmark for integrated amplifier performance I used the Leben CS-600 ($5795 USD) that has garnered so much praise over the last few years. Given that neither of these integrated amplifiers have an internal phono stage, and considering that adding an outboard phono stage would add another variable to the review to account for, I decided to stay simple and use a computer digital front end with a USB DAC, just as many of our readers are choosing to do these days. I used an iMac running the high-performance Amarra software (review to come), which was connected to a Mhdt Labs Havana USB DAC via a Locus Design Group Polestar USB interconnect. For loudspeakers I used the new Harbeth Monitor 40.1 loudspeakers seated atop a pair of exotic Acoustic Revive stands (review to come).
I experimented a bit with speaker cables, interconnects, and power cables, and then selected the combination that I thought showed the two integrated amplifiers to their best advantage. I used a double run of Acoustic Revive Single Core Cable Series speaker cables for both integrateds (review to come). For the Model IT I used its matching Lavardin power cable and interconnects, and for the Leben CS-600 I used the Acoustic Revive Power Reference power cable and the Single Core interconnects (review to come). This isn't a review about cables, so I'm not going into any details about them, but if you decide on a Lavardin you'd be wise to choose their cables and power cord, as they're voiced to get the best out their amplifiers. I did find that a double run of Acoustic Revive Solid Core speaker cables ($5400 USD for 3 meters) bested the Lavardin speaker cables, but due to their high cost I can't see many Lavardin owners going in that direction.
I plugged everything into the superb Acoustic Revive RPT-4 Ultimate Power Distributor, which in turn was plugged into an Acoustic Revive CB-1DB Receptacle Base Plate and the CFRP-1F Carbon Fiber Outlet Plate at my wall outlet. The Lavardin and Leben integrated amplifiers were placed upon Acoustic Revive RST-38 Quartz Under-board isolation platforms, and the RPT-4 Ultimate Power Distributor was placed on a TB-38 Quartz Under-board isolation platform (reviews to come). Additionally, the room acoustics were treated with three Acoustic Revive RWL-3 Acoustic Conditioners and an Acoustic Revive RR-77 Schumann wave generator. Ok, enough about equipment, let's move on to having a little fun listening to music.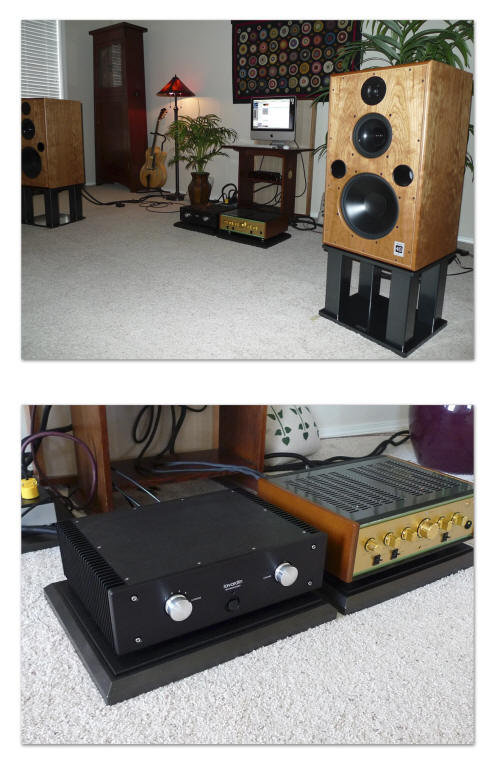 In my personal listening sessions I enjoy playing a lot of different styles of music of varying recording quality, which also turns out to be a great way to get an idea of a component's 'musical versatility' during the review process. Due to my varied listening habits, I tend to favor components that can play jazz, classical, folk, rock—or whatever—equally well, so I can listen to whatever musical muse that catches my fancy at the time. I also tend to favor components that deliver well-recorded music as the wonderful experience it was meant to be, but can also provide an enjoyable listening experience from good music that is less well recorded. That's a tall order for any component or Hi-Fi rig I suppose, but the best can deliver on all fronts, and I think it is those components that are most likely to make an enjoyable life-long listening companion.
Overall, the Lavardin Model IT was smooth, natural, and musical sounding during my listening sessions. It was a touch warm sounding and never sounded even remotely artificially electronic in the way it presented the music, in the way a lot of solid-state amplifiers do, and which I found to be rather endearing trait during my listening sessions. The Lavardin Model IT displayed very good versatility across a wide variety of musical styles, and whether I was listening to Willie Nelson singing Moonlight Becomes You from the popular music album of the same name, or Johnny Smith playing jazz guitar on Yesterdays from his Moonlight in Vermont album, or the Beatles playing And I Love Her from the rock album A Hard Day's Night, or Virgil Fox playing Fugue in G Minor "Little" on pipe organ from the Virgil Fox Encores classical album, the Lavardin Model IT delivered all the various genres of music in a very satisfying and engaging manner that I think any music lover would be thrilled with over a lifetime of music listening.

One thing that I really appreciated about the Lavardin Model IT was its ability to present even the poorer recordings in my music collection as an enjoyable musical experience by keeping the music at the forefront of my attention and not letting noise or recording artifacts become overly emphasized and unduly distracting. Take for example Eddie Lang's recording of Rainbow Dreams from his Jazz Guitar Virtuoso album, which I love for the music, but it is old and noisy sounding, which can be a problem for some components to play back in an enjoyable fashion. Through the superbly voiced Lavardin Model IT Rainbow Dreams comes across as the wonderful music that it is and in a thoroughly enjoyable fashion. I still heard all the noise of the recording, but it's like the Lavardin presented the nasties in a different auditory plane from the music, slightly softened, so they never competed with or distracted me from the music. Few components these days seem to have that kind of exceptional musical versatility, but I cherish those that do, like the Leben, and now the Lavardin, which even bested the Leben in that regard by a noticeable extent (and that from solid-state!). That exceptional degree of musical versatility means that the Lavardin Model IT merits a very serious consideration by those music lovers who enjoy listening to a wide variety of music, and it will open up new vistas of music that you can listen to and enjoy, unimpeded by poor recording quality. Now that's very cool! For the musical versatility reason alone the Lavardin Model IT may be the ultimate integrated amplifier for music lovers that don't wanted to be limited in their listening by poorer recordings.
I found the Lavardin Model IT to be a lot of fun to listen to music with, and I was really wowed by Tony Rice's playing on a 1935 Martin D-28 on I Am a Pilgrim, and on a 1937 Gibson Advanced Jumbo on Morning Sun, both from the Tone Poems album. The Lavardin Model IT did a good job distinguishing the timbral qualities of the two guitars, although the Leben CS-600 does better it by displaying the guitars' tonal palette and textures with greater clarity. I think that this difference in timbral resolution is due to the Lavardin Model IT being just a touch to the warm and dark side of neutral. In comparison, the Leben CS-600 is a bit more lit up on top, and captures more of a sense of acoustic space around the instruments than the Lavardin does. The Lavardin was a little soft and dark sounding compared to the Leben, but still, by any measure the Lavardin is superb in the way it portrays the timbre of musical instruments. While not evident in the two Tony Rice numbers mentioned above, in songs with more bass content the solid-state Lavardin did a better job integrating and controlling the bass of my Harbeth Monitor 40.1 loudspeakers to give a more balanced presentation than did the Leben CS-600, which allow the Harbeths to get a bit over blown and boomy on certain types of music (e.g. pop). One thing that I did find was that the Lavardin's artful voicing—and especially Tony's playing—gave me a temporary glimpse of a musical paradise on Earth!
While I was listening to the Alban Berg Quartet play Mozart's K. 458 in Bb Major, I was really impressed with how the Lavardin portrayed the strings' timbre, being as rich, homogenous, and non-fatiguing as I find them to be in life. The same went for Antal Dorati's full orchestral strings in Tchaikovsky's Serenade for Strings in C Major, op. 48 (1875), which I found to be a ravishingly beautiful listening experience through the Lavardin.

During my listening sessions I paid special attention to how the Lavardin handled the timbre of musical instruments, as I value that, and I have to say the Model IT provided a beautiful rendition of timbre. Whether it was the stringed instruments mentioned above, or wind instruments, brass, percussion, or keyboards, the IT always added an enjoyable dose of the timbre of real instruments to the music being played in my living room, which is something that not all components can do well. The Lavardin's is a sound that I found intoxicatingly evocative of life, and one that I think those who are familiar with the timbre of real instruments will immediately appreciate.
When you take your first Introduction to Music course you find out that music's most simple definition is 'sound in time'. So producing believable sound (or timbre as its called in music) is an important part of a component's overall voicing, and which the artful Lavardin Model IT deserves kudos for doing so well. The adeptness of a component in presenting the time elements of music is equally important, as the focus of Lavardin's design process attests to. It is the time element of meter (how beats are grouped) that puts the beat in the Beatles, for example, and one that evokes a physical response that you can feel in your body—it makes you want to dance about, or tap your toes to the music.
Some gear is just better than others at getting things like meter across, and a great measure of how well they can do it is Dave Brubeck's Blue Rondo a la Turk that was inspired by Dave's tour through Turkey and the folk music that he heard there. In this tricky piece of music the theme is set to 9 beats that are divided two different ways. The beat starts out as 1-2 1-2 1-2 1-2-3, and then every fourth measure it switches to 1-2-3 1-2-3 1-2-3. Turk is played fast, so you can feel the groups of two as a single 'short' beat and the groups of three as a single 'long' beat. Then about two minutes into the piece Brubeck begins alternating back and forth between 1-2 1-2 1-2 1-2 1-2-3 and straight swinging duple meter where the beats are the same length as the 'long' 1-2-3. After alternating back and fourth four times then Brubeck settles into a straight duple groove as the band moves into its solos. Give it a listen on your Hi-Fi rig and see if you can hear how it plays out over time. If you can't hear it, it might not be you that is at fault, because more than a few amplifiers stumble on this test.
The Leben CS-600, for example, is very, very, good at unraveling the meter underlying the beats so you can hear what's going on in tricky music like this, which is one of the things I really like about it. With the Leben it's relatively easy to hear the individual parts of the groups of two that make up the 'short' beat, and the individual parts of the groups of three that make up the 'long' beat. With the Lavardin Model IT the groups of two that make up the 'short' beat, and the individual parts of the groups of three that make up the 'long' beat, blend together more making the contributions that make up the beats harder to discern. The effect of that blending was to make the music feel a little less lively than when I've heard Dave play it live, and to feel a little slower in tempo, even though it really wasn't.
I enjoy the way the Leben handles the time elements involved in music, and it is a little more life-like in the way it presents meter, tempo, melody, rhythm, and such, than the Lavardin Model IT is, and thus it imbued the music with more forward momentum, made it more lively, with more of a sense of sound flowing in time. This is not to say that I like the Leben and don't like the Lavardin, because that is not the case at all, as they are both superbly musical devices, but the Leben is more life-like in the realm of time, where the Lavardin presents time a little bit like you're 'on the edge of dreaming': a little more diffuse, a little more relaxed, but very sensual, very seductive, and thoroughly enjoyable.
The sound of recorded music will always be different from the sound of live music, and I don't mean that in any backhanded negatively critical sort of way. Live music is a wonderful art form that musicians bring to life for the enjoyment of their audiences. Recordings of music are a collaborative art form between the musicians and the recording engineers, and believe me, artistry is involved on the parts of both the musicians and the recording engineers to produce a top-notch recording. Think of it in terms of this analogy: live music is to the rugged beauty of Yosemite what a recording is to an Ansel Adams photograph of Yosemite. Live music and nature are magnificent and beautiful art, and so are recordings or Ansel Adams photographs. We shouldn't expect to or try to make them the same thing, but rather enjoy each for the pleasurable experience they bring to our lives!
Some of the many attributes that the best recording engineers contribute to the final recorded result are the use of the spatial elements of reproduced sound to enhance the listening experience, like the use of the sound of the acoustic of the recording space as an artistic element in the recording, or the use of stereo sound location to make the musicians seem more tangibly present, and to give a sense of depth, width, and height to the recording. There's a lot of art involved on the part of the musicians creating the music, and there's also a lot of art involved on the part of the recording engineers using those spatial artifacts of the recording process to make a superb recording. Audiophiles refer to those artfully produced spatial elements in recordings as a sense of space, imaging, and soundstaging, respectively, and get a lot of pleasure out of what they can add to the listening experience.
Take The Beatles' song And I Love Her from the 2009 stereo re-mastered box set CD of the A Hard Day's Night album, which has surprisingly good imaging, both having a lot of flesh & blood solidity and a level of detail recovery that is perfectly consonant with the recorded perspective (how far away the musicians seem to be in the recording), giving the music a very 'live' feel to the song that makes it just plain old fashioned audiophile style of fun to listen to. The same goes for the sense of recorded space on A Hard Day's Night, which was big, billowing, and just generally impressive in the way it filled up my living room, immersing me into the performance's acoustic signature in a way that was very pleasurable, and really added to the music listening experience. The stereo spatial information that provides the illusion of a soundstage is recovered very well, giving a nice wide stage the width of the speakers, very good depth, and good height. The imaging of the Lavardin was not quite as solid, resolved, and vibrant as the Leben, but it is still quite good. The same goes for the sense of space in a recording, or the soundstaging, where the Leben lights up the space in a more noticeable fashion, and gives quite a bit deeper soundstaging, although soundstage width and height are similar.
Where the Lavardin Model IT really excels is its overall musicality. In this regard it noticeably bested the Leben on poorer recordings, and the Leben is no slouch in this aspect of performance, being the best example I've come across in overall musicality until I encountered the Lavardin. The tables turn as recordings get better, as the Lavardin can't quite match the Leben's ultimate level of performance on the best recordings.
Summary and Conclusions
At $7995 USD the Lavardin Model IT integrated amplifier is so expensive it makes your teeth hurt, but it is a superbly musical solid-state integrated amplifier that exudes quality, and would make an ideal choice to accompany a music lover into the great forever. It is easily the best solid-state amplifier I have heard, hands down, and even when compared to the best vacuum tube amplifiers it's knocking on heaven's door.
Overall, the Lavardin Model IT is smooth, natural, and musical sounding. It is a touch warm and dark sounding, which I loved, and it never sounded even remotely artificially electronic in the way it presented the music, as most solid-state designs do. In comparison with the highly regarded Leben CS-600 vacuum tube integrated amplifier that I use as a reference, the Lavardin was darker sounding, a little softer on top, and while still very good, it was not quite as artful and articulate at portraying timbre and the time elements of music as the Leben was. The Lavardin did control the bass response of my Harbeth Monitor 40.1 loudspeakers better than the Leben, and at 55 watts it is more powerful by almost double than the Leben, making it more suitable for loudspeakers that are more difficult to drive.
However, to fuss about the differences between these two superbly musical devices is to miss the point of the Lavardin Model IT, which is to provide a solid-state integrated amplifier that can compete with the best vacuum tube equipment from a musical standpoint, and that it accomplishes to perfection. The Lavardin Model IT has changed the way I think about the performance of solid-state amplification, and I enthusiastically give it my highest recommendation to music lovers everywhere. Jeff Day
Pricing: Lavardin Model IT integrated amplifier ($7995 USD), CMR power cord ($600 USD), Model CLR 83 Ultra Low Memory interconnects ($600 USD), and Model CHR 317 Ultra Low Memory speaker cables ($1500 USD).
Quality of construction: Superb.
Lavardin
web address: http://www.lavardin.com
US Importer
Fidelis
web address: http://www.fidelisav.com