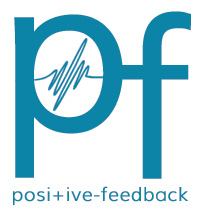 You are reading the older HTML site
Positive Feedback ISSUE
46

november/december
2009
A wonderful assortment of music... all to soothe one's audio 'spirit'
by Karl Lozier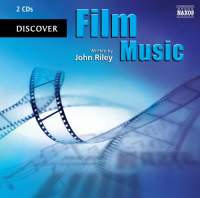 Discover, Film Music (Part of a very special series by Naxos). Written by: John Riley
l The Beginnings, ll Hollywood, lll Outside Hollywood, Naxos CDs 8.558210-11
I can not remember any production as impressive as this! The briefest overview includes:
1) 2 CDs of film music, over two and a half hours long.
2) 25,000-word essay by John Riley printed on top quality glossy finish paper of more than 160 pages.
3) Detailed, unique timeline of events in film music history and literature; 34 pages covering 1885 to 2008.
I must admit that I am unable to improve on the printed information accompanying this truly outstanding production. Therefore to a great extent I am simply copying some portions of it: Though cinema began in silence, it quickly acquired sound and its many problems allowing film composition to develop into a sophisticated branch of music-drama. This booklet-and-CD set outlines the history of film music, introduces some of the major characters (and compositions) and shows how their music works in the context of film.
In the superbly written booklet are many pages full of fascinating brief glimpses of many film music composers, their compositions and various bits of not widely known trivia. To some, that alone would be reason enough for this magnificent production. As a relatively casual film and film music buff, I must admit to not even knowing three composers' names. Although film music can be seen as "ephemeral", and belonging only with the film for which it was created, composers extend the life of a film score by creating suites from it for performance and recording. While a suite may not reflect exactly what happens in the film, and may have material added or cut or be orchestrated differently, it can often bring about a more satisfactory musical experience. (I agree whole heartedly though a few "film purists" may disagree).
The "original soundtrack" (OST) takes the actual music tracks from the film, while re-recordings present musically satisfying versions, perhaps by using suites or even altering the tempi and other performance details. Both options allow the composer's work to be heard without interference from the dialogue and sound effects. All the CD tracks for Discover Film Music are recordings or suites. For most of them, the recorded audio quality is very good indeed though there were a few of slightly lesser quality. I am certain that to rerecord those few would simply be cost prohibitive. I easily give the Discover Film Music production my highest possible recommendation and feel comfortable in doing so. I wish I could more clearly describe what it is all about. I would hazard the guess that receiving it as a gift would be a wonderful holiday season gift for any film or film-music lover.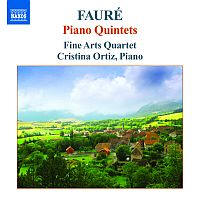 Gabriel Faure, Piano Quintet No. 1 and Piano Quintet No. 2. Fine Arts Quartet. Piano: Cristina Ortiz. Naxos CD 8.570938
There are definite differences between this piano quintet recording and the one featuring composer Karl Goldmark. Meaningless to we listeners, here Faure said or did it all in just three movements in the first quintet. With these Faure quintets, the more I listened the more I liked them and realized they are more subtle and intricate than Goldmarks' though at first I seemed to appreciate Goldmark's music more quickly or easily. Faure's compositions are far-ranging with a great deal of long term development before finishing these two intricate compositions. Probably best known for his acknowledged great Requiem, here these quintets have the qualities of great chamber music. The overall tonal quality of the piano is particularly full and beautifully intertwined with the strings as a seeming whole instrument together. Highly recommended chamber music.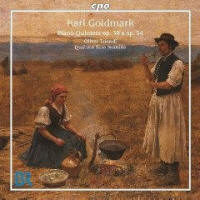 Karl Goldmark, Piano Quintet op. 30. Piano Quintet op. 54. Quartet: Quatour Sine Nomine. Piano: Oliver Triendle. CPO CD 777 277-2
Though not well known for chamber music such as reviewed here, these two Piano Quintets turn out to be very melodic and upbeat compositions. Goldmark's fame comes from his very popular Rustic Wedding Symphony, an excellent violin concerto and the Queen of Sheba opera. As often seems (to me) to be true, the first quintet here seems to be more easily appreciated by casual listeners or newcomers to classical music. The second seems to be a more serious or mature composition ( by a more mature composer ). Here, the very good audio quality seems to very subtly favor the right side of the piano's keyboard. Separation between the string players is apparent. A fine release overall that has to windup being compared to another piano quintet in this issue. Yes, this and the other quintet recording were both subjected to follow up audio quality evaluation.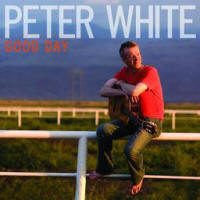 Good Day, Peter White: Acoustic Guitar, Plus Friends: DC, Paul Brown, Jeff Golub. Chuck Loeb and Philippe Saisse. Peak Records CD PHR31006-02
The release begins with the title song Good Day and ends logically with Peter White's Say Goodnight. With some assistance, all the selections are by Peter White and of course his fine playing of the acoustic guitar is featured. There is quite a bit of variety here with keyboard, bass, some trumpet and flugelhorn plus a bit of vibraphone and vocals. Contemporary jazz, with some ballad hints, is my best way to describe most of the selections. Variety is definitely present. Nothing too hard driving plus a definite relaxing feel to many passages is what I was hearing. As is becoming typical, the studio recording is very clean, clear, full, rich and palpable as a good studio recording should be and this is definitely that.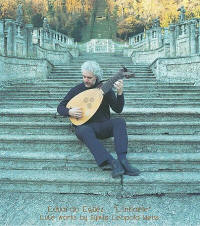 "L' Infidel". Composer: Sylvius Leopold Weiss. Baroque Lute: Eduardo Equez. MA Recordings CD M078A
Interested in an excellent recording that almost puts you inside a relatively small church, centered fairly close to an outstanding lute played by a very polished professional? Well, you are in luck with this rather superb and relatively sublime release. This particular lute is a very gorgeous 13 course lute by Robert Lundberg. The recording does not try to bring the lute playing into your room, it almost takes you to the recording site; it is that good (at least with my system). Sometimes it is difficult to tell one composition from another- so what? All these are rather subtle, very relaxing and superbly performed.
What more could you want? Obviously a top recommendation for those interested.
Nostalgic about Arthur Fiedler with the Boston Pops and their famous Christmas Festival productions? This release featuring holiday season music by Arthur Fiedler's arranger and orchestrator, Leroy Anderson should help. Karl Lozier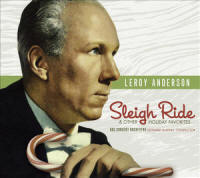 Leroy Anderson, Sleigh Ride plus other Holiday Favorites. Orchestra: BBC Concert. Conductor: Leonard Slatkin. Naxos CD 8.55962
If you are old enough to remember RCA's special and specially priced holiday season releases of many, many years ago featuring their great artists in special sampler releases to get buyers into the record stores and to the stereo dealers, then this is for you. Maybe the final touch of Fiedler's lilt and pizzazz might not be here and perhaps that special Boston burnished glowed to the brass (or was it to the strings) might be diminished a tad, but here you are getting closer than ever to equaling the memories of Arthur Fiedler and his special holiday efforts. No, I deliberately did not put on any records of his original productions. Can you possibly equal nostalgic memories—I think not.
Well over an hour of delightful wintry or holiday season music awaits you with this release aided by the support of Kurt Anderson, Leroy Anderson's son. Those "fun things" that Anderson was famous and loved for such as Sleigh Ride, The Waltzing Cat and Bugler's Holiday are here again and delightfully so.
Of course the famous Anderson efforts for A Christmas Festival is present. Also present are a suite of Carols for Brass Choir and a suite of Carols for String Orchestra and about ten more appropriate wintry or holiday season offerings. We are all in luck with one of the finest holiday season releases in many years.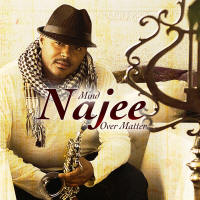 Mind Over Matter, Najee. Friends and Musicians. Special Guests: Eric Benet and Jeff Lorber. HEADS UP HUCD 3156
By now it is certainly true that with more than ten albums (two platinum and four gold) and Grammy nominations, Najee does not need an introduction. Known for his sax playing (alto and soprano) as well as fame playing the flute he now adds songwriting and producer roles. Claiming inspiration from the great Miles Davis, this release and title song Mind Over Matter is what it is about. Perhaps with a touch of soul added, the release goes back and forth between R & B and jazz and from solidly driving featuring his always rhythmic sax playing to relaxing and mellow cool at times. Here he is always surrounded by "friends and musicians" and at times with his touring band and a few pleasing vocals thrown in. Probably nothing really new here for his many fans, just consistently more of what has made him famous. Excellent clean detailed studio recording quality here with touches of palpable bass beats.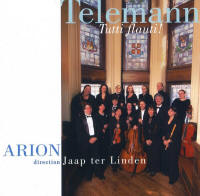 Telemann, Tutti flauti. Early Music Group: Arion. Director: Jaap ter Linden. EMCCD-7763
Though Vivaldi is still probably the most popular early music or baroque composer with listeners in the United States, back when they were composing, Georg Philip Telemann was the more popular of the two. I got slightly hooked on some of Telemann's music before Vivaldi and still lean toward him, most often when in the mood for the early stuff. This group, Arion, is really great and seems to consist of close to sixteen very talented and versatile musicians. Their playing and cohesiveness is outstanding and must result from a long time association with each other or simply superb musicianship-or a combination of both. Long time lovers of early music will just think that this release is simply great while appreciating the rather subtle differences created by relatively slight differences between similar though different flutes or recorders for example. The truly superb CD recording clearly reveals all. I realize that I have been bragging about the quality on many releases lately and am accurately reporting what I hear. It has taken many years and a goodly though not outrageous amount of money to slowly and surely build my systems to this point. Seemingly I am now getting all that is good off the CDs and SACDs while not emphasizing or adding anything to distortions or flaws in the recordings. I am certain that the source components, now all either new or very highly upgraded are responsible to a very great extent. This may be more important to music lovers than to audiophiles. I am trying to decide if I should promote this excellent release mainly to long time early music lovers who will really appreciate it as opposed to those just getting exposed to early or baroque music that might appreciate another recording with much greater variety? Okay, decide for yourself.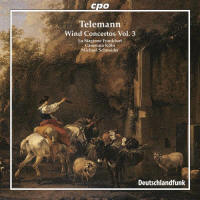 Telemann, Wind Concertos Vol. 3. La Stagione Frankfurt. Carmerata Kolon. Conductor: Michael Schneider. CPO CD 777 268-2
Some background information may be of benefit here and in the liner notes' booklet. La Stagione Frankfort is, as listed, a chamber music orchestra composed almost entirely of string players. Camerata Koln, spelled Cologne in English is a string quartet plus harpsichord. Each group lists the violoncello and that is simply the cello in non English speaking parts of the world. Each group lists a single violone. Violone is a period instrument of varying sizes over time, though always significantly larger than a violin. Each of the six concertos, except for one, includes the fairly large group of strings of the two groups.
First selection features the piccolo, the next concerto highlights the solo oboe. The third selection is actually not a concerto and includes no strings; it features both recorder and horn. They are sometimes playing together as a duet and at other times they are musically playing together as a duet and at other times they are musically opposing each other and at other times they take turns, very successfully as soloists. The forth selection features the flute, with the strings accompanying. Next concerto is highlighted by the trumpeted soloist extremely effectively. The last concerto slightly longer than the others, features a pair of transverse flutes plus bassoon and of course the excellent strings of the two groups. I am usually a pushover for a well played bassoon and so I was particularly delighted here. I also particularly enjoy other well played deep bass range instruments such as the double bass, tubs, sousaphone and tenor and bass trombones, though of course, none are used in this collection. This last concerto, for flute and bassoon, really shows the fine audio quality of the entire disc. The realistic audio quality reproducing the bassoon and flute are no doubt aided by the superb upgraded designs of the Vacuum State Electronics that seemingly add no traces of any distortions to well recorded discs or other sources. Here an added dimension is the excellent sense of depth or three dimensionality is very apparent and probably can be attributed to the recording engineer and the low distortions of the newly upgraded Sony players coupled with very revealing detailed response can also be very helpful. Overall a fine release of music written a very long time ago.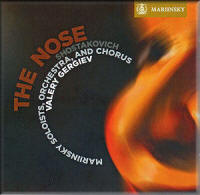 The Nose, Dmitri Shostakovich, Mariinsky Orchestra and Chorus. Valery Gergiev: conductor. Mariinsky 2 SACD MAR0501
After listening to this two SACD release with quite excellent sound, I actually developed a desire to try to see it someday. That may be tough to do as it is seldom performed. It is Shostakovich's first opera and was composed in 1928. If it were composed a few years later it would be referred to as avant-garde.
I would describe it as absurdist-satirist. If the time frame was different I'd guess that Monty Python was a consultant for this opera! Remember that unique story about the interesting fictitious Lt. Kije? Here things, actually just one thing, a nose, is what it is all about. For a cute example, a newspaper refused to take a classified ad for a nose in its lost and found section. It is often silly in the extreme and definitely nonsensical. However in the first act there is some immediately appealing musical passages featuring a great deal of various percussion effects and bass drum thwacks that are about as solid and palpable as you will ever run into in your local concert hall. I can not really recommend this to newcomers to opera for many reasons including a lack of real melodic passages and singing in a language that does not seem to lend beauty to vocal passages. Opera lovers who have heard "almost everything" will have to give it a whirl. The audio evaluation was done with the new reference system which does include the ultimate VSEI upgrade, the separate: Uber Clock" the greatest degree of improvement in my system ever from an upgrade or modification. The author of the tale, The Nose, Gogol wrote the following about it later on. "Oh have no faith in this Nevsky Prospekt …It is all deception, a dream, nothing is what it seems" …But this seems more than good to me.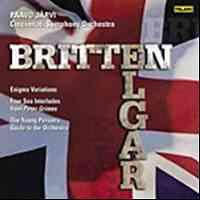 The Planets, Gustav Holst. The Young Person's Guide to the Orchestra. Benjamin Britten. Orchestra: Cincinnati Symphony. Conductor: Paavo Jarvi. TELARC CD-80743
These are two of the best known (not simply best) twentieth century compositions by English composers. Holst has many excellent compositions to his credit. He started on this one before World War I broke out. That eliminates the common belief that it was composed because of that war and therefore responsible for the war-like, march-like incessant rhythm pounded out for much of the movement. It is as if anger is being expressed in the extreme. Many conductors and recordings go all with excessive show and overblown bass emphasis here. I am pleasantly surprised that Michael Bishop resisted doing that. The recorded bass response is fine and not over emphasized here and the audio quality is excellent as usual for Telarc though SACD would be even better here. The "Venus the Bringer of Peace" movement is much more subtle quite lovely and ultimately peaceful. "Mercury the Winged Messenger" as would be expected is a scherzo with great rhythmic vitality. "Jupiter the Bringer of Jollity" puts the entire orchestra to work beautifully with melodies. "Saturn the Bringer of Old Age" tells its story as if the life of the planet is as human life is. "Neptune the Mystic" with mysterious music that can be called ethereal ends the composition. I leave it up to you readers to figure out where or what happened to the other planets here. One missing is logical the other probably a personal choice. The educational introduction to the instruments of the orchestra is about perfectly and beautifully done here and helped by outstanding audio quality supporting Britten's simple yet superb effort. The release is highly recommended.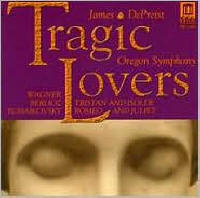 Tragic Lovers, Wagner: Tristan and Isolde, Berlioz: Romeo and Juliet, Tchaikovsky: Romeo and Juliet. Orchestra: Oregon Symphony. Conductor: James DePriest. Delos CD DE 3369x
Though the Tragic Lovers title is correct by what the music is ultimately describing, much of the music in all three compositions is simply enjoyable. Similarities include many melodic attractive passages as well as tragic endings. These selections easily stand on their own though probably the Tchaikovsky is heard more often in the United States by itself. All are highly regarded and all have been performed as well as could be expected on recordings. The performances offered here are all very good solid examples and can be recommended to nearly all listeners to classical music. The selections are definitely enjoyable examples of classical music composed by three masters of composition. Orchestra and conductor are definitely in harmony here.
Refer to the aforementioned Janacek review for the listing of my new reference audio components that are used here also. Listening to the reference system quickly revealed everything to be a bit too smooth, relaxed and lacking a natural forward presence common to live music. Being extremely familiar with Tchaikovsky's Romeo and Juliet, easily led me to figure out that the recording was approximately five decibels lower in output level than most of the other releases being reviewing in this issue. Turn up your equipments' gain/volume control and enjoy fine, low distortion relaxed audio quality. Such listening quality is truly and thankfully becoming more common, though we have to realize that many of the latest audio components often offer lesser levels of distortion and do not exaggerate source distortions as much as some of our older components might- time does march on, often with distinct audible results. That is a win-win combination.