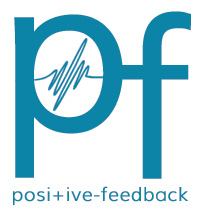 You are reading the older HTML site
Positive Feedback ISSUE
47

january/february 2010
Notes of an Amateur, February, 2010, Part 2
by Bob Neill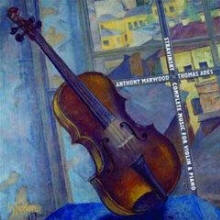 Stravinsky, Complete Music for Violin and Piano. Anthony Marwood, violin. Thomas Adès, piano. Hyperion CDA 67723.
This album came as a complete surprise to me. I was sitting around waiting (for a couple of years now) for the forthcoming CD of Marwood playing Adès' Violin Concerto when this promising pairing of the two playing some of the very best of Stravinsky's oeuvre came onto the scene. What will these two make of this wonderful music that until now Isabelle Van Keulen and Olli Mustonen have owned?
Lovers of this music that Stravinsky in the main created from larger orchestrated pieces, have long treasured the 1987 Van Keulen/Mustonen release. It brings out the appealing romantic Russian in the composer, bending and sustaining notes, loping gently through Pastorelle where purer modernists would walk briskly, making the first Air du Rossignol just a bit bluesy rather than scampering through it like a Paul Klee abstract. It's great, affecting music-making by a pair of then young musicians. The album, originally on Philips, is long out of print, though I understand it can now be had on a CDR from Arkiv Music.
I confess I was not aware just how indulgent the VK/M Stravinsky is before I heard this new Marwood/Adès outing. The first few notes of M/A's version of Suite Italienne (which is called here, more informatively, Suite from Themes, Fragments, and Pieces of Pergolesi, from Pulcinella) came as a musical shock. Suddenly this delicious music was trim and neo-classic, sophisticated, Parisian. Lighter than VK/M and more urbane. Marwood/Adès are more 'authentically' modernist, as we might expect from this composer/pianist: we are more aware of this as performance: we feel some aesthetic distance from it. Their Pastorelle is more objective sounding than VK/M's, but also more refined. VK/M wring a great deal of beauty out of the work, where M/A are more restrained. There is more Apollo in the M/A performances. This is a Stravinsky that would appeal to Boulez, with a premium on clarity. VK/M sounds younger and less sophisticated in its presence. M/A's Duo Concertainte, based on the composer's violin concerto, is tighter here, crisp and antic -- modernist to the core. Both Marwood and Adès move off notes quickly. If this were danced, which it has been by modern dance troupes, the physical movements would be quick, the turns crisp and sharp.
It occurred to me at about this point in the program, just through the first of the two discs, that if you prefer Marwood and Adès on this music, you might call Van Keulen and Mustonen a little sentimental; and that if you prefer Van Keulen and Mustonen, you might hear Marwood and Adès as too urbane, sophisticated to a fault. Clearly, and this becomes more obvious the further you listen into this new recording, both Stravinskys are "in" this music to be let out. And the more I hear of Marwood and Adès, the more interesting they become.
In the three pieces adapted from The Firebird, the 'coolness' of Marwood's tone becomes more noticeable, an effect that leans out this opulent music (especially opulent in its orchestral version) and lets us hear a more intense and exquisite power in it. This approach makes a very powerful argument for the arrangement itself. Divertimento, arranged from the ballet, The Fairy's Kiss, is the major work on the second disc and it may be the finest performance in the album. Marwood and Adès bring out Stravinsky's neoclassicism brilliantly and compellingly: this performance makes the best case for playing the composer their way.
How one responds to different approaches to music often reveals more about the listener than the performances, which is why responsible reviewers are obliged either to make a critical effort to hear 'around' their predispositions or to make them clear. I am at heart a sentimental man who loves modernism but who likes a half lump of sugar and a bit of half and half in it. So Marwood and Adès, by playing this beloved music undiluted have taught me things about it I did not know; and I am grateful to them for this. Not that it matters, since composers who though they generally know their intentions in creating a work don't always know their results, I do wonder which of these performances Stravinsky would be happier with. For what it's worth, I suspect it would be Marwood's and Adès.' I think that is how he saw himself, truly or not.
So if you're a lover of Stravinsky, you really can't be without either of these recordings. Together, they will tell you all of what you need to know about this great music.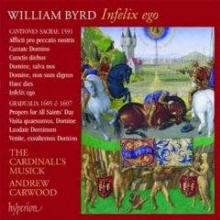 William Byrd, Infelix Ego. Volume 13, The Byrd Edition. The Cardinal's Musick, Andrew Carwood. Hyperion CDA67779.
Getting through the wall of sameness to the rich specificity beyond is a challenge to a newcomer to any field. Until you become intimately familiar with practically anything—varieties of fern, renaissance paintings, eighteenth century concertos, you can't see or hear anything but a generic world. The only way I could pass a college exam on renaissance painting was to immerse myself in books full of colored plates of individual artists for weeks: memorizing selected slides didn't work! But I could spot a Titian to this day, even if I'd never seen it before.
There are likely a great many of us who see ourselves as music lovers who would not do very well on an exam asking us to distinguish among the acapela choral works of sixteenth century composers Josquin, Brumel, Shepherd, Tallis, and Byrd. Our loss here is that within the highly formalized world of early choral music there are as many distinct voices and aesthetic identities as in any other field; and until we can begin to hear the differences, we are really just at the wall.
I am not suggesting I could ace such a test, far from it. But I have begun to 'hear' Byrd, to the extent that he has become an important part of my musical universe and one of my favorite composers. Under review here is the thirteenth and final release in Andrew Carwood's complete traversal of Byrd's choral work, begun thirteen years ago on the now defunct ASV label but picked up and continued by Hyperion at Volume 11. Carwood's Cardinal's Musick have made it their principal life's work since 1987 to record English renaissance composers of this music—Ludford, Cornysh, Fayrfax, Byrd, and Tallis, though they have also done CD's of Lassus, Palestrina, and Victoria. Their personnel have changed some over the two decades plus, but five singers on the first of the Byrd album in 1997 comprise the core of the ensemble in this final set, including both sopranos.
The Cardinal's Musick's Byrd has an endearing straightforwardness to it that allows the composer's poignant, lyric simplicity to come through pre-eminently. Would we like to hear boy sopranos here? They would make the performance more 'authentic,' which is neither here nor there; but they would also add more than a dash of that woody and unrefined quality that boy sopranos have that some of us are partial to. Practically speaking, since boy sopranos have a performance window of just a couple of years and can't really travel around the world at their age, you can't really sign them up for an ongoing professional choral enterprise like The Cardinal's Musick (or Stile Antico or the Tallis Scholars), so I'm not really complaining here. And of course, most people seem to prefer the stronger and more polished voices of women anyway. So the rest of us can just travel to Kings Chapel and hear boy sopranos do their thing there!
This final CD of the Byrd Edition is made up of fifteen shorter works, none of which I'd want to be without. We are fortunate indeed that Hyperion chose to rescue this series. It is a musical treasure.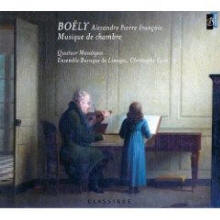 Boëly, Musique de Chambre. Quatuor Mosaïques; Ensemble Baroque de Limoges, Christophe Coin. Distributed by naïve. LC05.
Periods of transition in the arts are often the most compelling because in them we can sometimes hear an older established style reaching beyond itself in an effort to retain the old without succumbing to a seemingly radical new. Art itself feels challenged and threatened simultaneously—and then, of course, the new style sashays in, for worse and for better.
From the oeuvre of this little known French composer, a group of first-rate contemporary French musicians—the Mosaiques Quartet and Chistophe Coin's Ensemble Baroque de Limoges—have produced a program of chamber music that gives us eighteenth century classicism in transition to early nineteenth century romanticism. In a word, Beethoven on a human scale!
Like the best transitional music, Boëly's make a case for its own aesthetic and musical world. CPE Bach and Mahler occupy similar roles at the turning points of their respective eras. The first thing I noticed in Boëly is that he clearly believes more emotion can be got out of the classical style without abandoning it. The earliest music here, Trio, Opus 5 for strings (1808), brings to mind Beethoven's Opus 18, though its second movement Adagio stretches out its lines into more overtly expressive territory. This movement feels almost like a truancy from the more traditional first Allegro and third Minuet, though the latter moves through some attractive turbulence. With the final Presto, we are back to the feel of Opus 18 again.
Interspaced between the major works on the program are three very short undated duets for cello and organ, rapturous little things that obviously caught cellist Coin's eye.
By 1824-27, Boëly has found his own style. String Quartet, Opus 27 whirls and prances freely around eighteenth century style with confidence, asking the form to aim for more. The Sextet (1827) adapted by the composer from one of his symphonies, is ebullient, full, and buxom, with both violas and cellos doubled. If you can imagine classicism at full tilt but still on the rails, you've got it.
This is music for listeners who are already drawn to the aesthetic of the late eighteenth and early nineteenth centuries; meaning that despite its considerable appeal, it is not likely to win new friends who resist formality. I find its formality is what enables its expressiveness to succeed better than it does in some of the music of Schubert and Schumann, which was soon to sweep it off the stage. I like the tension in it. There is more wonderful music in the world that either you or I have dreamed of.
System used for this audition: Audio Note CDT3 transport and Dac 4.1 Balanced Signature. Audio Note M6 tubed preamplifier and Audio Note tubed (300B) P4 Balanced monoblock amplifier. Audio Note E/SPe HE speakers. Audio Note Pallas and Sootto interconnects; Audio Note Sogon speaker cables.
Bob Neill, in addition to being an occasional equipment and regular music reviewer for Positive- Feedback Online, is also proprietor of Amherst Audio in Amherst, Massachusetts, which sells equipment from Audio Note, Blue Circle, and JM Reynaud, among others.