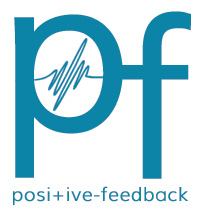 You are reading the older HTML site
Positive Feedback ISSUE
47

january/february
2010
Las Vegas 2010: A Drama in Three Acts
by Greg Weaver
Act One: CES - Tragedy of Decline?
Two thousand ten marks the fourth year that the opulent Venetian Hotel and Casino has played host to the "High Performance" audio segment for this, the forty-third annual Consumer Electronics Show. Given the nature of the economy over this past year, and factoring in the many tales of woe I had heard from many of my contacts, colleagues, and friends in the industry, I had no reason to expect that this year's event would be breaking any attendance or participation records. Nevertheless, I was not prepared for the strong downward trend that revealed itself to me.
My first indication of this year's remarkable reduction came Wednesday morning. Shortly after my plane landed and I picked up my rental car, I went directly to the Venetian to conclude my event registration and collect my press bag and literature kit in order to prepare more carefully my assault on this year's revelries. I parked my car in the parking garage, took the elevator down to the third floor (the primary entrance from the Parking Garage) and arrived at the sweeping area housing the remarkable faux Venetian canals, replete with gondola rides, and the "Canal Shops." I took the escalator down to the second level of the building, which houses the main casino, several theaters, and more restaurants, winding my way through the casino floor and on into what used to be called the Sands Expo area. About three quarters of the way down that broad hallway, I took the escalator down one more flight, to the ground level of the facility, to complete my now familiar route to the press registration location.
For the past three years, the press registration area was along a large recessed section on the northwest side of one of the open hallways leading to the main ground exit to Sands Avenue, on the northeast side of the Sands Expo portion of the Venetian. As the escalator deposited me in that familiar open space, I was completely surprised to find that the entire ground level held nothing CES related whatsoever! No signage, no CES or CEA officials, and virtually no foot traffic at all. Still somewhat amazed, I walked to the end of this hallway and around the corner down the familiar east-heading hallway, assuming that the Press Room would still be in its previous location, only to find that it too was missing!
Wow. I headed back up to level two, and following the signs, found my way into a room in the Titan group of suites. This room was roughly one-third the size of the previous Press accommodations. Five or six CEA members sat behind computer terminals, poised to assist media members, but gone was the long row of desktop computers for use by the press. In its place was a small seating area where you were free to use the free WiFi network with your own laptop. Gone also were the printers. In years past, there had been a small bank of printers that we could avail ourselves of if needed.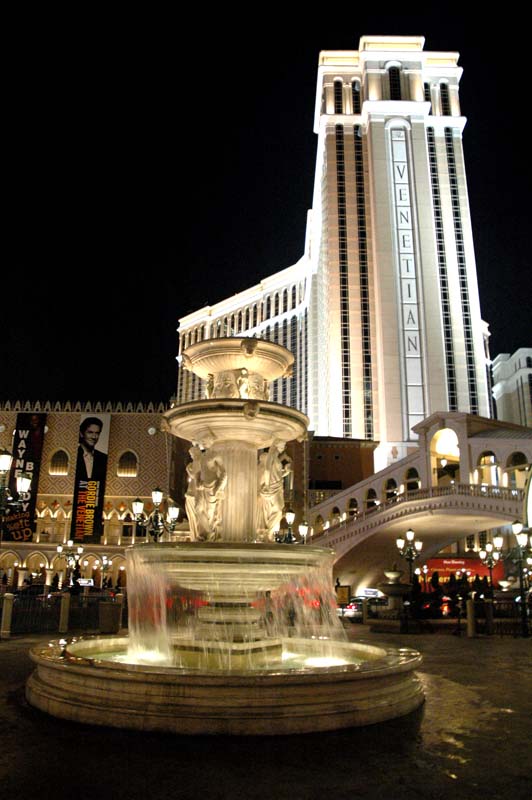 The faux elegance of Nevada, Venice transported to Vegas
Also in the three years prior, the Press Room offered a table constantly restocked with "comfort" carbohydrates (bagels, donuts, and pastries), along with another kept loaded with bottled juices, water, and several coffee machines. This year, there was a water cooler by the door, often out of cups on my visits, and a single coffee maker to the left of the press bag pick up table.
Thursday afternoon I learned that had I arrived an hour and a half later on Wednesday, the day before the show officially opened, I wouldn't have been able to pick up my press bag; they ran out! Several more boxes of the press bags arrived late Thursday morning to be handed out, but they ran out once again just after lunch time. By this point, I was wondering if this was an example of poor planning or lack of interest on the part of the CES organizers.
As if the press bag shortage wasn't insult enough, press members have always been welcomed to a free luncheon served in the Press Room every day of the event. This year, media members could still have their free lunch, but ONLY if they were brave enough to venture over to the enormous Las Vegas Convention Center (LVCC) complex, which besides being reminiscent of a herd of cattle on a drive, hosted NONE of the "High Performance" audio exhibits.
It only gets worse. Not only had the number of exhibitors occupying the three lower exhibit levels of enormous meeting and banquet rooms that can broken into smaller segments with sliding wall partitions diminished, they had diminished in quality and content as well. With no exhibits on Level One, we were deprived of one floor of huge, expansive rooms right from the start.
Many of the exhibitors remaining on Level's Two and Three were a bit, um, surprising to me. Level Two revealed that Verizon, Ericson, Alcatel-Lucent, and LG-Innotek all had large exhibits. Above us on Level Three, smart phone and PDA manufacturer Palm had a good-sized section of the San Polo suite, and Intel had taken all 14 rooms of the Lido Suite, occupying fully one third of exhibits on that floor! I can't speak for you, but it was shocking to this long-time industry member to find that so many Cellular providers and manufacturers had entered the High Performance audio arena.
The exhibit shrinkage persisted. This year, there were only two floors of tower rooms, floors twenty-nine and thirty, while all prior shows here had covered nearly three by including floor thirty-one. There were still the odd dozen or so manufacturers who chose to exhibit in much larger, more exclusive suites up on the thirty-fourth and thirty-fifth floors, but in all, the High Performance audio segment of this annual event had shrunken by nearly one third in my estimation. That, my dear music lovers, is significant!
Even though I found all this to be somewhat discouraging and disappointing, there were still some spectacular exhibits to be witnessed at the Venetian, so I will quit my whining and proceed with the good stuff…
As it could be argued that it is virtually impossible to single out one single room that so clearly surpasses all the others—and in every category—as to earn the distinction "Best of Show," I have selected the six best sounding contenders. Each of those room descriptions will be appointed with a

icon, making them easy to spot in this report. Room descriptions are arranged numerically, by the room in which they displayed, in order to avoid any appearance of favoritism! ;-D
Suite 29-126 Soulutions/Magico

I was VERY taken with Alon Wolf's introductory showing of the Magico M5 ($90,000) last year, and I was pleased to be able to acknowledge its accomplishment with my vote for a 2009 Innovations and Engineering Award. Though last year saw them paired with the Swiss-made Soulution amps and line stage, that showing used a then one-off and one-of-a-kind music server; we were captive to hearing only recordings available from that source.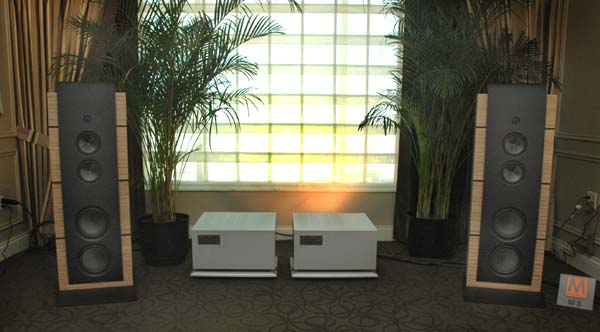 The magic of Magico and Soulutions

This year, I was able to hear this remarkable combo with my own music, as well as with some superlative vinyl (Salvatore Accardo playing Paganini on Foné) played back on the Transrotor ZET3 ($10,000) using a SME Series 3 arm ($5300) and the AirTight PC1 Supreme ($9000). All electronics were from Soulutions; the model 750 Phono Preamp ($25,000), the model 745 SACD player ($69,500), the model 720 Preamplifier ($40,000), and a pair of the coffee table sized model 700 Mono Amps ($115,000/pr). Cabling was the remarkable Kubala-Sosna Elation series.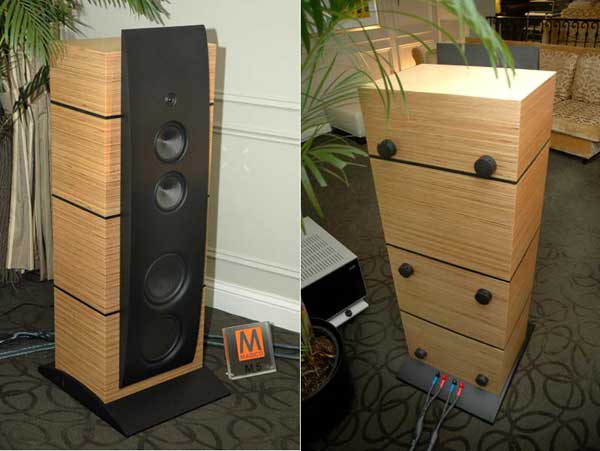 The Magico M5, front and back
I'm almost sorry that this room logically comes first in the numerical room lineup, as it was one of the more remarkable sounding rooms of the lower floors in the Venetian. This system was transparent, articulate, detailed, and so natural and relaxed that I was consistently drawn into the music, only to wish that I could spend much more time there listening. Very well done, and deserving of one of my top spots at this year's trade show.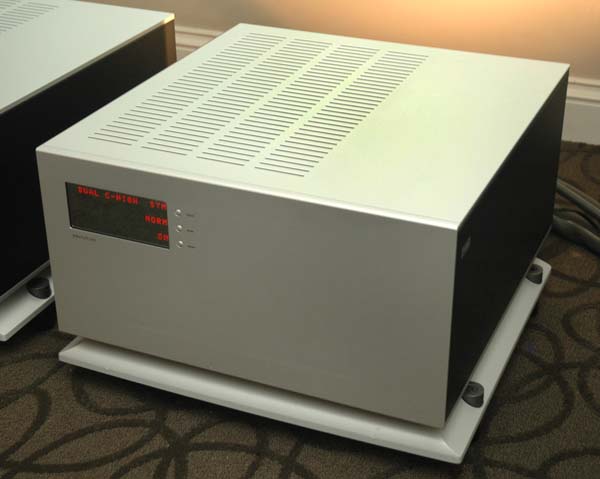 The end table-sized Soulotion's 700 Monoblocks
Suite 29-131 Profundo
I have had the pleasure of knowing Bob Clarke of Profundo for some years now, and his room is always one of the more enjoyable and musical stops during CES. This year was no different, as he was introducing the newest entry from the Austrian loudspeaker company Trenner & Friedl, the RA-Box ($25,000). Electronics were all from Viva of Italy, and included the Viva Audio Linea F preamp ($24,000), the Viva Audio New Aurora monoblock amplifiers ($42,000/pr).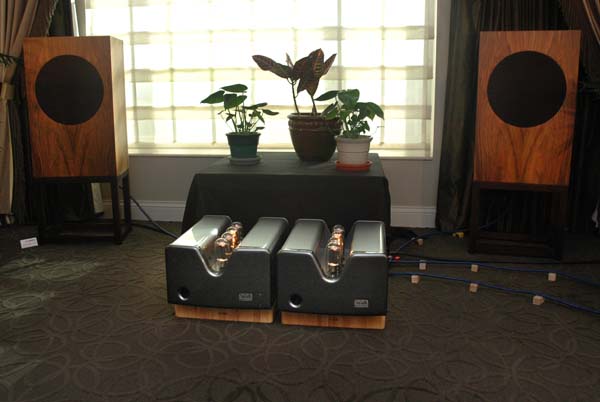 The uniquely styled Viva Aurora monoblocks and the new Trenner & Friedl Ra-Box loudspeakers
The Heed Audio Obelisk DT transport ($1600) and the Heed Audio Dactilus DAC ($1600) did the honors for optical disc playback. Vinyl was replayed with the Basis Audio 2800 table ($12,900) and Basis Vector 4 tonearm ($3540), fitted with the Transfiguration Orpheus L phono cartridge ($6000). Just as an aside, Bob and I have discussed a review of the Orpheus L, so stay tuned on that front. Finally, all cabling was Cardas Clear.
The Ra-Box is proportioned to the "golden ratio," and is finished superbly with a seven-layer lacquer finish. Internal box damping is achieved by using, no foolin', Austrian sheep's wool! While somewhat vague as to driver size and complement, it uses paper cones impregnated with six-layer Italian balsamic oil lacquer finish and the high frequency driver horn is machined with high precision. Crossover components employ Mundorf oil/silver caps and foil coils, and MOX resisters.
Internal wiring is by Cardas (who not so coincidentally ALSO employ the golden ratio in their construction technique), as are the terminals. One of the unique aspects of this design is that it can be placed as close as 4 inches (10 cm) from the wall behind it! With an efficiency of 94dB at 8 Ω, the claim is that will work superbly with as little as 8 watts.
While I cannot address the claims, I can tell you that the result in this room was big, bold, and beautiful music, both dynamic and delicate at the same time, vivid and lifelike. It was impossible to just sit and listen; my foot was involuntarily keeping time and my head was bobbing along to the music the whole time I was in the room… Well done, again!

Suite 29-215 Genesis Advanced Technologies
Music here was sourced using the Genesis Internal Music Server, which is available as a DIY project free from their web page, Building an Absolute Fidelity Music Server. The DAC was the Weiss Minerva ($4900). The preamp was a new entry, the Genesis SMC-1, which will sell for between $4000 and $10,000, depending on "hot rod" options. If you were keen enough to glean from the SMC moniker that it just might stand for Steve McCormack, then you would be correct, as he designed this preamp for Genesis.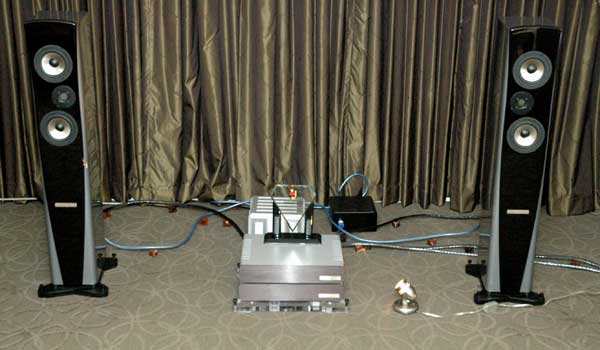 The new G7.1f powered speakers, and the GR-180 monos with MDHR power supplies
Genesis GR-180 mono amps ($4850/pr) with MDHR external power supplies ($3650/pr) fed the new G7.1f powered speakers ($8000/pr), which include a built in mono 200 watt servo-controlled bass amplifier.
Given the price structure in our hobby/sport/disease today, it would be a stretch to label this system as terribly expensive, but the sonic landscape it generated was remarkably musical and robust. While I don't profess to know any of this gear well, with the exception of a slightly whitish upper-most treble, manifesting as a slight blanching of the creamy bronzy flavor of cymbals, this system really worked and was surprisingly effective at creating a lifelike sound stage and realistic impact.
Suite 30-111 Hanson/Tenor/Kubala-Sosna
Lars Hanson was as proud and excited as a first-time papa as he introduced the new Hansen Grand Masters ($239,000). Boasting all Hanson Audio exclusive drivers fabricated from an "exotic multi-layer composite" sandwich of materials, the upper section of the 74 inch tall, over 325 pound, finely finished black speaker uses a five driver vertical array; two 182 mm (7.16") mids are positioned above and below a 25 mm (1") dome tweeter. A second tweeter, on the back of the upper section of the cabinet, fires upward at what I would guess to be about a 15-degree angle. A staggered grouping of four 2.69 cm (10.6") woofers, adorn the lower, wider section of the cabinet, also fabricated of an inert "Hanson Composite Matrix" material, coated with a final layer of material named the "Cloaking Device."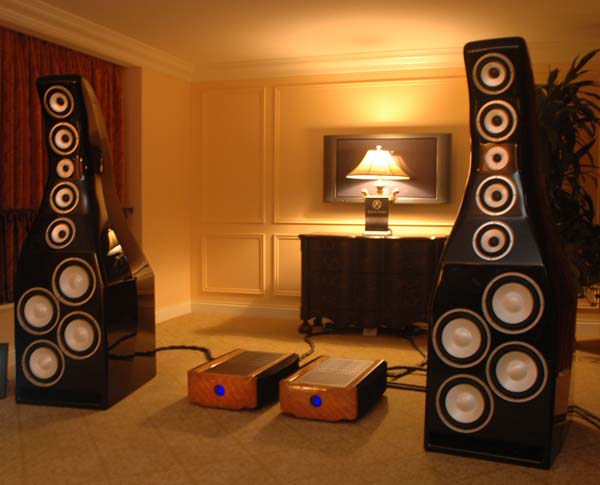 The strikingly elegant statement Hanson Grand Masters and the Tenor 350 monoblocks
With a rated response of 15Hz to 23kHz, a sensitivity of 90dB, and an 8 Ω nominal impedance, these speakers make as striking a visual statement as they do a sonic one. Analog front end duties were handled by the DaVinci Turntable ($30,000), with the DaVinci Grandeeza Arm ($10,000), and fitted with the AirTight PC1 ($5000) MC Cartridge and RIAA duties were handed off to the Tenor Phono Stage ($50,000). The new dCS Scarlatti 4 piece digital front end ($80,000) decoded Redbook CD, SACD, and is comprised of the dCS Scarlatti Upsampling SACD/CD Transport ($32,999), the dCS Scarlatti DAC ($23,999), the dCS Scarlatti Master Clock ($9999), and the dCS Scarlatti Upsampler ($12,999).
The Tenor two-piece preamp ($75,000) handed off via the new Tenor 350 hybrid tube/MOSFET monoblocks ($100,000). Everything rested on HRS stands and was connected with the glorious Kubala-Sosna Elation line of cables. I don't know if you were adding it up as we went, but all told, this refined system came in right at the three quarters of a million bucks! That's right, $750,000!
So, was it all worth it? Only you and your financial advisor can make that decision. I will say that it was refined, detailed, and delivered the goose-bump factor, repeatedly. What was so remarkable to me was how well this large speaker, with its ten-driver array, stayed so coherent and integrated—even as I approached within six feet of the driver array. My hat is off to Lars for very successfully executing this difficult challenge..
Suite 30-115 Kubala-Sosna Research
While this room was right next door to the all-out Hanson/Tenor/K-S suite, and was nowhere near as extravagant, this is where audio goombah's Joe Kubala and, the new, improved, slimmer, sleeker Howard Sosna (seriously, congratulations Howard), were to be found, just hangin', chattin', and groovin' to the music.
While this room was accomplished at less than ten percent the cost its neighboring suite, it was by no means only one tenth as impressive; in fact, it was quite engaging. Featuring electronics from the gifted designer Tim de Paravicini, sources were Tim's E.A.R. Acute tube CD player ($5900), and the Clearaudio Innovation Wood turntable, using Clearaudio's Universal Arm, and the Benz LP-S Cartridge ($20,000). The line stage was the Veloce Audio Platino LS1 ($15,000), and the phono stage was the Veloce Audio LP1 ($3000).
A pair of the always-impressive and venerable E.A.R. Model 890 monoblocks ($14,600) drove the new, gorgeous Marten Design Heritage Bird Loudspeakers ($32,000). All cabling for this system was the Kubala-Sosna prior statement cable, the Emotion series (roughly $12,000 worth), now supplanted by the marvelous Elation series.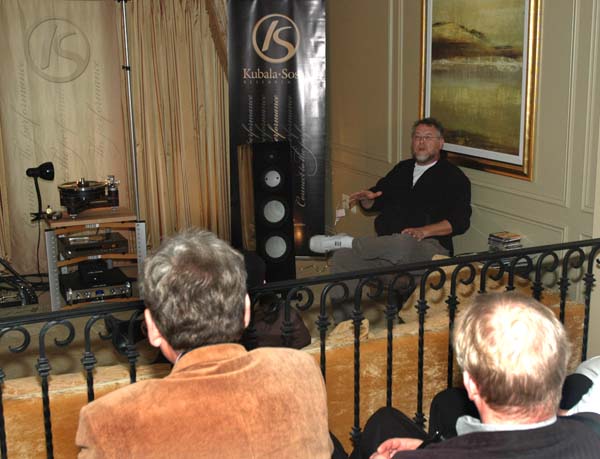 Jim Merod holds court at his annual Jazz Seminar, hosted by Joe Kubala and Howard Sosna
Rich in tonal character, full-bodied, and highly resolute, this system was remarkably life-like and natural. This room played host to the now well-known BluePort Jazz recording "Seminar." This year, besides speaking to the trade-offs, compromises, and serendipitous circumstances' involved in capturing a great live performance in the wild, Jim was particularly successful at conveying the camaraderie and connectedness among the musicians and professionals within the tightly knit Jazz world.
Jim effectively punctuated his discussion by playing one or another of his recordings immediately after he had described the challenges he faced and how he dealt with them on that particular session. The nearly two-hour long seminar was well-attended, was time spent, was highly educational, and featured some great music that was very, very well recorded. My hat is off to Howard and Joe for committing the effort and resources necessary to sponsor this kind of event.
Suite 30-219 Convergent Audio Technology/Stealth/Vivid

After running into cable guru Serguei Timachev late in the day Thursday and spending the balance of the evening chatting with him and Jim Merod over a meal and back in my room until I was too exhausted to continue, I was anxious to hear his newest cables in action.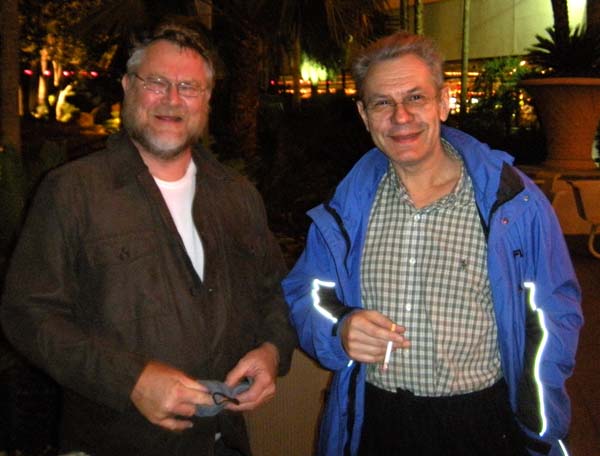 Conversation with two great friends, Jim Merod and Serguei Timachev
Fronted with the E.A.T. Forte turntable ($16,000), fitted with the Linn Akito arm and the Benz LP cart, the C.A.T. Legend preamp ($20,000) handled LP demodulation, with built in MM and MC stages. The optical source was the Audio Aero LaSource (about $42,500 at the current Euro exchange). Amplification was by the dazzling looking, 180 pound, C.A.T. JL3 mono's ($40,000/pr), bristling with sixteen 6550 Winged "C" tubes.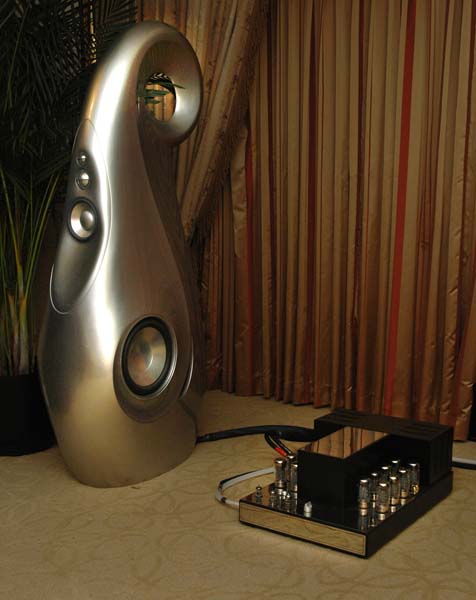 The stylistic and striking Vivid Giya's and the C.A.T. JL3 Mono
The speakers were the Laurence "Dic" Dickie designed Vivid Giya ($50.000) and all cabling was from Stealth, featuring the Sakra interconnect and Dream speaker cables, both of which incorporate a hollow, flexible para-vacuum center multi-core (flexible Helium-filled tubing). It was a very rewarding combination; relaxed yet resolute, inviting, and very liquid and lucid.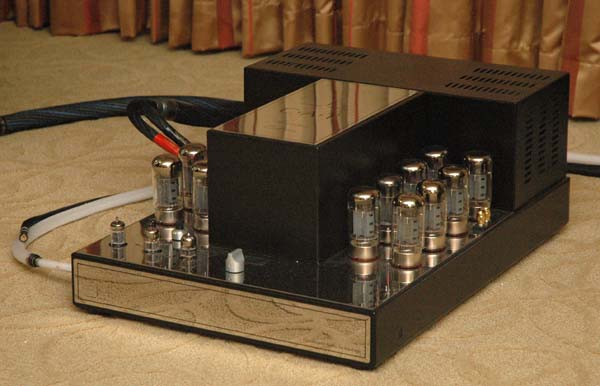 At 180 pounds, this push-pull triode design C.A.T. JL3 develops 150 watts into an 8 Ω load
Suite 30-222 ModWright Instruments/Audio Machina

I have had the pleasure of knowing Dan Wright, and both reviewing AND selecting his products for inclusion in my own systems, since 2000. For the past decade, I have had the pleasure of watching ModWright blossom from being merely a modification house in its earliest days, into a fully developed component manufacturer with no fewer than seven offerings (see the ModWright web site for details), with others in development. While ModWright continues to offer component upgrades, their real significance lies in the strength of Dan's line-up of component offerings.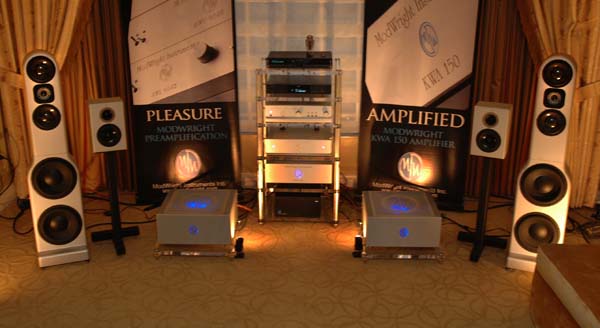 The synergy of the sound was even greater than the drop-dead gorgeous look
While his show rooms always please, this year's collaboration was extraordinary. Sources included the ModWright Transporter with the full Signature Truth Modification ($3995), and the ModWright modified Oppo BDP-83 with the MCH mods and clock upgrade ($1795). A ModWright LS 36.5 'DM' with its outboard 'Dual Mono' all tube power supply handled signal sourcing ($9000).
Amplification for the room was provided by a pair the glorious sounding (and stunning looking) ModWright KWA 150 SS stereo amps, wired in bridged mono ($12,000/pr). Though not active, Dan was showing his new KWA 100 SS stereo amp ($3295), which is based on the KWA 150 circuit and is slated to start shipping this month. Dan says that the heart of the KWA 100 Amplifier is a single voltage gain stage called the "Solid State Music Stage"; a circuit was developed by Alan Kimmel, creator of the exceptional vacuum tube "Mu" stage.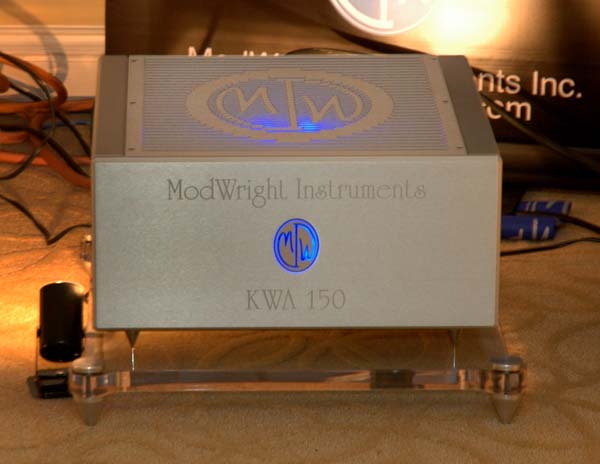 As beautiful to behold as to hear, the ModWright KWA 150 SS Stereo amplifier
The speakers were the superb Audio Machina Maestro's ($49,500/pr). They are created from a slim, sleek solid aluminum slab, precision CNC machined into a dual clamshell cabinet. They afford an impressively slight 12" x 12" x 52" profile, and house six drivers. A pair of 10" subs occupy a wider section near the base of the machined slab, and a pair of 6" Carbon/Rohacell/Carbon sandwich cones and a 1" hand treated silk dome tweeter are placed in a D'Appolito configuration near the top of the anodized satin silver form.
Everything rested on a custom rack by Dave Thomas, and AC was delivered to all components using Len Miller's highly overachieving Soundstring Cables. Dan used all his own in-house signal cabling. Fast, detailed, with exquisitely well-balanced timbre, this room performed to a much higher level than the sum of its constituent parts would indicate. Yes, it earned its place in my short, best of six list.
Dan and I have had some cursory dialog on the matter of my taking a closer look at the KWA 150 (or maybe the new 100), sometime soon. We further discussed documenting the history of ModWright for readers sometime this year as well. Stay tuned.
Suite 30-227 Oracle Audio Technologies
My time in this room saw special attention showered upon me by Jacques Reindeau, who was kind enough to give me a personal demonstration on the new Oracle Delphi Mk VI turntable. I VERY much enjoyed, and greatly appreciated, the time he took to clearly demonstrate the effectiveness of the new Micro-Vibration Stabilizer System incorporated in the new Oracle Delphi Mark VI.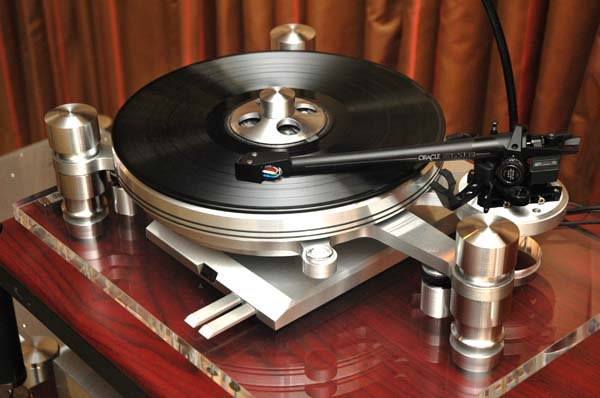 Still one of the most distinctive and beautiful designs ever released, the Oracle Delphi Mk VI
I have always found the Oracle Delphi turntable to be one of the most visually striking designs in the entire phylum of turntables, and Jacques' demonstration unmistakably highlights one of the KEY advances to the Mk VI system. To say that I was very impressed with the differences this venerable table has seen due to all the updates, including this MVSS (Micro-Vibration Stabilizer System) approach, would be a gross understatement. As a long-time owner and tinkering modifier of my Mk II and III versions of this elegant and successful turntable, I am only too happy to report that Jacques has agreed to a review sometime soon.
Suite 30-319 Lotus Group

Joe Cohen of PranaWire fame founded the Lotus Group a number of years ago now and continues to impress me regularly, both with the products he has chosen to represent, as well as the sonic results he achieves when demonstrating them.
This year, the highlight of the room was the visually arresting Granada UB II loudspeaker with active crossover ($125,000/pr). These speakers feature the Feastrex Type II Field Coil Driver. The Feastrex uses a cone fabricated from handmade washi paper and treated with 20 coats of traditional Japanese Urushi lacquer. They employ lambskin leather surrounds, a variety of extremely powerful electro-magnets, use Phosphor Bronze frames, and are powered by their own custom power supply. I think you can see from my photo below that this speaker is as handsome as it is accomplished at getting out of its own way.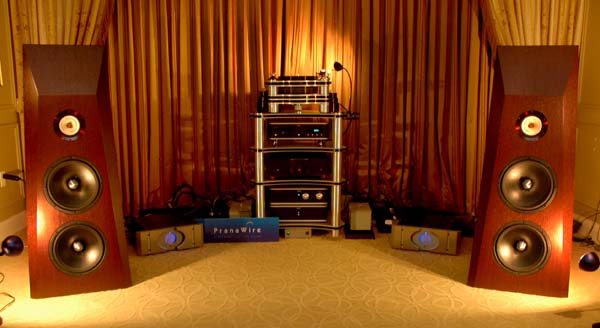 The visually arresting and utterly natural sounding Lotus Group room setup
Typically, the Feastrex drivers are featured in single-driver type speaker products. Here they've really pushed the design envelope, employing an open baffle design. This very forward-thinking design adds a pair of 12" dual voice coil woofers as well as a single rear-mounted tweeter, all mounted in a superbly machined and finished three-inch slab of Finnish Birch plywood baffle. Finally, the system employs a digital active crossover and bi-amplification.
The Granada's digital crossover processes acoustic information at 48 bits in real time in an effort to find greater accuracy in matching the drivers for maximum imaging capabilities, properly smoothing the power and frequency response, and finely tuning the loudspeaker to each individual room in which it will be used. The whole process is tailored to your room when they are delivered and set up by engineer Manny LaCarrubba, former chief engineer of the Record Plant in Sausalito.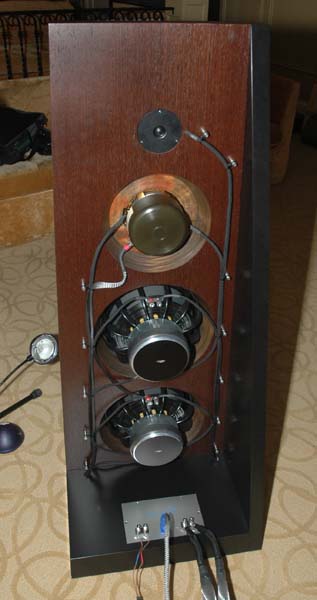 A look at the rear of the Granada, with its open baffle woofers and rear tweeter
Sources were the Hanss Acoustics T-60 turntable ($6200), which I am to review later this year, and the Hanss Acoustics CD 20 CD Player ($2200). Phono pre-amplification was the Hanss Acoustics two-chassis all tube PA-60 ($5000). Amplification came from a pair of Pass Labs XA 30.5 stereo amps, one per side for vertical bi-amplification.
The preamp I heard on my original visit was the BAT VK 3ix ($5990). Cabling was either from Joe's own PranaWire stable ($69,000 worth) or from his imported Acoustic Revive ($18,000 worth) line. All the equipment rested on a Hanss Acoustics HR-404 Equipment Stand ($4,500). All totaled, the room was worth just over $260,000!
This system really hit my hot buttons, with its effortlessness and sheer ease of presentation. It was the picture of clarity, finely detailed, and articulate, while being equally relaxed, natural, and eerily life-like. Space was almost reach-out and touch the performer real. It seemed to be ever so slightly restricted or reigned in, stopping just shy of being labeled exquisite, but it was unmistakably live sounding.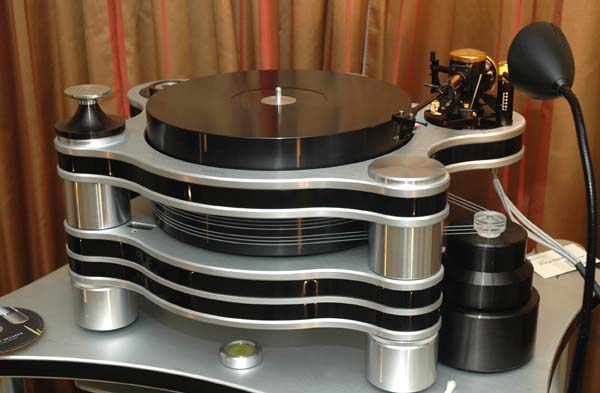 The great looking and remarkably affordable Hanss T-60 turntable
When Jim Merod stopped by to listen at my behest, the discussion of the revolving door of preamplifiers came up. Jim off-handedly suggested that Joe try inserting Steve McCormack's new and astonishingly transparent VRE-1. Whether it was coincidence or providence that Steve was just down the hall a few doors, and that Jim knew he had at least one VRE-1 that was available is not clear.
I had the pleasure of having had a VRE-1 in my system for several weeks before I tore up my shoulder last spring. Out of consideration for Steve, I had sent it back knowing that it would be 16 or 18 weeks after my major shoulder surgery before I could get back to the serious business of reviewing. Yet in that short time, it had impressed me as the most transparent device of its breed, period.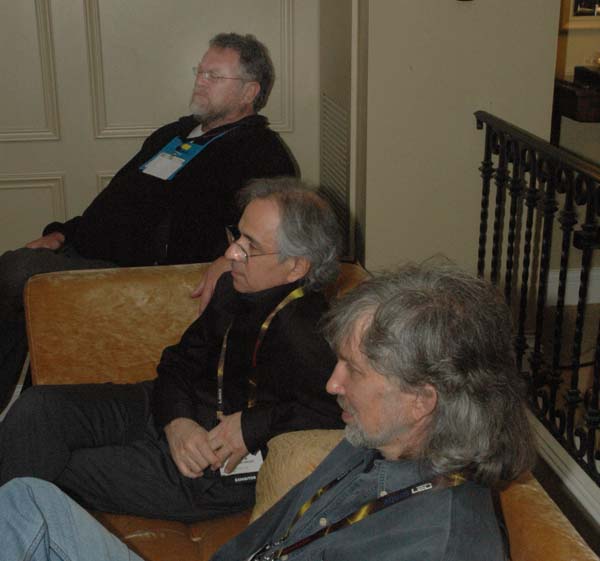 Absorbed in the results of truly synergistic sound, Jim Merod, Joe Cohen, and Steve Hoffman
To add the final push over the top, the Feastrex designer had stopped by since my first and second visit (yes, the room sounded THAT good), with a new(er) prototypical power supply for the field coils; one that was nearly three times the size of the original device.
Well, the transformation that those two changes wrought when inserted into this already natural sounding system was nothing short of enchanting. I sat there, virtually speechless, for some 90 seconds or so. These changes had released whatever it was that had been held back during my earlier listens and, honestly, left me wondering if I would hear anything better this year. It was just spectacular sound, relaxed, laidback, and alive, dripping with harmonic richness, full of musical detail, and coherent from top to bottom. This is, without question, one of the finest systems I've ever heard, and not JUST at a show. Joe, you get a star!
Suite 34-208 Pioneer/TAD
Andrew Jones was showing off the new TAD M600 mono amps ($26,500/ea), products that had been shown as a prototype two years ago, and now represent a completed and shipping product. With 600 Watts into 4 Ω, this is one impressive sounding—and looking—behemoth. Weighing in at just a tick over a pound shy of 200 pounds, with its impressive one-piece cast spiked base, rated at only 0.2% THD at a frequency response of 1Hz-100kH (+0/-1 dB), these are some serious amplifiers.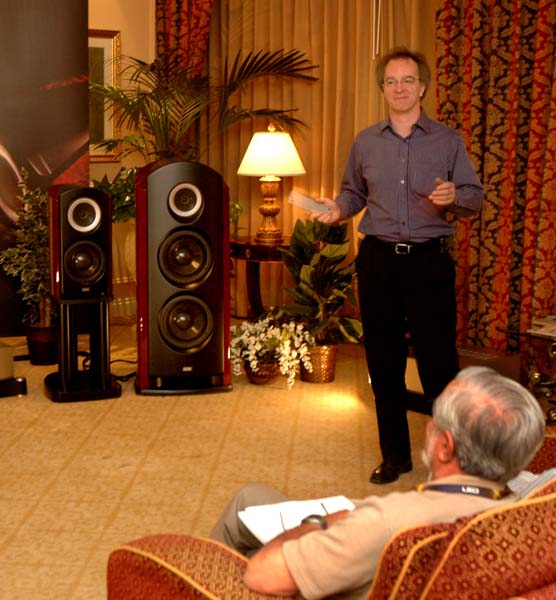 TAD's Director of Engineering, and master showman, Andrew Jones showcases the new M600 amps
Andrew continues to show with his own high-resolution audio files directed to the TAD D600 CD/SACD Transport and DAC ($26,500). This new flagship product is set to start shipping this spring.
Though the remarkable TAD Compact Reference ($37,000/pr), which I noted in use in two other rooms at CES, was on static display when I visited this room on 34, it was the staggering Reference One ($70,000/pr) that shook the room, and all in attendance. In years past, Pioneer/Technical Audio Devices has shown with some spectacular Pass Labs power. That is no longer necessary, as this is one superb sounding system powered by their new M600, an all out assault on amplification. Talk about power, grace, and impact! This was simply an amazing system.
Suite 35-307 Lamm One
This show saw the world premiere of Vladimir Lamm's new Lamm Industries LL1 Signature line stage, a four-chassis dual-monophonic pre-amplification system ($42,600), as well as Peter Clark's redpoint audio designs Solo Voce turntable with its custom-engineered stand ($96,000). Further, this room featured the premiere of the new Critical Mass Systems Black Diamond QXK racks ($3300 per level) and PXK stands ($5400 each).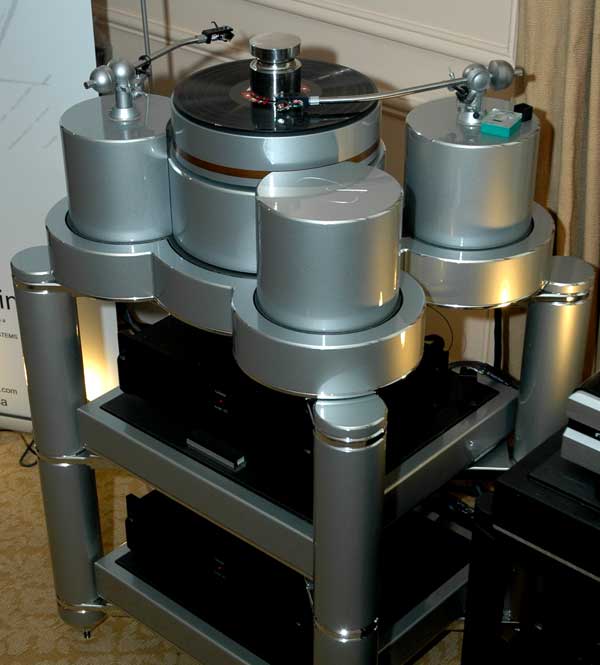 A joint venture, the Solo Voce is Peter Clark's redpoint flagship table mounted atop Joe Lavrencik's custom designed stand

The unassailable looking Solo Voce is a joint project. It combines Peter Clark's remarkable flagship redpoint audio designs turntable with a custom matching to-the-floor stand from Critical Mass' Joe Lavrencik. For this event, it was fitted with two different arms; the Ikeda 9" ($9200) with a Dynavector DRT-XV-1s mono ($5500), and the Ikeda 12" IT 407 ($6800) fitted with a Dynavector DRT-XV-1s stereo ($9000). I have been kept in the rapt bliss that my redpoint Model D has been consistently serving up since its arrival, and the Solo Voce should be even more of a very good thing. At just over 650 pounds, this is one serious transcription system, one that is as eye-catching as any such system I've ever encountered.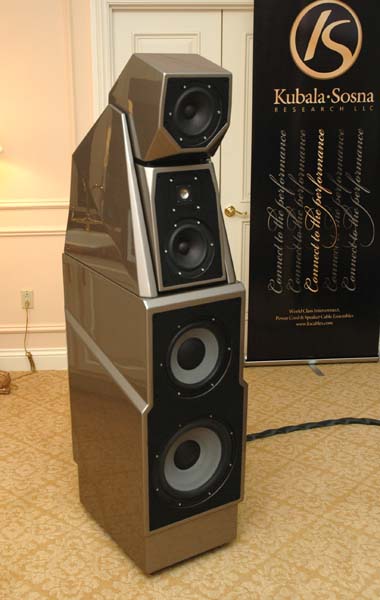 Up close and personal, the latest iteration of Dave Wilson's Maxx Loudspeaker
The rest of the system included the Lamm ML3 Signature amps ($139,290/pr), and the Lamm LP2 phono stage ($7200). The digital front end was the NeoDio NR22T transport ($13,300) and the NeoDio NR22D DAC ($12,000). Speakers were the Wilson Audio Maxx3 loudspeakers ($68,000/pr) and all cabling was, again, the new Kubala-Sosna Elation series.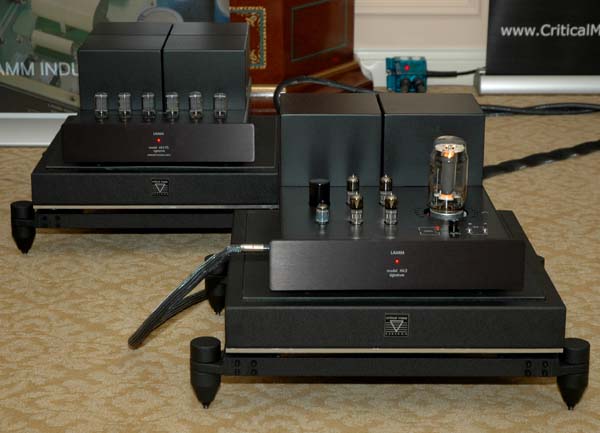 At $140,000 a pair, if the Lamm ML3 Signatures don't inspire tube lust, nothing will
Having been able hear only an unknown recording of some full scale Orchestral music on the Solo Voce, all I could really tell was that it didn't have the impact that my Model D has in my home system. Overall, not having any first-hand sonic knowledge of any of the rest of the assembled components, it was very difficult for me to speculate as to what might be holding this system back in the lowest registers. Regardless, I was sure that I wasn't hearing the Solo Voce at its best, given the results I get in my own music room.
In general, the sound here was very hard to describe, as it truly seemed to have very little character of its own. While the price of this system was approaching half a million bucks, to say that the room had no sound of its own just doesn't cut it. While it was a truly remarkable assemblage of equipment, given the results I've heard in this (equivalent) room over the past several years, I was just a bit disappointed with the results this year.
Suite 35-309 Lamm Two
This event would also see the world premiere of the Lamm LL2.1 Deluxe line stage ($5990), and the Hanss T-90 turntable ($45,000). The Hanss T-90 was fitted with the new Graham Engineering Phantom II tonearm ($4900), sporting an Ortofon A90 ($4200) moving coil cart, and engineer Bob Graham just happened to be on hand to show it off. It was good to see Bob out at shows again as I haven't run into him in a number of years now.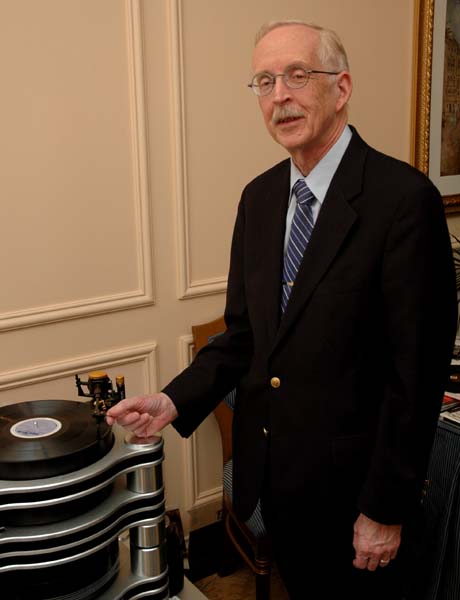 Tonearm legend Bob Graham with the latest Phantom II arm on the Hanss T-90
The rest of the system included the Lamm M1.2 Reference amps ($22,290/pr), the Lamm ML2.1 Reference amps ($29,990/pr), the Lamm L2 Deluxe Reference preamp ($7290), and the Lamm LP2 phono stage ($7200). The digital front end was the NeoDio NR22 CD transport/DAC ($15,000), and everything rested on the Harmonic Resolution SXR-1921-3T3 frame system ($14,560), with Harmonic Resolution M3X-1923 custom resolution bases ($2795/ea). The speakers were the new Wilson Audio Sasha loudspeakers ($26,900/pr), and all cabling was from the Kubala-Sosna Emotion series.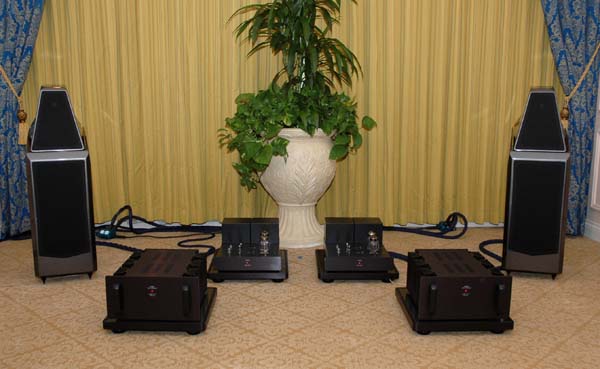 The new Wilson Sasha speakers and Lamm ML 2.1 reference amplifiers
Honestly, while Lamm room One left me floundering for adjectives and modifiers to describe what I was hearing, or—more aptly—what I wasn't, this rooms presentation seemed a bit more lifelike; more reminiscent of the live musical event. Though hardly what you could call affordable, with a price tag approaching a quarter of a million bucks, if I was offered either of these two Lamm hosted systems, given my own personal tastes, I would not hesitate to select this one.
Titan 2201B YG Acoustics
Although they were only playing the now highly touted Anat Reference II Professional, Yoav introduced his new Carmel speaker ($18,000), which was first unveiled on the opening Thursday of CES. The look is unmistakable, but I am sorry to say that I didn't get to hear them. However, that slight will be remedied soon, as I will be doing a full review of the Carmel sometime late this spring when the product begins shipping.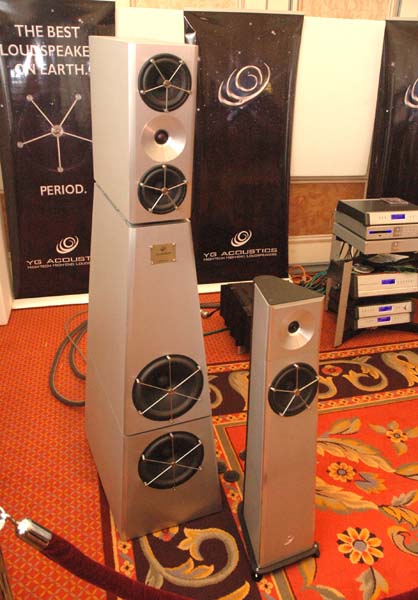 The unmistakable look of the YG Acoustics Anat Reference and new sibling, the Carmel
The associated electronics were spectacular, and included the full, four-piece dCS Scarlatti digital front end ($80,000), the Krell Evolution 202 preamp ($16,500), and the FPB400cs ($10,500 when new) stereo amps. All cabling was Kimber Select, except the preamp to amp umbilical, which was accomplished using the Krell CAST cables.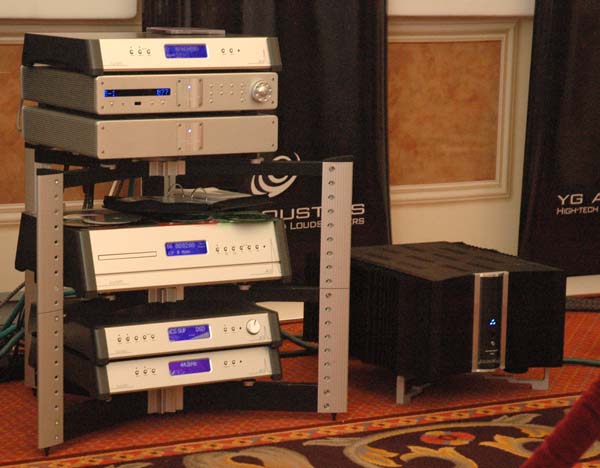 A full dCS digital front end with Krell Electronics animated the YG Acoustics Anat References
Act Two: T.H.E. Show - Success Beyond All Expectation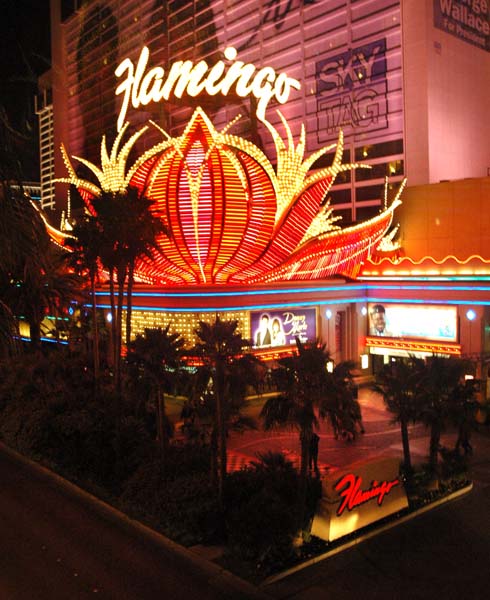 The casino entrance to the Flamingo, from the Elevated Walkway over the strip
Ah, the Flamingo! There are scant few resorts left from what may be called the "original" Las Vegas. Of course, I'm referring to the Las Vegas that sprang to life starting in the 1940's and was known for mobsters like Bugsy Siegel. Historically, the Flamingo was the third resort to open on the "Strip" and is the oldest resort on the strip still in operation today.
And to my mind, it is one of the chicest. With its unrepentant Streamline Moderne architecture, clearly redolent of the Miami and South Beach architecture of its day, replete with all its sweeping curves and long, horizontal lines, it is well kept and still quite classy; not glitzy, not extravagant, but truly evocative of class.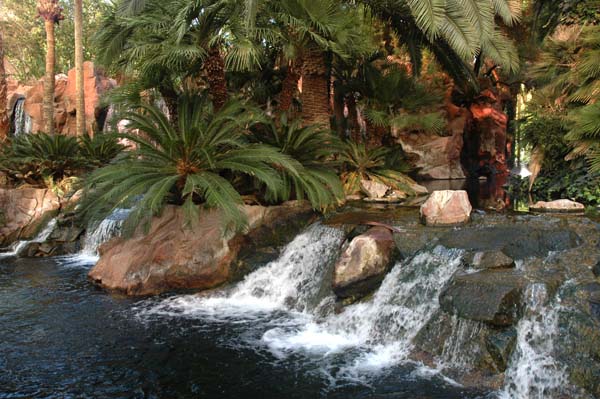 One of the many water exhibits within the central "park" area entirely within the walls of the hotel
Along with nearly 3700 hotel rooms, the Flamingo offers a 77,000 square foot casino, all resting on a 15-acre site that features a central outdoor area housing an exhibit of their signature flamingos and other wildlife, some remarkable water exhibits, as well as enormous trees and other beautiful flora. Looking down on this central nature reserve from the upper floors, all carefully hidden away in the middle of the one of the most glitzy concrete and steel developments in the United States, while seemingly very out of place, it really is quite welcoming, and VERY relaxing.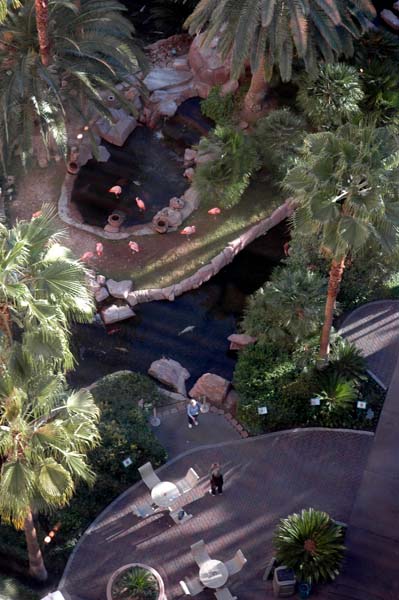 Looking down into the central area where the signature Flamingos are on display
Although Richard Beer's T.H.E. Show has been more than just competitive since its second or third year, 2010 found this satellite and "renegade" event to eclipse the "high performance" audio portion of the Consumer Electronics Associations event, CES. How so, you may ask. In my eyes, it isn't just about the overall number of exhibits, the quality of the hosting resort, or the "status" of the exhibitors (think Wilson, Lamm, Boulder); rather, it is about the overall experience—as witnessed by BOTH the attendees and the exhibitors.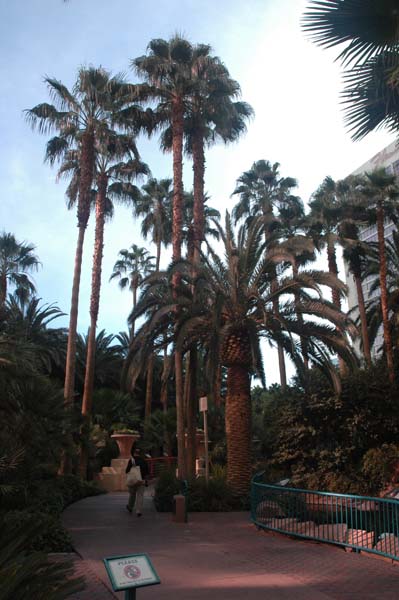 Just a hint of the relaxing and lush park hidden way inside the walls of the Flamingo
While there are always gripes and complaints from exhibitors at ANY event, those who chose T.H.E. Show have never been subjected to the exorbitant and sometimes hard-to-justify Union fees for a.) Schlepping gear in and out of the rooms, b.) Rearranging the furniture left IN the rooms, and c.) Accessing the bathroom in the suite.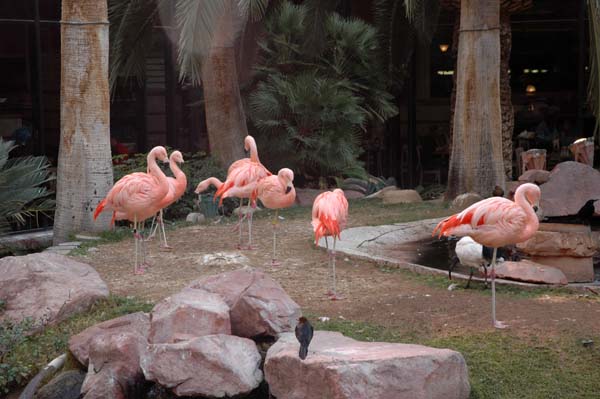 The signature Flamingos, still a major attraction and photo opportunity for Resort guests
Did you get that last point? In some instances, toilet access to the individual bathroom in the Venetian suites has been secured with the application of a plastic cable tie. I know some exhibitors who, for reasons of both convenience and the simple logic of assuming that the bathroom in a suite you are paying for should be accessible, have cut the applied cable tie, then been subjected to a $600 fee for doing so! No, really!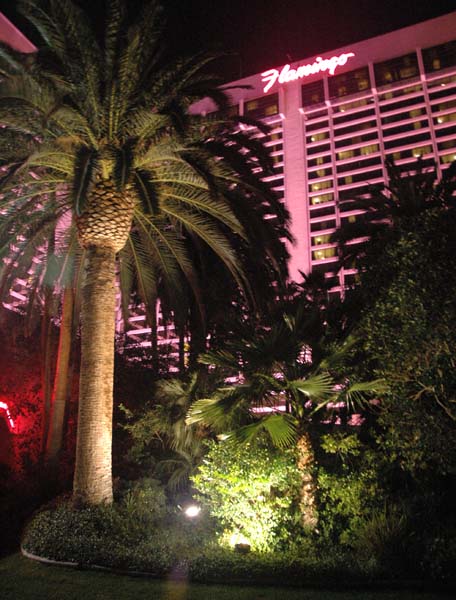 A nighttime view from the central park area
Further, there is the burgeoning list of "supporting events" sponsored by T.H.E. Show that so markedly overshadows the non-existent list of events for "high performance" audio accompanying CES. There is the daily lunch (T.H.E. Lunch) provided free to ALL ATTENDEES who take the time to request a ticket in the morning. There were three sets daily of a "Live-vs-Recorded Demo," sponsored by VMPS, Atma-Sphere, and Audience. There was the "Opening Night Reception" (with Cash Bar and hors d'oeuvres), followed immediately by the Napua Davoy performance. Saturday saw the absolute sound's Harry Pearson lead a discussion of "The Best and Worst of CES and T.H.E. Show 2010," an event that also saw the auction of a pair of Montana Loudspeakers, hosted by Edge Electronics and Straight Wire. Closing out Sunday afternoon, John Atkinson hosted ted "Where We Have Been and How To Survive The Future."
Yet given the contrasting scale of the two events (some 200 separate exhibitor rooms listed in the Venetian, roughly 35 listingsat the Flamingo), it was surprising how many of the best sounding rooms at this annual trade show were NOT found at the grandiose Venetian. While hosting less than 20 percent fewer exhibits than the CES and the Venetian, fully half of the six best sounding rooms at this year's exhibition were found in the Flamingo at T.H.E. Show. When you account for the unmistakable decline of support from the CEA for the "high performance" audio portion of CES held at the Venetian, it becomes clear that T.H.E. Show has easily eclipsed the host event this year.
Richard Beers must be quite proud; for years, the prevailing scuttlebutt was that his "renegade" little show would not, simply could not, survive in the face of such organized and stalwart support of the "high performance" segment of the Consumer Electronics market from the CEA. Not only has it survived, it has thrived and over-taken the major event that it originally was merely satellite to. Keep 'em flyin', Richard!
Room 4035 Audience

Well, the gang at Audience has really put it together, showing an ALL Audience system that is an all-out assault on transparency and naturalness. Though there are more costly versions of the speaker they brought with them (a ClairAudient LSA 8+8 and 16+16 exist), Audience demonstrated the diminutive, but not small sounding, ClairAudient LSA 4+4 ($12,000) and the new ClairAudient LSA 2+2 ($5000). They also had a prototypical subwoofer, whose price has not yet been determined.
These new ClairAudient speaker products employ the new Audience A3 driver, a breakthrough itself. It is a full range driver with a curvilinear anodized aluminum-magnesium alloy cone, a patented motor structure, with patent-pending suspension and basket, and is built like a high power subwoofer driver. It uses a low self-inductance, large neodymium motor structure with a big voice coil and employs unusually large suspension venting. With just 2.5 grams of total moving mass, it affords 12 mm of usable (and extremely) linear excursion, thanks in part to new spider and surround designs, and has less than 1dB of compression at levels up to 95dB SPL. Yeah, it's pretty special!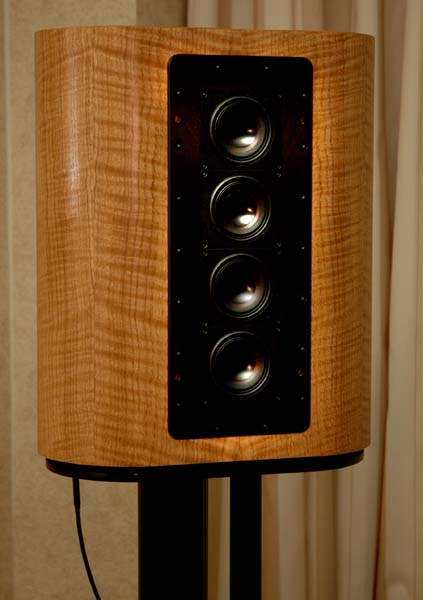 The exquisite looking and stunning sounding Audience ClairAudient LSA 4+4 loudspeaker

As I mentioned, the entire system was comprised of components either created by, or in the case of their source, highly modified by, Audience. Their new The Wavemaster line stage is a switchless (tapped transformer) design that has 4 inputs, 2 outputs, a headphone output, uses their own aR-T power conditioning, and features a full remote control. (Projected retail is $12,000 - $13,000/ea).
The Wavepower amplifier is a Class D switching analog design rated to deliver 200 watts at 8 Ω. It features an Audience designed proprietary discrete component front end and also incorporates their now-renown aR-T power conditioning. The design goal of the Wavepower amplifier was to achieve the best characteristics of both solid state and tube designs. The left and right channels are uniquely mirror images of each other, and will be available in either silver or black finish (projected retail ~ $5000/ea).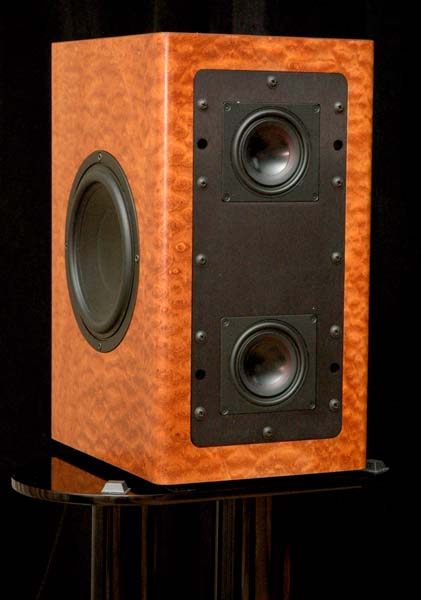 The Audience ClairAudient LSA 2+2 loudspeaker may be smaller, but it is by no means more demure
The source was a highly Audience modified Denon 3930. An adeptResponse 6-T ($4600) scrubbed power on the front end and an adeptResponse 12-T ($8000) was used at the front of the room on the Wavepower amps and sub. Both the adeptResponse 6-T and 12-T conditioners use the newly introduced "GP" technology, a new, all copper ground plane on the bottom of the chassis where all of the grounds are star weld connected. Current pricing of the adeptResponse line does not yet reflect the addition of this new feature. And of course, all cabling was from Audience, including the Au24-e interconnects, speaker cables and powerChords.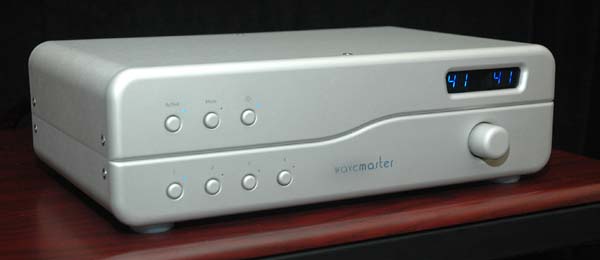 The Audience Wavemaster Line stage, subtle looking and virtually invisible sonically
My first listen to the LSA 4+4 was sans subwoofer and was quite simply amazing. This speaker is without doubt the least colored, most natural sounding speaker I have EVER heard. The result is a naturalness, effortlessness, transparency, and coherence that simply has to be heard to be believed. Honestly, I'm not sure my words can do it justice at this point.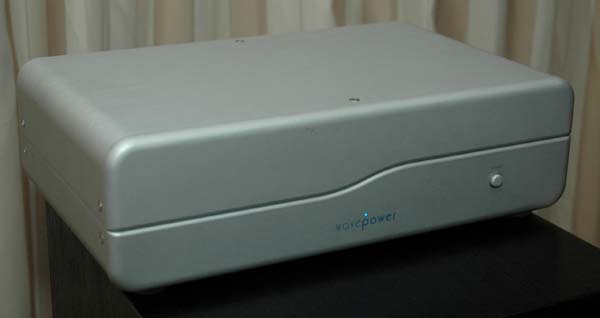 The Audience Wavepower Amplifier, beauty AND the beast in one
And guess what, I think that the more diminutive LSA 2+2 was even better with respect to coherence and soundstaging. My only concern initially was the absence of the very deepest bass (under 50Hz or so) and the resultant forfeiture of the spatial information that the omission of such low frequency music programming affords. With it switched on, I'm not sure that I could point to any specific fault with this system in the short time show exposure permits. This system easily earned its place near the top of my list of the six best performing systems this year, period.
I was so taken with this system and its amazingly elevated level of performance that I had to share my impressions with a couple of colleagues, namely Jim Merod and Harry Pearson. Both concurred with my analysis of this system. Folks, this full Audience system is utterly amazing.
Room 4044 Blue Light Audio/DarTZeel/Evolution Acoustics

This year, Portland area Blue Light Audio owner, fellow New Yorker and good-friend Jonathan "Vin" Tinn (sorry, Jonathan, I had to!), was showing a number of world premier products. Hervé Delétraz and Serge Roche of Switzerland's darTZeel were rightfully proudly showing off the completed-just-in-time-to-ship NHB-458 mono amplifiers ($135,000), while Music Server Direct's new MSD-1 Reference Music Server ($1995), controllable with your iPhone or iPod touch, made its initial showing as well.
Optical playback came from the Playback Designs MPS-5 Reference SACD/CD Player ($15,000) or the brand new MSD-1 Reference Music Server ($1995). Vinyl was decoded by the Kono Audio "The Beat" turntable with Reed Tonearm ($24,000), fitted with, once again, the Ortofon A90 cartridge ($4200). The darTZeel NHB-18 NS preamp (with MC phono stage) handled source selection, and power conditioning was handled by the superb Audience adeptResponse 6-T ($4600)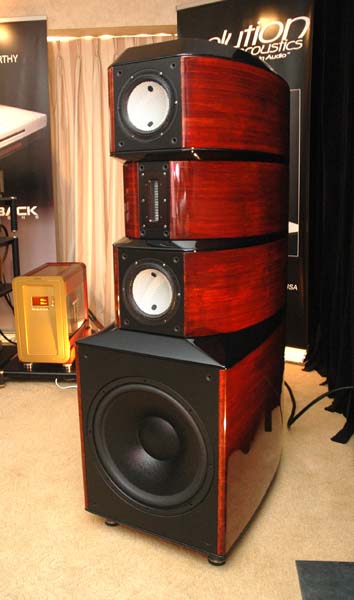 Kevin Malmgren's exquisite Evolution Acoustics MMTwo
Evolution Acoustics Kevin Malmgren's choice for the room was his wonderful MMTwo ($35,000/pr). All his loudspeakers are designed, engineered, and handcrafted in the US. Inside, you will find only the finest parts, including reference grade film and foil capacitors, Goertz high purity copper foil inductors, Mills ultra high current 1% tolerance wire wound resistors, and Teflon insulated solid core copper wiring. Further, all parts are hand matched and soldered point to point in constant voltage crossover circuits.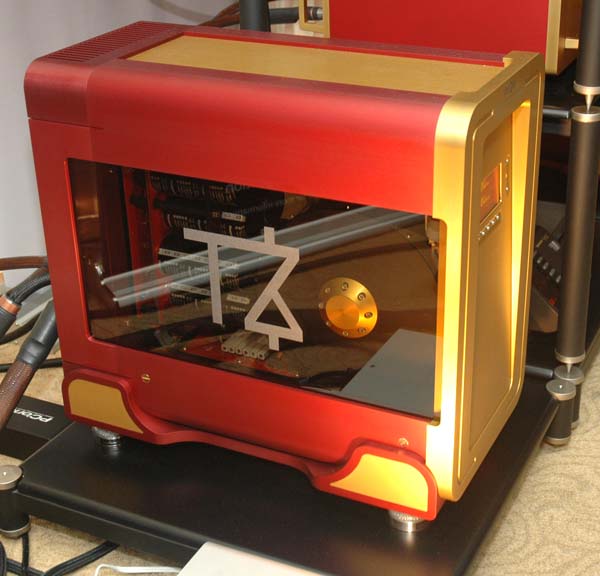 The side of the new 450-Watt darTZeel NHB-458 mono with its see-through panel
The MMTwo centers a 5" Aluminum ribbon high frequency driver between two 7" Ceramic midranges, one above and one below. This array then sits atop a single 15" treated paper woofer. All drivers mount on a 2' thick baffle, are time, and phase aligned in a beautifully finished 53" tall by 18" wide by 30" deep cabinet. With a 7 Ω nominal impedance, a 93dB efficiency, and weighing in at about 375 pounds, they are a very impressive sight.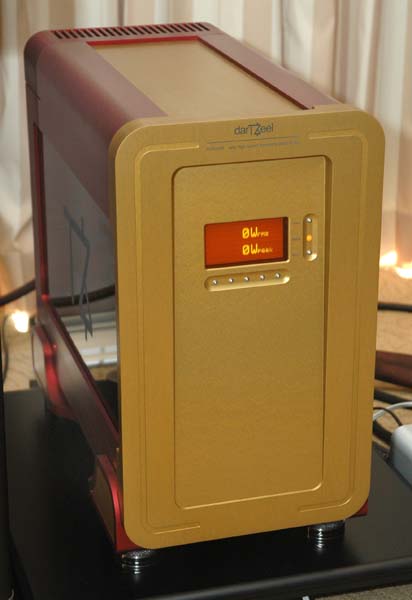 The front of the new 450-Watt darTZeel NHB-458 mono, showing the status display
Just one look at the new darTZeel NHB-458 monos and you know you are in for something special. These 450-watt monos are truly magical. I'm sorry that I don't have more details on them at this time, but as new as they are, there is nothing available on their web site yet, and I didn't harvest any details on them while I was listening—it was just too much fun to bother.
This room had it all; top to bottom extension and coherence, macro- and microdynamic prowess, midrange purity, eerie resolve, effortless and enormous space, and an inescapable sense of involvement. The alarming system transparency and resolve were well complimented with just the slightest dollop of sweetness. It seems clear to me that these new darTZeel monos have truly achieved the bloom and involvement of the best of the "toob" camp, while maintaining the utter authority, dynamic prowess, control, and slam of the best that the solid-state entrants have to offer. This room easily belongs near the top of my list of the best six systems at this year's event.
Room 4045 Studio Electric
Studio Electric's David MacPherson always manages to create a relaxed and musical room. This year was no different, even though in addition to showing his staple T3 loudspeaker, he introduced the new Pasadena ($1895) stand mounted monitor, only 5 days old when T.H.E. Show opened. The rest of the system included David's iPhone, a Wadia i170 iTransport ($379), the remarkable Benchmark HDR DAC ($1895), and the current iteration of the Studio Electric EA-4 hybrid amplifier ($7350). The EA-4 employs three power supplies, features NOS E88CC tubes in the first gain stage, driving premium English MOSFET power transistors, delivering a truly impressive output (405 Wpc). All cabling was Cardas.
The new Pasadena sports a solid Mahogany face and sides on an otherwise MDF box. It employs the same 6.5" mid-bass driver that all the other models use, but is slightly modified for its application in this more conventional six-sided enclosure rather than the sphere it normally inhabits. Its tweeter, while still of the 1-inch silk dome family, is not the same tweeter employed in the other SE models.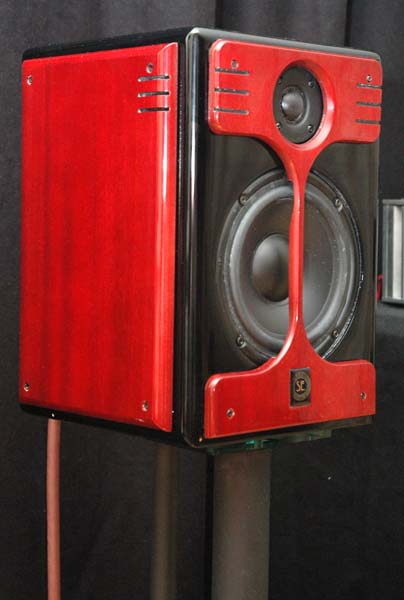 Studio Electric's new monitor, the Pasadena
Nearly coined the Bungalow, the Pasadena accommodates smaller rooms, like those typically found in the bungalow's common to the neighborhoods of the Salt Lake City area where David resides. I pointed out that such a smallish type monitor should also very popular in the UK and other parts of Europe, where many live in relatively diminutive "flats."
David was adamant these speakers would pair very synergistically with any EL84 amps, like EveAnnna Manley's very affordable Snapper or Mahi-Mahi monos. Regardless, their ability to handle the sense of scale, dynamic contrasts, and their blatant musically was amazing and quite welcomed at this modest price point.
While all the previously mentioned exhibits at T.H.E. Show were together in one wing of the fourth floor of the Flamingo, the following larger, segmented meeting or banquet rooms were all located in the lower levels of the hotel. This area was accessible by descending and ascending escalators, and included the event registration desk. All the software (and some hardware) vendors, including Quality Rare Records, Reference Recordings, Chesky, M.A. Recordings, Elusive Disc, Music Direct, Acoustic Sounds, Classic Records, TheMusic.com, Parts Express, Truextent, and Ultra Systems set up shop in a large section of the Red Rock Rooms, an area collectively referred to as T.H.E. Marketplace, which also shared T.H.E. daily luncheon duties as well.
Red Rock 1 Atma-Sphere/Classic Audio Reproductions
It is no secret that I am a long-time fan of Ralph Karsten's OTL Atma-Sphere designs. There is also no denying just how synergistically his amplifiers work with John Wolfe's Classic Audio Reproductions loudspeakers. In fact, I had the pleasure of watching Jim Merod discover this remarkable pairing for the first time, using his own recordings.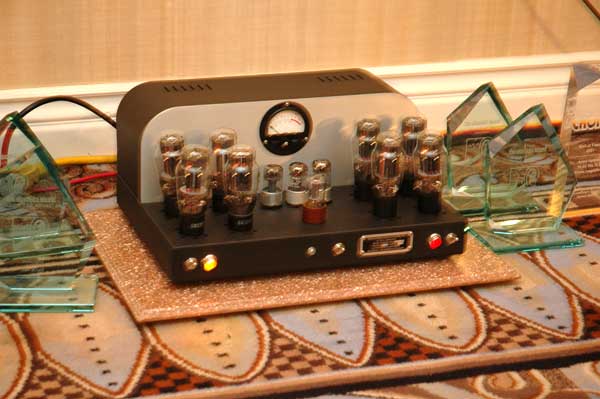 The very affordable, multiple award winning Atma-Sphere M-60 Mk 3.1 OTL Monos
This year, John was showing the T1.3 Project ($60,000/pr), which features a 15" woofer, a 6475 mid driver mounted in a TRAXTRIX wooden horn, and a 6077 super tweeter. Ralph was using his staple M-60 Mk 3.1 mono amps ($4200-$6800/pr - option dependent). To tell you the truth, we were so into the music, I spaced collecting the rest of the equipment information… sorry!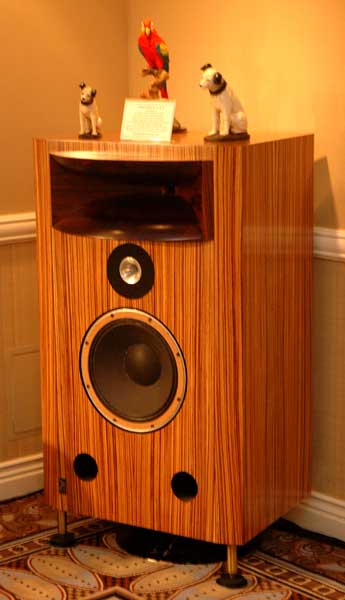 Getting' the job done, the Classic Audio Reproductions T-1.3 Project
This system does so many things right that it is downright scary. One of the attributes you have to hand to well-done horns is dynamics. They just get it so right, nearly perfect in terms of scale and effortlessness. Neither Jim nor I could stop tapping our toe's and nodding our heads to the beat. Well done, gentlemen—as USUAL!
Valley of Fire 1 KR Audio/Purist Audio Design/STAHL-TEK
The digital front end was comprised of the PS Audio Perfect Wave Transport ($3000) and STAHL~TEK Vekian via I2S (I squared S) connection. Nagra's PL-P ($13,000) line stage handed off to the striking-looking KR Audio Kronzilla DX monos. Speakers were Peak Consult International's Typhoeus ($100,000/pr). All interconnects and speaker cabling was from the Purist Audio Design's Provectus line, featuring the new Praesto revisions, although the Purist Limited Edition and Purist Canorus AC cables were used (~$17,000). The front end components all rested on the Isis Rack ($4000) from Symposium and all room treatment was handled by Michael Green's Room Treatments.

The handmade Typhoeus, from Denmark's Peak Consult
Though I have followed his work for many years now, until this event, I had never had the pleasure of meeting Jim Aud, the man behind PAD. Given our interaction at previous events, it is always a pleasure to spend some time with the engaging and welcoming Eunice Kron, of KR Audio, and this year proved no different.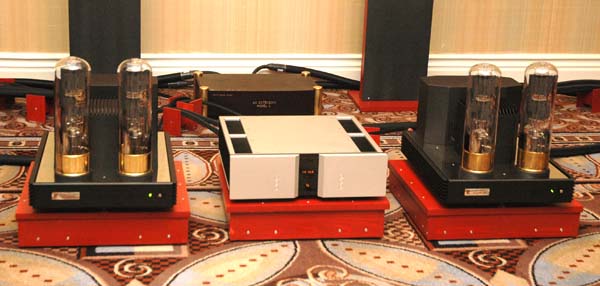 The KR Audio Kronzilla DX, killer T1610 based 100-Watt monos from the Czech Republic
Listening to some of Jim Merod's BluePort Jazz recordings revealed that this seductive system delivered large-scale, vibrant, and dynamic results. There was a correctness of scale and truthfulness to dynamic recreation that was hard to deny, one that many otherwise fine systems are unable to match.
Valley of Fire II Covenant Audio Consulting/WAVAC Audio Lab

Jonathan Brown is the gracious owner of Covenant Audio Consulting, the importer of WAVAC Audio Labs Products. I recently finished my time with the 805 based WAVAC MD-805 Mk II monos (review to follow very soon), and upon saying good-bye, saw them depart on their way to T.H.E. Show. The very amps I reviewed were on static display (along with a photo of them in residence in my system) in this large room, along with a host of other distinctive looking WAVAC components.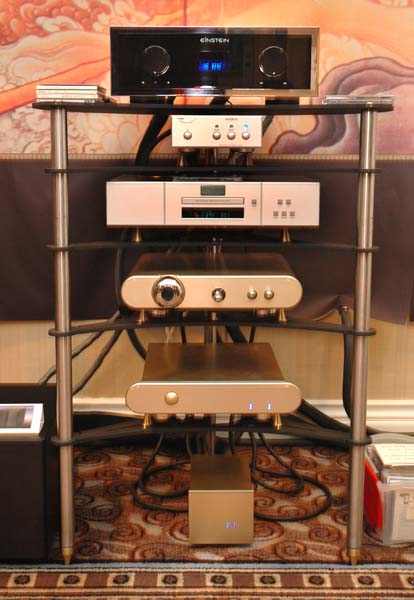 The Sistrum rack with the WAVAC PR-T1 three-chassis line stage, Weiss, and Einstein optical players
Source here was either the Einstein "The Last Record Player" tube CD player ($7700) or the Weiss Minerva ($4900). Pre-amplification was the all-out, three-chassis WAVAC PR-T1 ($20,900). The amps were the effortless sounding WAVAC HE-833 v1.3 ($76,000/pr). The new WAVAC AC-2 power conditioner ($21,000) prepped AC for this room. Speakers were from Venture Audio, the Grand Excellence featuring the no-longer-current diamond coated tweeters ($74,500). All cabling was again Joe Cohen's hand-made PranaWire ($65,000) and the equipment rested on a Sistrum stand ($2400).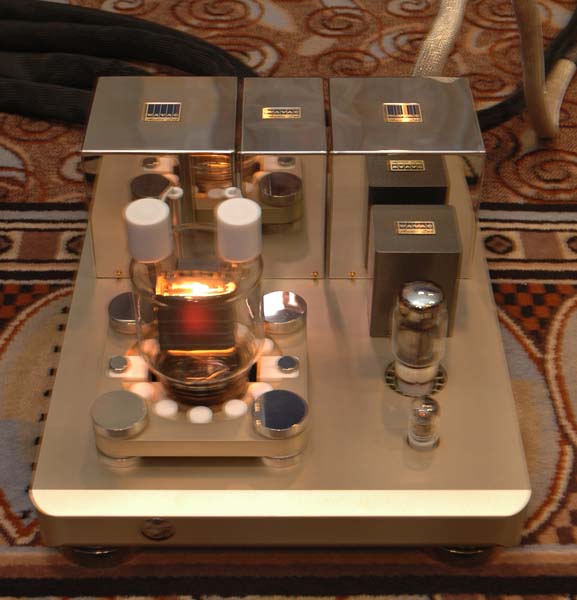 The unmistakable champagne finish of the WAVAC HE-833 v1.3 monos
What a sound… Big, bold, rich in texture and tonality, spectacularly three-dimensional, and so effortless… Man, this system was magical. Listening to my sampler material with large band or intimate jazz, full scale orchestral works, or just former Blues Traveler leader John Popper with only his guitar and a C harp (that's a "Blues," harmonica, tuned to the key of C), EVERYTHING was in the right place, stayed there, was the right size, and was unnervingly coherent. Very well done, and every bit as much a treat for the eyes as for the ears. Yup, this one gets on my short list of six.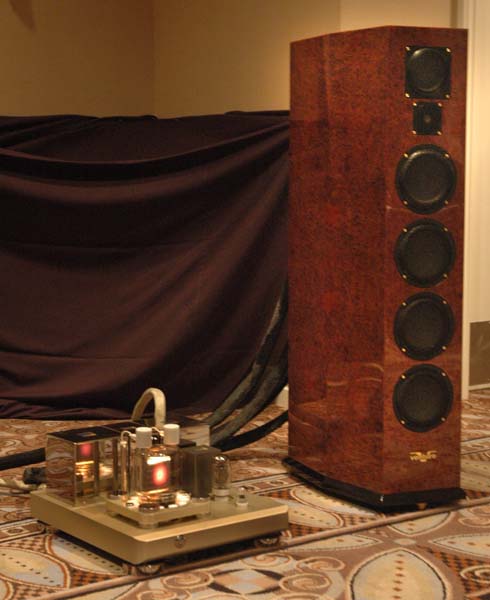 No longer available with the diamond coated tweeters, the Venture Audio Grand Excellence flanked by the WAVAC HE-833 v1.3

Act Three: The Event - People, Disappointments, and Trends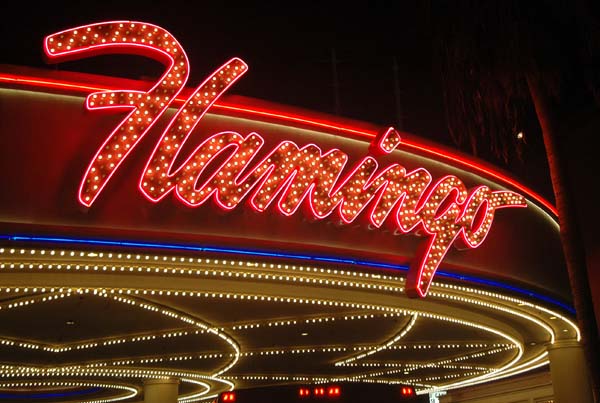 Part of the welcoming illumination near the Valet Parking entrance to the Flamingo
Wednesday evening saw my annual gathering of friends and colleagues at one of my favorite eateries in any city, not just in Las Vegas, Bobby Flay's Mesa Grill at Caesar's Palace. This year, as well as having the company of annual attendees Dave and Carol Clark, joined by their son Peter, I was privileged to be joined by most of the Audience gang. John McDonald, President and CEO, Roger Sheker, Design Engineer, and Dan Rosca, Vice President, Sales and Marketing, invited someone whom I've long wanted to meet. Now an industry consultant and publicist, the the absolute sound's previous Technical and then Managing Editor, Frank Doris, honored me by finding a way to attend, as did new-to-the-PFO-Masthead, fellow Senior Editor and good friend, Gary Lea, who was joined by his wife Paula, and son Matt.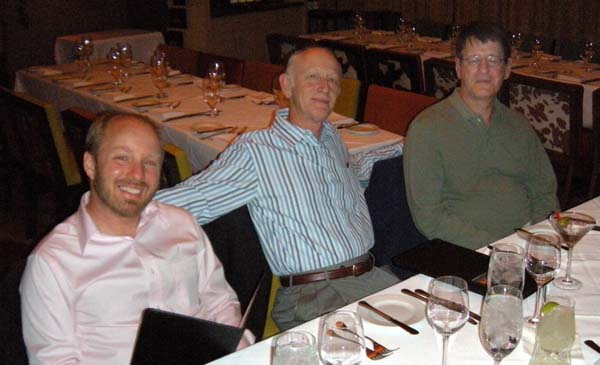 From left to right, Dan Rosca and John McDonald of Audience, and Frank Doris, Industry Public Relegations representative and formerly Technical and Managing Editor of the absolute sound
With this lineup, it should be no surprise that the conversation was interesting, even when NOT focused on our industry. It certainly got spirited when we turned to college football, with the pending Longhorn/Crimson Tide National Championship game scheduled at the Rose Bowl the following night. Did I mention that the Lea's hail from Texas and I work at Notre Dame?
If you've never been to Mesa Grill (there are only three, NYC, LV, and the Bahama's), the food is just stoopid good. If you like the flavor of the southwest AND love grilled food, go out of your way. This is an annual event for me.
Now, scheduling being what it is over a relatively short and very full event like CES, it should come as no surprise that this was the first and ONLY organized event on my itinerary that I was able to keep. Family issues, changes in others schedules (as well as my own), and other unforeseen incidents and events, all conspired to fracture my event planner over the rest of my time in Vegas this year. One of the most disappointing was having to bail on a planned Saturday evening meal with my friend and all-'round mensch Len Miller of SoundString Cables. Besides just wanting to catch up (I hadn't seen Len since the AKFest in May), he is working on a new line of products that I wanted to learn more about.
The continuous cascade of previous scheduling collisions and catastrophe's caused yet another disappointment for Saturday evening. David MacPherson (Studio Electric) was able to secure extra tickets for the Saturday evening Beatle's LOVE performance at the Mirage. In my confusion, I had thought that the availability was for Friday night, and was unable to attend this event; something I have desperately wanted to do for the past two years now! Sigh.
And it didn't stop there; this year found me missing connecting for even a hello with a long list of people I look forward to seeing, and am only able to visit during this annual tribal get-together. Though I stopped by the Grand Prix Audio/Eggleston Works Room several times, I never ran into one of my favorite Formula One racing and audio pals, Alvin Lloyd. The same was true with the master-mind behind redpoint turntables, Peter Clark. The two times I made it up to the 35th floor at the Venetian, he was out. Sigh again.
Other people I missed include Albert Von Schweikert, the maestro behind the magical VR line of products bearing his name. Because he is so involved with a new project (you will be hearing more about that in these cyber pages soon), he chose to stay away from the distractions and insanity of CES and work. Others not in attendance this year, who's company I annually seek out, were long-time friends Mark Schifter, of the on-line AV123, Alan Kafton, the man behind audioexcellence, AZ, and Dusty Vawter, of Channel Islands Audio. I also missed running into fellow PFO'er and Photographer Albert Porter, who's annual duties of photographically chronicling EVERY room for AudiogoN keep him quite busy.
One of my bigger let downs this year was the omission of the Steve Hoffman show, normally hosted by Joe Kubala and Howard Sosna. Just as anticipated as the annual BluePort "lecture" on Jazz recording given by Jim Merod, this regular event was dropped from the agenda at the last minute. On the upside, at least I did get to spend a few minutes talking with Steve this year, and didn't miss him altogether like so many others.
Possibly the biggest disappointment of all was the Napua Davoy performance at Thursday's Opening Night Reception of T.H.E. Show. Jim Merod and I arrived early. What can I say, we like to be on top of things. As we walked in just before 5 PM, Ms. Navoy was working on run-throughs with the "pick up" musicians for the night's event. When they finished and she departed, about a half hour before show time, judging by both the look on her face and the cadence of her step, she was a tad less than happy with the results.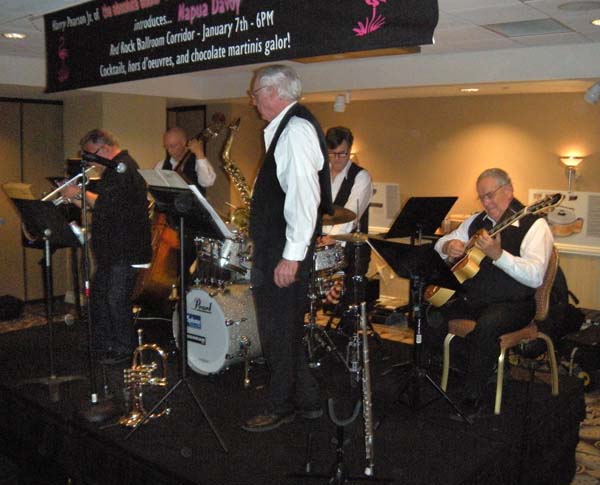 Though not apparent in this photo, the PA system monitors were BEHIND the stage—and the microphones
Shortly after the run-throughs had finished, while I was catching up with Matt Waldron of Escalante Designs and Jim was finding some pre-owned LP masterpieces, we were subjected to some extremely loud noise generated by the evenings PA speakers. Neither Jim nor I could identify their brand, but they were clearly self-powered. In this interim time, something had caused them to erupt with what sounded like a ground hum at near full output. Though we never learned what triggered this racket, after about 10 seconds of this cacophony, someone had the sense to pull either the signal or the power cord on one of the two PA speakers; that inspired someone else to do the same with the second.
By this point, we were somewhat less than impressed with the potential for the scheduled concert. To say that by this time the bar had been set pretty low for our expectations would be reasonable; believe it or not, we were soon to learn we had still expecting too much.
As we were waiting for the event to get underway, it finally occurred to me that PA speakers were positioned behind the stage. More to the point, that meant that they were also behind ALL the microphones on the stage, those used for vocals and instruments. Now, I'm not a recording engineer, but if even I know that when you put the reinforcement system BEHIND the microphones, you're not going to be happy with the results (can you say feedback?), what must that say about the planning for this event?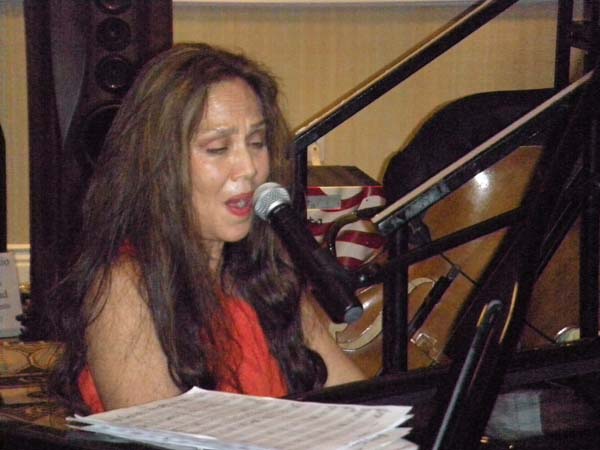 New York Jazz artist and Musical playwright, Napua Davoy at the piano
By the time Harry Pearson arrived, (he was unavoidably delayed at McCarran airport), we were about five minutes past the official Show start time, and after just a few moments of schmoozing and making his hellos, he made his way to the stage to make the introductions.
Within seconds, the sax voice was feeding back on itself. How embarrassing, how horrible sounding, how ironic for a concert presented to audiophiles? It was/could never be resolved, so long as the PA system was left behind the performance microphones. I will spare you my disparaging remarks about the performance, but it truly came as no surprise from what we had already witnessed.
Poor Harry Pearson! Originally responsible only for introducing one of his favorite New York performers, Ms. Davoy, he ended up being (wrongfully) criticized by some of the attendees (two sitting at my table alone) for both the poor quality of the sound and the lackluster performance. The former shortcoming clearly belonged to the person/s in charge of setting up for this concert, while the latter was most certainly a consequence of the local musicians unfamiliarity with her work and performance style. Trading hellos with my small group in the corridor as he headed to the escalators at the "intermission," in inimitable hp tongue in cheek humor he muttered something to the effect of "…damaging my reputation…," and while we couldn't be sure he was referring to this event, we could think of nothing else that would be applicable.
Inevitably, certain accessories or components seem to be almost ubiquitous as we look back on this annual event. This year, the two standouts were Ortofon's A90 moving coil cartridge, which I must have seen on 10 different tables, and the new remarkably indescribably Kubala-Sosna Elation cables, which were found paired with some of the best sounding rooms at this year's event.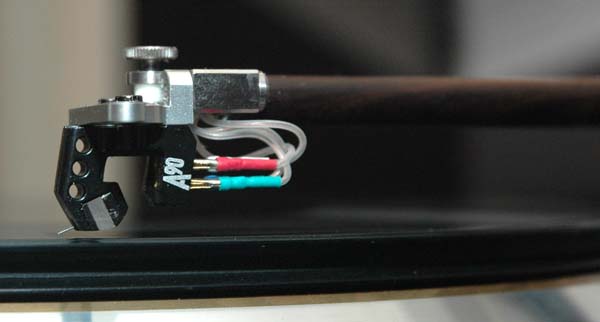 Along with Kubala-Sosna Elation cables, the Ortofon A90 Moving Coil Cartridge was seen just about everywhere
It has almost become a running gag that "Greg travels to CES with an 18 year old," because of my penchant to never be too far from an 18 year old bottle of The Macallan! This year was no different, and my thanks to those dear friends who were kind enough to find some time during this busy event to stop, sit back, share some conversation, and sip some with me.
I was also privileged to spend an evening at Gary Lea's home, enjoying his company—and stoopid good tequila (hey pal, don't forget you were going to share some brand names with me)! Gary makes his home some 20-25 minutes northwest of the "Strip," and after finding my way there in my micro rental car (damn, I hate budgets!); we were able to spend some quality time in good conversation, over great libations, listening to some wonderful music on his reference system.
I guess when asked to summarize, even when applying my own jaded standards, suffering this year's diminished support at the Venetian that affords a somewhat tarnished overall view of this, the biggest of our industries annual trade shows, I'd still have to pronounce the resultant achievement a success! I am hopeful that this heralds the start of what may come to pass as a very good year for fine audio. Thanks for listening!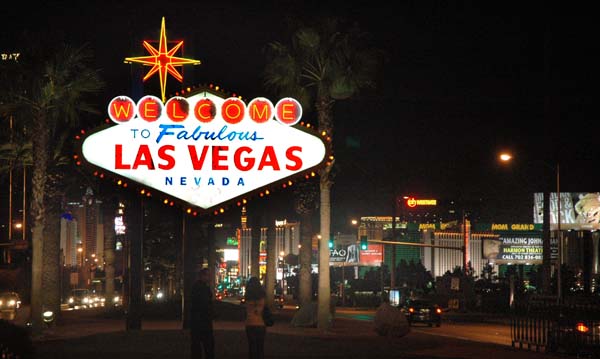 Until next year…arrivederci