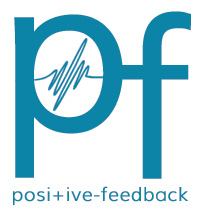 You are reading the older HTML site
Positive Feedback ISSUE
47

january/february 2010
Fozzy, Chasing the Grail
by Carol Clark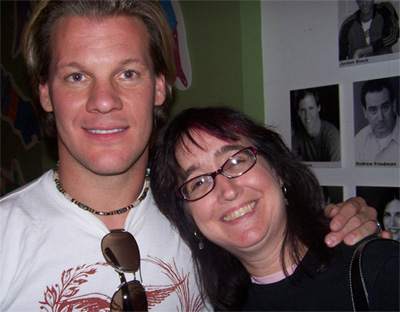 Have I mentioned before how much I like Chris Jericho? Of course that's a little joke for those of you who have suffered through my few contributions to this publication, because I manage to mention him in nearly every article I write. How is that possible Carol? How can you mention a WWE wrestler in every article you write? Simple, Chris Jericho wears many hats. In a recent interview on Fox's Strategy Room he had so many titles they almost didn't all fit on the screen. Today we focus on the fact that he's the front man for a heavy metal band called Fozzy.
Right off the bat I will admit that heavy metal is not usually my cup of tea. I have bought all four of the Fozzy studio releases on the day they became available starting back with their self-titled debut. I found a "perfect song" (http://www.positive-feedback.com/Issue26/song.htm) on their last release All That Remains. With this fourth release, Chasing the Grail, Fozzy has grown up from a band made up of "that wrestler and members of Stuck Mojo" to a band with their own unique identity. As much as I love Chris Jericho, I always felt his vocals were somewhat forced, and many times I found him hard to listen to. All that has changed with this record, the four member band meshes and flows, and Jericho's voice has matured greatly.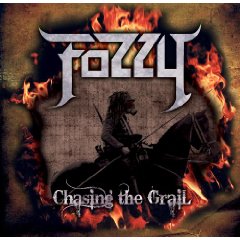 One thing that I really connect to on any record I own is the lyrics. Typically I devour the lyrics when they are included in the liner notes and assign my own meaning to them. I don't really need to know what the song is actually supposed to be about because it's fun to make up my own meanings. Full lyrics are included with this record, which is a bonus, but Chris Jericho and Rich Ward (guitars) have thwarted me by adding their own insights into each of the songs. According to what they say Jericho wrote the bulk of they lyrics, and Ward wrote the bulk of the music. One exception to this is the closing track "Wormwood", but more on that later.
Regardless of the notes, I did assign my own meanings to many of the songs, and that makes me very happy. I like the majority of the songs on the record, but of course there are always exceptions. If you don't see the title listed here it means I don't favor it. In other words, I skip past it on my iPod.
For the audiophiles reading this I will mention that I've done all of my listening to this record on either my iPod or my car stereo. While I'm sure it will sound good on our main system, this kind of music is meant to get you through traffic jams, or motivate you to make one more rotation on your daily walk. I did upgrade my iPod with Sennheiser PX100 headphones, no earbuds for me!
The opener "Under Blackened Skies" doesn't pull me in so I usually skip over it. I'm sure with a few more listens it will grow on me, but it's the second track that really grips me. "Martyr no More" has a great hook and some incredible lyric lines. When I can immerse into music and get lost in the lyrics I'm very happy. I especially connect to the line, "no longer victimized by your scorn," as it paints a vivid picture. For me anyway.
The members of Fozzy have some Christian leanings, and the song "Grail" really appeals to my own Christian leanings. That's the one burning question I've always had for Chris Jericho, how does he cope with the world he lives in and still maintain his Christian beliefs? On a much smaller scale I find it hard to live in my own world and be scorned by people who are non-believers, for that reason this song really spoke to me.
"Broken Soul" is just a beautiful song. In his notes Jericho says it's Fozzy's first ballad. Maybe because I'm not a metal head this song piqued my interest, but I don't think it's just that. This is a fine example of music and voice and lyrics all just meshing perfectly together. It fits into my perfect song category. The opening lines are bittersweet "Standing in the shadow, behind a wall, made of fear. Cracking the foundation, dissolve the glue, with my tears." That breaks my heart, in a good way.
I can't really speak about whether the songs are true-to-form heavy metal songs since as I admitted I'm not really a metal fan, but "Let the Madness Begin" seems like a very well executed metal song, and again this is where Jericho's new vocal control really shines. I crank this song, and I even find myself wanting to sing along.
"New Day's Dawn" has to grow on me because the falsetto in the beginning is, well frankly strange. The lyrics make up for it, and I'm sure the more I listen to it the more I will like it. "God Pounds his Nails" is a really awesome song. Everything is very tightly knit here, not that Fozzy was loose and sloppy before, but this song is just the epitome of what good music should be. It has a catchy beat (yes I know I sound old, I –am- old) and it really allows for off-key sing-alongs when you're in the car alone.
"Watch Me Shine" is another song I bonded with on first listen. It's the kind of song I would have made up videos for when I was younger and lying awake in bed at night. There is so much richness in the music and the words "I don't want to live without her, even though at times I've lost my mind.
I don't have a phobia of Friday the 13th, so perhaps that's why I skip over "Paraskavedekatriaphobia." Cool name, but not fond of the song. "Revival" is also a good song, but many times I don't make it all the way to the end of the CD before I arrive at my destination or wear out my legs climbing stairs.
This brings us to "Wormwood," a fourteen minute long song that closes out Chasing the Grail in a grand manner. This is a seven-part song based on the book of Revelation, a tour-de-force collaboration between Chris Jericho and Mike Martin. Today's society tends to breed short attention spans, but this song is a masterpiece, and must be listened to in one unbroken strand. There are so many times in the course of this song when voice and guitar twist together in a way that sends shivers down the spine. My fervent wish is that Chasing the Grail is one day released on vinyl. Sitting in a darkened room and letting myself be swept away in the majesty of this song would be a sure trip down memory lane. Fozzy fans deserve this treasure, and I'm thankful Jericho and Martin have delivered it.
All in all, Chasing the Grail gets two big thumbs up from me. If you think you're not a metal fan, give a few of these tracks a listen anyway. All are available at iTunes and Amazon (with the exception of "Wormwood"…and it's definitely worth the cost of the album download to hear that song). Start with "Martyr No More" or "Broken Soul", you'll be hooked.
Riot! Entertainment