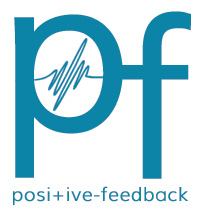 You are reading the older HTML site
Positive Feedback ISSUE
47

january/february 2010
New SACD Reviews, Recommendations and News
by Teresa Goodwin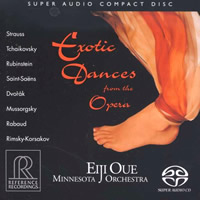 Exotic Dances from the Opera, Eiji Oue, Minnesota Orchestra
Source: the original analog master tapes.
A "Prof" Johnson Recording. Recorded January 18-20, 1996, Orchestral Hall, Minneapolis, Minnesota 2-channel SACD. Reference Recordings RR-71SACD
1. RIMSKY-KORSAKOV: The Snow Maiden: Dance of the Tumblers
2. RICHARD STRAUSS: Salome: Dance of the Seven Veils
3. TCHAIKOVSKY: Mazeppa: Hopak
4. MUSSORGSKY: Khovanschina: Dance of the Persian Slaves
5. RABAUD: Marouf, Cobbler of Cairo: Dances
6. DVORAK: Rusalka: Polonaise
7. ANTON RUBINSTEIN: The Demon: Ballet Music
8. SAINT-SAĖNS: Samson et Dalilah: Bacchanale
Reference Recordings second SACD is a sonic spectacular and a musical delight. Prof. Johnson simultaneously records both analogue and digital in all of his sessions. This SACD is from the analogue master tape made with his focused-gap highly modified recorder.
This is a very quiet analogue recording from 1996 and unlike analogue recordings from the 1950's and 1960's there are no artifacts, these modern day analogue recordings in my opinion are sonically very close to DSD and better than any PCM I've heard. I also own this on an analogue to 24/88.2kHz music file purchased from HD Tracks which I really loved until I heard this SACD which sonically surpasses it away in every aspect. I believe it is because PCM is totally removed from the equation.
This SACD sounds just like a "Prof. Johnson Pure Analogue Recording" LP but without the surface noise. Reference Recordings LPs are the ones I pull out to prove LPs can indeed do deep bass. Speaking of bass this is even deeper with more impact than even the best Telarc's, this takes me that much closer to the deep bass I hear live in concert halls. The midrange is silky smooth with beautiful string tone and the delicacy and little details in the high frequencies are to die for. This SACD sounds superb and better than I remember the HDCD sounding.
There are many war horses here and many unusual not often recorded golden nuggets. When I bought the HDCD back in 1996 it was my first time to hear Rabaud's Cobbler of Cairo Dances and they are very enjoyable and excellent music making. Rubinstein's The Demon was a nice discovery as well. All of the other works get very near perfect performances as well. A very enjoyable album from start to finish.
Tchaikovsky: 1812 Overture, Moscow Cantata, Marche Slave, Coronation March, Danish Overture
Lyubov Sokolova (mezzo-soprano) Alexey Markov (baritone)
Valery Gergiev, Orchestra and Chorus of the Mariinsky Theatre
Recorded 15-20, Feburary 2009. Concert Hall of the Mariinsky Theatre, St. Petersburg, Russia. James Mallison, producer. John Newton and Dirk Sobotka, recording engineers. DSD recording. Mariinsky MAR0503
I have listened to the Mariinsky 1812 through both speakers and my Sennheiser headphones. I am sorry to say I am very disappointed in it's sound quality, not only of the sound of the orchestra but the bass fundamental of the cannon shots are totally missing in the two channel stereo high resolution program. I have the 1991 DSD recorded Telarc 1812 (SACD-60541) and the cannon shots have deep bass with not only tremendous impact but humongous physical size by contrast the Mariinsky 1812 cannon shots sound like pop guns with some low level bass rumble. The Telarc SACD cannons sound like real honest to god cannons using real live ammunition.
The cellos and basses lack the warmth and foundation so important to Tchaikovsky's music, the bass drum, timpani and other percussion instruments lack the impact of the Telarc SACD. By contrast Telarc's bass is firmer, solid and has more weight, it sounds more like the bass I hear in a concert hall.
I was so shocked at how poor this SACD sounds I played the Mariinsky Shostakovich Symphonies Nos. 1 & 15 and this SACD while still not great in the deepest low frequencies was superb from the midrange up and sounded just like my PFO review stated http://www.positive-feedback.com/Issue45/sacd.htm. It has the amazing sparkling high frequencies I remembered which are greatly subdued on the Mariinsky Tchaikovsky 1812 SACD and it had the feeling of being in the presence of live musicians.
I recommend getting the 2nd Telarc SACD, the DSD recorded one which has the advantage of using chorus in the "1812 Overture" for it's deep realistic bass, flow of the music, the smoothness of the strings, warmer sound, more spectacular cannon shots and carillons
Since Mariinsky records DSD I wanted this to be a great sounding recording, I was so disappointed when I heard it and I hope this is a fluke and their future recordings are of the sonic level of the Shostakovich.
Now that I have sonics out of the way, I was not too impressed with the performances themselves, I have heard many superior performances of the 1812 Overture and I prefer the use of chorus at the beginning as that sounds so "right" to me. I didn't like the Moscow Cantata at all. I did really enjoy the rarely played Festival Overture on the Danish National Anthem even with the less than perfect sonics.
887 RECOMMENDED AND NOT RECOMMENDED SACDS PLUS A FEW MINI REVIEWS
This was originally going to be an eBook but I have spent over 100 hours and it doesn't look like it will ever be finished, so I have decided to share what I have. I have posted the results on my Pro-SACD Forum http://pro-sacd.lefora.com/2009/11/29/recommended-and-not-recommended-sacds-plus-a-few-m/#post1
While I encourage all recordings, regardless of sound quality or resolution to be released as SACD/CD hybrids, I live in the real world in which not all recordings are equal in the sonic realm. Just having an SACD logo does not guarantee either high resolution or excellent sound quality. I have published many recommend SACD lists over the years, however this is my first to include SACDs that are not recommended. Nearly a third of all SACDs auditioned so far do not sound good enough to me sonically, many sound like they are either from low resolution PCM masters, or use poor recording/mastering techniques. Included in the post are all my unfinished mini reviews of some of my recommended and not-recommended SACDs. Plus a link to my library at SA-CD.net where you can see all of my recommended and not-recommended SACDs. http://www.sa-cd.net/library/1508/1. Use the drop-down box to choose either recommended-Yes or recommended-No. I recommend all SACD listeners make their library public, go to edit details and click "Make Library Public" and rate all of your SACDs.
NEW BLOG THE TELARC HIGH RESOLUTION FAN CLUB

I started a new blog "The Telarc High Resolution Fan Club" http://telarc-hires.blogspot.com/ which has Telarc's history, discussions of recording techniques, discographies including Direct to Disc and Soundstream LPs. Lists of both historic and modern DSD recordings never released on SACD and much more.
REFERENCE RECORDINGS TO RELEASE THEIR FIRST MULTICHANNEL SACD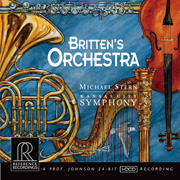 In Spring 2010 Reference Recordings is scheduled to release the highly rated Britten's Orchestra (Michael Stern, Kansas City Symphony) on multi-channel SACD.