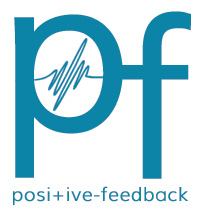 You are reading the older HTML site
Positive Feedback ISSUE
47

january/february
2010
T.H.E. Show of Shows
by Robert H. Levi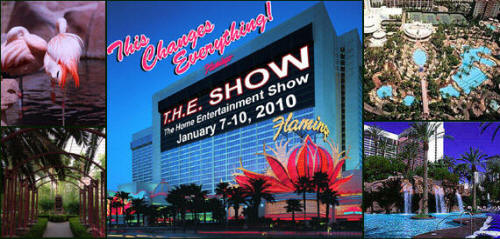 Now I get it! RMAF copied T.H.E. Show's business plan. As I toured T.H.E. Show, I recognized all the delightful and personal touches I've been enjoying at RMAF each year. Richard Beers, T.H.E. Show's President, rolled out the red carpet for audiophiles and reviewers and you felt his boundless cheer from the moment you entered the area. The check-in folks were like talking to your mother and father and the amenities abounded. What fun!
After arriving, I made a beeline for the convenient shopping area and was overwhelmed! Reference Recordings had most everything they have ever done plus all their new hi-res goodies… all on sale. They even had Chesky's recordings available. And all at the booth were excited about Keith Johnson, the phenomenal recording Guru of RR, receiving the Founder's Award from America's biggest audio society in Los Angeles later this year.
Classic Records had their complete stock of clear vinyl reissues. Even Michael Hobson spent time at their booth. Acoustic Sounds' Chad Kassem was there working either behind or in front of the Acoustic Sounds huge display and sales.
Kevin Berg, Mr. Elusive Disc himself, was showing all their newest 45RPM releases and tons of other goodies. I bought the neatest headphone stand for audiophile cans in zebra wood from them… my highest recommendation. Go on line and see it for yourself.
Music Direct was next door and stocked to the ceiling with disks of all types and accessories—featured were the MoFi Releases. There was even a rare record sales area run by old time audiophiles called Quality Rare Records with records ranging from $1 to $50. I scored several fabulous oldies in perfect condition; all for under $20.
Right in the middle of all this grand shopping was Ultra Systems with very cool accessories including the new ultrasonic record cleaning machine! I gave them a vintage Victrola LP I bought used just minutes earlier to clean. The machine is $3495 and is totally self-contained. Just slip in the LP and hit start. About six minutes later the LP is clean and shiny. [Once home, I compared it to a VPI wet wash and the LP sounded as good as or better than using the VPI 16.5. More later on this]. I barely got out of this area with my Amex intact!
Right across from the software and accessory stands, was world famous Edge Electronics hosted by the man himself, Steven Norber! The $42k NL Signature 1.2's took the PBN Montanas ($10k) to new prodigious heights of realism. Both the preamp and digital player were prototypes and sounded first rate. Steven is just one of the most friendly and super smart fellows you will ever meet in this hobby.
I passed by the Wavac Audio Lab room filled with fabulous looking and sounding Wavac gear to go to the VMPS suite for the most terrific and amazing setup yet. All day, every day, the fun and delightful Brian Cheney recorded live musical acts in SACD and played them back on a tip top VMPS system. Was it live or Memorex? He used his extraordinary top of the line RM 50 speaker which sells for under $20k - all accessories and options included. What a value! While these speakers are huge, they are sonically invisible. Certainly, these are the best VMPS speakers yet devised. The closeness of the live versus playback was scary. The preamp used was the new MP-3 Mark3.1 Preamp from Atma-Sphere. On display were the S-30, MA-2 and the MA-1. I'm not sure which were in the system. The complete VMPS set up was 100% wired with Audience cables and powerChords and run through Adept Response power conditioners. If you missed this room, you lost out big time!
I had a ball at the Teresonic suite hosted by Mike Zivkovic. What a fabulous sound. The speakers are true lookers. Their tall single-driver all-wood speakers are not only gorgeous to look at, but they are wonderfully sounding too. They are crossover-less and have a frequency response from 30-22kHz. At 104dB efficiency, when combined with the handmade special order Teresonic 2-watt amp, sounded downright powerful with a big bold bass response. He also showed a wonderful bookshelf version of the tower that sounded superb. The big speaker sells for $15k and looks like a bargain. It's also handmade to order. Of course the cables were the Clarison solid gold wire I reviewed in PFO. This made a great match in this spectacular system. Also used was the Playback Designs $15k CD/DAC and it lived up to its stellar reputation. My reference CDs brought from LA were wonderful to hear… with both watts!
I then raced to the Blue Light Audio suite where Jonathan Tinn, Mr. Playback Designs, was presenting a knock your socks off system sonic show. Powered by the darTZeel Swiss made NHB-458 monoblocks, $135k and 1000 watts per channel, the Evolution Acoustics MM Two loudspeakers were amazing. With gorgeous fit and finish, they sported top notch Acuton drivers and more. They sell for only $35k per pair, but look and sound like they should cost double that! Also used was the NHB-18NS preamp with phono section selling for $29k. If the Playback CD was not good enough for you, they had the new Ortofon A-90 MC at $4.2k playing as well. All was hooked up with Audience AR6-T Power5 Conditioning at $4.6k. WOW! What a sound! This was sonically best of show by a very wide margin. Was it the amps? Was it the speakers? Who knows or cares? The end result was an 'alive with in the room' performance quality sound.
I stopped by the Magnepan suite to hear the new $1995 1.7 full range Maggies powered by Bryston 28Bs which produce 2000 watts into 8 ohms! Mark Winey, son of the Winey clan, was presenting the system. The sound from the best seat in the house was very good, but not up to the quality I heard around T.H.E. Show. Maybe I've outgrown $2k speakers? Maybe they should have used more competitive goodies to audition? Next.
Rory Rall is a showman and all around good guy and his Benchmark pieces are always in hot demand. One of the pieces on display was the new extraordinary A to D converter that does everything you need to archive any source you desire. The 2-channel 24 bit 192 kHz converter is slick and amazing. No jitter, first rate analog inputs and circuitry, tons of inputs and outputs of all types, the ADC1 USB screams bargain, bargain! At $1795 it costs less than my reference interconnects. You'll also love the light show on the front. Also in use was the DAC1 HDR for only $1895 now with full function remote included! Cool! Rory and friends were auditioning the exquisite Studio Electric speakers, very good looking and sweet sounding two way point source beauties. By the way, Benchmark will be showing everything they make at the LA&OC Audio Society Event on August 22 at the HeadRoom and Friends Part 3. Go to www.laocas.com for details.
I then went to the Soundsmith room hosted by the genius himself, Peter Ledermann. WOW! The Sussurro cartridge at $4500 sounded superb and mellifluous. I heard their new handmade Soundsmith MCP 2 Phono Preamp with continuously variable loading from 10 ohms to 5K ohms! It's not only sharp looking, but great sounding, and for only $700! No. I did not leave off a zero. That's all it costs and maybe all you need for phono fun in your home. I need to review this cutie. All American made, the Soundsmith line has taken the audio world by storm.
I just had to go by and see the always happy and friendly Chip Winston, CEO of Cable Research Labs. His new Bronze line looks really sharp and what a bargain. I love the CRL Silver interconnects, the best interconnects in the world for under $2000! His copper series is no slouch either. He has big plans for a new cable which will be an all out assault on the state of the art. Well done Chip! Stay tuned.
I spoke with John McDonald at Audience about their new line of super speakers. The big boys were not on display just yet, but are available. Their smaller pieces, particularly the ClairAudient LSA 4+4, sounded quite good and revealing. I look forward to spending time with all the models at their factory in Southern California. Meanwhile, read Jim Merod's ClairAudient speaker review in PFO.
My last stop was at Paramount Technology to see the new Zeeba speaker and equipment stands. Invented and manufactured by Abbas Nourollahi and built in San Diego, these very cool adjustable stands fit all speakers of any size and shape, as well as gear of all types. Put them under the gear on any shelf and they turn that ordinary rack into an audiophile setup. I'd heard good things about these clever devices and they look excellent. I'll get them in for review soon. At $1500 a pair in multiple finishes, they could be the finishing touch to a super high-end system.
There were more displays, accessory sales areas, presentation areas and great presenters… all the most influential audiophiles and reviewers were present. It was a comfortable and easy venue to navigate and the elevators were very fast. I went over to CES, just next door, for a day and could hardly wait to get back to the Flamingo and T.H.E. Show. Well done Richard and thank you from all of us in the terrific world of great audio. Yours is truly T.H.E. Show of shows!