Translation Please
I know, I know! What the hell is a Fon Lo Thingee? Well in the immortal Chinglish*words of Gilbert Yeung of Blue Circle Audio that is a Phono Stage. Yes that Thingee in the picture is a moving coil phono stage. Odd looking? Absolutely! Strange materials? You betcha bubba! Does it work? Boy Howdy does it ever!
Gilbert is incredibly well adept at creating interesting, highly effective, and unique audio gear. Look no further than the infamous Mary Lou amp, preamp and speaker system housed in a sun dress, high heels and a purse to get a sense of the whimsical nature of Gilbert's design parameters. Do not mistake the whimsy though for a lack of concern about high quality sound and construction and the vast majority of Gilbert's more popular products are sedate and conventional by comparison. It is the whimsical mind of the designer that prompts the Thingee range. Preamp, USB device, Phone Stages are all part of the line. The internals are as serious as anything he has done but the external materials is focused on reducing the cost. The driving force behind the entire Thingee line is to provide the audiophile with the best possible equipment at the lowest possible price. The cases are made from industrial grade ABS pipe in various diameters. Odd choice to be sure but practical and low cost.
When I saw the first USB Thingee my first response was WTF? The more I looked at it and the more I heard it in action the more attractive it became to me. Most would say the design was either pure folly or pure genius. I vote for the latter because it was truly out of the box thinking! Are they attractive? Not so much, at least at first blush. That being said the things just grow on you. Designed primarily to be out of sight, I have found that I put it on display the longer I had it. Need a conversation starter? Here you go then? Guaranteed to start conversations with your audio buddies.

My Fon Lo came with the standard power supply, a larger power supply and the SP Capacitor pack. This may well be the most interesting part of the Fon Lo Thingee package.
As Gilbert says "The Biggie Pipe power supply has 88,000uF capacitance inside that pipe. The SP Capacitor Pack has more than three times the Biggie Pipe's power supply capacitance. This is one big step to ensure the Fon Lo Thingee has almost the best possible power supply. Yes almost, we can always make a bigger power supply. It's all depends how much it costs.
Did we mention we use locking XLR jacks and plugs to connect DC power to make sure there is no misconnection? Unlike most other equipment this price range which uses little slide in DC plugs."
The standard features of the Fon Lo are user adjustable gain settings between 60dB and 38dB.Loading jacks to match various cartridges with impedances and/or capacitances, 4ft umbilical cord for standard power supply and Biggie Pipe power supply, 2ft umbilical cord for SP Capacitor Pack and locking XLR plug and jack for all DC umbilical cords. Optional Features include various resistance and/or capacitance loading plugs and user adjustable precision trimming loading plugs.
For those that enjoy the technical specs:
These apply to all combinations of Fon Lo Thingee
- Residue noise reference to full rated output at 60dB gain with 100 ohm loading (non-weighted ): <450uV
- Residue noise reference to full rated output at 60dB gain with 100 ohm loading (audio band): <200uV
- Tracking error: <+/- 0.1dB
- Distortion at 5V output: <0.01%
- Voltage gain: 60dB 38dB (user adjustable)
- Maximum output: 8.5V
- Input impedance: 1ohm to 47K ohm (user adjustable by loading plug)
- Input capacitance: user adjustable by loading plug
- Power consumption: 1.2 watt

- Dimensions:
- Fon Lo Thingee: 2.5" dia. x 5"
- Standard power supply: 2.5"dia x 3.5" long
- Biggie Pipe power supply: 3.5"dia x 6.25" long
- SP Capacitor Pack: 4.5" dia. x 6.25".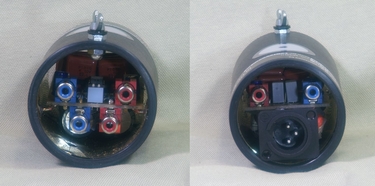 input end output end
So the Fon Lo Thingee found its way into my hands and I have lived with it for quite some time now. How does it work? Pretty dog gone good. Gilbert sent mine with a 71dB gain to accommodate two Koetsu and one Goldnote Tuscany cartridges, all with .15-.20 outputs. The Fon Lo Thingee impedance is adjustable by using pre-loaded RCA plugs. Gilbert sent along a few sets so that I could experiment. Next to a Manley Steelhead this was the fastest and easiest adjustment on a phono stage that I have seen. This makes it pretty easy to live with if you have multiple cartridges that you tend to work with. He will simply send you the plugs ($40 a pair) and you swap them out in about, oh 18 seconds or so. Lovely, simply lovely.
The Fon Lo Thingee comes in four versions. They range in price from $349, basic Fon Lo stage and small power supply all the way up to $949 for the Fon Lo Thingee plus the larger Biggee Pipe power supply and SP Capacitor. Also available is the optional Batchee Thingee. This is a battery pack intended to take the Fon Lo off the power source making it immune to fluctuations in the quality of power coming in from the wall. According to Gilbert the Batchee Thingee will operate for 24 hours on a full charge.
So how does the Fon Lo Thingee sound? Well it doesn't really. It does not seem to have any unique sound of its own and does not add or take away anything to the recording that I could pinpoint. I would imagine that if you were to stack this up directly with some much more expensive units in a blind test the Fon Lo would show (or perhaps sound) rather well. This is not an extravagant or frilly high snoot phone stage. The Fon Lo is about as basic as basic gets and it is definitely a budget piece. That being said it offers tremendous value in its base configuration of $349 and the larger power supply and capacitor just make it that much better. At these prices you are getting a unit that performs in a class three to four times higher than its price point to put it in perspective. I find the Fon Lo to be quite musical without drawing attention to itself other than the fact that it provides a direct window into the detail of the music but not in a distracting way. In other words it works exactly as you would want a phone stage to work. With the Fon Lo the plug it in and forget approach actually works.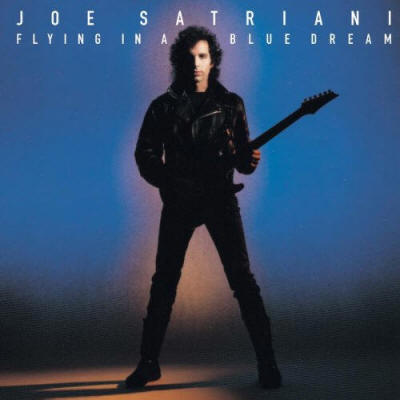 On Joe Satriani's, "Flying in a Blue Dream" (Flying in a Blue Dream – Relativity Records 88561-1015-1and reissued on Epic Records ) the rhythm and Pace actually got me revved up and moving, (something I rarely do whilst listening). The interplay between the acoustic rhythm guitar and searing lead work was incredibly well defined and the balance was as good as I have heard when it was performed live. Same thing when I listened to Eva Cassidy's "Over the Rainbow", from Songbird (S&P Records 501). Again the detail brought forth was unexpected in its smoothness and delivery. The increasing volume and power of Eva's voice with her flawless delivery creates the sense of "being there" in the room listening rather than to a reproduction. The delivery of the midrange was clearly a strength of the Fon Lo and in any combination of options—from the base $349 model all the way up to the Biggee Pipe power supply and SP Capacitor version—the midrange was always delivered with ease and clarity.
Bass was also very well delivered. Tight, tuneful and fast! If the recording had excessive bloom or bloat then the Fon Lo delivered that. On tracks where the bass is articulate and musical, such as on the Beatles, "Something" from Abbey Road (Apple SO-383) that is what the Fon Lo delivered.
No frills does not mean no or low quality. Here is a company and a designer who has thought way outside the box, obviously round pipe not being a box, to come up with something that actually works and works at real bargain price point that belies the quality of the sound. I look at it this way. I drive an Audi A3 3.2 Quattro hatch back and fully loaded it stickers around $40K. That being said a Volkswagen R32 is the same car in a less expensive wrapper. The more I look at the R32 the more I wish I had bought it and saved about $10K. I could have bought more audio gear. The Fon Lo Thingee is an Audi in Volkswagen clothing.
If I had a criticism of the Fon Lo it is this. There need to be some small, inexpensive feet on it to keep it stationary much like Musical Fidelity did with the XCAN series of components. Add some feet Gilbert and you have just about the perfect low cost, high quality phono stage that a large part of the audio world is really looking for. (After speaking with Gilbert I discovered that feet have been added as a $10 option per unit. So if you have the Fon Lo, The Biggie Pipe and Sp Capacitor and you want feet it's $30)
Over all it is hard not to recommend the Fon Lo Thingee not just for audiophiles on a strict budget but also for more affluent audiophiles looking for exceptional value who are not concerned about the cosmetics of their phone stage. As I said at first I kept it out of sight, later I proudly displayed it. Long live the Fon Lo!
Well done and give my best to Mary Lou! Gary Lea
Fon Lo Thingee with Biggie Pipe power supply and SP Capacitor Pack
Retail: $349 to $974 depending on options
Blue Circle Audio
RR2
Innerkip, Ontario, Canada N0J 1M0
Tel: +1(519)469-3215
web address: www.bluecircle.com