am·pho·ra (am-fer-uh) Noun. Origin - Greek and Roman Antiquity.
A large two-handled storage jar having an oval body, usually tapering to a point at the base, with a pair of handles extending from immediately below the lip to the shoulder: used chiefly for oil, wine, etc., and, set on a foot, as a commemorative vase awarded the victors in contests such as the Panathenaic games. (dictionary.com)
Like the Amphora of past, is the current Amphora headphone amplifier worthy of amplifying the spoils of our vast media collections we so enjoy? And, as we listen and experience our music through the Amphora will it bring audiophiles one step closer to audio nirvana that provides and feeds listeners that inner peace after a long day's battle in the day to day grind of life in the 21st century? In other words will the Amphora's performance truly be reflective of its proud and historic namesake?
It was a matter of time. Meaning…, now that I have young children in my home using headphones has become my main avenue for listening to my reference system—except for weekends. With that being said, it is high time to start investigating into a high quality headphone amplifier—one that would compliment my reference E.A.R.-Yoshino based rig. This article is the second entry in what will be a series of reviews on headphone amplifiers, headphones, and cable upgrades. Please refer to my first article in this series where I fell in love with the Ultrasone Edition8 headphones as modified by Audiolineout (ALO) Audio in Issue 48 For all of you past, current, or future "can heads" out there—enjoy!
Last fall, Ken from (ALO) Audio sent me a pair of modified Ultrasone Edition8 headphones and a small battery powered headphone amplifier called the Amphora. Knowing the Amphora was battery powered, I felt some trepidation since I thought it was going to sound toward the lean, sterile side of the audio spectrum with limited dynamics as I have heard with other unimpressive battery powered preamplifiers. However, that would not be the case for the Amphora. Right out of the box I was impressed with it. Sound emanating from the Amphora was full, complex, and often downright outstanding. Before we go further into how the Amphora sounds, let's take a look at what makes it tick along with its features.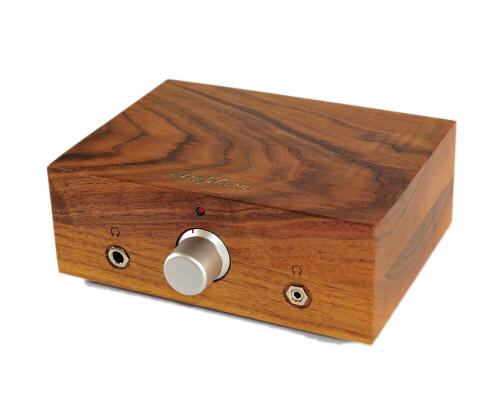 The Amphora headphone amplifier is 100% designed and built in the USA, and it demonstrates the best of craftsmanship. Take the enclosure, for example, that is CNC machined from a solid block of Black Walnut or Padauk hardwood. It is laser engraved, hand polished then preserved with natural oils. A work of art on the outside, the Amphora is certainly a looker as perceived through this audiophile's eyes! However, it's what is inside the Amphora headphone amplifier that really matters. Will the Amphora measure up to its artisan looks?
The Amphora really shines based upon what is placed on the inside as exemplified by it being populated with some of the best parts available in high end audio today. The Amphora starts out as a Red Wine Isabella headphone module which by itself no slouch. Additionally, it is the parts list from a venerable who's who of DIY parts included in this diminutive headphone amplifier that really makes the Amphora truly special. This parts list includes: A Goldpoint precision stepped attenuator (volume control), reference grade V-Cap OIMP (Oil Impregnated Metalized Polypropylene) capacitors, along with low ESR Panasonic capacitors, Vampire RCA input/output connectors, and Neotech 22awg Continuous Cast Solid Core Copper wiring used throughout. Yes, the Amphora is very serious indeed!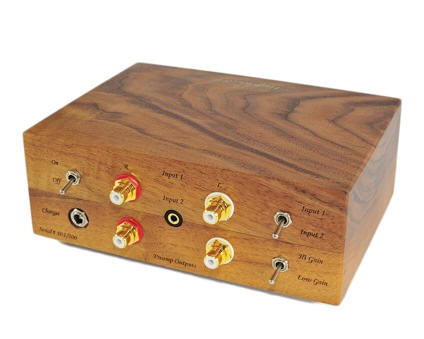 Although the Amphora at its heart is a headphone amplifier it can be used as a preamplifier in a minimalist system due to one pair of RCA inputs and one pair of RCA outputs. It is also portable since the Amphora's only power source is a Li-Ion rechargeable battery. In addition, if one wants to hook up an MP3 player to the Amphora included on the back panel is a single 1/8" stereo jack which is perfect for that task. Or, for a more complete connection between one's MP3 player or iPod Ken offers another Amphora model that has an iPod dock integrated on the top of the unit itself.
Another one of the features I liked regarding the Amphora is its two headphone output jacks - the studio standard ¼" jack that most audiophiles will use, and a 1/8" stereo jack. Both of these connections are located on the front panel of the Amphora, thus, making access easy to hook up our beloved headphones to it. Bearing in mind the Amphora is battery powered and can accept 1/8" jacks both for input and output, it is clear to this audiophile that the Amphora was designed for portable use. Now audiophiles can bring the Amphora anywhere they choose, home, office, plane (unless TSA has something to say about it) or anywhere else to their heart's desire.
The last and final feature, and the one that I believe is one of the coolest offered by the Amphora is the high and low gain switch located on the back of the Amphora. This enables the end user to connect relatively easily to drive headphones like my Ultrasone Edition8s or something that may be a little harder to drive like my Sennheiser HD-650s, while achieving sound pressure levels that should put a smile on any audiophile's face. During the review period using Amphora I had no trouble driving either of the two aforementioned headphones. Even with the clearly different impedance specifications for both of these headphones, bass was always clear, defined, and articulate. There was a fantastic top to bottom clarity without any noticeable bumps or drops in sound output or frequency response other than what is normally a characteristic of either the Ultrasone Edition8's or HD-650's in general. The presentation of music always seemed natural, involving, and highly musical. Midrange was well defined with an upper end response that is crystal clear without ever sounding strident or bright. Dynamics were no slouch either when listening to the Amphora. Macro and micro dynamics were presented with equal aplomb. Clearly this was not a weakness of what I thought was common to many battery powered amplifiers. Sound came to the listener unmolested from a background that was as dead quiet as the best in high end I have ever experienced!
Over and over again the Amphora never failed to impress me. As always when trying to describe a piece of audio gear, one can easily get wrapped in their personal opinion which is clouded at best and can be downright prejudiced at worst. When listening to the Amphora I have tried my best to be objective while at the same time this headphone amplifier really has tickled my heart. I am smitten with the Amphora!
If I were to describe the overall sound of the Amphora in general while remaining as objective as I can and keeping my reviewer's hat on, the thing that I keeps coming back to my mind is how similar the Amphora sounds to my favorite tried and true Aerial 7B speakers as amplified by my E.A.R.-Yoshino electronics. To me that is saying a lot knowing the good company the E.A.R.-Yoshino electronics and Aerial speakers project.
At one time I have communicated to my friends and our readers that my Aerial 7Bs are chameleons with a touch of warmth in the upper reaches of the speakers. Meaning the Aerial speakers, like the Amphora, really sound a lot like whatever you send to it down stream. In short, I found the Amphora sounding a bit warm but in a nice way that is easy on the ears without overdoing it. That said, while the Amphora may tame a bright pair of headphones down a bit, they still will sound pretty bright. Take for example the Ultrasone HiF-780's. In stock form these headphones (though not bad for a pair of $280 headphones) are bright and a little bloated in the bottom reaches for my personal taste. While the Amphora will tame them a bit, the 780's in stock form still just don't do it On the other hand, upgrade the headphones with better cables, and internal dampening like what is offered at ALO Audio (review pending), and these headphones through the Amphora are a completely different animal.
Time and time again the Amphora my headphones never failed to impress. The Amphora has an uber revealing, natural musical presentation that is great as a diagnostic tool for reviewing headphones. While on the other hand, the Amphora never failed the music being presented through it, with its ever slight touch of airy warmth, enough that it draws you into the musical performance like nobody's business. Now, instead of going into my soundroom to listen to music though a pair of headphones, I go into my sound room to experience the music as a result of my headphones and headphone amplifier.
Back to when I first embarked on this journey last fall, at the beginning of this project regarding headphones and headphone support products. I thought of them as something I would use in addition to listening to my main speakers; a complementary product, so to speak, as opposed to a main source for my listening pleasure. Based upon my somewhat archaic belief system, I really thought listening to headphones was going to be a clear compromise as compared to the musical experience I enjoy while listening to my conventional loudspeakers. Having experienced listening to the Amphora over the course of the last six months and through several pairs of headphones, I now believe that hypothesis is clearly mistaken. Yes, you can enjoy listening to your music through a set of headphones where the experience is not only enjoyable but it can be downright immersing and invigorating! In the past, I always thought "can heads" were a little strange with their isolationist behavior. Now I clearly understand where these audiophiles are coming from as compared to their loudspeaker audiophile brethren. Listening to headphones is clearly a musical endeavor that is just as rewarding as listening to conventional loudspeakers, and in some ways more rewarding due to the intimacy of the experience headphones provides to the end user.
In the past, I wasn't so sure about the prospect of being a "can head." I now wear that label as a badge of honor. Yes, another "can head" is born. I now look forward to my quiet evenings with my music system. This is due in no small part as a result of the remarkable Amphora headphone amplifier. The Amphora is truly a keeper, and clearly worthy of is historic namesake. Is the Amphora headphone amplifier a bit pricy as compared to the majority of headphone amplifiers offered in high end audio? Yep. Is it a good value? Hell yes, and worth every damn penny!! I bought my review sample which translates into my HIGHEST RECOMMENDATION. Well done Ken and Vinnie! Jeff Parks
Amphora amplifier
Retail $995
ALO
web address: www.aloaudio.com