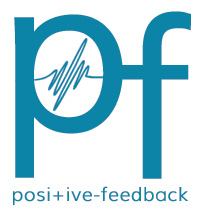 You are reading the older HTML site
Positive Feedback ISSUE
49

may/june
2010
Notes of an Amateur: Klami, Lindberg, Britten
by Bob Neill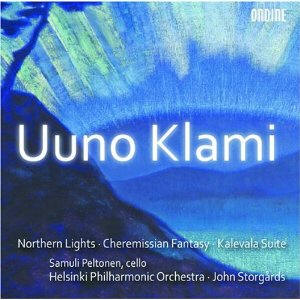 Uuno Klami, Northern Lights; Cheremissian Fantasy; Kalavala Suite. Samuli Peltonen, cello. Helsinki Philharmonic Orchestra, John Storgårds. Ondine ODE 1143.
Uunl Klami and MagnusLindberg represent the two worlds of modern Finnish music: the late romanticism most of us know through the work of Sibelius; and the high modernism represented by Saariaho and Lindberg himself.
It is a tribute to the rising popularity of Finnish music that Ondine, Finland's principal recording label, can issue this CD of Klami's and help keep the less well known music of his generation alive. This is the fourth Klami CD from Ondine, featuring three orchestral pieces.
What is most notable in Northern Lights (1946-48) is its orchestral color, reminiscent of Respighi. This is a truly flavorful piece of music.
Cheremission Fantasy (1931) opens with a romantic & rhapsodic Saint-Saens like first movement and then moves to a second that modulates back and forth between a brisker mood and echoes of Rimsky Korsakov's Shahrazade. What holds the work together is the lyric sound of Peltonen's cello, which is sonorous and pleasing throughout.
With the composer's Kalavala Suite (1943), we hear a different voice, colored by Sibelius but with hints of other bolder spirits as well. Inspired by Finland's national myth, Klami writes richer, more dynamic music. He is not afraid to let us hear some of his more famous contemporaries in the background, and this has the effect of providing a take-off point. Most conspicuously, we hear strong hints of the quieter sections of Stravinsky's Rite of Spring. The two influences blend effectively in this work to produce something new that not surprisingly has remained in the Finnish repertoire since its composition.
Klami's music makes a strong case for the virtues and worth of music that achieves its effects a step below the level of achievement reached by major composers. I much prefer it to the desperate experimental music of some of his contemporaries.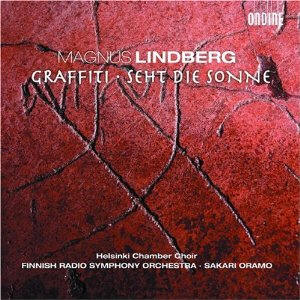 Magnus Lindberg, Graffiti; Seht Die Sonne. Helsinki Chamber Choir, Finnish Radio Symphony Orchestra, Sakari Oramo. Ondine ODE 1157.
Contemporary Finnish music exists along a spectrum, all of which is more modernist than Klami ever dreamed of being. Toward the most adventurous end is the avant-garde music of Saariaho and a good deal of Lindberg. Toward the more moderate end are the likes of Sallinen and Aho. In the music of this CD, composed between 2007 and 2009, we find Lindberg more among the moderates, by his own admission, which will please some listeners and disappoint others.
Graffiti, a work for choir and orchestra, is declamatory in style, chromatic and dissonant in tonal color. The album commentator refers to Stravinsky's late work, Les Noces, which is an apt comparison. From time to time the work also feels like a modernist Carmina Burana. The graffiti referred to in the work's title are scraps of writing found on fragments of wall among the ruins of Pompei, the city famously destroyed by a volcanic eruption in 77 A.D. Knowing this didn't have much effect on my listening experience, though the translations of the graffiti—smutty, innocuous, rude, inspiring, casual—are amusing and create a vivid impression of an ancient city that the music presumably aims to portray. I will give this work more time to work on me. At the least, it is an interesting and unpredictable thing for Lindberg to do at this point in his career.
Seht Die Sonne ('Behold the Sun,' the first words in the last section of Schoenberg's Gurrelider) is an orchestral work in three movements. It is recognizably a (distant) musical cousin of Graffiti, turbulent where Graffiti is raucous; and it is noticeably less dissonant. In some passages it even feels like a musical throwback to Klami! There are so many influences and musical references present—Debussy, Ravel, Respighi, Stravinsky, even Richard Strauss—that it is difficult to get a fix on who Lindberg is in this work. Presumably Schoenberg is in here too, though I don't know his work well enough to hear that. Perhaps Verklarte Nacht?
To my ears, this is music that is rethinking the history of modern music and likely the composer's place in it. He appears to be looking for some different path than that of the avant-garde one he's been on. I'm not sure it comes out anywhere, though toward the end of the middle movement, there is an extended passage for violin and low strings that begins to feel distinctive. As we move into the third and final movement, the rest of the orchestra comes in and we are back to turbulence; but it feels like an outgrowth of where we were in the earlier passage, and this proves to be the case as we move into a rapturous Strauss-like final section.
I think the music on this recording will be attractive to fans and students of modern Finnish music, Lindberg's in particular, among whom I usually count myself; which is another way of saying that it is more interesting than compelling.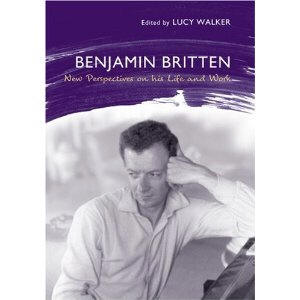 Benjamin Britten, New Perspectives on His Life and Work. Edited by Lucy Walker. The Boydell Press.
Some of us have favorite composers, painters, and writers in whom we take a special interest, to the extent that we not only listen, look at, and read their work but also read commentary and biographies in the belief that this additional 'information' will somehow take us closer to the art. I will read virtually anything about Benjamin Britten. The haunting bitter-sweetness of his music speaks to me in ways that defy reason and so I hunt for the secrets in words, his (in letters, diaries, and essays) and writings by others. In looking for a new collection of writing on music by Florestan Trio pianist, Susan Tomes in the Boydell Press listings (not yet published it turns out), I discovered this book on Britten and bought it to tide me over. If you haven't my weakness for this sort of thing, feel free to wait for what I have to say about Tomes' book later.
All of the essays collected here are intended for an audience who know Britten's music and who can read at least some music. They are 'academic,' but nevertheless enlightening for that! As in any work of this kind, not all of its contents are of equal interest but there is enough here to satisfy any Britten fan. Here are the ones that taught me something.
1. One of the most informative pieces is an article by contemporary English composer Colin Matthews, who worked closely with Britten in his later years (1972-76). He is a founding trustee and Music Director of the Britten - Pears Foundation. Matthews describes the early, withdrawn, and largely unpublished music in the Britten Archive. He is responsible for the release and publication of some of this music, and his comments on it and on the subject of "going behind Britten's back," as it puts it, are mainly fascinating.

2. David Crilly clarifies some of the expressive techniques Britten uses in his operas (specifically The Turn of the Screw and Peter Grimes) by referring to and exploring them in the films Britten scored during his work for the EMB (Empire Market Board) in 1936, which Crilly relates to contemporary work of Sergei Eisenstein. This piece made me more conscious of how these two operas achieve some of their most powerful effects. We don't need Crilly to enable us to feel the effects; but his making them explicit brings them into relief, as good criticism is supposed to do.

3. Jane Brandon's study of Britten's knowledge of and interest in the operas of Verdi, Purcell, and Mozart, in particular their traditional formal way of structuring the presentation of music and drama, helps to underline how Britten built his 'modern' work on traditional foundations. This is one of the most important things to say about Britten, and to hear it spelled out in reference to the operas is useful. We often sense, correctly I think, that this is what defines most of the first generation of modernist composers: the sense that what we hear as new and revolutionary in them is, unlike that of the following generation, explicitly connected with what came before. Brandon also has some interesting things to say about how a comparison of several scenes in Grimes with a few in Verdi's Othello and Macbeth can help us get at what the Britten opera may really be about.

4. Frances Spalding writes one of the most moving articles, focusing closely on Myfanway Piper as she writes and edits her libretto for Britten's opera written for television, Owen Wingrave. She is arguably the best writer in the book, taking us wonderfully close to Piper and the opera both.

5. J.P.E. Harper-Scott in "Made You Look," provides the book's most profound essay, looking into Britten's opera, Death in Venice, primarily by means of a comparison with Richard Strauss's Salome. This essay is worth the whole collection for readers who want to look into what Britten is really about in his most ambitious and eloquent music. The argument is too extensive to summarize here, so I'll just say that it is about the complex and often tragic nature of obsessive aesthetic love of the young. Its conclusions are thought provoking, causing some of us to move past Salome to an additional comparison with Nabokov's novel, Lolita, where that novel reaches beyond Humbert's obsession and begins to include the real Lolita and her point of view; and then turns further to reveal how Humbert has contributed to it. Most of Britten's major work is a deeply conceived moral, philosophic, and psychological exploration of what is involved in 'seeing' the young as aesthetic and erotic objects, and Harper-Scott takes us further into this subject than most.
One last word. This book, as befits a volume intended for libraries and research, is handsomely and solidly produced, its paper of the highest quality. It is a luxury for music lovers but its best essays make a strong case for affording it.
System used for the audition of the CD's: Audio Note CDT3 transport and Dac 4.1 Balanced Signature. Blue Circle BC 3000II GZpz preamplifier and BC 204 amplifier. Jean Marie Reynaud Offrande Supreme loudspeakers. With Blue Circle BC6000 line conditioner. Audio Note Pallas and Sootto interconnects; Audio Note Sogon speaker cables.
Bob Neill, in addition to being an occasional equipment and regular music reviewer for Positive- Feedback Online, is also proprietor of Amherst Audio in Amherst, Massachusetts, which sells equipment from Audio Note, Blue Circle, and JM Reynaud, among others.