Just recently I spent the day with John McDonald, the President and chief mentor of Audience cable and speaker products and their imaginer extraordinaire. After listening to his amazing system, I zeroed in on the Au24e cables and power cords. This highly transparent, extremely detailed, elegantly nuanced sound had to be due in part to these superb cables. After two months of listening on four systems, I can say these Au24e interconnects and AC cables are just stunningly neutral and musical. They are priced right and should be considered high value, too.
So you don't want to spend over $1000 per meter for single ended cables or no more than a few hundred more for balanced? You want flexibility, cutting edge looks, and neutral sophisticated sound? The Au24e are winners. With top notch fit and finish, these all copper American made wires are chock full of new think. They are, like my vastly more expensive Jorma Origo and Kubala-Sosna Elation wires, neutral from top to bottom and even natured throughout. This is the system performance for the 21st Century for top audiophiles no longer interested in using interconnects as tone controls.
I would put the Audience's overall performance at 75-80% of the Origo and Elations. They all sound like they are part of the same advanced philosophy arriving at nearly the same sonic place from different architectural starting points. Would you spend five times the cost of the Au24e's for about 20% more definition and timbral nuance? I would, but I'm not you.
Compared to the current price leader under $1000 per pair, the Harmonic Technology MagicLink 2s, the Au24e's are smoother and more sophisticated. The Magic 2's are more dynamic and exciting, though less neutral overall. My favorite Magic 2's sound a bit lumpy by comparison. The Au24e's seem to just get out of the way of the music more like the $1000- 2000 brands do. The balanced Au24e's sound even a bit better than their single ended brethren, but cost more. Imaging is truly first rate with the Au24e's.
I was doubly surprised by the Au24e's. I heard an improved background silence with music becoming more realistic and vivid. The speaker cable and interconnects sound virtually the same to me in both my reference systems. Their definition was extremely! close to the CRL Silver and Stereovox SEI cables for significantly less cost. Their speed and snap reminded me of several $2000+ brands. Overall, their added quietude and neutrality was indisputable. Though I still like the MagicLink 2s, the Au24e's are a realization of advanced overall performance and design.
The Au24e's, both interconnects and speaker cables, demonstrate very, very low grain structure and very fine dynamics. Their small diameter makes handling so easy. Their lack of coloration enhances musicality. Their synergy when used as a system… interconnects, speaker cables, and power cords… brings out their very best and is highly recommended. Here's a link to the Au24e menu of lengths and terminations: http://www.audience-av.com/cables/a_prices.php
Power cords
The power cords come in two flavors. The top model is the Au24 and the lower model is the powerChord'e. The Au24 is superb with very fast and detailed performance. Sounding much like the interconnects, they enhance the sound of the Au24e wires emphasizing their silent backgrounds and musical neutrality. The interconnects never sound etched or crispy with the Au24 AC cord in play. The Au24 reminds me of a slightly leaner K-S Emotion Power Cord in overall performance. No bargain here, but the Au24 performance offers top notch performance while very neutral and even natured. It's also all copper.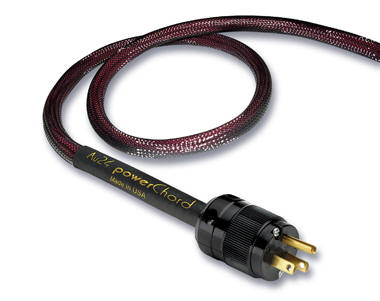 The Au24 is pricey, but like other cords in this price range, extremely good with ultra low coloration. I placed two of them in my top reference system loaded with Jorma Origo Interconnects. I replaced the Elation Power Cords [preamp and CD player.] I noticed added sweetness and similar textural elegance with the Audience. I also heard a bit less dynamic slam and a small reduction in overall definition versus the Elations. Nevertheless, I'd hate to have to pick out which was which in a blind test. Both were superb. The Au24 is a fantastic power cord and useful with any top brand of wires though best in an all Audience system.
The much less expensive powerChord'e is very nice and similar to their top cord in many ways. Plugged into a subwoofer or noncritical gear, the e is just fine. Plugged into your CD player or preamp, it lags behind it's big brother. It's never anything but very good and makes a top economy model I think. The e and the H-T Fantasy are now my favorite go to less expensive AC cord selections.
Quibbles
The Au24e interconnect/speaker wire system is subtly less dynamic, less richly textured, and less detailed than the very best. Bass definition is slightly diminished. I detect a small bump in frequency response in the upper mid/lower treble range which may account for the Au24e's perceived enhanced airiness and ambience retrieval [which sounds fine by the way.] I do detect a small loss in weight and authority compared to their more expensive competitors. All Audience cables need lots of run in time… 200 hours or more.
Conclusion
The Audience Au24e interconnects and speaker cables along with their companion power cords are truly the product of new thinking and execution. The interconnects are the new best of class [Best under $1000 per meter] and rival some of the finest interconnects costing five! times more with quiet backgrounds, airiness, snap, and neutrality. On the very best reference systems, you may hear some reduction of dynamic range and definition… but it's not much. A lot of cable for the money, the Au24e sounds its very best when used system wide with all Au24e wires and their top Au24 power cords, too The Au24e interconnects and speaker cables are a heck of a deal! Very highly recommended. Robert H. Levi
Revised interconnect rankings to include the Au24e Interconnects with the latest listening sessions with cables ranked by reviewer preference within price categories as follows:
Over $4000 per meter
TIE: Jorma Origo (single-ended and balanced); Kubala-Sosna Elation [balanced and single ended] State of the Art Category.

Jorma Prime (balanced and single-ended)

Nordost Odin (balanced and single ended)

Tara Labs The Zero (single ended)

Acrolink 7N-DA6100 (single-ended)
$2000 - 4000 per meter
Kubala-Sosna Emotion (balanced and single-ended)

Jorma #1 (balanced and single-ended) Bybees on board.

Clarison Teresonic Gold (single-ended)

Nordost Valhalla (balanced and single-ended)

Wireworld Platinum Eclipse (balanced and single-ended)

Acrolink 7N-A2500 Mexcel (single-ended)

Silversmith Palladium (balanced and single-ended)

Kimber Select KS 1030 WITH Bybee Golden Goddess "Super Effect" RCA IC Tails (single-ended)

Harmonic Technology Photon Interconnects [fiber optic] with Power Pack 4 (balanced and single-ended)
$1000 - 2000 per meter
CRL Silver Interconnects (balanced and single-ended)

Stereovox 600-SEIii (balanced and single-ended)

Kubala-Sosna Expression (balanced and single-ended)

Jorma #2 (single-ended)

XLO Signature 3 Interconnect [balanced and single-ended]

Acoustic Zen Silver Reference II (balanced and single-ended)
$450 - 1000 per meter
Audience Au24e [Balanced and single-ended]

Harmonic Technology Magic II (Balanced and single-ended)

Kimber Select KS 1011 (balanced and single-ended)

Nordost Heimdall (Balanced and single-ended)

CRL Copper Series Interconnects (Single-ended tested)

Harmonic Technology Pro Sil-way III+ (balanced and single-ended)
$250 - 450 per meter
Dynasty by Dynastrand [single ended unshielded]

Mythos by Argentum Acoustics (balanced and single-ended)

Dynamic Design New Generation Lotus SE

Octaphase Alpha Series (Single Ended Unshielded Interconnect)

Octaphase Omega Pro Line (Single Ended/Balanced Shielded Interconnect)
Under $250 per meter
Kimber Hero (balanced and single-ended)

Kimber Timbre (single-ended)
Prices of power cords are expressed in feet and for interconnect and speaker cables in meters.
6 ft. Au24 powerChord
Retail: $2200
6 ft. powerChord'e
Retail: $674
Au24 e interconnect
Retail: 1.0m RCA - $857.20
Au24 speaker cable
Retail: 2.0m bi-wire $2497.80
Both, for the XLR and bi-wire speaker cable, we use double wire runs to make true balanced and bi-wire cables, thus the higher per meter cost over RCA and single wire speaker cables.
Audience
web address: http://www.audience-av.com