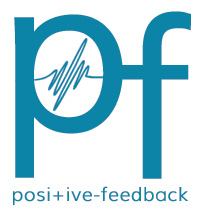 You are reading the older HTML site
Positive Feedback ISSUE
49

may/june
2010
The Bryston BDA-1 DAC with High Resolution music
by Teresa Goodwin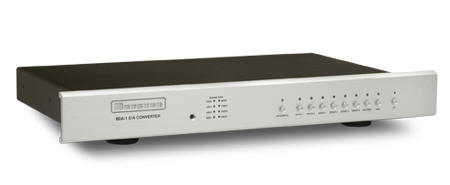 The Bryston BDA-1 is an external Stereo DAC (Digital to Analog Converter) using fully discrete Class-A proprietary Bryston analog circuits, two independent linear power supplies, and dual Crystal CS-4398 DAC chips. The BDA-1 features an impressive array of inputs for USB, COAX, OPTICAL, AES-EBU, and BNC equipped digital devices. For audio outputs, the BDA-1 offers both balanced XLR as well as unbalanced RCA stereo connectors on the rear panel.
The BDA-1 is RS-232 software upgradeable via PC, Mac upgrades are not supported at this time. I have been informed by Bryston that there have not been any firmware upgrades for this model so that should not be an issue for Mac owners
Bryston delivers superb sonic performance by re-sampling and re-clocking the digital input in order to reduce jitter. The result is a significant reduction in jitter (1/1000 of a nanosecond). But it isn't enough to just get the bits right; those bits have to be converted back into music with the same timing reference as when the music was first digitized. The input signal of the BDA-1 is re-clocked and re-sampled to reduce any possibility of jitter affecting the sound quality. Even the input receiver and the sample rate converter serve to further reduce jitter.
The most critical part of the circuit design in the Bryston BDA-1 is the DAC's analog outputs, connected directly to a pair of proprietary Bryston Class A discrete operational amplifiers. Bryston hand assembles using only the finest components and individually tests every product they manufacture. There are 6 digital inputs, which are easily selected using a front panel switch.
Optional up-sampling feature
A very unique feature of the Bryston BDA-1 External DAC is the ability to disengage the up-sampling feature. You can compare an up-sampled signal with a non-up-sampled signal simply by engaging a switch on the front panel. This feature is functional when using sample rates of 44.1K, 88.2K, 48K, and 96K. You can hear for yourself the sonic benefits of up-sampling.
The BDA-1 tells you what is 'COMING IN' not what is going 'out'.

The Digital Lock light will turn 'green' if the digital signal is locked.

The incoming sample rate will be indicated by that LED going green—so if the incoming digital signal is 96K the 96K LED will light green.

If you push the UP-SAMPLE button on the front panel then the incoming digital signal will be 'SYNCHRONOUSLY up-sampled' and turn Green or Amber depending on the incoming sample rate. (Green if the incoming is 48 or 96K and Amber if 44.1 or 88.2K)
If the sample rate coming in is 44K or 88.1K the BDA-1 up-samples to 176.4K

If the sample rate coming in is 48K, or 96K the BDA-1 up-samples to 192K.
The up-sample feature works on all inputs assuming the Up-sample button is pushed. If the incoming signal is 'native' 176.4K or 192K then no up-sampling occurs.
CDs are increased from 16 bits to 24 bits. The added 8 bits are filled with placeholder information.

Coaxial SPDIF inputs from 48K and 96K PCM audio tracks from DVD and DVD-Audios.
I discovered not all of my DVD-Audio discs are copy protected. If a DVD-Audio disc at 96K is copy protected, the digital output to an external DAC is automatically converted to 48K. All AIX DVD-Audios and the Telarc's Celebrating the Music of Weather Report DVD-Audio's 2 channel program outputs at full 96K resolution thus are not copy protected.
The 96K output sounds slightly better from the Bryston compared to my modified Yamaha Universal, however, with the upsampling to 192K engaged on the Bryston there was noticeably more ambiance and air plus there seemed to be more impact in the high percussion instruments. While the midrange directly from the modified Yamaha was warmer and the sound fuller, I have no doubt the Bryston would easily beat the stock Yamaha in all performance areas. Overall the Bryston up-sampled to 192K was more lifelike and exciting, I could easily live with either presentation.
Celebrating the Music of Weather Report is a great sounding DVD-Audio in 2 channel stereo. I also listened to the multichannel program downsampled to stereo, problem is the multichannel program is only 24 Bit 44.1K, it sounds much drier and lacking in high frequency zing. I mention this as I can only recommend this Telarc DVD-Audio if you listen in 2-channel stereo. It is one of Telarc's best sounding Jazz discs; I've owned both the SACD and DVD-Audio versions and can say without hesitation that the DVD-Audio cooks the SACD, perhaps because it's from an original high-resolution PCM master.
With the AIX 96K DVD-Audios I preferred the warmer more intimate sound of the modified Yamaha direct. While the Bryston had more obvious detail, it was not as beautiful with the recording techniques AIX uses to record acoustic music. Also with my copy protected DVD-Audios the internal 96K sounded much better than the crippled downsampled 48K, up-sampled to 192K.
The uncompressed 96K LPCM output from audio only DVDs such as those from Classic Records, Chesky, and Arts Music will also be improved similar to the DVD-Audios above as are the uncompressed 48K LPCM 2 channel Stereo tracks from DVD-Videos from Sony and others. Even DVD movies using lossy Dolby Digital and dts which my Yamaha converts to 48K PCM at the digital outs are further improved when up-sampled to 192K by the BDA-1. Important you must select "PCM" in the digital output section of your player's Setup menu to insure Dolby Digital and dts are converted to PCM otherwise you will hear silence.
Also to insure 96K is outputted by your DVD or Universal player make sure 96K is selected in the LPCM output section of your player's Setup menu.
As expected there is no output from the high resolution layer on SACDs. So if you listen to SACDs and copy protected DVD-Audios you will need to retain and use the analog out from your SACD or universal player. If you only play computer music files and CDs then you only need the analog output from the Bryston DAC.
Firewire Information
My Mac Mini uses the Intel High Definition Audio 0x83847680 sound card which decodes up to 32 Bit 192K, however my core audio limits that to 24 Bit 96K, thus my 176.4K and 192K music files are downsampled to 96K.
I wanted to audition the Bryston using the Firewire outputs from my Mac Mini as I have read these are the best for 176.4K music files such as Reference Recordings HRx data discs, however the Bryston does not have Firewire inputs. I would have to convert Firewire to Bryston's AES inputs, however a Firewire to AES Interface component with the two cables would easily run over a thousand dollars which was way out of my price range.
I have read posts from Mac Mini owners that Apogee's Mini-DAC will handle it's 176.4K and 192K Firewire output using a Firewire cable, no conversion necessary, however it is out of production. So I don't have any answers for those with Macs who want to use Firewire and not spend a fortune for an Interface. To make matters more complicated my Mac Mini which is several years old has Firewire 400 and the newest Macs have Firewire 800. So before I request a Firewire DAC to audition I will need to confirm my Mac Mini will output 176.4K to it. Or perhaps I will wait until my next computer upgrade.
Optical Toslink inputs from 88.2K and 192K PCM High Resolution computer music files
So instead I used a Optical Toslink to Toslink Mini Fiber Optic Gold Plated Digital Cable from the combination analog / optical digital audio out port which according to Apple is supposed to output up to 192K. Well it does not and my options are even less than analog out. The Digital out with optical offers me 44.1, 48 and 96K whereas my analog out offers 44.1, 48, 88.2 and 96K. Most of the music tracks I downloaded from HDTracks are 88.2K which are resampled to 96K before being sent to the Bryston DAC since 88.2 is not offered for digital out.
My Mac Mini was purchased in 2007; here is what it says at Apple:
Mac mini (Early 2006) and (Mid 2007): External ports and connectors: Headphone out/optical audio out port http://support.apple.com/kb/HT3153

"The headphone / line output jack accommodates digital optical audio output, analog audio output with a 24-bit, 44.1-192 K D/A converter, digital audio output up to 24-bit stereo and 44.1-192 K sampling rate and supporting encoded digital audio output (AC3 and DTS). For analog headphone / line output a standard audio cable with 3.5mm metal plug should be used. For digital audio, a standard toslink cable with a toslink mini-plug adapter can be used."
So it appears the Apple website is wrong since I cannot get 192K out of my Mac Mini optically, as is, without down-conversion.
It is important to remember that while iTunes will store uncompressed music files up to 32 Bit 352.8K it does not mean you are playing them back at their original resolution. This is up to your computer's core audio, you must go to "Audio Devices - Audio Output - Source" and manually choose the sampling frequency and bit rate for the music file you are playing, otherwise it will be down-sampled or up-sampled to whatever rate is chosen. For example my computer's core audio current maximum is 24 Bit 96K, the default setting is 24 Bit 44.1K so if you do not change it you will never get the benefit of high resolution music files. On the Mac Mini "Audio Devices" is in "Audio Midi Setup" and I keep it open on my desktop. The BDA-1 will tell you the output so if you are playing a 96K music file and the BDA-1 reads 44.1K you would need to go into "Audio Devices" and change the sample rate to 96K.
Exotic Dances from the Opera Comparisons
SACD via modified Yamaha versus 96K music files via analog outs from Mac Mini versus 96K music files via optical out to BDA-1
Reference Recordings' Exotic Dances from the Opera is a very high quality 2-channel stereo analog recording from Prof. Johnson's highly modified forced-gap open reel recorder.
SACD via modified Yamaha - has a warm analog-like sound missing from any of the following PCM options, excellent deep bass and impact in both low and high frequency instruments. This is the most enjoyable of the four options, only the 192K up-sampled had more sonic detail. The SACD is gorgeous sounding with a feeling of "I am there".
96K to analog out - A little less warmth than the SACD version and doesn't have the tingling high frequencies of the 192K up-sampled BDA-1 version below.
96K via optical out to BDA-1 - This was a little cold sounding, the high frequencies didn't have much "zing" and there was considerably less ambiance and the string tone was not as smooth as the other options.
96K via optical out to BDA-1 where it is up-sampled to 192K - this up-sampling has the most extended high frequencies as well as more ambiance, more impact in the percussion instruments. This was the most realistic sounding of all the options.
Other 88.2K, 96K, 176.4 and 192K music file comparisons
I listened to all of my high resolution music files, most such as those from BSO Classics and the majority from HDTracks are 88.2K and required asynchronous conversion to 96K prior to being sent the the BDA-1 due to 88.2K missing from the optical outs. However my preferences remained the same with every single music file: 96K via optical out to BDA-1 up-sampled to 192K, followed by 96K to analog out and then 96K via optical out to BDA-1.
As you may be aware your computer's output volume is disabled when using the digital outs so check your computer's output volume when unplugging the optical and re-plugging the analog cable. My Mac Mini lowers the volume to 50% which drastically decreases the resolution, I have discovered my computer's output volume MUST be set at 100% for good sound quality.
44.1K MP3s and CDs
Up-sampled high bit rate lossy MP3s offered an improvement though the BDA-1, as did many CDs. High resolution digital of course sounds considerably better than any CD or MP3 no matter how up-sampled but we all have some low resolution music so it is good to know this DAC makes the best of them sound very good.
Summary
I recommend the Bryston BDA-1 DAC for your high resolution music files if you use the up-sampling feature as at every sample rate the string tone is smoother and there is considerably more ambiance up-sampled. Also if you have very high resolution music files, such as 176.4K and 192K confirm that your computer will output these rates first and if you already have a Firewire to AES Interface this may be the DAC you are looking for as it is only $2,000.
The unit itself is standard width, 17 inches wide, however, the front panel extends 1 inch on each side making it 19 inches wide. The unit is rather bright in a darkened room with all the lights: sampling rate, lock indicator, upsampling, and input. The Power Indicator only lights up when the unit is off/standby and the color is bright red. More and more modern devices are like this, lighting up when they are off or in standby. Since I live in a studio apartment, I prefer no lights when my equipment is turned off and I would also prefer the indicators be in a display window that I can turn off to totally darken the component during play using a "Display" On/Off button. I value the information in the display but do not require it until I put on the next recording so would love to be able to switch it out when not needed.
I want to thank Micah Sheveloff and James Tanner at Bryston who were very helpful with all of my questions.
Bryston will be coming out with a Digital Music Player BDP-1 to mate with the BDA-1 which will use a USB Thumb-drive or Hard-drive and do up to 192K 24 bit.
Bryston BDA-1
Retail: $2000
Bryston http://bryston.com