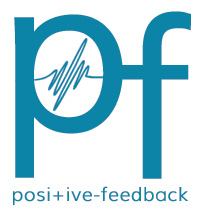 You are reading the older HTML site
Positive Feedback ISSUE
49

may/june
2010
A Classical Half Dozen From Chandos
by Karl Lozier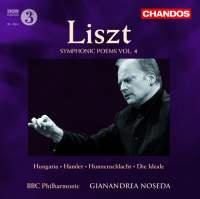 Franz Liszt, Symphonic Poems Volume 4. Hungarian (No.9). Hamlet (No.10). Hunnenschlacht (No.11). Die Ideale (No.12). Orchestra: BBC Philharmonic. Conductor: Gianandrea Noseda. Chandos CD 10490
Liszt is generally credited with developing what he called symphonic poems. Other composers of similar compositions at times used other descriptive terms. In its most general terms, it is rather simply a single movement composed specifically for an orchestra. For Liszt it was often a general mood or feeling or about a particular character, as with the second composition in this last group of Liszt's twelve symphonic poems, Hamlet. The ultimate pinnacle of such compositions must be Richard Strauss' "tone poems" notably the misnamed Alpine Symphony. I reviewed releases of that great composition in the last two previous issues of Positive Feedback Online. Easy to enjoy even for newcomers, each of these four selections has specific attributes for variations in musical enjoyment. A bit sadly, my favorite Liszt symphonic poem, Les Preludes, made even more popular by Arthur Fiedler and the Boston Pops fifty years ago, is not heard here. It is available though in Volume No.1 by Chandos. The nationalistic Hungarian was an immediate smash hit when first performed. The Die Ideale is based on a well known poem by Schiller and is printed in the liner notes. The fine sound quality, as usual for Chandos, is heard here though the performances seem to emphasize the lyrical and melodic qualities of these four selections more than the heroic or dramatic qualities. That emphasis certainly allows for my recommendation.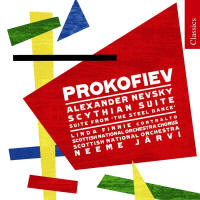 Prokofiev, Scythian Suite. The Steel Dance Suite. Alexander Nevsky. Orchestra: Scottish National. Conductor: Neeme Jarvi. Chandos Classics CD 10482 X
This release, plus, at least three others, is part of a classic series of Prokofiev's music originally released late in the nineteen eighties to much acclaim. About two years ago all were digitally remastered in Chandos' well known 24-bit/96 kHz format potentially offering improved audio quality. I believe the "X" following the above release number signifies the new remastered series. Of course not the equal of Chandos' well known SACD releases, this classic series gives up precious little, if anything, to Chandos most recent CD releases. Translate that statement as describing this release's audio quality as being as good as it comes with particularly solid and powerful bass range quality. The performances by the conductor, orchestra and chorus show why Chandos has remastered the releases and not gambled by starting over with new performances.
The Scythian Suite is taken from a never staged ballet. It is scored for a very large orchestra and is colorful and dynamic in the extreme. It is a showpiece for full orchestra and easy to enjoy. The other important composition on this recording is the cantata for mezzo-soprano, chorus and orchestra. This rather simply is a concert version of the music Prokofiev scored for his famous film music for Alexander Nevsky. It is powerful, often extremely dramatic, dynamic and colorful and a real workout for chorus, vocalist and orchestra while a real challenge for audio engineers. It is very well handled by Chandos here, though I still would wish for that last bit of realism that SACD attempts and usually does add to recorded music, even in two channel stereo mode. The current ultimate listening mode can be obtained with exacting use of the best recorded multichannel SACD releases and careful placement of the loudspeakers plus use of a truly top quality SACD player. Here this outstanding CD release easily earns the top recommendation hereby bestowed.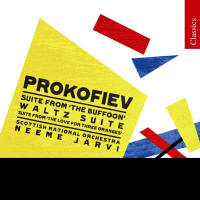 Prokofiev, Suite from "The Buffon", Suite from "The Love For Three Oranges", "Waltz" Suite. Orchestra: Scottish National. Conductor: Neeme Jarvi. Chandos Classics CD 10483 X
Here we go again. Chandos has simply become one of the most consistently excellent recording labels to be found anywhere. Their CD recordingy technology emphasizing their use of 24 bit/96 kHz is possibly second to none. Even audiophiles will find many of their releases to be simply excellent and this one is as good as they come. Yes, a SACD release would be even better but not by as great a margin as in the past, assuming two channel use. The best players, not the economy or value models, seem to have definitely helped narrow the audio quality difference between the best CDs and SACDs quite significantly. The conductor and orchestra are quite simply excellent. Little wonder that Chandos decided to remaster this and a few other great Prokofievs performances with Neeme Jarvi. I could stretch a bit and suggest that here the brass and percussion shine just a tad brighter than the rest of this excellent group. Sometimes excellent orchestral playing is simply as good as it gets.
The rather wacky and wild story behind The Buffon is, as often true when set to music, essentially unbelievable. At times I wonder if a composer dreams up an unusual combination of musical ideas and thinks he needs to create a story to fit the music. Oh, I guess not or probably not; just maybe. In any event, the music from Buffon is outstanding, innovative, melodic and dramatic while also certain to please. In some languages it is known as Chout. It is an orchestral showpiece that should even intrigue that group referred to as audiophiles. They will be at attracted to the full, extended and detailed deep bass response as presented with no hype. The other, even stranger titled, The Love For Three Oranges, will defy your best efforts to figure out any story line behind it. If you know anyone that has been collecting social security benefits for a number of years, play the " March" from this composition for them and they will recognize it as the theme music from a famous radio show of yesteryear or the music accompanying a famous advertisement. Nostalgia in music can be fascinating. All in all, another very interesting and extremely listenable release bathed in excellent audio quality; of course it is a top recommendation. There seems to be no end to excellent releases featuring the prolific music of Prokofiev. Prokofiev was a very prolific composer and featured a wide variety of styles from solo pieces to chamber music, concertos, symphonies, ballets, operas and so on. He was not simply good with all these, but outstanding with most. I would have to think long and hard before deciding where a newcomer to classical music should start with Prokofiev's wide ranging and excellent variety of choices. No single CD would be sufficient in any respect.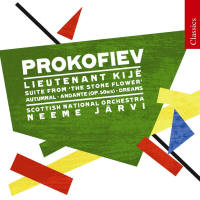 Prokofiev, Lieutenant Kije, Autumnal-Andante-Dreams, Suite from "The Stone Flower". Orchestra: Scottish National. Conductor: Neeme Jarvi. Chandos Classics CD 10481 X
Continuing this Classics series by Chandos, here the featured compositions are Lieutenant Kije ( a personal favorite), and a suite from the ballet, The Stone Flower. The other minor compositions listed above are symphonic poems, a transcription from his First String Quartet and a symphonic sketch. For most listeners, the differences are rather negligible though technically very different. Each of the three should create a very different mood from the other two. Each is a short composition though the total time of this disc is almost eighty minutes. I really enjoy Kije and the inventive story behind the fictitious lieutenant. Some problems popup in the army and the superiors were told they were caused by Lieutenant Kije and his platoon. Getting away with that it was decided to credit him with some heroic events. Eventually the top general decided to come to the camp and personally award medals to the fictitious Kije. Something had to be done and quickly. The perpetrators decided Lieutenant Kije had to be done away with and quickly. Kije had to be "killed off" before the general got to the camp.
Not all the recordings on the Prokofiev remastered recordings were done at the "same time"; a few were not done in the same year. Though as usual for Chandos the sound quality was at least quite good and complimented the relatively low key or rather relaxed performances on this release well. However in the first two minutes of Kiji I briefly heard what sounded like some passages of treble range harshness or edginess. I do not remember hearing that any where on the other two disks or the rest of this one. By comparison with the Kije recording, the others in this series had a more solid and full bass range from the upper and midbass to the lower bass reaches. At the time, I was not usually aware of it though I was almost stunningly aware of a relative lack in that range that night with a touring orchestra with the famous Lang Lang playing Prokofiev's showpiece third piano concerto. Listening from my center aisle seat in row four, all I can say is wow-what full and solid bass range. Some years ago, when he was a teenager, I wrote in another publication that he would become one of the three greatest pianists in the next century (this one) and so far that seems to be true. With the slight negatives mentioned above, the music and performances can by themselves be highly recommended.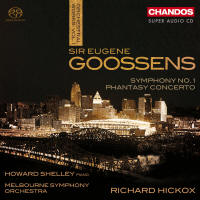 Eugene Goossens, Symphony No.1, Phantasy Concerto. Orchestra: Melbourne Symphony. Conductor: Richard Hickox. Chandos SACD Hybrid CHSA 5068
Older music lovers and audiophiles are very familiar with conductor Goossens from the "Golden Age" of classical recordings. Few realized that while splitting his time between London, England and Cincinnati, Ohio he spent some years in Australia, all the while composing. His first symphony was performed in 1940 by the Cincinnati Orchestra. The Phantasy Concerto, for piano, was written for the famed pianist Jose Iturbi. Right from the beginning passages of the piano concerto I was hooked on it. With some mysterious melodies, hints of the exotic and unusual scoring, I simply had to listen. The third movement of this four movement Phantasy Concerto (for piano) has many subtly beautiful passages and is rather quiet, sublime at times and contemplative. The final movement features some excellent passages for the horns and brass instruments and strong Spanish hints overall while tying everything together. Pianist, Howard Shelley, conductor Hickox, with his usual excellent rapport with the orchestra in evidence here, all contribute to this, his 282nd and last recording with Chandos after twenty outstanding years. Chandos' usual fine SACD recording has seemingly captured all the detail, atmosphere, soundscaping and bass range palpable power here, a fitting tribute.
The symphony starts out in the first movement being big, bold and even brash at times. It is a fitting companion to the concerto and should be appreciated by everyone searching for something a bit new or different while being interesting and enjoyable. The slow movement is rather somber and the third movement is really a scherzo and is particularly attractive. The final movement ends with an earlier simple melody bursting forth from the horns, trombones and trumpet and ends spectacularly with organ chords and fanfares. Audiophiles will like the recorded audio quality, simply excellent, detailed and with the powerful bass range showcasing why SACD is still superior to the best CDs. The compositions with attractive melodies and scoring may even be attractive to classical newcomers. A top recommendation by me is easily earned!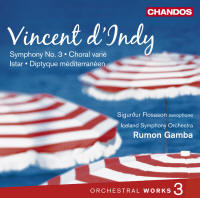 Vincent d'Indy, Symphony No.3. Choral varie. Istar Diptyque mediterraneen. Orchestra: Iceland Symphony. Conductor: Rumon Gamba. Chandos CD CHAN 10585
Listed first on the album cover, d'Indy called his last symphony "brief" as being a bit shorter than usual at just over half an hour in length. For some listeners that length, at least twice as long as any of the other three compositions, does not automatically qualify it as the most important composition here. Istar is very highly regarded and is a passionate composition as with the famous idols, Orfeo and Eurydice, though in reverse. It is a very attractive complex score with a feeling of exotic sensuality in many and may be easy for newcomers as well as veteran listeners to appreciate. It is the orchestral showpiece category as are passages from all these appealing compositions. His technical mastery in his later years certainly shows up in the unusual Choral varie that comes rather close to being a concerto for saxophone and orchestra and usually an instant hit for any listener loving the unique beauty of a well played sax.
It too is simply excellently recorded in a full and rich soundscaping with great unforced detail. The entire release may contain the best regular (Redbook) CD audio quality that I have received so far this month. Rich and full overall with palpable mid and deep bass is evident everywhere called for including in the patriotic symphony. Remember he is French and his contemporaries included Debussy and Ravel and the composer Faure called d'Indy "The Samson of Music", quite an accolade! I was introduced to d'Indy's music by way of beautiful vinyl releases by RCA and Columbia many years ago that is a symphony or almost a symphony, that is opus No. 25 and it seems at times to hide under different French names! Both my old U.S. vinyl releases list the title as "Symphony On a French Mountain Air." It is a beautiful pastoral composition for full orchestra with very appropriate passages featuring subtle piano playing-keep an eye out for in case of CD or preferably SACD release. The Diptyque Mediterranean is a set of seascapes composed during the time period he married one of his students who was thirty six years younger than he. You should listen for some romantic passages that do seem to arise in addition to the many moods, musically, of the Mediterranean Sea. Absolutely receiving a top recommendation from me that includes orchestral playing, conducting and audio quality.