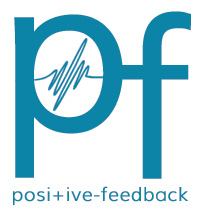 You are reading the older HTML site
Positive Feedback ISSUE
49

may/june
2010
A Classical Half Dozen From LPO (London Philharmonic Orchestra)
by Karl Lozier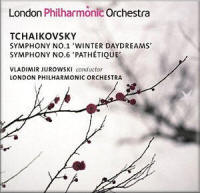 Tchaikovsky, Symphony No.1 'Winter Daydreams' (CD1). Tchaikovsky, Symphony No.6 'Pathetique' (CD2). Orchestra: London Philharmonic. Conductor: Vladimir Jurowski. LPO 2CD 0039
The London Philharmonic's approach here is excellent for newcomers to classical music. For very little more than the price of one, purchasers get two fine CD recordings. That is tough to beat. The only labeling here is the number on the discs; CDI and CD2 on the other. The more famous and popular of the two recordings is of course the 'Pathetique', the sixth. The early symphony, number one is often treated (interpreted?) in various ways. I specifically remember a vinyl release that was definitely creating an overall melancholy mood or atmosphere. That is not true here; this recording simply lets the very pleasing music speak for itself. It is clearly entertaining classical symphonic music, conducted and played quite well and straight forward.
Symphony number six is very different. It is definitely a passionate composition and as with many compositions it is open to interpretation by the conductor. Some add to the overall passionate feeling and to the pathetic or pathos feeling in the final movement. That is not the case here; Jurowski plays it very straight forward and lets the notes/music speak for itself and very clearly so. A pair of solid performances in a typically fine and solid audio quality, particularly in the first and last movements of this CD release. Serious music lovers might want a specific something more or different than this from Tchaikovsky's score, as he intended with the 'Pathetique'; others will be pleased here as will newcomers to classical music.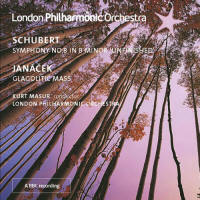 Schubert, Symphony No. 8 "Unfinished", Janacek, Misa Glagolskaja (Glagolitic Mass). Orchestra: London Philharmonic. Conductor: Kurt Masur. Choir: Czech Philharmonic. LPO CD 0029
Schubert's well known "Unfinished Symphony is unique in at least two ways. Number one, it was his first effort to "go in a new direction" with his compositions. He finally did get to completely go in a new direction with his famous "Great" C major symphony. Secondly it was never finished, yet it has been able to stand on its own ever since being introduced. Though neither work is really representative of Schubert's efforts (solo piano and song) I still recommend newcomers to classical music to have both of these two symphonies in their classical music collections as well as his superb "Trout" quintet. The "Unfinished" Symphony is simply a beautiful melodic symphony that Schubert never got around to finishing. In every respect, this recording does justice to this rather special composition at less than twenty-five minutes long. It is a very good solid performance and excellently recorded.
Janacek's rather large scale, the Glagolitic Mass, tends to show that is was not meant for liturgical use. It is scored for full orchestra, organ, soloists and a large choir. Wide ranging in atmosphere it tends to be relatively easy to appreciate. Here the recording and performance are both solidly done and free of any real world quirks. The composition does not really represent most of Janacek's wide ranging and very appealing compositions, though very enjoyable with its own qualities. The performances are very well done indeed and the excellent audio quality is very revealing over the entire audio spectrum including very solid and deep bass response with the pipe organ. This is a good mass for people that are not used to hearing masses and this introduction can be very enjoyable.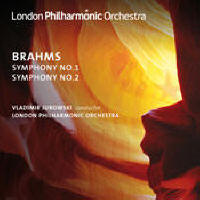 Brahms, Symphony No.1 (CD1), Brahms, Symphony No.2 (CD2). Orchestra: London Philharmonic. Conductor: Vladimir Jurowski. LPO 2CD -0043
Here again is a logical pairing of two CD recordings, not two compositions on one disc. LPO claims the pricing is very little more than for one CD. For many listeners that means getting a real bargain and certainly so if you do not have recordings of either. In both cases, the audio quality is quite fine, thank you, as is becoming more and more common all the time. We listeners are definitely benefitting from companies that are actually paying attention to their recorded audio quality. Recording companies, both reviewers and listening purchasers of your latest releases want to say, "Thanks and keep striving for better and how about more SACD format releases soon".
After Beethoven's monumental ninth symphony, the music world was looking and listening to whom might continue the legacy of what Beethoven had started. The wait was quite long and many simply wondered if anyone could or would even try to follow in Beethoven's footsteps. Brahms was "kind of chosen to be the one". Of course many people simply wondered if Beethoven's greatest compositions would ever be equaled, much less surpassed. Brahms' first symphony heard here is certainly a worthy try, particularly the first and last movements. To this day, Brahms first symphony is one of the four or five best first symphonies ever composed in my not so humble opinion. I do not think I can begin to relate it to any Beethoven composition except possibly Beethoven's fourth.
Brahms' second symphony disc is quite fine with an almost glowing performance of a symphony that can stand some comparisons with Beethoven's sixth symphony, "Pastoral." Here the LPO's string sections get a chance to shine and they do. The excellent audio quality is treating all orchestral sections equally well and the strings are revealed superbly. There are no obvious audio flaws to be heard on either of these two fine recordings. Purchasers of this bargain priced pair of CDs get a bargain price for the two and a reward of fine performances, particularly with the CD of the beautiful second symphony by Brahms.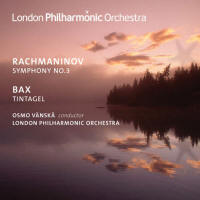 Rachmaninov, Symphony No. 3. Bax, Tintagel. Orchestra: London Philharmonic. Conductor: Osmo Vanska. LPO CD-0036
I remember reading that some people attribute much of Arnold Bax's popularity to this one rather short composition, Tintagel. Does the name, "Tintagel" stir your memory? It should do that and you are being tested. I shall give you a hint shortly and give you the answer at the end of the Rachmaninov review.
Bax is an excellent and popular composer and you can check out my review of some of his other compositions in a previous issue. He visited the geographic area described in the composition, years ago with his mistress. To an extent some of the score depicts the adjacent cliffs though much of the time it attempts to portray the changing moods of the Atlantic ocean and its wave actions. It is definitely a descriptive composition and performed excellently here. Hint, as above: think about a very old castle.
The Rachmaninov symphony was written near the end of his compositional years while living in America. It was written specifically for the Philadelphia Orchestra. That partly explains the scoring with a wide variety of "frosting the orchestral cake" instruments including a huge percussion section. The symphony contains only three movements, not the usual four. I have no idea why. As you listen think of the second movement as also containing the third movement. There are many sublimely beautiful passages to be heard there, some almost exotically so. The final movement is suitably loud and colorful and just seems to fit in almost perfectly. However, at first this final symphony by Rachmaninov was not well received by many listeners and critics for quite some time. Then it became popular and remains so. The performances on this release are quite simply excellent and so is the audio quality, of course not quite the equal of SACD, without any seeming highlighting of any orchestral sections. Let's call it an outstanding release deserving my top recommendation. Tintagel castle is either the birthplace of the legendary (real or not) or his, King Arthur's, home with its famous 'round table'.