It is not uncommon or unusual to see a very positive review of a product that a reviewer owns. And why not, the product must be good in order to garner such enthusiasm to buy it in the first place.
That introduction was for one reason. I am about to review three pieces of equipment that I purchased lat last year: the Marantz SA-15S2 SACD/CD player, the Marantz BD8002 Blu-Ray Player, and the Marantz PM15S1 integrated amplifier. The integrated amplifier will be dealt with in another article, as this review will concentrate on the SA-15S2 and BD8002. I'll not get into the reasons I bought an SACD/CD player this late in the game except that I have never really had a top notch CD spinner in my system other than for review and it was about time I bought a good one. My PS Audio DLIII is hooked up to my PC via a generic USB cable and until a music server system comes out that suits my taste and wallet, I will gladly spin CD's. Besides I wanted one!
The SA-15S2 is actually on the bottom of the Marantz Reference list but is chock full of features and the build quality is quite good. After all it is a reference unit! I won't list every detail and specification verbatim but I would like to highlight the ones that caught my interest when initially seeking out this product. First of all there are the playback formats. There are SACD-Stereo, CD, CDR/RW, MP3/WIMA, and CD-DA. If you want to play more types of discs than that, Marantz has two new Reference Blu-Ray players that I am sure will accommodate you. But let's get back to the SA-15S2 and its features. First there is that selectable digital filter. The Cirrus Logic digital processors are said to be optimized for both PCM and DSD data streams (from CDs and SACDs respectively). The 24/192 KHz capable IC combines both multi-bit and Delta-Sigma architectures. There are also a liberal amount of HDAM-SA2 circuits that Max Dudious talked about at length in his review of the SA-11S1 SACD player. There are the zero impedance copper ground plates, discrete high current headphone amplifier, machined brass analog output terminals, and digital on off mode for pure playback. With this unit if you choose the analog outputs, you can turn off the digital outputs completely for a more pure analog connection. You can also use the digital section of the SA-15S2 to run another digital source. And let's not forget that beautiful exterior in that beautiful champagne finish all in that 29.8 pound metal box.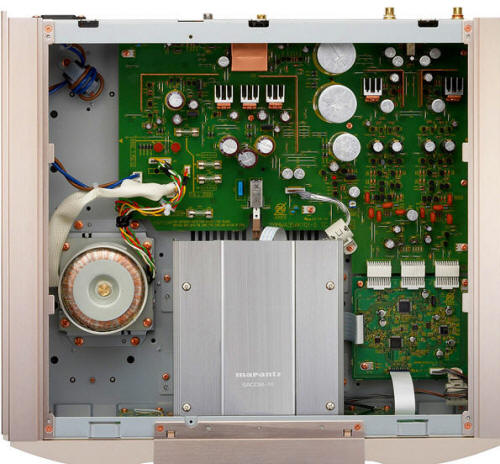 OK so I listed more than I wanted to. But once you start reading the specs, you almost start to wonder how they packed so much technology in that box. But that new box of parts has to be broken in. Receiving new gear is always exciting but breaking in that new gear can be a bit of an egg roll. At least this is accomplished a lot easier with a CD player than say a pair of speakers or anything phono. I am not saying that the custom SACD-10 disk mechanism made it any easier to do this but it was nice not to have to hear inter-station hiss, pink noise or a break in CD in the background no matter how low in volume. I just put in a CD of full orchestra music and let it rip way past the three hundred hour mark, amp off! OK I did occasionally let The Soothing Sounds for Body and Soul, The Shore play softly in the background a few times but Scouts honor, no Virgil Fox CDs spun during the break in process.
The design of this CD player is ergonomically friendly from the beautiful and logically laid out front fascia to the connections round back. Unlike the PM15S1 amplifier in which the input RCAs are a little squeezed for space. Although shapely, this lady is not petite at 17 3/16X4 7/8X16 ½ and weighing in at over twenty nine pounds it is built for some serious use. Did I mention I love the Champagne finish too?
As the years go by, I find it harder to actually sit in front of my system in reviewer mode and pull out a handpicked selection of discs with which to review a component. I find it much easier to listen to a variety discs from many different genres. Good quality recordings and bad. Besides I feel there are really very few excellent recordings in which I really enjoy the music. I want to know how a component will play the music I love, and if that component will draw me into the performance. I don't want to force myself to listen for evaluation purposes. OK, of course I have a selection of discs that I use for evaluation purposes. I am very familiar with these discs and I have listened to them for years. Admittedly though, some components are better at drawing you in to the music than others no matter what discs you listen to. Once broken in, this CDP is very easy to listen to. I always find myself spinning many more CDs than I normally would in a given listening session. A good sign no? With vinyl, I can spin LP after LP without a hint of listener fatigue But with CDs, not so. But my SA-15S2 proved a little different. It has a smooth yet detailed demeanor. It is dynamic, clean and extended yet has the ability to keep your attention on the music.
Its natural sounding midrange and lack of grain is evident in the vocals of Milton Nacimento. Its liquid but detailed top end worked quite well with the searing upper register of Joe Satraini's electric guitar. Its realistic tonality and timbre helped bring out Taj Mahal's vocals and steel guitar accompaniment to the point that I had the audacity to play along with him on my air guitar. Its dimensionality and delicacy helped me enjoy my treasured Copland CDs especially on his composition "Our Town." Its taut, controlled and accurate bass brought me that much closer to Slightly Stupid's bass player Kyle McDonald's prodigious output as well as Sly and Robbie on their own efforts as well as on their work with Black Uhuru. Sometimes I think the higher the resolution the harder it is to get the music right. By right I mean fully enjoying the music and immersing one in the performance without having to consistently be tweaking the system to get it to sound right. I have had more goose bump inducing moments listening to music in my car than in front of anyone's high end system including mine. I admit that could be a moment of the circumstances at hand. I also do my best praying in the car. Coincidence? I don't know. How many of us have been to a friend's house to hear their system or an audio club meeting and end up dissecting the sound instead of relaxing and digging the performance? The Marantz SA152S's overall balance and for the most part non-fatiguing way with the music puts one in the listening seat to just enjoy music. Yet it is resolute enough to hear quite a bit into a recording and easily hear the smallest of details.
This was in CD mode. When I played the handful of SACDs I have through this Marantz SACD player it was a whole different story. SACDs sounded way more natural to the point of making regular CDs sound more hi-fi and electronic in comparison. There was slightly more glare and a slight glaze on the music especially noticeable on vocals with CDs. This was easily heard when I compared regular CDs through either my PS Audio DAC, the BD 8002 Blu-Ray player, the SA-15S2 or the CD layer of SACDs. I may have gotten on the band wagon a little late for SACD but I am really impressed with its performance. To say that the ball was dropped on this technology is an understatement for high quality recorded music.
But surly there are better players than the SA-15S2? Just because it is mine it is not the best CD player on earth. I have heard players with greater resolution, clarity, dynamics, and transparency, some of which are in the Marantz stable. Of course they all cost more than the SA-15S2, sometimes much more. But to bring all of the sonic ability, engineering and beauty of this player in a $2000 package is quite a feat and one in which a large company such as Marantz has accomplished in the SA-15S2.
How about a comparison? I happen to have in house a PS Audio Digital III DAC which I also own. Yes a comparison was inevitable. I'll cut to the chase. The PS Audio digital III sounded slightly darker with timbres a tad richer. This DAC sounded slightly warmer with slightly rounder transients. Although the soundstage was slightly recessed compared to the Marantz SA-15S2, it was slightly more spacious and a bit more three dimensional. The Marantz SA-15S2 on the other hand sounded a tad more lit up in the midrange through the top end. I felt it sounded slightly more-clear, clean and detailed without brightness, grain, and glare or etch. The Marantz also sounded a little more commanding and authoritative. It is very coherent especially on orchestral works. Don't get me wrong, the PS Audio Digital III is no slouch in the area of overall dynamics. And although I felt it was a close call sonically between these two units. After many A/B sessions, these qualities finally emerged.
At this point I couldn't help but doing one more comparison. I dusted off my old and trusty Audio Harmony Two harmonic enhancer and hooked it up to my Sony DVD player. Although the Harmony Two, a solid state unit, produces second order harmonic distortion (yeah!) and adds 5 Db of gain, (thank God for volt meters), it drove home the point that the Marantz is a bit on the thin side as did my PS Audio DAC. If I had my druthers, I would like to hear music coming out a bit richer and fuller with a bit more weight from my SACD player. Then again when I hooked up the Audio Harmony to the SA-15S2, it did not help. There was a veiling noticeable and the Marantz unit seemed a bit confined and not as free and open if you will. This drove the point home that the Audio Harmony works its magic with lesser expensive players like the Sony but was a slight impediment with a higher resolution player like the SA-15S2.
The Marantz BD 8002 Blu-Ray player is a substantial player to say the least. At far as what passes for Blu-Ray players from most companies offerings. Weighing in at 23.1 pounds with dimensions of 17-3/8 x 5-9/16 x 15-13/16 (w, h, d) and black in color, it dwarfs my Sony BDP-SD350 Blu-Ray player. Right now I am looking over four pages, of its features. I will highlight a few of its outstanding qualities. Besides playing DVD's, DVR's, DVD-RW's, CD's, CD-R's, CD-RW's, MP-3 and WIMA encoded files and of course Blu-Ray video discs. The front panel sports an SD card reader. Lets see, there is HDMI 1.3a output supports 36 deep Color Standard, Dolby true HD, dts Master Audio, 7.1 channel analog connections, multi-layered chassis, RS-232 port, and the crème de la crème the silicon Optix's Realta HQV video processor. There is so much more packed into this substantial player. But there are two things that are not. First it does not play SACDs. That is fine for me because I have my SA-15S2 for that duty. Secondly every Blu-Ray player I have ever used has loading time too slow for this type A- personality especially this unit. A friend recently asked me why I didn't just buy an all in one player and be done with it. I told him the answer lies in speed and performance. My Marantz SA-15S2 is very quick to load a disk and its performance is markedly better than any video player I have heard when playing back red book CD's and SACD's. But it doesn't play movies.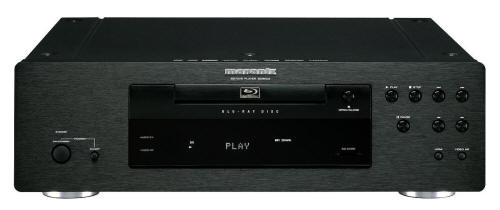 I compared this unit to my PS Audio DAC using the Marantz SA-15S2 as a transport and the SA-15S2 itself, and my Sony BDP-SD350 Blu-Ray player. The BD 8002 conveys a similar timbre as my Marantz SACD player but it is a tad crisper in the vocals, bass impact is slightly reduced and the sound overall is slightly thinner sounding. Speed and clarity are very good. It displays a very solid soundstage and bass is well balanced with the rest of the musical spectrum. Switching back to my SACD player I immediately noticed that it sounds more open and more weighty and full. I was better able to hear into a recording with the SACD/CD player. The midrange was more fleshed out. This of course is comparing the CD performance. Again the PS Audio proved to keep its overall performance as outlined above. Yet with the Marantz SA-15S2 as transport the sound took on a modicum of sophistication not noticed with the Sony DVD player as transport. It would seem just as size matters so does the transport in which those disks are spinning on. But overall the BD 8002 is a pretty good CD player, sonically equaling players in its price range and bettering many lesser priced and appointed DVD players in sound. The video performance is another story. The picture looks great with this unit. The colors look more natural yet richer, the picture has less grain and to my eyes, there seemed to be a slight dimension, depth and solidity to the picture. The BD8002 easily bettering any DVD player in video performance I had in house. The Realta HQV video processor was really was really proving its worth here. Plus it is built like a tank!
Update. Astute readers will already have noticed that Marantz has updated the BD8002. The new model, the UD8004 has a host of new features from the BD8002. Most notably is the network connection which enables users to update Firmware via the internet, this one plays SACDs stereo and multi, Anchor Bay Video reference processor, EI transformers for audio circuits, and an aluminum/resin reinforced front panel along with double layer top and bottom plates. The audio circuitry is said to be markedly improved over the BD8002. I have not heard the new unit but I will stick to my SA-15S2 and BD8002. Sometimes the BD8002 feels like too much DVD player for this dyed in the wool stereo man. In any case, the BD8002 would be a very capable player in many systems both stereo and video. Those looking for one of the best and boldest video players though need only look at the new Marantz UD9004 tipping the scales at a penny less than 6 grand. It seems like Marantz never stops.
In fact a similar renaissance has been endowed upon my PM15S1 integrated amplifier. It is now the PM15S2. It too is said to have much improved circuitry. So instead of reporting on last years model amp, with a little luck and favor we shall soon give the new model a spin in the Duran system.
For now this leaves us with the SA-15S2 and BD8002. The SA-15S2 being a convenient and capable player has left me little time for the PS Audio hooked up to any transport or computer. It takes up less space, looks prettier and plays music just as good as and better in most instances than the DAC. Besides that space I saved, you got it; it is occupied by the BD8002. Highly recommended but you probably guessed that already. Francisco Duran
Marantz SA15S SACD Player
Retail: $2199
Marantz BD8002 Blu-/DVD/CD Player
Retail: $1999.99 (Discontinued)
Marantz America, Inc.
100 Corporate Drive
Mahwah, N.J. 07430-2041
web address: http://us.marantz.com