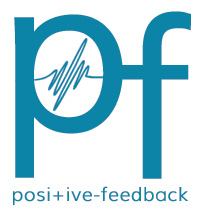 You are reading the older HTML site
Positive Feedback ISSUE
49

may/june
2010
The Neoteric Listener... Paradigm and Jolida!
by Dean Seislove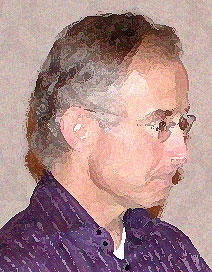 Oh Paradigm!
Auditioning the Paradigm Studio 20 v.5 monitor speakers reminds me of the scene in Key Largo where gangster Johnny Rocco (Edward G. Robinson) is asked what he wants, and Humphrey Bogart's character answers for him.
"He wants more, don't you, Rocco?"
"Yeah. That's it. More. That's right! I want more!"
"Will you ever get enough?"
"Well, I never have."
The newest iteration of the justly-famous Paradigm 20 line, these 2-driver, 2-way stand-mount bookshelf speakers come on like... uh, gangbusters, and certainly deliver more. More what? Well, the manufacturer puts the official tally of the 20's on-axis frequency response at 54Hz - 22kHz, and that's not the whole story, because these stand-mounts have incredible range. What I admire about these stand-mounts is that there's no piddling around. You get deep, well-defined bass, vibrant and immediate mids, and precise, highly accurate highs. No shrinking violets these, the Paradigm 20s v.5s hail from a world famous Canadian manufacturer and insist on star billing at all times. Having heard the praise of the earlier models from reviewers I respect, I was anxious to audition the v.5s in my home. As I am always on the lookout to avoid the usual 5.1 jungle gym by relying on a 2.1 system to handle music and home theater chores, I decided to pair the v.5s with the Paradigm Seismic 110 subwoofer. What I discovered was that, though the Studio 20s have more than enough bass on their own for my room, the seamless integration of the Seismic 110 made a staggering improvement in the enjoyment of both music and movies.

As I hinted at earlier, the Studio 20s practically vault off the stands in their musical presentation. Having had other speakers' "audiophile" voicing in my room--that blind date of tolerable brightness and resolution that always ends with me giving a fake cough and making a quick exit—I am wary of forward sounding speakers. The Studio 20s, thankfully, are not bright or grainy, but they are the type of speaker that gives a great deal of information all at once. At first, it's kind of unnerving hearing all the instruments and voices so clearly and with such weight. There's none of the usual audio weeding where you're trying to discern each instrument from the tangle of tones and effects. This on-ear recognition does not owe to spatial and depth distortion, quite the opposite, actually. Where some speakers slightly alter depth like an old fashioned stereoscope (turn of the century projector, not vintage amplifier), the Paradigms give a refreshingly natural soundstage.
The effect of all this is a highly engaging "live" sound. Some speakers are perfect for listening while doing something else: answering emails, reading liner notes, elevating cables onto tiny Dixie cups, etc. I suppose if you had the unwavering focus of a Carthusian monk you could do this while listening to the v.5's, but then, Carthusian monks rarely shake it loose with decadent levels of vintage Rolling Stones concerts recorded in Foret Nationale (Brussels, Belgium). Because, really, this fifth of Jack performance (courtesy of wolfgangsvault.com) from the Stones in their prime is what the Paradigm 20 and Seismic 110 combination is all about. The perfectly conveyed edge on Jagger's overdriven blues harp and the unmistakable tone of Mick Taylor's searing guitar runs on "Midnight Rambler" is worth the $2600 ticket price for stand-mounts and sub alone.
Granted, the Seismic 110 (which reminds me either of a squatty black bulldog or an old fashioned beer keg, I can't decide which) has a lot more fun loosening the floorboards with dZihan and Kamien's electronic hybrid "Stiff Jazz." Still, this subwoofer is matched so expertly with the Paradigm 20s, it's as if they were all of one piece, a much better integration of sub and speakers than any configuration I've ever had in my listening space. I never once felt like the bass was crowding me out of my chair, if you know what I mean. Paired with the Nola Boxers or my Tannoy Eyris Ones, the Seismic 110 delivered really fine low level information for the money, but anyone who has a small to medium sized room knows that subwoofers can be tricky customers. Fine tuning a subwoofer is a royal pain in the bottom end, so I was startled at how quickly and effortlessly optimum set up could be achieved once paired with the 20s. The Seismic 110 and the Paradigm 20 v.5s bring out the best in each other, all to the good for the fortunate listener who needs a full sound without sacrificing a lot of floor space.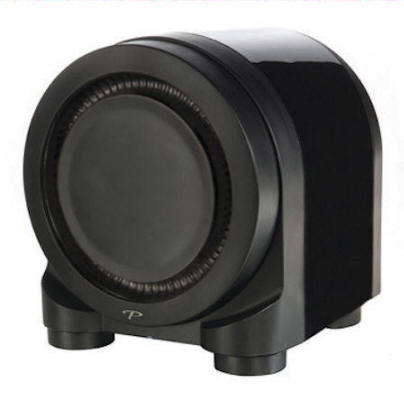 Going back to the 20 v.5s, sure, they sound great playing Hanson's Symphony #1 in E minor Op. 21 (best described as an orchestral melodrama of endless buildup with no relief in sight, but at least the speakers delivered). And, yes, Carol Weisman & Renee Olstead's "On a Slow Boat to China" snapped like a big bowl of sugar vocal pops (brought to you by the good folks who listened to too much Manhattan Transfer). I even trotted out Joan Baez's Diamond and Rust CD to see if these speakers could put me on edge. Believe me, this CDis as good a test for that as any, but I couldn't goad the 20s into giving Baez's voice any more shrill brightness than nature has already given her. Moving on, Herbie Hancock's collaboration with Corinne Bailey Ray on the Joni Mitchell classic, "River," displayed the 20s thrilling presentation of piano, horns, and female vocals. The upper registers, particularly if recorded "hot," sound utterly fantastic and dynamic (counterintuitive, I know, but that's how it works out). Compatible with 8 ohms, these compact, handsome speakers—available in Cherry, Rosenut, Black Ash, and Piano Black—are rated at a sensitivity of 90dB, and crossovers are 2nd-order electro-acoustic at 2.0kHz. Good all-rounders, the Paradigms tracked every silky backup vocal and breathless whisper of Marques Houston's R&B soulduction plea, "Do You Mind." Ultimately, however, these speakers are wasted on anything made by musicians not wasted on everything.
For those who are about to rock, I entreat you... to listen to this Paradigm 20 v.5 and Seismic 110 private address system in your own personal stadium. Whatever time honored classics that you hide when the audiophile gang comes calling, it'll sound great with this combo. From Foghat to Floyd, Megadeath to Meat Puppets, the Paradigm trifecta Nine Inch Nails it. If you're from the generation that can immediately recall the opening guitar solo on Pink Floyd's "Shine On You Crazy Diamond" or the intro bass line of the Dead Kennedy's "Holiday in Cambodia," then this stand-mount/subwoofer connection is a primo way for reveling in the peak moments of rock n' roll (before they atrophied into "classics"). No doubt you're now saying "Well, good for you, Mr. Dinosaur Rock Jr., but what about my Flyleaf? How about my Miles Davis B-sides? How do the Paradigm 20s mix with Bartok's Concerto for Orchestra?" Rest assured that these stand-mounts give the same "Are-you-ready-to-Rum-ball" treatment to all genres and release dates. I'm just saying that I often found myself brushing aside the periphery of my collection so as to give my premier league recordings the v.5 treatment. I suspect most listeners would, too, so proceed without caution. To be fair, there may be some listeners who prefer a more laid-back sound, and they might judge the Studio 20s to be too dynamic and precise, but this reflects on one's personal preference, not the high quality of the speakers. Listening to Lil Green's standard bearer performance of "Why Don't You Do Right?" the crispness of her vocal, and the liveliness of the backing guitar, piano and stand up bass was real enough to make me order up another round. Party of one, your table's ready!
The right-up-front sound that makes electric guitars and broken drum sticks so appealing is just what is needed for the v.5s and Seismic 110 to be a fine way to view movies in a compact space. Yes, I watched Avatar, and, yes, I enjoyed it (so rescind my Cannes auteur beret, already!). All I know is, watching blue people crunch through forests and shoot arrows into bad guys is a lot more fun when the Paradigm 20s super-size every thwack, schlumpf, and "Eywa has heard you, obi wan kenobi!" The sweeping movie score was exceptionally detailed, sizzling, and dramatic. Moreover, the Paradigm 20s and Seismic 110 had the same effect on me with film as they did with music. In the guise of "reevaluating" my favorite films in Blu-ray format (not just goofing off down memory lane), I played a variety of movie classics through this particular 2.1 system. The volume level for movies in my home often exceeds that of music, so I like something that is theater loud but not club distorted. The Paradigm system worked beautifully with effects, dialog, and film scores in my small room setting, yet it seems as if I hardly pushed either monitors or sub. I don't have any doubt that they could fill a medium sized home theater with ease. The clarity of the dialog renders a center channel superfluous while the quality of sound during loud passages makes rear channels only a matter of taste.
Whether they're playing at your local dealer or in your listening room, The Paradigm 20 v.5s and Seismic 110 speaker combination really stands out. After replacing them with other speakers, I definitely noticed the diminished resolution, range and punch. Paradigm speakers, and the Paradigm 20s in particular, are famous for a reason. Excellent design, impeccable quality, and highly involving sound is hard to accomplish, and if you want a sound that brings out the neighbors to peer over the fence to check out the party, give a listen to this highly potent combination.
Paradigm Studio 20.v
Retail: $1298
Paradigm Seismic 110
Retail: $1399
Paradigm
web address: www.paradigm.com
A Few Good Words on the Jolida JD302BRC Integrated Tube Amplifier
The Paradigm 20s and Seismic 110, good as they are, would not sound half as spectacular if I hadn't been fortunate to have on hand a really nice sounding tube amplifier, the Jolida JD302BRC integrated amplifier. If you read my review of the Nola Boxer monitor speakers, you know that I ran out of room with my solid state amplifiers and was in desperate need of a tube amp that could show what the Boxers could really do. You may also remember that it was Nola speaker designer Carl Marchisotto who suggested that I contact Jolida for a remedy to this situation. When the amp first arrived, it was easy to see that the high quality belies the reasonable asking price, as the amp features a blue ALPS audio potentiometer, gold plated RCA input jacks (CD, tuner, tape recorder, and aux accessed by a front mounted switch knob) and one set of XLR inputs. A solid, heavy remote control is included, and the overall fit and finish inspires confidence in long term utility. After unpacking and placing the tubes in position, I followed the manual's suggestion to properly setup the amp by monitoring the top panel bias testing terminal and using the Easy Biasing adjusting controls. What this really entailed was taking one of those tiny screwdrivers optometrists use to adjust the screws in eyeglass frames, sticking it in a hole, and turning until a light glowed red. Sounds easy, and it was, but I'm the nervous type in this situation. I kept waiting for a loud buzz and the taunt of "Ha! Ha! Ha!" Didn't happen, though, and after giving the amp the recommended warm-up, it was time to test this valve engine.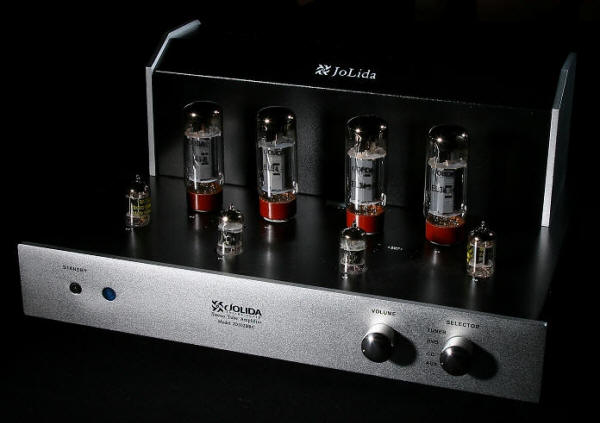 As soon as I heard the Boxers powered by Jolida 302BRC, I knew that this set up was a set up. The Jolida's sound is nothing if not sumptuous, and is tailor made to draw out the smooth, airy delights offered by the Nola Boxers. The Boxers live and die by their exemplary midrange, and the Jolida's EL34/6AC7 power output tubes complement the Nola's so well that all instruments that draw a sympathetic emotion from the listener (a melody line played on piano, or a beloved singer, for example) have those rich overtones and substance so prized by tube amp aficionados. Diana Krall's cover of "Straighten Up and Fly Right," for example, begins with a bottom octave single note boogie line that establishes Krall's hipster swing-time rendition of the classic most often identified with Nat King Cole. Powered by my Arcam A-80 or by my Luxman L-80V, these notes were convincingly relayed by the Boxers, but when the Jolida's turn arrived, there was a palpable fullness to the notes that hadn't been there before. The Boxers are already voiced to be smooth with a heightened sense of space between instruments, and the Jolida amp definitely enriches these qualities, while also adding just enough warmth to the guitar and saxophone on Stan Getz and Charlie Byrd's collaboration "O Pato" to make the track finger-poppin' good. Doc Watson's "Sitting On Top of the World" (the Tallahatchie County ragtime blues version, not the Orange County saccharine pop you're thinking of) features Watson's virtuoso finger-picking and quintessential sixties folk blues vocal performance. The timing of the song varies according to Watson's idiosyncrasies, and the solid state amps relayed the rhythm changes in a slightly leaner manner so as to diminish the delight of the stops, starts and sustained runs. That little extra harmonic and resonance on guitar and vocals added by the Jolida, in contrast, made the notes seem to ring a little longer and the alternating thumb picking a tad more pronounced as a time keeper.
Now Bossa Nova and folksy blues with speakers capable of making them both sparkle is one thing, but the real surprise was the way the Jolida provided the necessary muscle to power the Paradigm 20s and Seismic 110 subwoofer. The Paradigm's paired well with both solid state amps on hand, but the Jolida sweetened the tone and provided much more usable volume. Again, these speakers practically dared me to transform the listening space into a rockin' romper room, and for this review, much critical listening was done at critical care levels. Besides, much as I'd like to remodel my shack with a vacuum pump suspended floor and transmission line wall panels, the truth is, it's an 80 year old creaky little craftsman bungalow. Consequently, much of the time, my listening room is a listening house. No matter how good an amp sounds from my chair, a prime litmus test is enjoying rich, satisfying sound while taking a nice, hot bath and reading the paper. I'm sure that the head honchos at Jolida will be happy to know that years of R&D engineering and sourcing the perfect materials enabled the Flight of The Conchords "Hiphopopotamus vs. Rhymenoceros" to provide a rousing accompaniment to a landmark Sunday bath. Excellent sound at low volume levels is a significant attribute of this amp, but equally attractive is the option of being able to open things up without the sound quality turning into a noise furnace. Although rated at 50 watts, the Jolida powered the Studio 20s and Seismic 110s to obnoxiously high volumes (just to see if it could). Armed with the heavy remote and even heavier Savoy Brown collection, the Jolida played hours of rugby scrum audio and helped settle old scores with leaf-blowing neighbors and a select group of nocturnal, yappy dogs.
This is not to say that the Jolida 302BRC is capable of rippling the earth's fabric as well as massive tube amps resembling a twelve cylinder engine through a mesh cage. But there's no denying that this is one fine sounding amplifier at a very reasonable price, and with a two year limited warranty, this amp offers an extremely attractive value for someone who wants a big tube sound for a small amount of coin.
Jolida 302BRC
Retail: $1200
Jolida
web address: http://www.jolida.com