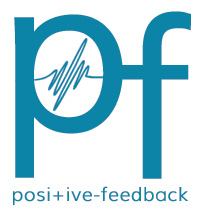 You are reading the older HTML site
Positive Feedback ISSUE
49

may/june
2010
SACD Reviews, News, Views and Another Recommended Tweak
by Teresa Goodwin
PART ONE: SACD Reviews
Reviews are of the 2 channel stereo high resolution DSD layers.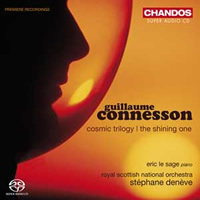 Guillaume Connesson: Cosmic Trilogy (Aleph, Une lueur dans l'âge sombre, Supernova), The Shining One
Eric Le Sage (piano), Royal Scottish National Orchestra, Stéphane Denève (conductor). Stereo/Multichannel Hybrid SACD - DSD recording. Chandos CHSA5076
I bought this SACD as I am a big fan of Science Fiction in both literature and movies. I listened to the sound samples before ordering as I was very intrigued, however I had no idea how much it was influenced by the minimalist school of composition until I actually heard the SACD. Thirty second samples of each movement were not enough to hear the overall texture and direction of the compositions. I spend several months debating if I should even review it at all as I generally don't review music I don't care for, however there are sonic problems that I found alarming in a DSD recording and I feel duty bound to report them. I have now listened to the SACD over a dozen times during a two month period.
I am not a fan of minimalism and these works do not have the very grudgingly slowly changing repetition of the music of John Adams or Philips Glass, plus there is audible movement of the melodic material however it changes slower than I like. The first movement of "Cosmic Trilogy" is "Aleph" which goes at a frantic pace and is very repetitious, beating the same chord over and over and then gradually changing to the next usually a semitone at a time.
The second movement "Une lueur dans l'âge sombre" is actually very tonal and have recognizable melody line with almost no influence of minimalism, while more still approachable I still found it boring.
The third movement of "Cosmic Trilogy" is Supernova which was a big disappointment. Supernova's are grand cosmic events with severe destructive power of the magnitude powerful enough to destroy complete solar systems and I was expecting something grand like the "Volcano" movement of Hovhaness' "Mount St. Helens". This Supernova is not even as violent as a solar flare, this lack of excitement is aggravated by a serious lack of deep bass evidence by the rather weak bass drum that is cold sounding as if missing the fundamental frequencies.
In "The Shining One for Piano and Orchestra" the minimalism is mostly confined to the harmony at the opening as the melody is very tuneful. As soon as the Piano enters all traces of minimalism disappears and this sounds like a modern tonal composition.
I was very excited as this is a DSD recording, which usually guarantees a sonically superb listening experience but sad to say this SACD has too many sonic problems, in addition to the weak bass noted above there is some stridency in the high string instruments, which is very rare for DSD. Chandos' earlier DSD recorded SACD - Wagner: The Ring, An Orchestral Adventure has deeper bass which is considerably warmer coupled very smooth beautiful high frequencies, recorded with the same orchestra in the same hall. Even in their best recordings Chandos never delivers really deep bass but I sure hope they haven't started drastically rolling off the bass again as was common with their earlier pre-DSD recordings. Even if you like slight minimalism I honestly cannot recommend this SACD due to the weak bass.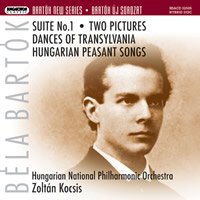 Bartok: Suite No. 1 Op. 3, Two Pictures Op. 10, Dances of Transylvania, Hungarian Peasant Songs
Hungarian National Philharmonic Orchestra, Zoltán Kocis (conductor), Stereo/Multichannel Hybrid SACD - PCM recording. Hungaroton HSACD 32505
The latest in a continuing series of Bartok recordings called the "BARTOK NEW SERIES" all are new recordings except for Hungarian Peasant Songs which is from Hungaroton's first Bartok SACD which preceded this series. That SACD HSACD 32187 included three works: the Hungarian Peasant Songs from the SACD under the review, Dance Suite which was reissued on HSACD 32506 and Concerto for Orchestra which will be reissued with different couplings as the series progresses.
Even though recorded PCM the sonics on this SACD are drastically better than the above Chandos, here we have real low frequencies, I can actually "hear" the double basses and the bass percussion instruments are deep and have excellent impact. Because of the warmth in the bass the entire sonic spectrum from top to bottom is gorgeous. I believe accurate low frequencies are not only important to the bass but to the entire frequency range.
The SACD begins with Suite No. 1 for orchestra, Op.3 (1905) which is a very beautiful and enjoyable composition very much in the late romantic style as contrast his later better know modern sounding works.
Next comes the Two Pictures, Op. 10 (1910) the first picture In Full Flower is in the impressionist style, the second picture Village Dance is, like much of his music based on Hungarian and other Eastern European folk music he collected throughout his life.
The last two compositions are orchestral transcriptions of piano pieces. The Dances of Transylvania (1931) is from his Sonatina on Themes from Transylvania (1915) and the Hungarian Peasant Songs (1933) were originally written for piano between 1914-1918. The Dances of Transylvania and the Hungarian Peasant Dances from Hungarian Peasant Songs are very folksy, charming and exciting and really top of the SACD superbly.
The 'Hungarian Peasant Songs' were recorded in 2002 in the Italian Institute, Budapest, the rest of the program was recorded between 2007 and 2009 in the Palace of Arts, Budapest.
The Bartok New Series continues to offer the finest Bartok performances I've heard coupled with some of the best sounding PCM masters on SACD. As with all the other SACDs I've heard in the Bartok New Series I highly recommend this one, I believe it is definitive in both performances and sound quality.
Round-Up: Favorite Western Themes
1. Sounds of The West (SFX)
2. Rossini: William Tell Overture (Finale - Lone Ranger Theme)
3. Bernstein: The Magnificent Seven
4. Waxman: The Furies Suite
5. Palmer: Round Up - Anthology of TV Western Themes - Bonanza, Rawhide, Wagon Train, The Rifleman
6. Newman: How The West Was Won
7. Tiomkin: Gunfight at the OK Corral
8. Hayman: Pops Hoedown
9. Moross: Big Country
10. Tiomkin: High Noon
11. Coyote and Crackling Campfire (SFX)
12. Hayman: Western Medley
13. Broughton: Themes from Silverado
Frankie Laine (vocals), Cincinnati Pops Orchestra, Erich Kunzel (conductor). Stereo/Multichannel Hybrid SACD - PCM recording. Telarc SACD-60141
This SACD has been out for a few years but since it has a unique approach to putting low resolution PCM on SACD I thought it would be of interest.
This is a wonderful collection of Western inspired music from the movies and television, the highlights being Rawhide and Gunfight at the OK Corral sung by the great Frankie Laine. His 7½ ips Reel to Reel "Hell Bent For Leather." Columbia CQ 378 is on my Top 10 Recommended Reel to Reel list and his singing in this SACD is even better. Frankie Laine's voice is perfect and has an authentic old west feeling plus Michael Bishop's western sound effects further adds an aire of authenticity to this definitive effort.
Round-Up, an SACD from a 16 Bit 44.1kHz Master tape that sounds way better than a CD ever could, how did Telarc do it.
Since the advent of SACD technology in the late 1990s, audiophiles have consistently requested a multi-channel re-release of Erich Kunzel and the Cincinnati Pops Orchestra's Round Up, according to veteran Telarc engineer Michael Bishop. "For years, this brilliant 1987 two-channel recording of music from classic big-screen and TV westerns—augmented by a unique array of Western sound effects—has topped the list of most requested SACD re-releases from among Telarc's vast catalog."
However, the limitations of 1987 recording technology had stymied popular demand for several years. True to the standard Telarc recording style of the time, the music of Round Up had been recorded direct to stereo only, and no multi-track source master exists from which to derive a Surround mix. Bishop attempted various engineering experiments over the years in an effort to manipulate the original recordings and create a Surround mix. Results were marginally successful at best, and the fidelity of the original recording invariably suffered as a result.

But Telarc found a way. "That you are now holding Round Up on SACD shows a Surround mix from the stereo sources was produced to our satisfaction," says Bishop in the liner notes. "Going back to the various source masters, I found a recorded quality that didn't quite make it to the original CD release due to the limitations of editing and mastering equipment of that time. I split the source stereo recordings to a left/center/right, 3-channel, 32-bit master. In addition, the source recoding ambience was combined with newly recorded Surround ambience in Cincinnati Music Hall's famed acoustics. This, along with meticulous re-editing and re-mixing of the vocal takes and sound effects, made possible a Surround mix that I'm really happy with."
This SACD sounds excellent, no not as good as Telarc's DSD recorded SACDs or even their historic Soundstream 50kHz SACDs but considerably better than any 16 Bit 44.1kHz recording I've ever heard.
Could it be the upsampling to 32 Bit when the two channel master was split into three channels. Could it be the new recording of the rear channel ambiance of the empty hall. Which I understand was recorded in DSD, thus there was ultrasonics in the ambient information even though it is not in the original recording of the music.
Could this process work for other low resolution PCM recordings. The late Erich Kunzel took us on wild adventures, to outer space, out west and even down on the farm. It would be nice if has legacy could be upgraded to SACD. There are 23 Kunzel SACDs most DSD recorded, however he made over 80 recordings for Telarc, it would be nice if these others could be upgraded the way Round-Up was. I am sure the newly recorded rear ambiance can be used for all the recordings made in Cincinnati Music Hall.
PART TWO: Another Recommended Tweak

XLO/ REFERENCE RECORDINGS TEST & BURN-IN CD
A step-by-step guide to setting up and fine-tuning your audio or home theatre system. Roger Skoff of XLO Electric (innovators in the field of cables and interconnects) and "Prof. " Keith O. Johnson (audio guru and co-inventor of HDCD) lead you through a quick and easy system set-up. Included are tracks dealing with Balance, Wiring and Polarity, Speaker Placement, Soundstaging, Imaging and Depth, Absolute Phase, Component Demagnetization and Burn-In, PLUS a varied selection of RR jazz and classics to show off your fully-tweaked system. (Music includes: "Stormy Weather"; "Shiny Stockings"; GOULD: Derivations; JANACEK: Sinfonietta (excerpts); BIEBL: Ave Maria; WEINBERGER: Polka and Fugue)
Stereo HDCD encoded 24k Gold CD. Reference Recordings RX-1000
When you first get this disc use it to help with speaker placement and then make sure your system is in correct polarity. After that you will discover the real beauty of this disc. This is on "The Absolute Sound Super Disc List" with good reason, Burn-In and Demagnetizing works in the digital domain. The XLO/Reference Recordings Test & Burn-In CD, is my most important audio performance enhancement tool.
Track 9 "System Burn-In" is 15 minutes and I run it on repeat when a component is new. I play it when I am in another room or not at home.
I run track 7 and 8 "Demagnetizing Sweep and Fade" on every input every couple of weeks or sooner if my system starts to sound a little lifeless and dull.
Every input including my Mac Mini computer is burned-in and demagnetized as needed as I have the these tones in iTunes as well. All music discs sound considerably better after I demagnetize using the tones on this disc. I recommend this CD to everyone.
I think stray magnetism is one of the major causes of upgrade-itis, it may not be you have become disenchanted with your stereo but it just needs to be returned to it's magnetically neutral state. The XLO/ Reference recordings Test & Burn-in CD brings new life to all of you stereo components.
In addition I recommend "greening" all discs see http://www.positive-feedback. com/Issue43/green_pen. htm
If you have an HDCD decoder there are also some very good demo tracks. I don't play that part of the disc anymore as I prefer Reference Recordings on SACD, 176.4 HRx and 88.2kHz/96kHz downloads from HDTracks.
PART THREE: The case for Rock and Jazz SACDs
Most of the great and Jazz and Rock recordings are still missing on SACD, there are sonic reasons these would be good for the format. High percussion instruments have the highest ratio of ultrasonic to audible frequencies.
For example, the proportion of energy above 20kHz is
Muted trumpet, 2 percent (Harmonics extend to 80kHz)

Violin, 0.04 percent (Harmonics extend to above 40kHz)

Oboe, 0.01 percent (Harmonics extend to above 40kHz)

Cymbals, 40 percent (Harmonics still strong at 100kHz)
Muted trumpets are used a lot in Jazz, and cymbals are heavily used in both Jazz and Rock. While percussive rich Classical music recorded in a concert hall does have a lot of ultrasonic energy, I do not believe it can compete with Jazz and Rock with the percentage of ultrasonic to audible frequencies. This thus explains why I usually pull out a Jazz SACD first to show off the sonic advantages of the format. I never knew why I did that, now I have scientific proof for my choices in demo material.
For more on the ultrasonic response of musical instruments see: There's Life Above 20 Kilohertz. A Survey of Musical Instrument Spectra to 102.4 KHz
http://www.cco.caltech.edu/%7Eboyk/spectra/spectra.htm
I have most of my music now on my hard drive, and I was looking at the breakdown of my iTunes Library by Genres and even though Classical Music is my favorite it does not even account for half of the music on my hard drive. Only a small percentage of the population even likes classical music at all, so if someone such as myself who loves classical music the most has more non-classical music then too much classical music in relation to other types of music is being released on SACD.
My feeling is that most SACDs should be Pop, Rock, Rap and Hip-Hop, not just Classic Rock but all the new stuff as well. So why are most of the new SACDs classical. It seems rather odd to me.
If you look at the Top 50 in the libraries of sa-cd. net users http://www.sa-cd.net/toplibrary you will find the SACDs most listeners own:
1. Pink Floyd: Dark Side of the Moon
2. Dire Straits: Brothers in Arms
3. Roxy Music: Avalon
4. Miles Davis: Kind of Blue
5. Eric Clapton: Slowhand
6. Steely Dan: Gaucho
7. The Who: Tommy
8. Eric Clapton: 461 Ocean Boulevard
9. Elton John: Madman across the Water
10. Elton John: Captain Fantastic & The Brown Dirt Cowboy
11. Peter Gabriel: Up
12. Mussorgsky: Pictures at an Exhibition etc. - Reiner
13. Rimsky-Korsakov: Scheherazade - Reiner
14. Bartok: Concerto for Orchestra etc. - Reiner
15. David Bowie: Ziggy Stardust and the Spiders from Mars
16. Norah Jones: Come Away With Me
17. Elton John: Elton John
18. Derek & The Dominos: Layla
19. The Police: Every Breath You Take
20. Dave Brubeck Quartet: Time Out
21. Elton John: Tumbleweed Connection
22. Russian Violin Concertos - Fischer/Kreizberg
23. Mike Oldfield: Tubular Bells
24. Tchaikovsky & Rachmaninov: Piano Concertos - Van Cliburn
25. Saint-Saens: Symphony No. 3, Debussy: La Mer - Munch
26. Elton John: Honky Chateauky Chateau
27. Diana Krall: The Girl in the Other Room
28. The Moody Blues: Days of Future Passed
29. Ravel: Daphnis et Chloe - Munch
30. Depeche Mode: Violator
31. Richard Strauss: Also sprach Zarathustra, Ein Heldenleben - Reiner
32. Rolling Stones: Let It Bleed
33. Tchaikovsky: Violin Concerto - Fischer, Kreizberg
34. Bob Dylan: Blood on the Tracks the Tracks
35. Rolling Stones: Beggars Banquet
36. Bryan Ferry: Boys & Girls
37. Chopin: Ballades & Scherzos - Rubinstein
38. Deep Purple: Machine Head
39. Carpenters: Singles 1969-1981
40. Vivaldi: La Stravaganza - Podger/Arte Dei Suonatori
41. Jeff Wayne: The War of the Worlds the Worlds
42. Bob Dylan: Blonde on Blonde
43. Beethoven & Mendelssohn: Violin Concertos - Heifetz/Munch
44. Nine Inch Nails: The Downward Spiral
45. Carole King: Tapestry
46. Allman Brothers Band: Eat a Peach
47. Beck: Sea Change
48. Billy Joel: The Stranger
49. Stan Getz/Joao Gilberto: Getz Gilberto
50. The Moody Blues: A Question of Balance
There are only 12 classical SACDs in the top 50. And most of those are the RCA Living Stereo reissues which sold at $8 - $12 each and are perhaps the biggest bargain in SACD's history. All of the non-classical are full priced issues that sold for $18 - $30 or more each. In other words, 38 of the top 50 are NOT classical and 9 of top 10 titles are Rock and the other one Jazz. In addition if it were not for the cheap RCA Living Stereo SACDs there would only be 3 classical SACDs in the top 50. Yet another way to look at this 3,872 out of 6,415 SACDs released so far are Classical Music and only 484 are Pop and Rock. Pop and Rock music are clearly the best selling music on SACD so why are they so under represented. Shouldn't that be telling the recording companies something.
When Playstation 3 first came out Sony should have released the entire Columbia catalog of Pop/Rock recordings on SACD. And then Capitol/EMI, Warner Bros. and Universal. Enough people bought PS3 to make SACD a complete success. On the PS3 website the biggest complaint is the lack of SACD software of all kinds of music. All the major labels screwed up this golden money making opportunity royally resulting in the newest PS3's not even having SACD capability. The record companies lost tons of money in potential SACD sales and the consumer lost the possibility of the best sounding Rock/Pop releases in recorded history.
PART FOUR: The problem of raising SACD prices.
Part of the reason for higher prices charged by record companies located in the United States is the loss of stateside pressing plants requiring SACDs to be pressed overseas. This is why both Analogue Productions and Mobile Fidelity Sound Lab raised their high retail price of $24. 99 per SACD to an even higher $29.99 per SACD.
I believe it is also the reason Telarc and most other American record labels are no longer issuing SACDs. For example Telarc's retail price was $18.99 per SACD and Concord Music Group is likely afraid that the higher price necessary due to imported pressings would hurt sells too much. Record companies do have to make a profit to stay in business.
So where does that leave us. With specialty audiophile companies and a few European and Japanese classical labels that care more about sound quality than profit. Many of the European companies sell their SACD hybrids for the same price as their CDs, however if Europe lost their SACD pressing plants like the USA did I am sure they also would have to either quite making SACDs or drastically increase their price. If any of the single inventory companies stayed with SACD they would have to go back to double inventory or lose their CD customers. It may never happen to them, and I pray it doesn't but it happened in America and from what I have read SACDs are the most popular in the Far East and Japan so what if the only remaining SACD pressing plants end up being located there. Scary thought.
CD pricing is going DOWN not up, many front-line CDs now retail for as low as $9.99. SACDs need to sell for the same price as CDs in order for SACD to fulfill their historic role of replacing the outdated low resolution CD format. In order to do this we need dozens of SACD pressing plants opening up in America, and dozens more worldwide. All recordings need to be released as SACD/CD hybrids and the single-layer CD format retired.
As many are aware dual-layer DVDs now cost no more to manufacture as single-layer DVDs. The same should be true for SACD, the lower price for pressing SACDs will not happen until all pressing plants are pressing SACDs.
PART FIVE: Ultimate SHM-SACD Announced
20 reissues announced in the new high-fidelity SHM-SACD single-layer format which is fully compatible with standard SACD players, but do not play on standard CD players.
SHM-SACD (Super High Material SACD) is the ultimate Super Audio CD that utilizes the materials and technologies that were developed for the SHM-CD to further enhance the audio-resolution. What works wonders for a low resolution format such as CD should offer even greater sonic improvements in a real high resolution format such as SACD.
Some of these have appeared on SACD before, others never have. The latter are new 2010 DSD remasters from the analog tapes; for the others existing SACD masters have been reused.
All titles released so far are 2 channel stereo only.
Release date: 06/23/2010
1. The Rolling Stones: Let It Bleed
2. The Who: Who's Next
3. Derek & The Dominos: Layla And Other Assorted Love Songs
4. Eric Clapton: 461 Ocean Boulevard
5. The Moody Blues: Every Good Boy Deserves Favour
6. Steely Dan: Aja
7. The Police: Synchronicity
8. The Velvet Underground & Nico
9. The Allman Brothers Band: At Fillmore East
10. Marvin Gaye: What's Going On On
11. Stan Getz & Joao Gilberto: Getz / Gilberto
12. John Coltrane And Johnny Hartman
13. John Coltrane: A Love Supreme
14. Ella Fitzgerald & Louis Armstrong: Ella And Louis
15. Sarah Vaughan
16. Brahms: Ein Deutsches Requiem - Herbert von Karajan
17. Saint-Saens: Symphony No. 3 "Organ" / Danse Macabre, etc. - Daniel Barenboim
18. Bartok: Concerto For Orchestra / Dance Suite, etc. - Sir Georg Solti
19. Liszt: Sonata In B Minor - Claudio Arrau (piano)
20. J. S. Bach: Orchestral Suites No. 1 & No. 2 - Karl Richter
Prices will be high, 4500 yen in Japan. For other countries it is 4286 yen with the Japanese tax removed which equals US $45.41.
UPCOMING
In the next issue I will have a report on the Bryston BDA-1 DAC with high resolution digital sources up to 192kHz PCM, reviews of Reference Recordings HRx 176.4kHz data discs and the new Britten's Orchestra SACD.