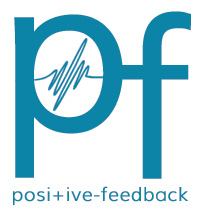 You are reading the older HTML site
Positive Feedback ISSUE
49

may/june
2010
About Me
by Andy Schaub
Welcome new PFO writer Andy Schaub!
My name is Andy Schaub. I became an audiophile around age 17 in 1977. In those days, "audiophile" tended to mean one of two things, either (a) someone who favored "reliable" equipment, like Tandberg, B&O (I actually had their 4002 linear tracking turntable that's on display in the Museum of Modern Art), Revox (which was really reliable) and—of course—the ubiquitous Advent loudspeaker which I had stacked in double mode, known commonly as "Double Advents", which I of course replaced with a pair of B&O M70's, a quite awesome combination: B&O 4002, Tandberg TR-2075 and B&O M70's, all of which could produce some prodigious bass but were not the last word in subtlety.
Then on a school trip to Washington D. C. my friend Doug and I wandered into a small audio shop which was clearly just getting setup and had, I think, some Hitachi receivers and some generic turntables, solid equipment but nothing fancy; but they had these Advent sized speakers with a lovely finish, black grills and a heavenly mid-bass tone that Doug immediately recognized that I would fall for. So we asked the store owner what they were and he said simply, "Spendor BC-1's".
When I arrived at Stanford, 1978, in a much more cosmopolitan location (which, if you knew Palo Alto in 1978, says worlds about my home town), there was a store called The Audible Difference that focused on how things sounded and not how they measured. I still remember the first true high-end system I heard: a Linn LP with a Linn tonearm circa 1978, a Koetsu Rosewood (maybe … Signature) phonograph cartridge, along with a cylindrical high-gain pre-preamp to bring the Koetsu's signal up to the point where it could be fed into an "ordinary" Threshold preamplifier, all driving a pair of lovely Spender BC-1's via something that I think was called a "Michaelson two-tube" amp.
They were playing a German pressing of the Koln Concert by Keith Jarrett and I was in total bliss; and although it's taken many, many years (it's 2010, I'm 50 now) I finally have a system that does that and more, thanks mostly to the never ending courtesy and helpfulness of Nick Gowan at True Sound in Campbell, CA. I originally met Nick at The Audile Difference in the late 80's and he has seen me through many systems involving Spectral DMC-20's, SME Model 30's and Audio Research VT-100's as well two different versions of extra heavy modifications to my Quad ESL-63 USA Monitors sitting on flat black Crosby stands; but I have never had a system like the one that Nick and his associate Lee have put together for me centering on a heavily-modified Audio Note (UK) Meishu Phono Silver, a 7 watt per channel 300B-based integrated amp powering two very large Audio Note AN-E SEC Silver loudspeakers with piano lacquer finish Makassar wood cabinets that go down to 18Hz (yes, I said EIGHTEEN Hertz) and play VERY loud, even with the 7 watts per channel supplied by my Western Electric 300B's, with an efficiency rating of 94dB.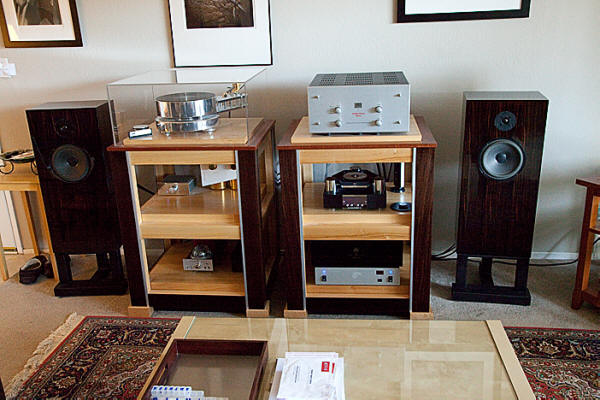 For sources I have—of course—my records and CD's; but in terms of equipment I have a Transrotor Fat Bob Reference (being heavily into vinyl) with a 12" DaVinci Grandezza Grand Reference tonearm and matching cartridge/MC stepup transformer being amplified by the phonostage built into the Meishu, very carefully calibrated and tubed by Nick. I also have a rebuilt and modified CEC TL-0 feeding an Audio Note "1x oversampling" all tube analog DAC 3.1X via an Audio Note Pallas [digital in practice] interconnect. Most of my cables are from Audio Note, including AN-V, AN-Vx, AN-Vz and Sogon, as well as the single Pallas, plus bi-wire copper Lexus speaker cables, which are superb. I also have a pair of heavily modified AKG K701's using Audio Note AN-SPx speaker cable and a Furutech FP-704(G) stereo phone plug, being driven by a Black Gate capacitor modified Triode Audio Corporation TRV-84HD 6BQ5-based headphone amp, that actually puts up to 3 watts per channel into 8 Ohms if you use the speaker terminals on the back. All this sits on custom stands designed by Nick and Aspy Khambatta, a high end woodworker in Berkeley, CA whom of course actually built the stands with lots of internal brass rails, multiple types of hard and softwood (including basswood, used in harps), custom turned rounded-tip cones and hidden sandboxes. And of course ALL my power passes through an Equi=Tech 2Q balanced transformer, one of the best components in the system.
I also have lots of portable gear, a KT-88 based "backup system" in my office with a Rega P3-24 sitting on a Quadraspire Q4 EVO stand and I am beginning to get into hard-drive-based systems after extensive discussions with Lee at Cryo-Parts/Locus Design (whom happened to buy a pair of Sennheiser HD-800's from me) and Josh at Sonicweld, not to forget the folks who make Amarra. I will write mostly—at first—about my experience with my hard-drive-based system (to be revealed) but not to the exclusion of all else. And—before I run out of words—my moderately sized record and CD collection consists equally of jazz, classical and "everything else", sometimes original pressings in near mint condition, other times decent reissues and quite a few "inherited" or cheaply procured albums held together with archival linen art tape.
So I hope that gives you some idea of me; as a last comment, just to give you an idea of my musical tastes, here are my top 5 desert island discs (LP's or CD's, whatever I have power for on the island):
1. Art Pepper Meets the Rhythm Section
2. The Köln Concert – Keith Jarrett
3 & 4. The Goldberg Variations and The Well Tempered Clavier by Bach – Performed by Glenn Gould (the later recordings)
5. The Trinity Session – Cowboy Junkies
That's all.