For those not familiar with Ty Lashbrook and his Tyler Acoustics loudspeakers a little background may be in order. Ty has been manufacturing speakers out of his Owensboro, KY shop for a good many years now. What sets Ty apart from many manufacturers is that he sells direct to the customer. While many manufacturers are moving towards this trend to save costs Ty was way ahead of the power curve! Ty cuts out the middlemen and gives a one stop shopping experience to the audiophile. Not only is he personally involved with designing and building every speaker he also answers the phone and actually talks to the customers! How novel is that these days. On top of everything else Ty is one of the most straightforward and friendly people you could ever meet. I always enjoy seeing him at shows and always wonder what he is going to turn up with.
I first saw the new D10 last year at the AKFEST in Detroit. I was walking through the hotel lobby and low and behold here comes Ty with one of the D10s on a dolly. The damned thing dwarfed him. Suffice it to say I got my first taste of this speaker helping him get them into his room and setting them up. The pair he brought to the show was the same pair that arrived at my home approximately a month or two later. The speakers were finished in a beautiful flame maple. The veneers Ty offers, and there are many, are high quality and if it is one thing Ty does extremely well it is build cabinets (not to mean the speakers are not good themselves). So much so that he used to build cabinets for Von Schweikert. That name is familiar to readers of PFO and everyone knows the quality that Albert Von Schweikert demands for his products.
At the AKfest show I heard many comments about how smoothly and relaxed the delivery was and how well they sounded in such a restricted room. I heard many people saying it was one of their favorite rooms of the show and I was among that group.
I actually owe Ty a bit of an apology for the lateness of this review but in the process of switching magazines, starting a new job and a few other things along the way I am seriously tardy here. Sorry Ty!
Before I launch into my bit about the speaker this seems a good place to provide a little propaganda from Ty regarding the new Decade Line, of which the D10 is the flagship:
"Tyler Acoustics is proud to introduce the new Decade Loudspeaker Systems. We spent over a year in the development of our newest line. The drivers are totally custom built to our specifications to the highest standards. The woofers and mid ranges have paper cones, aluminum phase plugs, one piece magnesium frames, copper pole pieces and voice coil leads for the best sound quality. The tweeters are a 1" soft dome using a high quality motor structure with an aluminum faceplate. The tweeters are available in black or copper colors.
The crossovers are custom designed by Danny Ritchie of GR Research. He room measures and tests every design for the smoothest frequency response. High quality parts are used throughout the crossover design.
The Decade line comes with magnetic grills and your choice of either single or bi-wire posts. You also have over 80 different finishes to choose from. Standard finishes include cherry, oak, black oak, maple, walnut and ribbon mahogany. All other finishes are priced accordingly.
Buy with confidence with our factory direct prices and trade-up program! As always, we offer a 20 day money back guarantee.
We are a small company located in Owensboro, Kentucky. We pride ourselves on offering some of the finest audio products on the market today. Each loudspeaker is hand crafted and finished by people who have a passion for building furniture quality products and an ear for sound quality. We take great pride in our work!"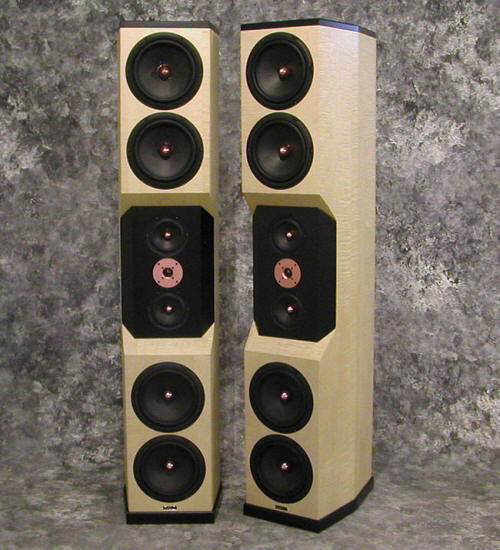 The D10 is a multi driver speaker configured in a D'Appolito array. The driver compliment employs four 10" bass drivers, two at the top and two at the bottom. In between the bass drivers there are two 7" midrange drivers and the singular 1" dome tweeter, ohms and designed by Ty himself specifically for his speakers. The mids and the tweeter are recessed approximately three inches in relation to the woofers. The speaker is 72" tall by 16" wide and 20" deep. The stated frequency response is 25Hz – 25kHz. Sensitivity is rated at 91db with impedance at a friendly 8. Ty does all the initial design work and voicing by ear. Judging by what I have experienced he has a very good ear. The cabinet is six sided and according to Ty the reason for this particular cabinet shape is help with internal reflections while the recessed mids actually time align the mids and woofers so there's fewer crossover parts. The cabinet is resoundingly solid and passes the knuckle bust test with flying colors. This is a custom made, hand built speaker that can be finished in just about any veneer that is available. I counted 188 different wood veneers that were available from the site plus Ty will try to find anything that a customer wants that is not listed. Really? I mean 188 veneers are not enough? I have never heard of many of these woods.
During the review period I was able to actually use the speakers with three very different setups. I started and ended the review period with my reference Jolida Music Envoy 211 tube amps and pre-amp driving a Cary CD player, Opera Consonance turntable and arm, alternating a Koetsu Azule and Lyra Skala cartridges and even the Wadia iDeck fed through a Grant Fidelity tube DAC 09. This is my main system and the one that I ultimately use for every review. I was also fortunate to have some other electronics show up while the D10s were with me and this allowed me to change out and utilize the Ayon Typhon monoblock amps and Ayon Polaris pre-amp with the Ayon CD 2 and finally towards the end the Shengya PSM600 Class A amps and Hybrid CS-6 tube pre-amp accompanied with solid state amps and matching pre-amp and a Grant Fidelity tube CD 1000. My reference cables, XLO Signature 3s remained the same throughout the audition.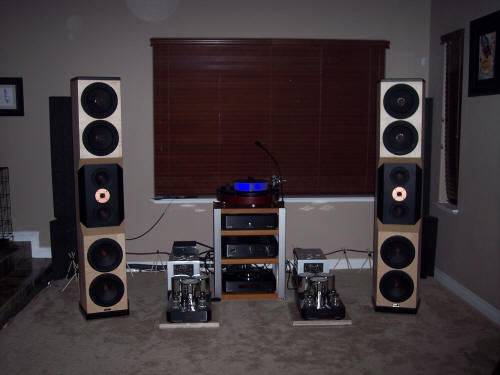 So enough of that! What you really want to know is how does this monster sound? I say monster because the DE10 is 6 feet tall and weighs in at 230lbs apiece so you better have an unloading and setup party planned with some studley friends if you purchase these babies. Despite the size and just the sheer daunting nature of staring down such a big speaker they are surprisingly easy to move once you have them on carpet and prior to installing any spikes. I initially placed them in the normal position for my speakers. They are simply setup friendly, aside from that hernia thing and the collapsed L4/L5 discs from hauling them in the house by myself.
While the speakers are definitely large their footprint is fairly easy to deal with. If you like looking at your equipment you will love these as they will command a lot of attention in any room. I have to warn you that my wife, Paula, who is my official WAF grader, gave them a visual thumbs down due to the size. She enjoyed the sound but prefers less obtrusive sized speakers. She did say that she loved the finish but would prefer a little less speaker in the room. She left the room after about 30 minutes mumbling something about "too bad you guys always feel you have to compensate". Consider that issue if you have a significant other (the speaker's size and not the compensation thing). If you can get past that hurdle then you just may be in for a real treat. I have to admit it was hard to take my eyes off of them. I kept wondering how all that maple would look in a transparent blue finish like that used on high end, arch top guitars. A few years, 1996 as memory serves me, avid guitar collector and rich guy Scott Chinery commissioned a group of custom built arch top guitars from 21 of the top arch top builders in existence. The only criterion was that they all used the same blue nitro cellulose lacquer finish. All were stunning and since most have maple or spruce tops the look is breath taking. I immediately thought of those guitars and how one of these speakers would look in that finish. (Of course my favorite color is blue and probably not to everyone's liking
Sorry! I digress. After getting the speakers set up in my usual starting point and hooking everything up I ran them for a day to let them settle in before sitting down and really listening to them. The speakers were pretty well burned in before arriving, having done duty at the show for 12 hours a day. They actually did not require hours of tedious maneuvering, millimeters at a time, to get good sound out of them. They will certainly benefit from such minute and time-consuming setup, as do most good speakers, but they were surprisingly good in the initial position. So I spent an hour or so experimenting and moving the speakers to open up the sound stage and get a good center focus before doing any serious listening. Over the next few days I did spend additional time with minute movements and really getting them laser focused. Once I was happy with the position of the speakers I measured them with the trusty Radio Shack digital decibel meter. The D10s measured astonishingly flat all the way down to 30Hz. At that point they rolled off relatively gently.
I have a fairly large room at 33' by 16' with 23' ceilings. Just about the perfect environment for such a large speaker. It is ironic that my first real listen to the D10 came during an extensive private audition at the AKfest show. I was immediately taken back by how quickly the D10 disappeared from the room. No small feat in a 25 by 18 hotel room with 9 foot ceilings. The speakers are six feet tall for crying out loud! (Where in the hell did that saying come from?) I expected the speakers to just sonically overpower the room. In reality, not so much!
The longer they sat in my listening room the more I became aware of how important it can be that a person actually likes the look of a speaker such as the D10. They simply overpower the room visually. It is quite ironic that a speaker this big and this visually commanding could actually disappear in the sonic sense. This was something that caused a look of shock and awe with most of the people who visited me during the time that the D10s were in residence.
While the D10 appears to be a brute one of the most interesting aspects of this speaker's performance is that it handles even the most delicate of passages with a finesse and sensitivity that belies its looks and size. While they do handle the more delicate music in a way you might not expect for a speaker of its girth they are not the speakers for you if what you are ultimately looking for is extreme finesse and delicacy and the absolute nth degree of articulation and uncolored, ultra detailed delivery. Then again I do not think Ty designed them with that in mind. There are other speakers that are definitely better than this for that pursuit including some of Ty's own small monitors. On the other hand they are masterful at full on orchestral attacks and large scale music. What are the odds huh? If you like to rock these speakers are made to order (figuratively and literally). Again that is not to say that they have no finesse and cannot handle delicate passages, they can! It is simply not their strongest suit. It is reasonable that the expectation is that this speaker would be able to handle rock, large orchestral pieces, etc. That it does in spades. On Joe Satriani's "I Just Want to Rock" from Professor Satchifunkilas (Epic/Red Ink), the rhythm and pace get you head bobbing in short order. This is a powerful song with in your face explosive percussion and hard driving guitar work, coupled with a strong vocal chorus. There are extremes in the frequency range and the split second jump from one end to the other can be a real challenge for a speaker. The balance in delivery is such that you are not drawn to any one aspect of the song but rather you naturally find yourself engaged and rocking along with the good professor and very quickly forgetting about the gear and just becoming part of the choral anthem. A speaker with this much invested in bass drivers can be intimidating and can easily over power a room. While you would expect thunderous bass the challenge is to provide prodigious amounts of bass but controlled and tuneful bass. I half expected this to be one very wooly and bass heavy speaker. Upon first setup my suspicions were confirmed. I was somewhat disappointed as the bass seemed too boomy and not at all congruent with the delivery with the rest of the speaker. I tried moving the speakers further out in the room and further from walls, all the regular things to tighten up the bass. Then it struck me that I did not have spikes for the bottom. I pulled a pair from another speaker. They are large brass affairs and I placed them under the D10s. What an immediate and startling affect they had on the bass. Everything tightened right up and the boominess was gone and replaced with solid, rhythmic and controlled bass. (It should be noted that my carpet is pretty thick and this speaker definitely needs to be spiked on that type of flooring.) At the right volumes the bass is enough to cause internal hemorrhaging! Fortunately they do more than simply damage vital organs.
You might also reasonably expect the speaker to be so bass heavy as to overpower the rest of the frequency spectrum. On Eva Cassidy's "Over the Rainbow" from her album with Chuck Brown, The Other Side (Liaison Records,) the D10s displayed their ability to deliver the small, delicate nuances of the shift in her voice, volume and projection in a very satisfying way. As I said earlier not the most detailed and analytical speaker I have ever heard but they certainly did not leave me wanting. The mids were smooth, balanced and delivered the sheer emotion that is a trademark of Eva's angelic voice. You get the goose bumps that come with her transition from soft and restrained to the full out, blow you back in your chair, ending of the song.
The highs are smooth and sparkle when appropriate without being edgy and annoying. Cymbals shimmer and decay in a very "live" way. I have a track that was passed on to me some years ago and was never identified as to who the performer was. It is obscure enough that even ShaZam cannot identify it. The track opens with this incredible clash of cymbals followed by the tinkling of bells that almost sounds like breaking glass and on the right speakers it is incredibly delicate and stunningly realistic. The D10 did a marvelous job of presenting the sound and feel of this track. If there was a criticism to level, and it would be minor, is that some of the sizzle was missing in comparison to other speakers I have run this track through. Most notably the VS UniField3 that uses a full range ribbon driver and a super tweeter. Again it was nothing that left me wishing for more but just a slightly less analytical presentation.
One concern that always seems to come into the conversation with multi driver speakers of this size is the integration for the various drivers. This is always the argument for less drivers and close placement of drivers in smaller, two-way monitors. With the Tyler D10, and its seven drivers, I expected a little integration issue. There were no blatantly noticeable gaps in the frequency range. Again not the last degree of finite coherence but you had to really look for it to find the very minute gaps. No big drop out or big obvious holes, just a nicely packaged full range of frequency without parts of the spectrum missing or out of balance.
Another aspect of this speaker that I found very impressive was the soundstage. Sufficiently deep and wide with great placement of the various musicians and great separation speakers that throw a soundstage such as this always catch my attention. On Roger Water's "Dogs" from the In The Flesh – Live (Columbia Records), there is an interlude about one third of the way through the track that features dogs barking. The perceived location of the dogs changes according to the ability of the speaker to throw a good soundstage. While the bark is engineered into the recording to come from beyond the stage, with the D10s all who listened to it were convinced that it was a real dog barking just to the right of the listening position and back by about 20 ft.
The Tyler Acoustic D10 also proved to be very flexible with the electronics that were mated with it. The best bass presentation not surprisingly came with the Shengya PSM600 600-watt solid state amps. The Jolida's with their 200 watts a side came close but without quite the speed of the Shengya's. Overall the most enjoyable system fed through the D10s was the Ayon system. At the end of it all the D10s were able to handle anything thrown at them and handle it well. It simply transmitted what was presented to them without adding much in the way of their own sound, certainly no more than any other speaker in this price range would do. (Every speaker has its own sonic signature).
At $13,500 the Tyler Acoustic D10 represents a rather outstanding bargain in a speaker considering it's size, range, articulation and sound staging abilities. It can deliver great sound at most volumes that the vast majority of audiophiles would care to employ and some volumes that no one should ever use. It would also make a great front speaker in a large home theater system negating the need for multiple subs if space is a constraint. All in all it is a speaker that deserves a solid listen if you are looking for a large format, full range speaker. Ty offers a very flexible program and the fact that they are, in essence, custom made for the buyer ads another value point that is not so easy to find at this price. Highly recommended! Gary Lea
D10 loudspeakers
Retail: $13,500 (price dependent on finish)
Tyler Acoustics
1316 Sweeney Street
Owensboro, KY 42303
TEL: 270.691.9500
email address: tyleracoustics@mindspring.com or linbrook@mindspring.com
web address: http://www.tyleracoustics.com