"Heavenly Glory"
The name Von Schweikert is no stranger to the readers of these pages, nor to the industry and hobby as a whole. Albert Von Schweikert is one of America's preeminent speaker designers and manufacturers and his products have been extensively reviewed in these very pages by no less than my buddy Greg Weaver, just to name one. Greg is the proud, and I cannot emphasize that particular description enough, owner of a pair of VS VR5 Anniversary speakers, which are the next step up from the speakers that are the subject of this review. Search the archives for Greg's impressions (more about him later by the way) of those speakers and to make it simple, apply 98% of what Greg says about the Anniversaries to the VR-4SR MkIII and you can call it a day. Or read on if you like.
A little history is in order before I proceed with my impressions of the VR-4SR MkIII. Last year I did the very first review done on the Von Schweikert UniField3 speaker. This speaker was Albert's answer to the very expensive small speakers that were beginning to hit the market. Targeted specifically at buyers looking at speakers like the Magico, which cost upwards of $25,000.00 a pair. Albert created the UniField to fit the same footprint of these smaller monitors but created a monitor speaker with a full range ribbon driver augmented by a super tweeter. For stands he simply incorporated a subwoofer and voila the UniField 3. I was completely blown away by what the speaker was able to do in my rather large room. The extension was phenomenal, sound staging was as good as it gets and everything about the speaker was simply fantastic. I was not alone in my thoughts. Most everyone who has listened to the speaker agreed and many writers attending Rocky Mountain and CES awarded it best in show honors for it's category.
One of the unique things that came out of the development of the UniField was the inner cabinet construction. This cabinet design utilizes what are essentially three separate cabinets. A triple-layer cabinet with 50mm thick walls is formed of 20mm resin-board, 20mm composite stone, and a 10mm felt layer bonded with vibration-controlling adhesive that is approximately 5mm thick, providing exceptional transparency and image focus. An Internal honeycomb bracing consists of 20mm MDF fiberboard interlocked shelves, providing exceptional rigidity and freedom from boxy coloration. The internal damping consists of high density crimped Dacron stuffing to eliminate cavity resonance, all intended to eliminate one note boom.
This new cabinet construction has now been incorporated into the VR-S4. Hence the MKIII. There are no visible changes to the exterior of the cabinet, which is a great thing in my opinion as this is a very clean and attractive design.
Here are the technical specs on the VR-4SR MkIII:
Cabinet Type: Twin cabinet stacking system with Interlocked bracing.
Cabinet Construction: Triple-damped composite laminate, 75mm thick.
Bass Loading: Transmission line hybrid, using three chambers tuned to 20Hz.
Woofers: 2 pc- 220mm-cast frame with aluminum cones, made in Norway.
Midrange: 170mm Audax/ A.A.C Nextel cone with ribbon voice coil, made in France.
Tweeter: 25mm silk dome with Wide Surround, Neodymium magnets from Denmark.
Ambience System: Rear firing 1" horn loaded mid/tweeter made in England.
Crossover: 24dB acoustic filters with Zobel "passive servo" control circuits.
Frequency Response: 20Hz to 25kHz +/- 3dB; (+/- 1dB in midrange band)
Impedance: 4 ohms nominal. High current amplifiers rated at 4 ohms recommended.
Sensitivity: 91dB @ 1watt/1meter.
Power Rating: minimum 50 watts (for medium volume levels, 300 watts maximum.
Size: 44" H x 11" W x 24" D (112cm H x 28cm W x 61cm D)
Binding posts: two pairs for bi-wiring, WBT sourced.
Weight: 76kgs (167 lbs) each, shipping weight is 250 lbs each (114 kgs each).
The associated equipment for this review was as follow:
Jolida Music Envoy 211 tube monoblock amps
Jolida Music Envoy tube preamp
ShengYe PSM 600 solid state monoblock amps
ShengYe Tube preamp
Ayon Triton integrated tube amp
Ayon CD 7
Cary Audio DVD6
Grant Fidelity CD327A
Nottingham Analogue Hyperspace turntable and Space tonearm
Opera Consonance turntable and ST600 tonearm
Montegiro Lusso turntable and DaVinci Noble tonearm
Cartridges – Koetsu Urushi Vermilion, Koetsu Azule Platinum, Goldnote Baldinotti
XLO Signature 3 cables throughout
The VR-4SR MkIII is a fairly easy speaker to place. I had the luxury of AVS himself coming to the house to help me with the fine-tuning. We actually played around with minute changes in the speaker toe in and distance to the wall to maximize the breadth and depth of the sound stage while maintaining a tight center focus. The VR-4SR MkIII really benefits from a couple of hours of listening and making small to very minute changes to dial in. Once we were satisfied that we had the right position we began to dial in the ambience tweeter. This is the rear-firing tweeter that Albert puts into most of his VSR speakers. Albert's take on creating the proper ambience factors in the need when you recreate the original recording you must account for the sound that travels directly into the recording mic and that sound that actually makes its way to the backside of the mic. Albert speaks to this in his white paper on psychoacoustics. I have attached this to the bottom of this review for those who are taken with the extreme science that he puts into the design of all his speakers.
The best setting for the ambience tweeter in my room is an 8. My room measures 33 x 16 with 23' ceilings. I would imagine in a smaller room the ambience could be dialed back considerably. At this setting, in my room, it provides just enough air around the artists to create the feeling of the music being live. Used in conjunction with well-engineered and recorded live performances the results can take your breath away.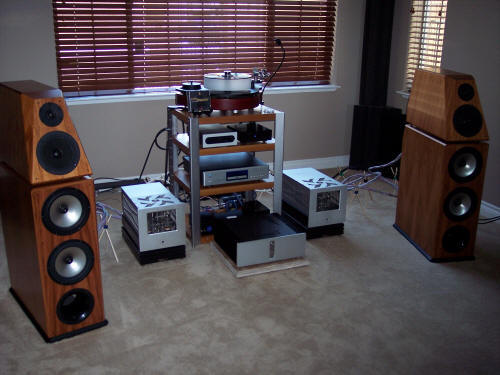 The review pair that I received was finished in Hazlewood. You can get the Steinway piano black finish for $2000.00 more. While at first I thought I would prefer the black finish I quickly grew to appreciate the warmth of the Hazlewood. Paula came in while Albert was here and gave them one of the biggest thumbs up on the WAF I have ever seen her give. She thinks that they look like pieces of furniture and loves the color of the wood and the fact that they create an extremely large sound from a fairly compact design. At 44" high they are not towering monsters and easily fit in most any listening room larger than 12 x 12.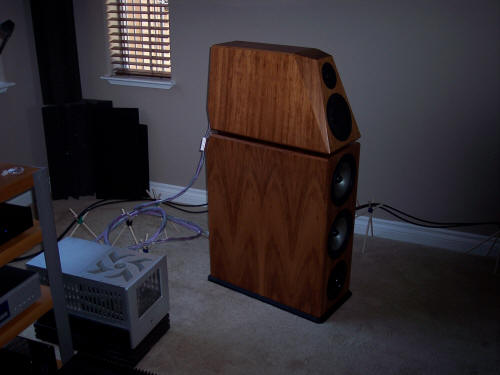 The longer I had the VR-4SR MkIII in my listening room the more I fell in love with them. There is no area that I could clearly point out and call a singular strength or weakness. The high frequencies are not spectacular in that they jump out at you with intense sizzle and flair. They do provide sparkling highs, great shimmer and solid and detailed decay especially on cymbals and bells. The mids do not seem overly analytical and ultra accurate sounding in a distracting way. I imagine that they might be but they just don't sound that way. The human voice is delivered with emotion and a sweetness that makes it palpable and real. Breath and sibilants are as they would be if you were within 8-10 feet of a live singer. A whisper sounds and feels like a whisper. The air around instruments is strikingly real. Violins and strings in general are delivered with such emotion as though they play through you and not at you. Bass is delivered with authority and enthusiasm but without bloat and with extremely tuneful, tight control. Detail and resolution are such that they simply do not draw attention to the speaker but make you realize that in listening to familiar cuts there are things that you still may not have heard before from other speakers. The same goes for driver integration. Five drivers and not a single spot that does not seamlessly combine them all to sound as though there is one source point.
What does jump out at you about this speaker is that it is so good at ALL things that it simply draws you into the music and you very quickly begin to forget about the speaker. The down side to this, at least for me, is that I forgot that I was writing a review on them. I just wanted to flow into the music coming out of them and become one with the universe! The review could end right there with an enthusiastic "Run out and buy these right now. I mean RIGHT now. Hook them up, lock all the doors and disappear from the planet!"
Sorry but for a moment there I was getting in touch with my inner hippie (still a large part of my inner and outer being). All that being said I will move on to some specific track observations and my closing argument on why I feel so strongly about these speakers.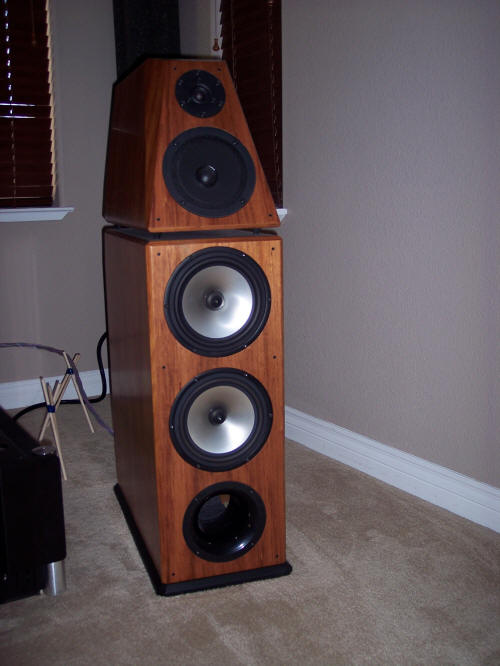 One of my favorite tracks when I am auditioning any piece of equipment is Roger Water's "Dogs" from the In the Flesh Live CD (Columbia C2K 85235). This track has some very interesting dynamics and special effects. From the acoustic guitar introduction to barking dogs in the interlude and thundering percussion and soaring guitar work throughout the song, there are more than enough dynamic swings to create a very tough challenge. This track gives any speaker a good workout and will test its ability to create a solid sound stage. The VR-4SR MkIII delivered this track better than any speaker I have had in my 14 years as a reviewer. During this year's CES I had Greg Weaver over to let him take a listen to them as I had touted them as being damned near as good as the much more expensive VR5 Anniversary. I do not want to miss quote Greg but let's just say that we both agreed that this speaker is not the VR5 but it is way too close for comfort. In other words this speaker is definitely under priced! Albert himself has said that they position the VRS4 MkIII at a price point significantly under where it should be in the US market. Call it a loss leader or his idea of the uber value speaker. Any way you cut it you will have to spend a good deal more coin on any competitor's speaker to get equal or better performance. I am going to step out on a limb here and say that in my opinion, I am not sure I would spend much more on a speaker when you can get this much performance out of a $14,000 speaker. You would have to go at least another $10-20,000 to get an improvement that would justify passing these up. If you have that kind of coin go buy a pair of VR5 Anniversaries and call it good. If you are crazy rich you might want to stop by and check out the VR9 but at $90k it better sound awesome! I have never heard anything sound better than that speaker. I have heard many speakers sound as good but never better. Ok I got carried away.
I am a very big Diana Krall fan and her song "Narrow Daylight" from the The Girl in the Other Room CD, (Verve B0001826-12) features her voice at its best. The song speaks to me of hope, redemption and staring new. Her vocals are delivered with a melancholy that makes you ache for the human condition. The interplay between her delicate piano and Anthony Wilson's acoustic guitar is just flawless. Both instruments presented in their own space and yet perfectly integrated. The VR-4SR MkIII delivers every measure of this song in way that imparts the emotional content of the song. Her rendition of Tom Wait's "Temptation" from the same album has a great balance between her piano, Terri Lynne Carrington's drum work, Anthony Wilson's guitar and Christian McBride's acoustic bass is simply stellar. Most specifically is how well the VR-4SR MkIII delivers Christian's bass. You actually hear and feel the flesh of his fingers pulling the strings of the bass.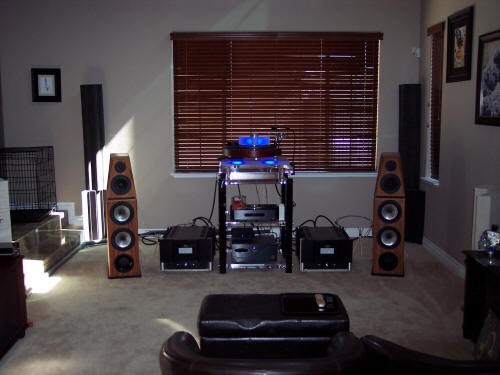 Perhaps most telling and startling aspect of this speaker is how it delivers the human voice. With Diana's voice you get all that she is capable of delivering. There is the silky smoothness, a slight wisp of smoke and a throaty sexiness in the style of the greatest cabaret singers of the past. Her voice just floats there in a space of its own.
On the Chet Baker record This Is Always (SteepleChase Records SCS 1168) recorded October of 1979 live with Doug Rainy on guitar and Niels-Henning Orsted Pedersen in Copenhagen the realism of the live performance is rendered in flawless fashion. This is a stunning performance of the most intimate kind. Chet's singing is sweet and with an almost angelic delivery that us is just as captivating to this day as it was when he performed coupled with his exquisite trumpet skills drives the entire record. With reasonable turns in the spotlight for Raney and Pedersen the record just carries you along. Back in the day being a touring musician was not near as glamorous as it might be today. Seedy little dives, noisy drunken patrons and waitresses trying to make a buck slinging drinks. This recording delivers a surreal mix between the dedication of the musicians plying their craft in a small club and the subdued sound of glasses being lifted and set back down. You can almost smell the pungent mixture of the sweat, alcohol, cigarettes perfumes and colognes. It's as if you were elbow to elbow with 200 hundred of your closest friends. The air around musicians lets you easily place them in the room. The sound staging actually has you looking around for who is still talking behind and to your right after the song has started, or the person who knocked over their glass at the table right next to you. Fun stuff to be sure and if you cannot have fun with your Hifi then what is the point right?
Simply put the VR-4SR MkIII pulls you into the performance by delivering the music in a way that does not draw attention to the speaker itself but rather faithfully reproduces, a neutral way, only what was in the source material and anything added by the electronics. The speaker is an elegant delivery vessel for the music. Nothing added, nothing taken away. That is the mark of a great speaker.
Bruce Lee said once "It is like a finger pointing away at the moon. Concentrate on the finger and you miss all that heavenly glory!" So it is with the right speaker. If you concentrate on the speaker you really miss the whole point and any speaker that draws attention to itself in such a distracting way is not one I am enamored with. However, the speaker that draws you into the music or an "all that heavenly glory" is the one I want. This is something that the VR-4SR MkIII is a world champ at doing. If you are in the market for a speaker then I highly recommend you grab yourself some heavenly glory and check out the VR-4SR MkIII! As a final closing note: I was so impressed with the VR-4SR MkIII that I bought the review pair at the end of the review to utilize as my reference speaker going forward. I don't know if there is a stronger statement as to the quality and sound of a product that. Gary Lea
VSR 4 MkIII
Retail: $14,000 to $16,000 US depending on finish.
Von Schweikert
41110 Sandalwood Circle
Unit #122
Murrieta, CA 92562
TEL: 951. 696. 3662
web address: http://www.vonschweikert.com