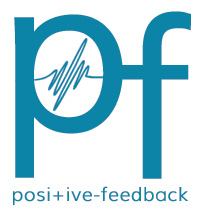 You are reading the older HTML site
Positive Feedback ISSUE 5
february/march 2003
Max SACD! Three Classics from Audio Fidelity
by Max Dudious
The three new ear-opening re-releases from Audio Fidelity that showed up last week are: John Lee Hooker, Boogie Chillen', AFZ 005 (2003); Sonny Clark, Sonny Clark Trio, AFZ 006 (2003); and Ritchie Valens, Ritchie Valens Greatest Hits, AFZ 008 (2003). These releases are done in hybrid Super Audio (SACD) format, which is compatible with plain old vanilla CD players. The sound is quite good in either format, but a noticeable notch better in SACD. Each release is quite a testament to the taste and sensibilities of Audio Fidelity management, of the AF team of technicians, and their phantom recording engineer, who must not be named. But those who know, know.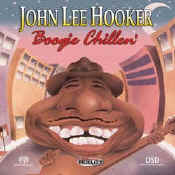 Brother John Lee Hooker began recording in 1948 and had a career that spanned decades. I knew of his early records because a youngish uncle of mine, a sort of big-brother guy in my life, had a job servicing juke boxes in bars—some of which were in black neighborhoods. When the records were due for a change, he'd keep some, if only to listen to the unworn B sides. In this modest way he piled up a collection of 78 rpm blues records in the early 1950s, while he was going to college. After a while, when he was just out of school, he had to move his stuff often as he got new jobs in different cities. He got tired of boxing up all his 78s, and he just brought them over one day and gave them to me, a couple of small wooden crates full. So, as a little kid, ten or twelve years old, I was exposed to what was then known as "Race Music." And, if you can imagine it, I looked down my nose at the popular groups of the day, The Weavers, and later The Kingston Trio. You might imagine that. Around my house, there were records by Josh White, and Big Bill Broonzy, and later, Bo Diddley, Screamin' Jay Hawkins, Louis Jordan, Slim and Slam, and King Pleasure. My pals were listening to Pat Boone, and The Crew Cuts.
I was delighted, my face all lit up with glee, when I found one of those unmarked brown envelopes in my mail slot, opened it to find a caricature of John Lee Hooker grinning his crooked grin at me. Imagine finding a box of chocolates, or whatever grooves you, in the mail one unexpected day. I put it in my SACD player and I was in hog heaven. "Boogie Chillen'" and "Baby, You Ain't No Ugly Good" particularly tore me up.
This guy is the real of which, according to the liner notes by Darryl Stolper, "Canned Heat, The Doors, The Animals, George Thorogood and countless others" were the imitations. He is authentic in the way the Harry Smith Collection is authentic. The only difference is, Brother John's art form is more mature. He is, by 1948, a generation more musically sophisticated than Huddie Leadbetter or Blind Lemon Jefferson ever got to be, and he was just starting out. He made his headquarter city Detroit, and Mo-Town always had an active music scene, as Barry Gordy would demonstrate. I imagine Brother John knew cats who played in roadhouses, who used amplified instruments, in all their variety. He stuck to his unamplified guitar, at least up to 1954, the latest date on this anthology.
If the Blues move you, and you want to hear some second generation examples of a master bluesman at the top of his game, you could do a lot worse than listening to this album. If you are an archivist, and you want to have a good collection of typical blues records made from 1948 to 1954, you can't go wrong with this album. If you are a Brother John Lee Hooker fan, you must go for this album. A gem.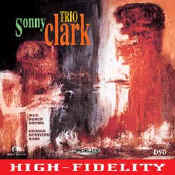 The album of The Sonny Clark Trio features all-stars Max Roach on drums, and George Duvivier on bass. With Sonny Clark on piano this is an example of the straight-ahead be-bop piano trio as made popular ten years before by hard-bopping pioneer, Bud Powell. It bears noting that Duvivier played with Bud Powell for some years. The date for this recording is 1959. This is late in the course of bebop history, as Charlie Parker died in 1955. By the late 1950s, Bud Powell had been in and out of rehab programs to deal with his drug problems for some time. Sonny cites Bud Powell as a major influence on his work, "particularly in terms of constructing a solo and in the use of substitute [chord] changes."
If Bud Powell was known for the speed at which he took his solos, and the harmonic invention he displayed in his playing, we must remember that Sonny Clark was as a student to a master. His playing was not unoriginal, but neither was it as trailblazing as Bud Powell's. In a way, that's unfortunate because Sonny is, in his own right, a wonderful bop pianist. Max Roach, for his part, came to bebop as a teenager and reconfigured conventional drumming to match up with the idiosyncrasies of bebop phrases and accents. George Duvivier was likewise a pioneer on the bass, perhaps not as assertive as Charles Mingus, but a smoothie who kept the beat and often found the much needed off-beat note with which to reign in the pianist who strayed.
Before forming his own trio, Sonny Clark had recorded with Charlie Mingus, Sonny Rollins, and J.R. Monterose. Before that he'd played with just about everyone who was anyone in the field: Wardell Gray, Oscar Pettiford, Art Farmer, Anita O'Day, Stan Getz, Shelly Manne, Buddy De Franco, and Dinah Washington. He was, at the time of this recording, playing with the "increased authority" of a veteran, as Nat Hentoff so judgmentally puts it in the liner notes. So, it seems, everyone expected great things from Sonny Clark; his all-star side men, his listeners, the critics who followed his work. Everyone was agreed: The potential of Sonny Clark's musicianship was virtually unlimited. There was no where to go but up. This was to be his "breakout album." This is an excellent album, wonderfully recorded, of a world class bop trio at work.
There is a bit of human drama in this. As we know, Sonny Clark never became a household word, like Dave Brubeck, or Thelonious Monk, not because he was unworthy (he's worthy, he's worthy!), but because the world of intimate jazz clubs yielded to market forces and to rock 'n' roll. A talented young musician saw he could make more money playing to large arenas (if he was a soulfull piano player, if he was a young Ray Charles), than he could make even if he was Dave Brubeck or Thelonious Monk and his face was on the cover of Time. Ray Charles started his career as a Nat King Cole imitator, and had considerable jazz chops. On an album, Soul Meeting: Ray Charles & Milt Jackson, Atlantic (1360), Ray displays his skills on acoustic piano, electric piano, and alto sax. Clearly, he could have become a jazz giant. But he went for the big bucks, and a generation of real good musicians followed.
You'll notice there is on this album yet another tribute to the Baroness Nica von Koenigswater, Monk's longtime mistress and muse. Apparently she helped out a lot of "the guys" when she could, and she was as righteous a woman in dealing with them (off the record), as she was in dealing with and caring for Thelonious Monk (on the record). I don't know who ought to do it, but a biography of Nica seems in order. A liberated woman before her time.
Sonny Clark's tune in her honor is "Nica," and it is a medium tempo, somewhat delicate, vaguely French thing that moves along briskly. In the hands of this group it becomes a miniature, a lovely work that draws you into its world of bop. If you are new to bop, cue up that cut on your SACD player and run it over and over for an hour, say. You'll get the hang of bop's phrases and inflections, harmonies and conventions. Then just let the whole album parade by. If you're a bop veteran, just chill and dig on the sides, 'cause the cats are sayin' somethin'. "It's the real shit."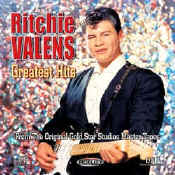 Like the famed LA Dodger pitcher Fernando Valenzuela, who, legend has it, turned his face briefly heavenward and fluttered his eyelids before every pitch, Richard Valenzuela (no known relationship) also seemed to be in touch with the heavens during his brief time. He was a fierce lead guitar player, and a lead singer who could make the young girls cry. His lament of lost love, "Donna," was a monument to abandonment anxiety (if there ever was one) that seemed to tug at the pre-verbal understanding of such things in teenaged girls everywhere.
College professors would call his "Donna" "lost piping." Lost piping comes about when the baby animal is momentarily separated from the mommy animal and cries out. Lost piping causes great emotional upheaval in the mommy who then searches frantically for her offspring. Somehow, the DNA builds this mother/child interaction into each species, and we are hardwired to react to lost piping. Since the Orpheus of myth, some singers were good at simulating such sounds, or building them into their songs, and could make the young girls cry. Ritchie Valens seemed to have been plugged into this.
On the other hand, Ritchie Valens could anticipate the strutting, preening Mick Jagger in his 1958 version of the popular folk song, "La Bamba." If I understand it right, a "bamba" is a bomb, and this song seems a hymn in praise of the recreational substance "marihuana;" not just a skinny little reefer for school kids to smoke, but a bomb as big around as your thumb, a cannabis cigar.
Valens, a shape shifter, switches codes from the vulnerable boy to the swaggering man. "Hey, you take me for a sailor, honey. I'm no sailor. I'm the ship's captain!" "Yo no soy marinero. Yo no soy marinero. Soy Capitan, soy Capitan." "And I can get you higher and higher." "Arriba, Arriba." And then coaxing, offering her some of his Bamba. You might imagine the rest. Yeah, same old drugs 'n' sex and rock 'n' roll, this time based on an old Mexican folk song. I think we might give Valens a few extra points for his prescience, his ability to anticipate the future back when rock was young.
Ritchie Valens was great at going from tender to reckless and back again. If the A&R men had gotten hold of him, with a little coaching, he could have been anything: TV star, movie star, rock star, talk show host, or Mayor of L.A. He was big time. Hell, that's only one man's opinion. Opinions are like belly buttons: everybody's got one. If you want to hear him taking his first steps, this is the CD for you.
For those who don't know, Ritchie Valens died before his eighteenth birthday in that fateful airplane crash after a concert with two of his professional colleagues, Buddy Holly and The Big Bopper, and became one of the three men I admired most. When I heard what happened on February 3, 1959, I was sick for a day: laid around, couldn't eat or sleep, just felt miserable. I felt like Ritchie made me feel as he sang about losing his Donna. In a way, I guess you could say those guys died for their art. Valens was rock's first big-time Latin teen star. It was a genuine tragedy that his dates are: Ritchie Valens, 1941-1959. But his music lives on. Rock 'n' Roll will never die.
The rest of the album is made up of a few "covers," like "Bony Moronie," "We Belong Together," and a handful of his original tunes. They're actually pretty good. They just don't have the emotional tug that either "La Bamba" or "Donna" still have for me. This album is worth the price if only for these two rock 'n' roll anthems. If you are a fan, or an archivist of golden oldies, they don't get any realer than this. I'd especially like to back-to-back Valens' "La Bamba" with the Los Lobos version.
Audio Fidelity strikes again. They offer some "golden oldies" in the form of a legendary bluesman, a rocker with untapped potential, and an all-star bebop piano trio. If you're into blues, bop, or rock, one of these is for you.
I don't know who picks their material, but I'd like to thank that guy.
And to the mystery recording engineer—good job!
Audio Fidelity www.audiofidelity.net