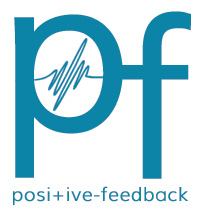 You are reading the older HTML site
Positive Feedback ISSUE 5
february/march 2003
Music, Sound and Personalities: The 2003 CES and T.H.E. SHOW
by Dave Glackin
(All photographs by Dave Glackin; image processing by David W. Robinson.)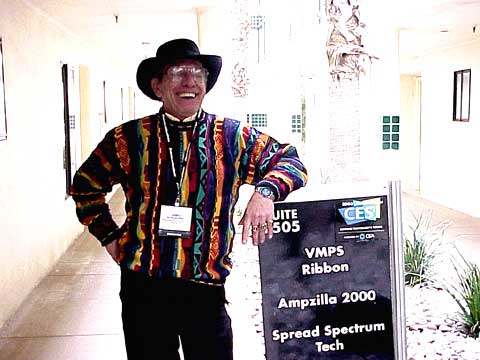 The Best Character at the Show, and someone I am truly glad to see back in the audio world after about a couple of decades of absence, is the unique, outspoken Jim Bongiorno. Quoth he: "Nobody knows what they're doing." Typical, unexpurgated Bongiorno, and as feisty as ever. It was especially good to see him back in action considering his protracted battle with liver cancer during his absence. Miracles happen. Bongiorno was a protege of Sidney Smith of Marantz, and went on to design the Dynaco Stereo 400 and the Ampzilla and early Sumo amplifiers. (I lived happily with a Sumo Half-Power for a number of years before going all-tubed.) Jim, through his company Spread Spectrum Technologies, has introduced a new amp called the Ampzilla 2000, being demonstrated in the VMPS room. It features five-ounce plated-up four-layer circuit boards, and according to his literature, which is so typically Bongiorno, it has "complete stability into any load known by man". Jim, a believer in three-channel sound, has a three-channel processor that he says has been 25 years in the making. It's truly great to see you back, Jim. Jim is pictured here in all his sartorial splendor. http://www.ampzilla2000.com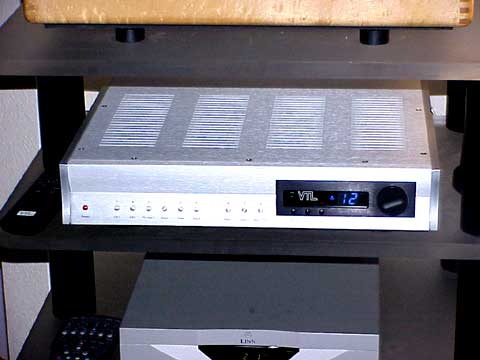 Luke Manley of VTL, maker of My Personal Reference Amplifier, was exhibiting his new Siegfried 800 W tube monoblock "smart amplifier." Siegfried's software provides real-time feedback of tube performance, and adjusts same in real time. Unfortunately, partway through Cantate Domino a software bug apparently reared its ugly head, and I was not able to perform an evaluation of the sound of this unprecedented technology. I wonder if Luke can retrofit the software to my beloved VTL Deluxe 300 monoblocks? These amps have been my reference for some time now, having bested all contenders that I tried in my reference system. Luke was also showing off the new TL 7.5 preamp, which has been creating quite a buzz. Pictured is the control half of the new preamp. http://www.vtl.com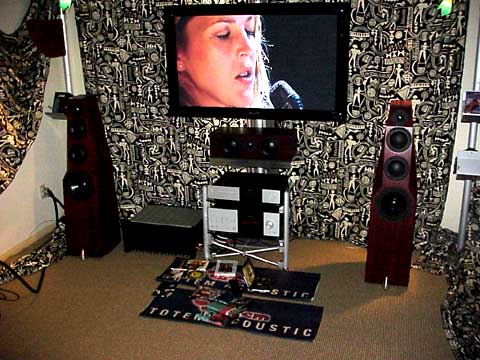 Vince Bruzzese of Totem put together the Most Captivating Home Theater system that I saw in the show. Using a pair of Totem Wind speakers for the front left and right channels, the new Lynks bipole/dipole surround for the rear channels, and the Thunder powered sub, Vince played a DVD of Diana Krall in concert on a Pioneer Elite 50-inch plasma display. The combination of picture and sound were immediately mesmerizing, and it was virtually impossible to get up and leave. Totem also manufactures what is, in my opinion, one of the most consistently excellent line of loudspeakers anywhere. I have enjoyed a pair of Totem Model One Signatures in my second system for many years now. Pictured is the Totem home theater system. http://www.totemacoustic.com
The Best DVD in the show was one entitled "Animusic", featuring computer-generated instruments and original music. The amount of imagination and creativity that went into this is astounding, and the Pipe Dream segment is especially mind-blowing. It has to be seen to be believed. I thank the folks at the TAG McLaren room (who are manufacturing some quite sophisticated home theater electronics) for playing it! http://www.animusic.com for information and Evolution Audio Video in Agoura Hills, CA for copies. http://www.eavlaser.com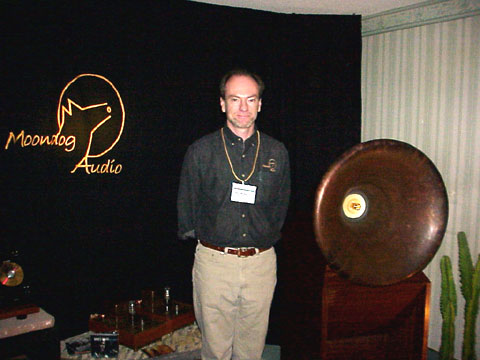 Ron Welborne of Moondog Audio exhibited the Best Horn loudspeaker in the show. Ron has improved his Maya system remarkably over the last year. These speakers sported copper-plated horns with interesting new AER Mk II drivers, and the upper-range horns seemed very well integrated with the woofers. They were being powered with the Welborne Labs "Ultrapath bp" battery powered tubed linestage and the Moondog Audio Yote 2A3 single-ended monoblock amps. We heard a coherent, clean, effortless and involving sound, that lacked only the lower one-and-a-half octaves needed to make this system complete (at least in this room). Pictured is Ron Welborne. http://www.moondogaudio.com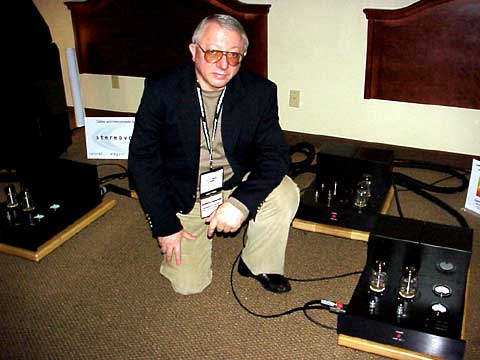 One of the biggest rooms at T.H.E. SHOW housed the Most Outrageous Loudspeakers, namely the eye-popping Siemens flat-front horn theater loudspeakers, powered by Lamm electronics sporting the tri-tipped 6C33C vacuum tube. These were rare, original 1960 speakers with about a 6-by-8-foot frontal area. The sound was quite enjoyable, and it was fun to watch the reaction of Clark Johnsen and many others to both the appearance and sound quality of these honking big mothers. Pictured are Vladimir Lamm at his room in the Alexis Park, and below, the monstrous Siemens speakers at the San Remo. http://www.lammindustries.com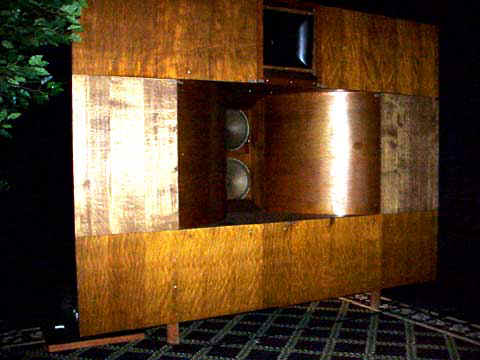 Albert Von Schweikertof Von Schweikert Audio and John Ulrick of Spectron (he of digital amp fame) were playing the Best New Small Stand-Mounted Speaker in the show. The VR-1 Studio Reference Monitor was sounding great, and it's magnetically shielded to boot. Spectron was featuring its Premier 5-to-6 channel 450 Watt per channel Class D digital amplifier, which should probably be on the short list of anyone contemplating a serious surround sound or home theater setup. I also wish to acknowledge the thoroughly enjoyable and insightful conversation that I had with John Ulrick regarding the integrity of the audio press. John, I completely agree with your views and endorse them strongly. http://www.vonschweikert.com and http://www.spectronaudio.com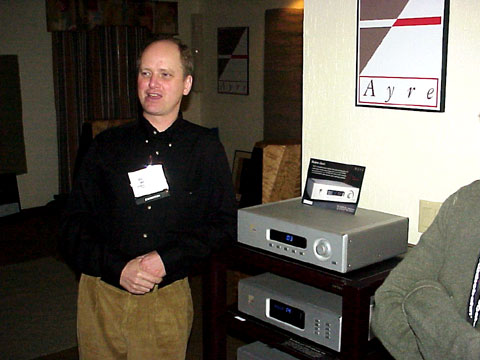 Richard Broida demonstrated for me the Ayre system, consisting of their CX-7 CD player (which "up and oversamples" to 1.4 MHz at 24 bits), their K-5x preamp with opto-coupled volume control, their V-5x power amp, and Avalon Eidolon Diamond loudspeakers. Music on this system sounded coherent, neutral, transparent, open, and airy, with a great bottom end. It was one of the few systems that made the choir on Cantate Domino sound like a real choir in a real space. Good show. Pictured is Charlie Hansen of Ayre. http://www.ayre.com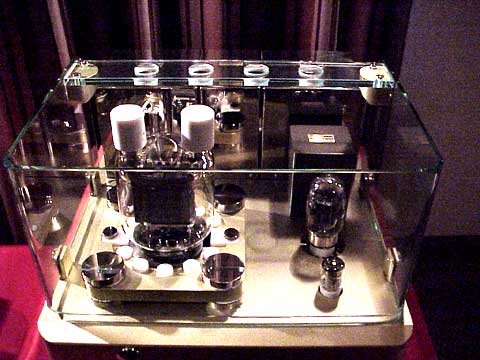 In the Wavac room I was salivating over the AG-833 single-ended 100 Wpc triode amps (attributes that are rarely seen in the same sentence), a Gorgeous High-Power Triode Amp. These sport some hot Tango transformers and a cool $47K price tag per pair. We heard the MD-805m single-ended triode amplifiers (55 Wpc), powering the new Peak Consult Incognito loudspeakers. The room's proprietors teased us mightily with a recording of Peggy Lee singing "Fever," minus the reverb and echo that were added to her voice for the final mix. Incredible. Pictured is the Wavac AG-833 amplifier. http://www.wavac-audio.gr.jp or http://www.tmhaudio.com
Martina Schoener of Loricraft Audio Europe was showing off the snazzy new "Rolls Royce" Garrard 501 turntable in the Kondo Audio Note Japan room. I had a most enjoyable conversation with Martina and Stan, during which they discussed the arcane ins and outs of some of the most obscure recording curves known to man. All such curves are intended to be included in a new Loricraft preamp that may give new meaning to the word "flexibility." http://www.loricraftaudio.com and http://www.garrard501.com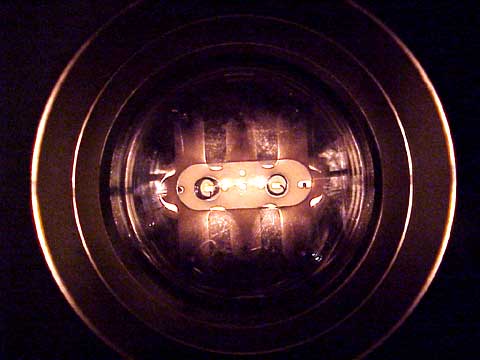 George Kielczynski of de Havilland was showing off what in my opinion was the Best 845-Based Amplifier in the show, designed by Kara Chaffee. The Aries 845-G amp with 30 Wpc output was fed by the deHavilland UltraVerve preamp, and was feeding Alon Lotus Elite Signature loudspeakers of 90 dB efficiency. The playback was very involving, with a live quality and truth of timbre that were beguiling. This system had great transient response and jump, coupled with subtlety and smoothness. Kara has done a magnificent job with these amps. Pictured for your viewing pleasure is my attempt at an artful closeup of the top of an 845 in the deHavilland amp. http://www.dehavillandhifi.com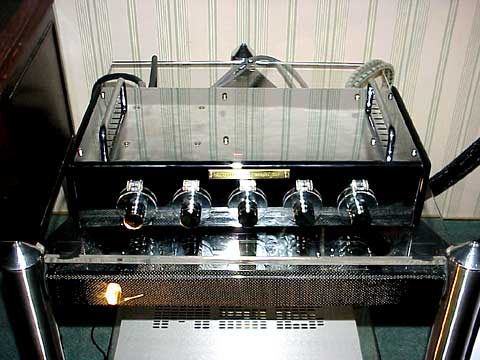 Audiopax was exhibiting the Best South American System, comprised of the Model 5 preamp, Stereo 88 single-ended 15 Wpc amp using two KT88s, and some prototype speakers. This was one of only a handful of systems in the show to fully flesh out the solo female vocals on Cantate Domino, getting the articulation and chest tones right. The reproduction was clean, neutral, and reasonably dynamic, marred only by a tweeter buzz on the massed choir. Pictured is the gorgeous Audiopax Model 5. See http://www.avantgarde-usa.com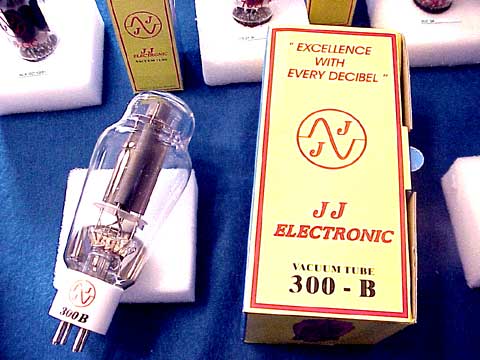 JJ Electronic takes the prize for Woodworking Art of High Caliber. Their JJ 243 preamp and JJ 322 stereo amp, powering Reference 3A speakers, and being fed by the very inexpensive MMF-1 turntable, comprised a system that I just wanted to sit and listen to. Pictured is one of JJ's many current tube products. You'll have to check out the web site for the gorgeous woodworking: http://www.jj-electronic.sk
The Best New Inexpensive Floor-Standing Speaker could be heard in the Gershman Acoustics room. The Chameleon ($1900 per pair) made a good showing of itself when driven with a $1000 integrated amp, having good articulation, life, air, and balance top-to-bottom. http://www.gershmanacoustics.com
Chris Ossanna of Audio Research was kind enough to delay their system teardown on Monday to allow me to hear some Stunning Audio Surround Sound. Gordon Holt would love this system, which was comprised of five Magneplanar loudspeakers, a subwoofer, and some specialized 5.1 electronics. Despite the fact that the large number of plants behind the front speakers were being removed one-by-one as I listened, I was able to hear the effortlessness and concert-hall-like quality of this system. As mentioned above, I have recently become sold on the idea of surround sound for audio only, and this system only reinforced that conclusion. I also got to hear firsthand how big houseplants can make for some very effective acoustical diffusers ... I could hear the soundstage changing as the plants were removed. Check out http://www.audioresearch.com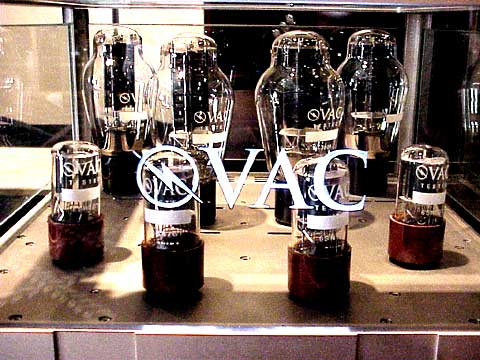 Kevin Hayes of VAC and George Bischoff of Nearfield Acoustics were having fun in one of the big rooms at T.H.E. SHOW on Monday's press day. Kevin was proudly showing off his new series of beautiful Phi amps and preamps. Kevin has really hit a home run with the eye-catching ultra-luxurious appearance of these new products. The sound of the amps was, unfortunately, marred by a ringing in the Nearfield Pipedream loudspeakers during the massed choir on Cantate Domino. (This CD is something of a torture test.) Pictured is the front of one of VAC's gorgeous new pair of Phi monoblocks, as well as Kevin Hayes deep in conversation with Stan Ricker. http://www.vac-amps.com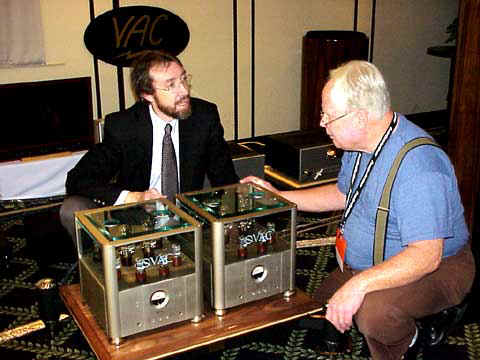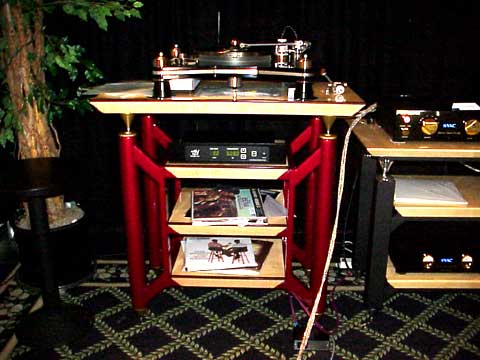 Also demoing in the above room was Rick Cox of Rix Rax, who was showing the Most Gorgeous Equipment Racks in the show. According to the reviews, they also really work sound-wise, being TIG-welded and 100% sand-fillable. They can be painted with a tremendous variety of finishes and colors, including some beautiful automotive paints. Pictured is one of Rick's racks. http://www.rixrax.com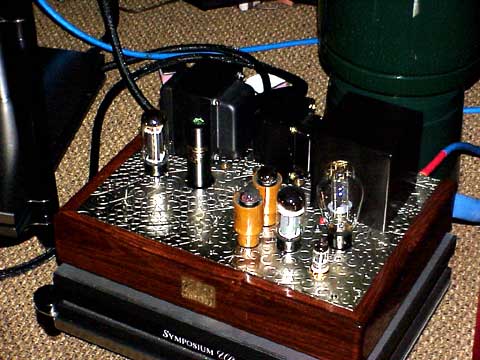 Emotive Audio takes the award hands-down for the Best Original Artwork in the show. Emotive's Caele-LE 300B amplifiers and their new Peeta amplifiers sport etched metal chassis top plates that have to be seen to be appreciated. Pictured is an example of Emotive's unique artwork. http://www.emotiveaudio.com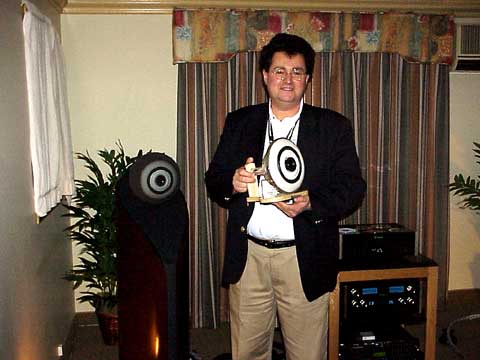 Christophe Cabasse was showcasing his loudspeakers that use tri-axial drivers in an impressive looking all-Marantz system. I've always liked the sound of these speakers, and this show was no exception. Pictured is Christophe Cabasse. Contact romanspeakers@aol.com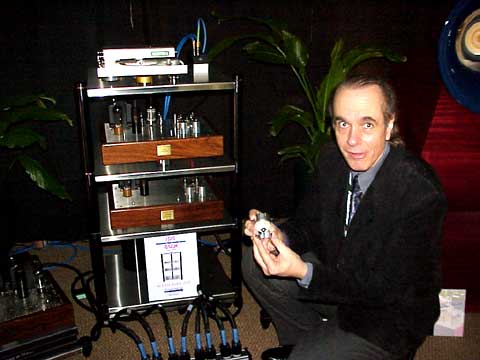 Peter Bizlewicz of Symposium Acoustics was showing the Neatest Accessory. Peter's vibration controlling Series 3 Rollerblocks contain neodymium and ceramic gate magnets designed to damp the motion of the tungsten carbide ball bearings, all contained within an aluminum housing. The new modular Isis rack uses this technology to separately isolate each shelf. A brief demonstration convinced me of the beneficial effect of Rollerblocks under a CD transport. Pictured is Peter Bizlewicz holding one of his cooler isolation products. http://www.symposiumusa.com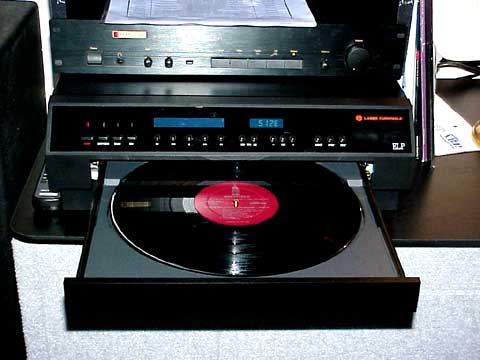 Stan gravitated away from me into the Smart Devices room, and before I could drag him away to see "more interesting" rooms, he had discovered an ELP Laser Turntable. The Japanese ELP Corporation acquired the rights to the design from Finial (a U.S. company) in 1989, and has reportedly been manufacturing products since 1997. The newest model can do random access and repeat play, and runs from 30 to 50 rpm. And we heard it play, albeit through a non-high-end system. Pictured is the much rumored but seldom seen ELP Laser Turntable, with a copy of Sheffield Lab-1 on the platter. http://www.smartdev.com or http://www.laserturntable.com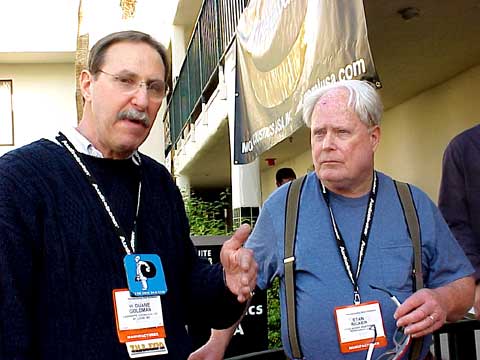 The Best Record Cleaning History Lesson at the show was from Duane Goldman, aka the Disc Doctor. Duane revealed the rather ad hoc nature of the evolution of record cleaning fluids, starting with someone on the staff of the British Museum who "liked the looks" of an LP that had been cleaned with wood alcohol, also known as methanol, a component of Sterno. The original Keith Monks record cleaning machine was developed around the use of methanol-water, with knowledge of that observation. When the machine was brought to the US, the use of methanol was problematical, as was ethanol, because of the potential for abusing both substances. This left the only readily available water-soluble alcohol, isopropanol, as a replacement. This led to the widespread use of isopropyl alcohol-water mixtures for cleaning vinyl LPs. Very interesting! Pictured is the good doctor himself deep in discussion with Stan. www.discdoc.com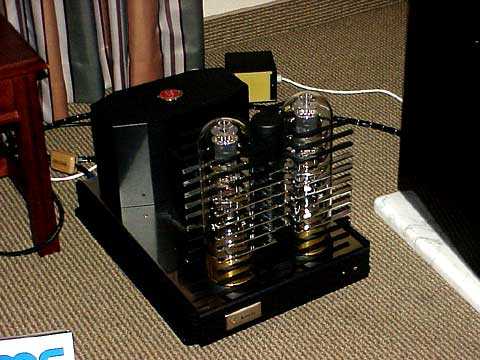 Eunice Kron of KR Audio Electronics in the Czech Republic was demonstrating a system centered around the Kronzilla amps that first debuted at the 2000 CES. One of the truly sad points of the show was hearing of the death of Riccardo Kron from his wife, Eunice. High end audio has lost one of its most colorful and outspoken practitioners. My condolences to you, Eunice. Pictured here is the Kronzilla amp. http://kr.audio.web.wo.cz or kraudio@tiscali.cz
Randy Bankert of O.S. Services diplayed quite an array of beautiful sounding components. In one room, the Cadence Avita hybrid electrostat/cone loudspeaker (from India!) was sounding great, powered by the Nightingale ADM-32 30 Wpc tubed integrated amp from Italy. In the other room, the Aliante Moda Pininfarina loudspeakers were being ably powered by a pair of Audion Golden Dream 300B amps with 22 W output. This system had excellent truth of timbre, articulation and transient response, coupled with a good amount of "jump." We enjoyed several cuts from I'm Crazy 'Bout My Baby on this very engaging system. For information on these components, as well as the rest of Randy's lines, check out http://www.ossaudio.com
PEOPLE
If you haven't already caught on, it's the people in high-end audio who make attending CES such a blast for me. Captured at the MoFi party were none other than all of my editors: David Robinson (left) and Dave Clark (right) of Positive Feedback Online, flanking Steve Rochlin of EnjoyTheMusic.com, sporting his official Ferrari shirt. Fellow Associate Editor at Large of Positive Feedback Online and irrespressible columnist Clark Johnsen was spotted in many of the good sounding rooms, making sure no one had their wires crossed. But, egad, Clark, where is my photo of you at this show? Aargh, alas, none exists. My apologies. And may the Holy Cow rest in peace.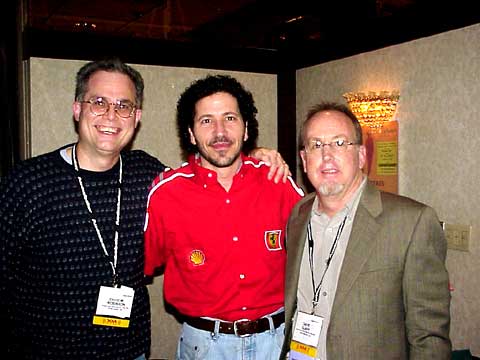 Bruce Edgar of Edgarhorn fame was not showing this year, but was spotted with Saul Sokolsky of The Audio Enthusiast (a dealership in Palos Verdes CA) enjoying the unseasonably warm show weather. Bruce, Saul and I all worked together at a nonprofit federally-funded R&D center in Los Angeles for many years. Pictured are Saul (left) and Bruce (right) flanking Saul's son Danny. Also spotted at the show was Bruce's buddy Cy Brenneman of Cyrus Brenneman audio, enjoying the free lunch and sunshine along with the rest of us.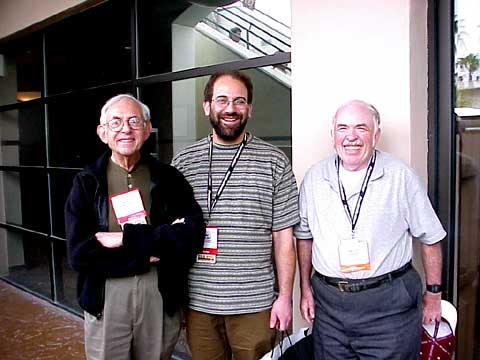 Chad Kassem of Acoustic Sounds and Blue Heaven Studios, world renowned for his tireless support of the blues, was doing a brisk business in LPs, CDs and SACDs in the Alexis Park. My very good friend Ted Conger, co-owner of the original incarnation of The Elusive Disc, was doing a brisk trade in LPs at the San Remo. My old friend Joe Knight, proprietor of Linear Acoustics, was my single best source of advice on the good-sounding rooms in the show. We had a great dinner with Dick Brown of BEL, manufacturer of some of the world's best sounding solid state amplifiers. Jay Goldman of For the Record, manufacturer of the black shaded dog sweatshirt I was wearing that engendered so many comments and jealous stares, lamented that he is no longer licensed to sell these. He could have done a brisk business.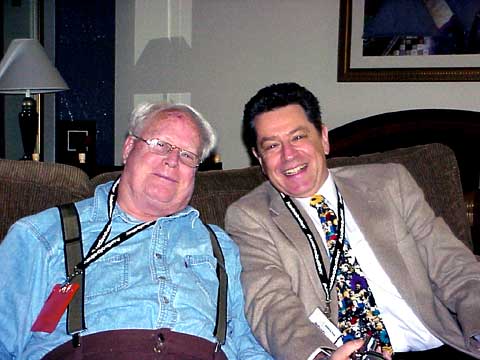 It is always a sheer joy to talk to my fellow writer Arnis Balgalvis, Executive Editor of The Audiophile Voice. Being around people like this is what makes this avocation so incredibly enjoyable. We enjoyed a very nice dinner on our last night courtesy of Gene Pitts, editor and publisher of The Audiophile Voice. I also had the pleasure of a chat with Kal Rubinson of Stereophile. Tom Norton, a very old friend who is Editor of the Stereophile Guide to Home Theater, stopped to chat at the San Remo. Michael Fremer and Stan Ricker, pictured here, were captured enjoying some tunes in the Merlin room.
Missing in action and much missed was Toy Shigekawa of Torumat (manufacturer of my CD spray and record cleaning fluid of choice), who is recovering from a serious illness. Our thoughts are with you, Toy. Also missed were D.J. Casser of Black Diamond Racing (manufacturer of my vibration isolation products of choice) and Ric Cummins of Rosinante (he of DarkMatter fame, and the source of innumerable quips, both printable and not).
The Best Discussion About Keeping Audio in Perspective was with Adriaan van Doorn, the chief designer of Audio Aero products (and formerly Audio Matiere). No sooner had I introduced myself to him than I found myself deep in discussion about the real reasons for having audio equipment and the real things that are important in life. This totally unplanned discussion with a true old-school European gentleman really sticks in my mind, and I feel privileged to have had the experience. Thank you, Adriaan.
NEW MUSIC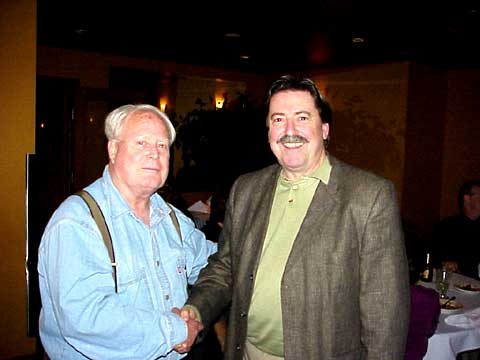 As reported last year, a new Mobile Fidelity Sound Lab has risen from the ashes of the old company. Stan Ricker, who co-founded the original MoFi and re-invented the half-speed mastering process, is mastering the LPs, along with highly regarded mastering engineer Paul Stubblebine. Electronics guru Tim DeParavicini built the LP cutting electronics, as well as the famous tape repro amps (see Positive Feedback Online, Issue 2, "Mastering Maven Mills Microscopically Minute Miracle"). DSD guru Ed Meitner built the digital electronics. That's definitely the "A Team." Jim Davis of Music Direct is MoFi's president, while John Wood is executive VP. Coleman Brice lends some true class to MoFi as the newly appointed director of business development and marketing. Michael Grantham is director of business affairs. Long-time MoFi mastering engineer Shawn Britton is producing the SACDs, while engineer Krieg Wunderlich is the brains and determination behind the Equipment Integration and Maintenance. New SACDs that were released at the show include Isaac Hayes' Hot Buttered Soul and Sonny Rollins' Plus 4. I look forward to hearing them both. Pictured are Stan Ricker and Paul Stubblebine. http://www.mofi.com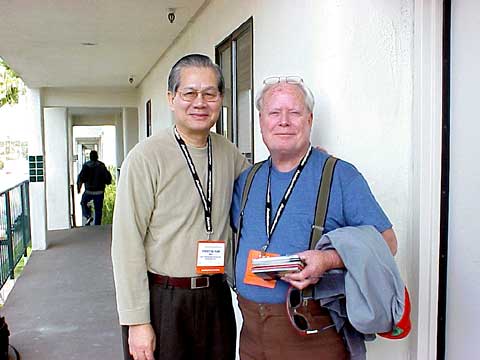 Winston Ma of First Impression Music (FIM), whose photograph should appear in the dictionary under the term "gracious", announced the Most Exciting XRCD News. XRCD 24 is the latest incarnation of JVC's XRCD process. On the mastering side, it uses a new 24-bit version of their K2 ADC. On the production side, a rubidium clock is used to control the process with far greater accuracy than the standard crystal clock. Winston is quite excited about the process, and thinks that it rivals the sound of SACD. The most exciting part for me is that he is reissuing the Sheffield Lab catalog on XRCD 24. The first five releases, to be released in 2003, include Amanda McBroom: Growing Up in Hollywood Town, James Newton Howard and Friends, and The Sheffield Drum and Track Record. (Two releases were available as of the CES.) This is reportedly the first time that Doug Sax has let the analog master tapes (recorded simultaneously with the famous direct-to-disc LP lacquers) out the door of The Mastering Lab. Winston promised me that my favorite Harry James: The King James Version would be released in due course. Winston also played for us an absolutely stunning SACD of Jacintha doing the songs of Karen Carpenter with a jazz trio, entitled A Song for You, Karen. It's playing on my system as I type this, and I very strongly recommend that anyone who is a fan of Karen Carpenter buy this disc immediately. The hauntingly beautiful female vocals on this disc are hypnotic and quite involving, and do indeed evoke the memory of Karen Carpenter, with some help from an excellent jazz trio. This and the new SACD Autumn Moon Over a Placid Lake, a collection of Chinese instrumentals, showcase the amazing care and artistry that Winston puts into the covers of his SACDs, qualities that are reflected in the contents in spades. We also heard Winston's SACD of Vivaldi: The Four Seasons, which my esteemed editor called "a real triumph of the audio arts!" Based on what I heard in Winston's room, he'll get no argument from me. Winston Ma is producing some of the very best music on the market, and he deserves your full support. Pictured is Winston Ma with Stan Ricker. http://www.fim.biz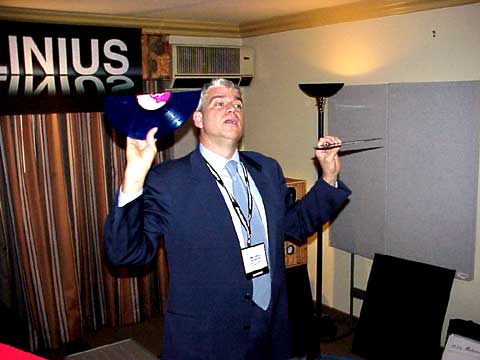 Mike Hobson of Classic Records held two jammed press conferences. In the first, he announced that Classic will be issuing DVD-Audio discs rather than SACDs, and that Bernie Grundman now has a multi-channel mastering capability. A battery-powered 24/192 ADC is being used to do the mastering. The first title is Songs of the Auvergne. In the second press conference, Michael discussed Classic's SVP (Super Vinyl Profile), designed to mimic the flat discs of yesteryear that have no groove guard and that have a flat, rather than an eye-beam-like, cross-section. Classic funded RTI (Record Technology Inc.) to develop this specially for them. All of the Blue Notes will be issued with SVP (I love Classic's mono Blue Note series). Note that if you normally use a washer on the spindle of your turntable, you should remove it when playing these records. Michael also announced the Classic Roy Orbison series, in which LPs will be issued in both mono and stereo, using the original Monarch 2-track masters, "the first time they have left Nashville." Pictured is Mike Hobson showing us his new "Stereo Dual Mono" discs, in which he has managed to record the left and right channels on two separate discs for the ultimate in channel separation. The custom "Quick Hop Super-Synch Whiz-Bang Turntable" (with the emphasis on "bang") is under development, and will be available for more money than you ever dreamt of, outfitted with a cartridge whose cantilever suspension will resemble a redwood more than your usual rubbery stuff. Ahem. Back in the real world, check out http://www.classicrecs.com
BEST PARTY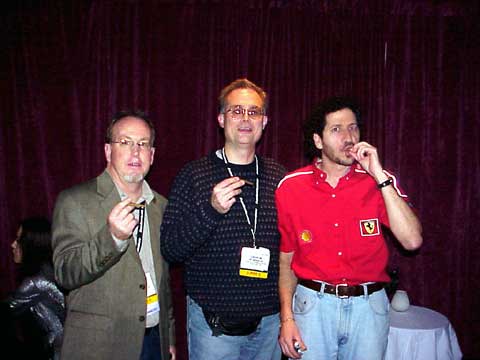 By a Manufacturer: Mobile Fidelity Sound Labput on "T.H.E. Party" Friday night at the San Remo. Many thanks to Colie Brice for the invitation, and to the whole MoFi crew for a great time. Pictured at the party are the smokin' trio of Dave Clark, David Robinson and Steve Rochlin. What a fine buncha' folks to write for!
By a Magazine: Positive Feedback Online treated us to dinner and camaraderie at the Z Tejas Grille on Saturday night. This was the first chance that many of us old-time PFers got to meet the writers who came onboard during the merger with audioMUSINGS and the move online. Many thanks to David Robinson, Lila Ritsema, and Dave and Carol Clark for making this happen.
Until next year!