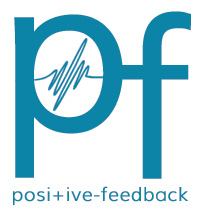 You are reading the older HTML site
Positive Feedback ISSUE 5
february/march 2003
Good Times at CES 2003: A Photo Essay, Part 1
by David W. Robinson
(All photographs and image processing by Robinson)
The Ghost of CES Past
You know, looking back I'd have to say that CES 2001 was not a great deal of fun. Attendance seemed to be down, the economy had begun its slide, a number of members of Positive Feedback editorial group had to cancel at the last minute, and my trusty-rusty Nikon digital camera had a memory card that corrupted just before the trip, leaving me sans camera. There were some good conversations along the way, as I reported in PF, Vol. 9, No. 2, and some fine opportunities to catch the first major demos of SACD surround sound, but it didn't go down in memory as one of the better fine audio shows that I've attended for either mood or emotion.
I didn't attend CES 2002. The decision to make fundamental changes at Positive Feedback; the merger with audioMUSINGS; getting the feel of the new, larger editorial group; designing the look and feel with my good friend and unindicted co-conspirators David and Carol Clark (great folks, those!); and the transition of the new enterprise Positive Feedback Online to full-time web.
Not so this time around! I had a great time, and saw more audio friends than usual. This is always the highlight for me; yes, the music and the audio kit is a kick, but the real delight is found in sharing the good stuff with good friends.
From Ye Olde Editor's Photo Gallery
The best way for me to do a show report is to a photographic essay—which follows: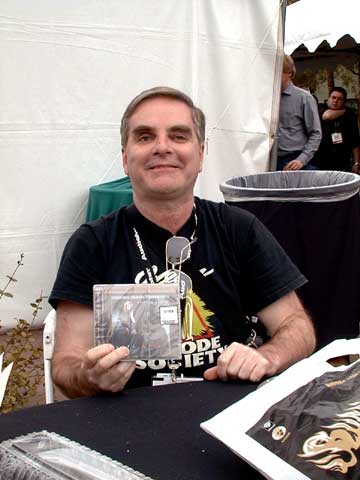 One of the first people that I saw was none other than PF Online's Clay Swartz. This is him, looking very happy with a Patricia Barber Café Blue SACD. Can't blame him; the MoFi Barber SA's have been superlative. Note the snappy Oregon Triode Society t-shirt; those of us who still have ours, treasure them as collectors' items!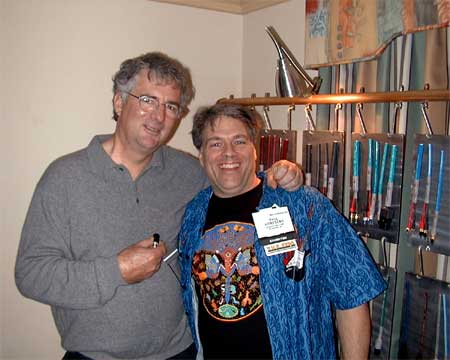 The "First Audio Friend I Saw At CES 2003 Award" actually goes to way-good friend George Cardas, shown here on the left in the Cardas room with none other than Tyll Hertzens of Headroom. George is always wonderful company; Tyll was wonderfully gonzo! (Love the shirt, TH!)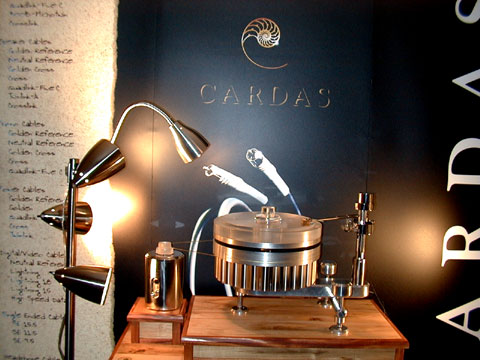 Cowabunga! George's La Luce turntable was a spectacular sight…glorious sculpture. Makes you regret static displays; I would have loved to have heard this.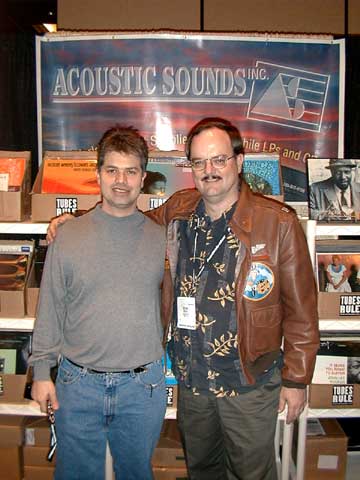 What ho! Chad Kassem of Acoustic Sounds and Kevin Gray of Acoustech were some other audio friends I ran into early on. (I have to confess that I spend lots of time looking at…and purchasing…the music at these shows. Why else have the fine audio gear, eh?) Anyway, Chad and Kevin (together with Steve Hoffman) are responsible for some of the really great LPs and SACDs that we've been blessed with of late; Analogue Productions deserves special praise for mastering/re-mastering great music at the highest level of craftsmanship. Chad, we owe you one, amigo!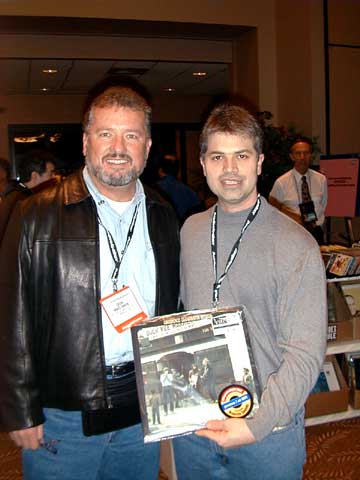 Shortly thereafter, I got this photograph of RTI's Don MacInnis and Chad with one of their new reissues, CCR's Willie and the Poor Boys risen again on 180 gram vinyl. I have the original blue label Fantasy's of four of these in mint condition; Chad and Don's new pressing is the best I've heard of CCR on vinyl. (Bring on the 45's, though!) The SACDs are also world-class. You can have it all!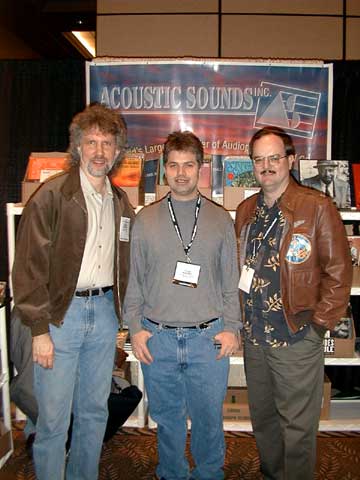 Segue time! Speaking of my good friend Steve Hoffman, mastering engineer extraordinaire, that's him on the left, with Chad and Kevin Gray. The combo of Steve and Kevin has allowed Chad to put out consistently superior SACDs and LPs... keep up the great work, gents!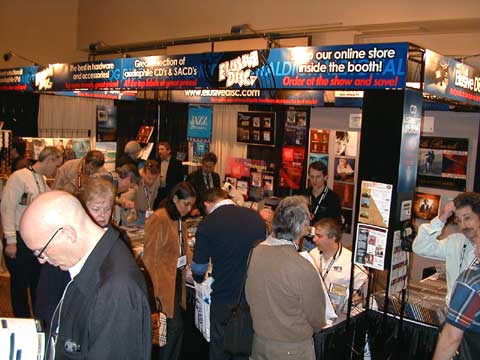 Chad and Acoustic Sounds weren't the only ones busy at CES 2003; the fine folks over at Elusive Disc were shoveling out the SACDs as fast as they could. Reports were that they ran out of inventory, and had to have more SA's flow in…a GOOD THING. Bob Bantz and company did yeoman work supplying us SACD junkies. Bring it on!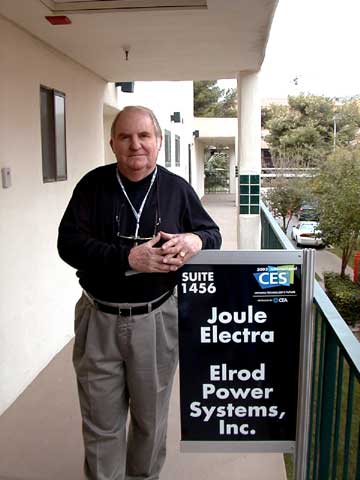 One of the first rooms that I visited was that of good friend and gifted OTL designer, Jud Barber of Joule Electra. How Jud gets his 6C33's to sing the way he does is a wonder! My review of the magnificent (sneak preview: that's the keyword in my comments, by the way) Joule Electra Marquis Mk. III's will follow later in Issue 5. Kudos, Jud! I'll be following up with his reference system, the Rite of Passage OTL's, later this year.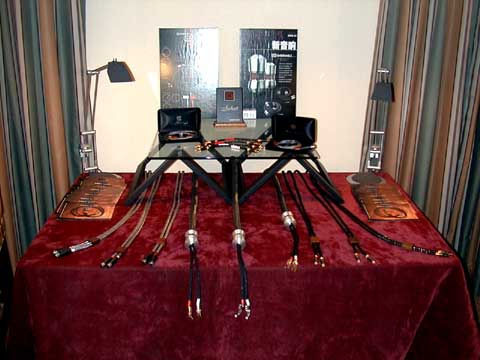 I missed seeing Ray Kimber, but his cable family continues to grow. A family tree!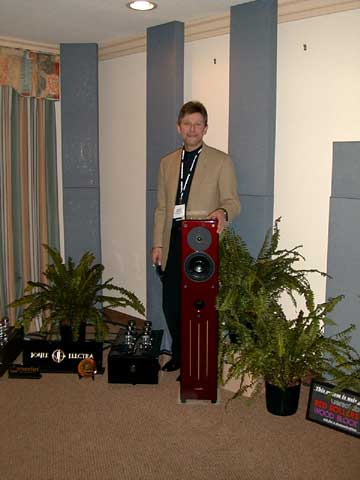 Year in and year out, Bobby Palkovic of Merlin Music and Jud Barber of Joule Electra have consistently some of the finest sound at CES. Note that they use Cardas cables throughout—can you spell "synergy"?! The amps in this photo are the same ones that I had been reviewing just the week before…broken in they were! The Marquis Mk. III at 100WPC of OTL power and the Merlin Music Millenium speakers seem to have a special affinity for each other, and like making love via Cardas cables. There are lots worse ways to go, amigos, believe me...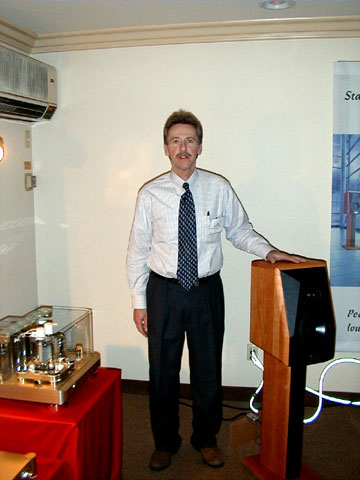 I couldn't pass up the opportunity to duck in early to visit another audio bud, Jim Ricketts of tmh audio. Another "room with some of the best music at CES," for sure. That's the new Peak Consulting 2-way monitor speaker, which sounded very promising; on the left is the WAVAC MD-833 SET at an unbelievable 100WPC(!) This is the same amplifier that Steve Hoffman has been using to master his recent Audio Fidelity reissues; the very same pair of amps that Steve has been using have arrived at PF Online River City, for an extended review. Yowzah!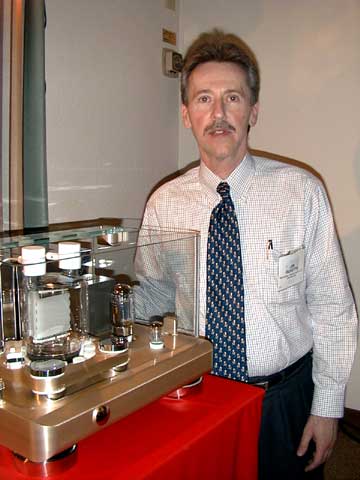 I couldn't resist making this photograph of Jim with the WAVAC MD-833. WAVAC makes unbelievably attractive audio equipment...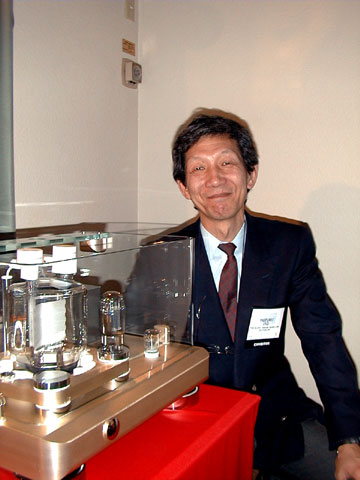 Another irresistible moment: Yuzuru Ito, a member of the WAVAC engineering group—rightly proud of some very beautiful work.