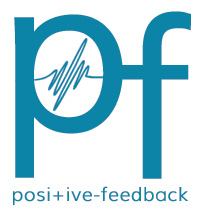 You are reading the older HTML site
Positive Feedback ISSUE 5
february/march 2003
Good Times at CES 2003: A Photo Essay, Part 4
by David W. Robinson
(All photographs and image processing by Robinson)
Saturday morning saw a return to the CES display rooms in the morning, with a survey of T.H.E. Show slated for the afternoon. My first stop was scheduled: a visit with long-time friend Winston Ma of First Impression Music. This was an "invitation only" room, not open to general traffic. Since we had received an invitation, Lila and I dropped in for a visit.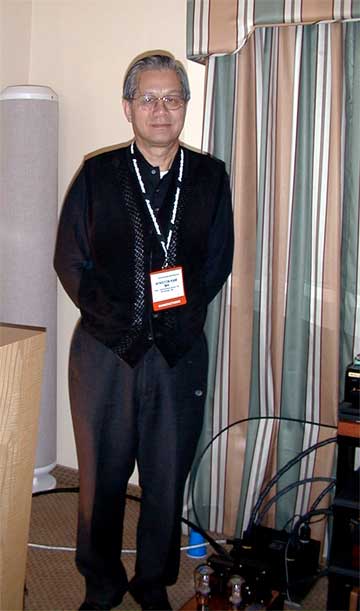 Winston Ma of First Impression Music
Winston introduced his new General Manager, John Tucker, of Exemplar Audio. John is an acquaintance from VSAC, with an awful lot of SET experience under the fingernails.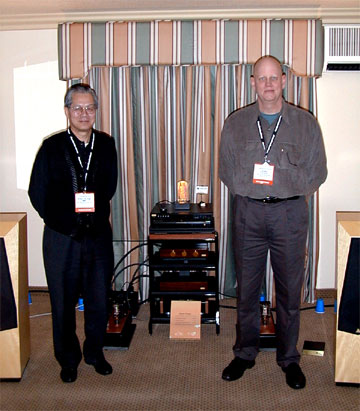 Winston Ma and John Tucker in the First Impression Music room
The FIM room was showing with Winston's old-time favorite Avalon speakers, together with John Tucker's SETs, FIM's new prototype preamp, a prototype SACD player, and lots of FIM cables.
The sound was beautiful…so were the components! John gets some very righteous results from SETs, and Winston's SACDs are particularly well produced and wonderfully mastered. I don't think that anyone would have found this room to be anything less than very fine indeed.
After conversing with Winston, and listening to SETs, Lila and I went on to the Cary Audio room to meet with Positive Feedback Online's Sasha Matson. Sasha is a heckuva brilliant composer and musician, a very enthusiastic audiophile. He was there to visit with Dennis Had of Cary, and to meet us there. (See Sasha's interview with Dennis at http://www.positive-feedback.com/Issue5/caryinterview.htm, and his review of the Cary Audio 308T CD player at http://www.positive-feedback.com/Issue5/cary308tsm.htm.)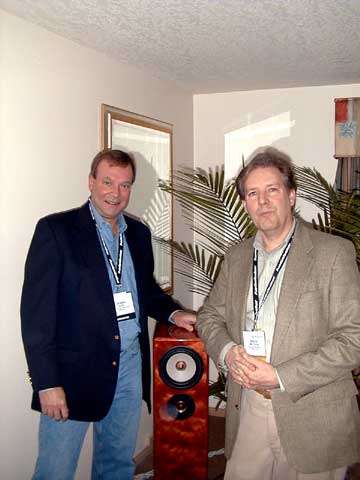 Dennis Had of Cary Audio and Sasha Matson of PF Online
We spent quite a while talking about the designs that Cary was working on, and got a chance to meet with one of Dennis' associates, Billy Wright. Cary Audio has some fine traditional fine audio gear in stereo, but it's clear that the movement to multi-channel and home theatre is on at Cary.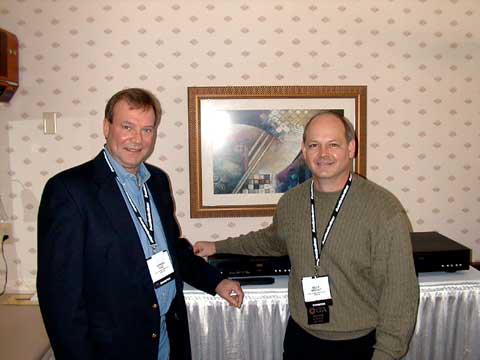 Dennis Had and Billy Wright of Cary Audio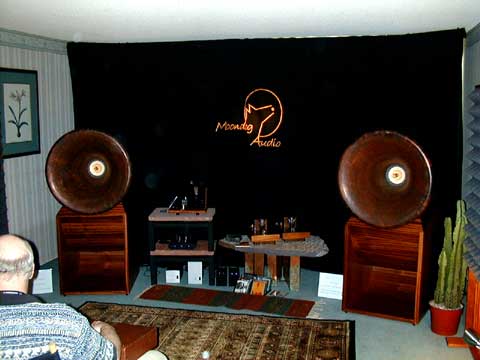 Yowzah! Beautiful horn alert! The view in the Moondog Audio room...
Things were looking—and sounding!—pretty dynamic inRon Welborne's Moondog Audio room. Ron's new Maya horn system was paired with his Yote 2A3's, all on the Table Rock stands. Preamplification was courtesy of the Tact RCS 2.0DA with all cabling from Red Rock Audio. (Now if we can just get Ron to get an SACD front-end in place...!)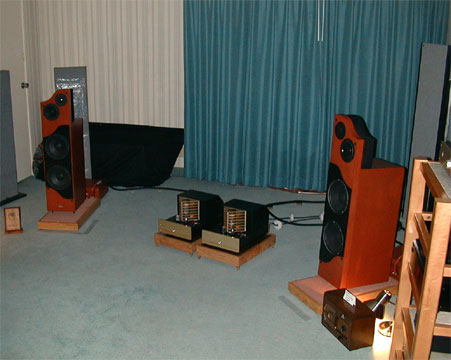 Next stop was the deHavilland room, one of my perennial favorite stops at CES. This year was no exception; we got an opportunity to see the new Aries 845G monoblocks in tandem with the UltraVerve preamp (smashing pre, that!), a Sony SCD-777ES SACD player as a front-end, a Cal Audio Alpha D/A for PCM, and the Alon Lotus Elite Signature loudspeakers provided transduction. Roger S. Gordon liked this room better than any other (see his CES 2003 report at http://www.positive-feedback.com/Issue4/ces2003rg.htm); there was definitely some very fine mojo going here! The new 845G ups the ante to 36 Watts per channel…and these are 845 Watts, chillun. I don't think that I've heard anyone else get sound this fine out of 845's... if you haven't heard the "G" model from deHavilland, then you haven't heard what 845's can do. Kudos to George Kielczynski ("Georgie K!") and Kara Chaffee, the hearts and ears behind deHavilland... keep up the good work!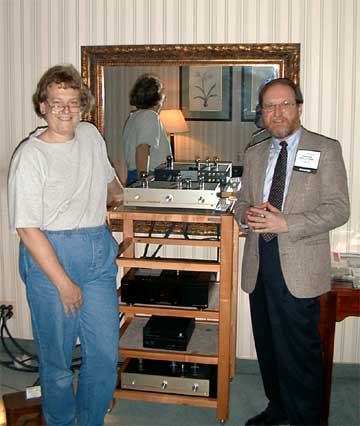 Kara Chaffee and George Kielczynski flank their new flagship preamp, the UltraVerve (top shelf).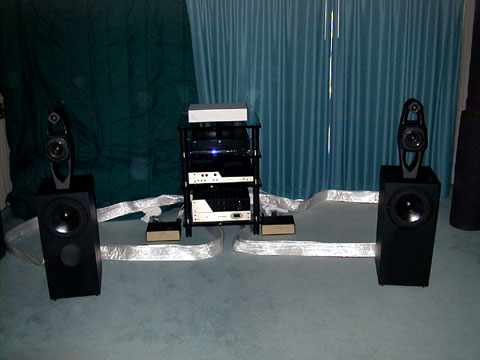 The Audio Magic room featured loudspeakers by Green Mountain Audio's Roy Johnson (yet another acquaintance from the past!) and the new Clairvoyant silver cables…eye- and ear-catching, for sure!
I stopped and chatted with Larry Wall of Audio Magic. The sound in this room was very good, though I didn't have time to listen as long as I would have liked. The Clairvoyant cable was certainly clear and extended…not steely or cold…and Roy's new speakers were very enticing. As always, Roy Johnson…who has been experimenting with variations on a theme of the speaker configuration you see above for years now…was getting remarkable results from very unassuming speakers. I really hope that Green Mountain Audio is able to gain the recognition it deserves.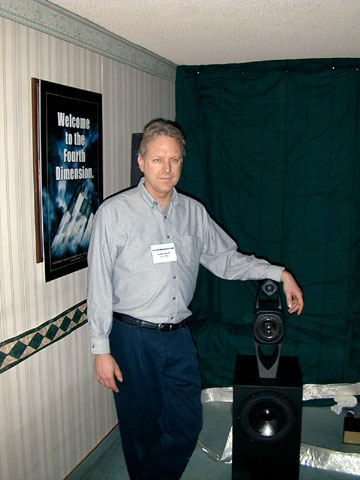 Larry Wall of Audio Magic with one of the Green Mountain designs
Rounding another corner or two, we ran into another company whose products have been seen on these (virtual) pages: Buggtussel. The Amygdala loudspeaker was reviewed in combination with the deHavilland Aries 845 (not the G model, though) for PF Online, Issue 2, back at http://www.positive-feedback.com/Issue2/dehavilland.htm. I had an all-too-brief conversation with Dr. Kevin Blair ("Dr. Kev") and his associate Doug Knudsen . Given Kevin's medical background in things neurological, you come to understand the name of the company and the product lines…it would be enjoyable to talk at greater length sometime. The Lemniscus loudspeaker is definitely a step up from the Amygdala…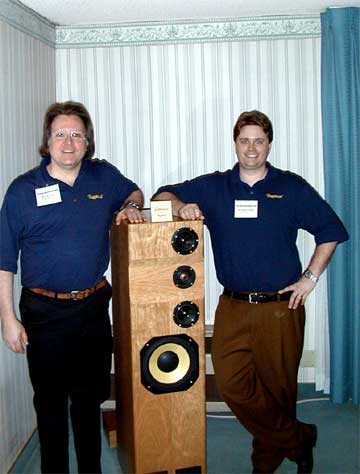 Dr. Kevin Blair and Doug Knudsen of Buggtussel with the Buggtussel Lemniscus loudspeaker
Of the "general congress assembled" from PF Online, Both Dave and Carol Clark (http://www.positive-feedback.com/Issue4/ces2003p5.htm) and Danny Kaey (http://www.positive-feedback.com/Issue4/ces2003dk.htm) pronounced this room to be a favorite of theirs during the show. I didn't get a chance to audition, but I am familiar with the Buggtussel sound; I can believe that they would have enjoyed it very much.