Good Times at CES 2003: A Photo Essay, Part 5
by David W. Robinson
(All photographs and image processing by Robinson)
Saturday afternoon saw Lila and I heading over to T.H.E. Show at the San Remo. This is a bit of a haul from the Alexis Park... not nearly as handy as being right next door as it's been in some past years... but it was worth the drive. After registering for our press credentials, we headed upstairs...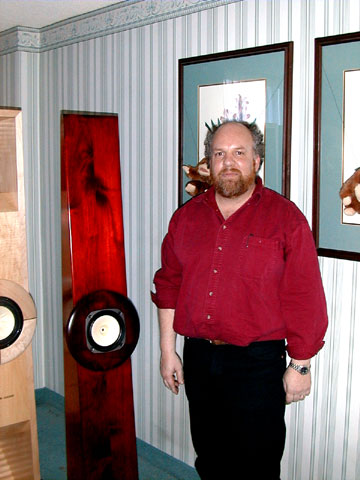 Now here's a familiar person—Terry Cain of Cain and Cain!
... and promptly ran into some good friends! For example, here's one of my favorite audio designers in the Pacific NW: Terry Cain of Cain and Cain Co. Terry is one of the most wonderful artists in wood that I've know... just look at the gorgeous craftsmanship and beauty of the speakers above.
Terry specializes in high-efficiency designs for SETs, and has done some remarkable work other gifted audio artists like Josh Stippel of Electronluv (of whom, more in just a moment). If you visit his web site over at http://cain-cain.hypermart.net, though, you'll see that audio is only one aspect of this talented person's life. He and his wife... herself an artist... are also involved in painting, furniture making, wood-working, and fine wines. In other words, Terry's my kinda guy! As a matter of fact, Lila and I are planning to visit with Terry next May, tour his plant, and do a photo essay of Cain and Cain Company for Positive Feedback Online—stay tuned!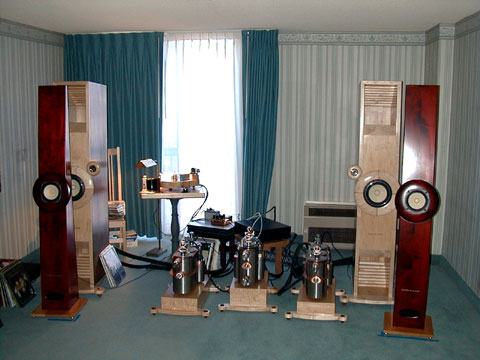 The Audio Excellence/Electronluv/Cain and Cain room—what a sight! My only regret was in missing my very good friend Alan Kafton when we stopped by... sorry to have missed you, Alan!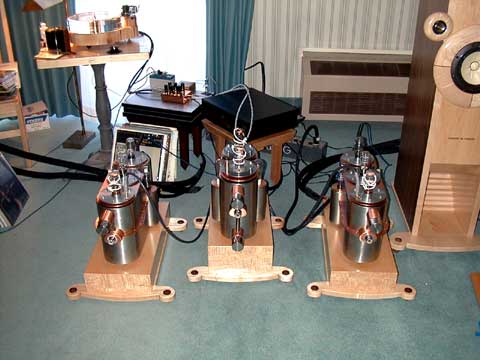 Well, it's pretty touch to beat this for arresting audio design work—Josh Stippel's Electronluv pre-amp (center) and monoblocks (?!), flanked by one of Terry Cain's Fostex-based speakers. Yum-my.
While in the Audio Excellence room, fellow PFO'ers Dave Glackin and Stan Ricker dropped in. Dave and I had a really great time working Josh Stippel's Electronluv (aptly named!) gear for photos; they're simply drop-dead gorgeous to look at. We didn't get much of a chance to do any serious listening (which is hard to do at CES, anyway)... too many people looking, pointing, photographing, ogling, drooling, ooo'ing and ah'ing!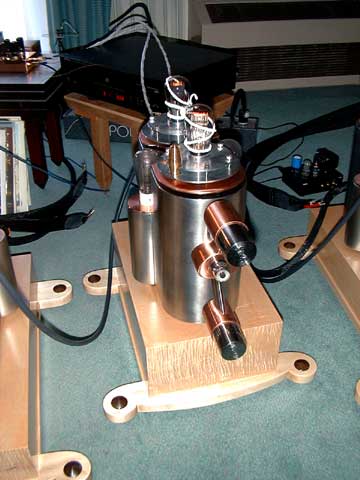 Closeup of the Electronluv preamp... yowzah! And yes, the control knobs are the ones you see right out front.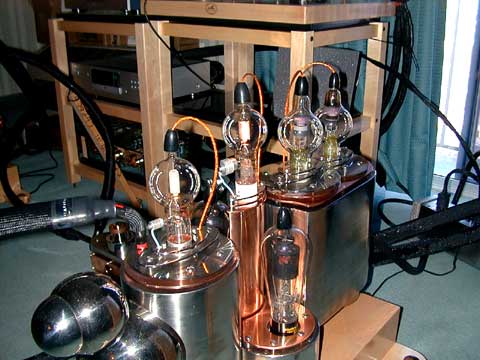 The glory of tubes... sexiness that solid-state can never claim....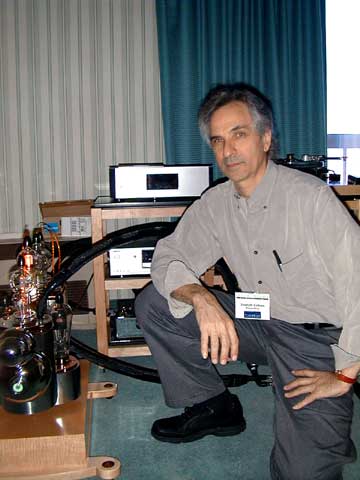 The cabling for the Electronluv/Cain and Cain gear was provided courtesy of PranaWires' Joe Cohen, another audio friend of long acquaintance. It was good to see Joe back in fine audio again!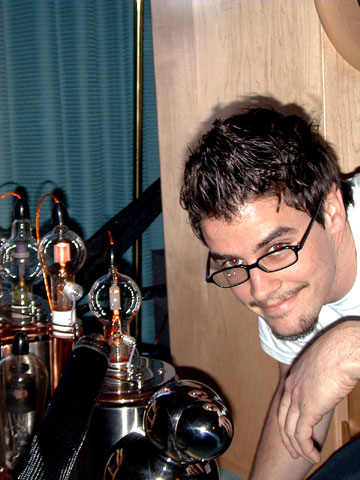 Portrait of Josh Stippich, designer of the Electronluv line, with some of his work... a truly brilliant audio artist on display.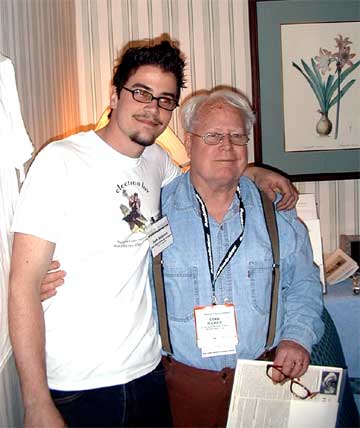 It was too irresistible—we had to get a photograph of Josh and Stan Ricker together!
Down the hall from the Audio Excellence/Electronluv/Cain and Cain/PranaWire gang we ran into another acquaintance...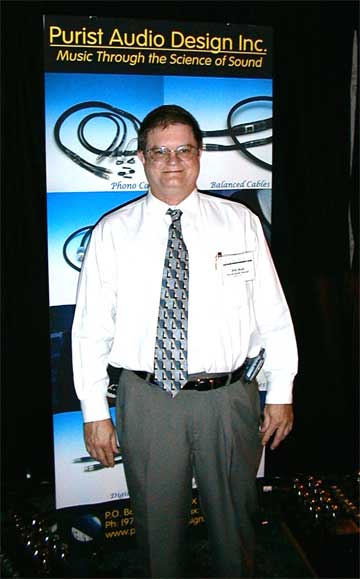 ...Jim Aud of Purist Audio.
I hadn't seen Jim since CES 1999, when his spectacular "light shielded" cables caught the attention of Mike Pappas and I. (I still remember how knocked out Mike was!) Jim told me that Purist Audio has some interesting new products coming online in 2003; perhaps Positive Feedback Online will get a chance to review these.
By this time, Lila and I were really on the run. It was too bad, really; there were a number of rooms that I would have liked to have seen... particularly the Halcro/Meitner suite. We ducked back down to the lobby of the San Remo, and went into the annex across the street one last time. It was then that I saw that Audio Research had its room here... and I had to stick my head in to see if my good friend...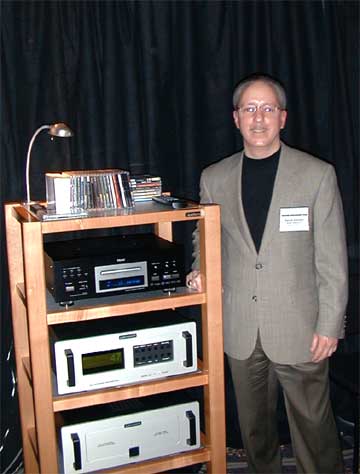 ...Dave Gordon of Audio Research Corporation was there. He was!
At last... after years of phone conversations, and at least one abortive attempt to see each other here in Portland (Dave got sick at the last minute), Dave G. and I finally got to meet face to face! He's a terrific fellow, with a deep enthusiasm for fine audio—and he had some very exciting new Audio Research multi-channel gear to show off. Using the new Teac universal player, ARC's new surround preamp and multi-channel amps, and Maggie speakers, ARC was getting some exceptional SACD surround sound!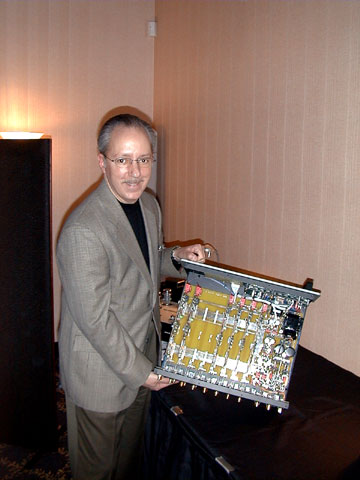 Dave Gordon shows off the interior of one of Audio Research's new multi-channel components...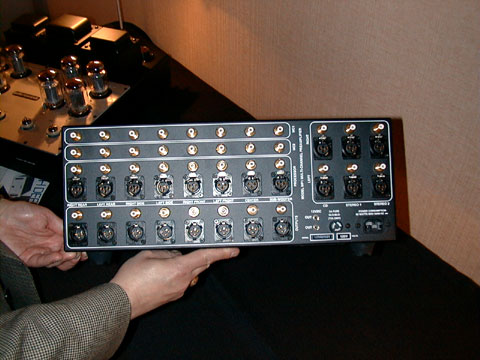 ...of which here's the south end. That's what I call real input/output!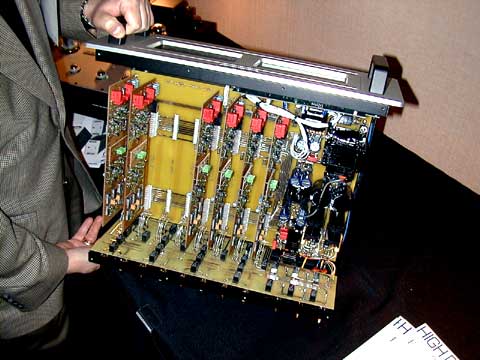 The inside is an impressive layout... complexity, cleanly done.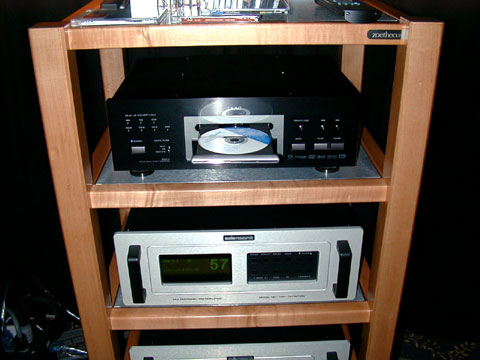 Here's a quick shot of the new Teac universal player loaded for SACD; on the next shelf is the new Audio Research multi-channel preamp. Beautiful stuff!
While enjoying an impressive listening session in the ARC room (this was one of the few rooms that had the space to do SACD surround sound right!), one of my fellow listeners caught my attention and introduced himself. It was none other than....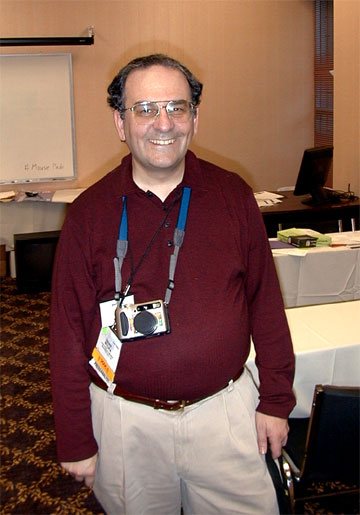 ...Brian Moura, of HighFidelityReview.com, and a long-time fellow participant over at Audio Asylum's Hi-Rez Highway discussion group(http://www.audioasylum.com/forums/hirez/bbs.html). It was great to finally put a face behind the name!
Brian is very knowledgeable about SACD releases, shares my passion for the format, and maintains a current database of all known multi-channel SA's and SACD news; check out his home page at http://ourworld.compuserve.com/homepages/bmoura.
Time was up... we had to dash on to our next appointment, getting ready for dinner with the Positive Feedback Online gang!