Good Times at CES 2003: A Photo Essay, Part 6
by David W. Robinson
(All photographs and image processing by Robinson)
I was really on the run that final night (Saturday, for me) at CES. Having done T.H.E. Show, it was time to get ready for the PF Online bash. Not only that, but there was another room or two that I needed to visit before we hit the party trail. Jump to it, boy!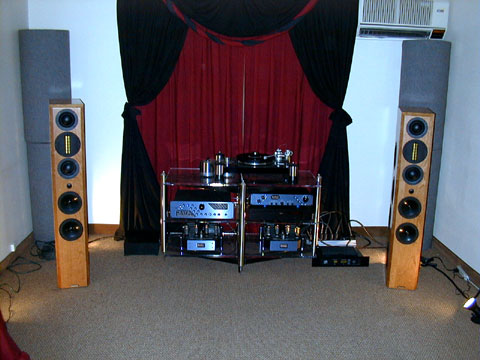 I always like catching EveAnna Manley and crew at CES, though EveAnna and I aren't always able to cross paths at the shows. Taking the opportunity, I dropped in before the parties. No EveAnna! Oh well... I was able to make some photographs of the Manley Labs room. They had a great collection of their preamps, amps, and phono amps on display...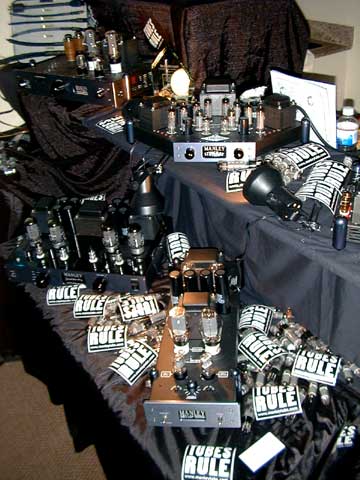 ...not to mention their highly subtle stickers. Pretty tough to tell where Manley Labs stands on the question of tubes vs. solid-state, eh?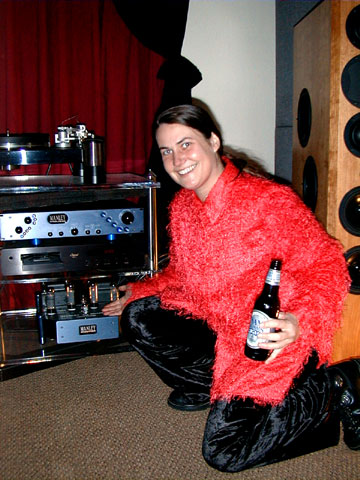 Just then, though, when I reckoned that all was lost, and EveAnna and I had missed each other at yet another CES, who should pop into the Manley Labs room but the woman herself! Like the PF Online crew, Manley and Company were getting ready to do some pretty serious relaxin'. Striking the characteristic pose, 'Vanna shows off some of her fine gear…a table, the Steelhead phono amp, and one of her monoblock amps. It was a lot of fun to chat for a few minutes before having to move on; audio friends are what really make the world of fine audio go 'round.
From EveAnna's company, it was time to hop into Dave and Carol Clark's swift chariot, and shoot for drinks and dinner with the PFO Gang.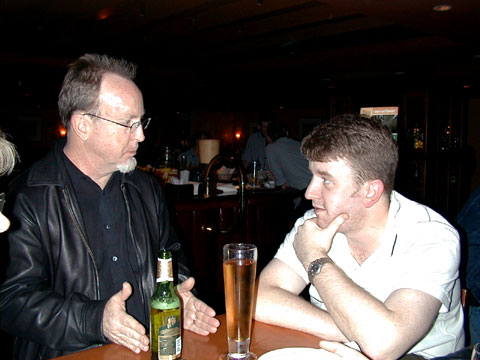 Yessir, there's my fellow Editor and unindicted co-conspirator Dave Clark, getting deadpan all over our good audiobud Dan Wright of Modwright. That's the thing with Dave…you're never quite sure when he's being serious.
Seriously.
(The beers were good, though!)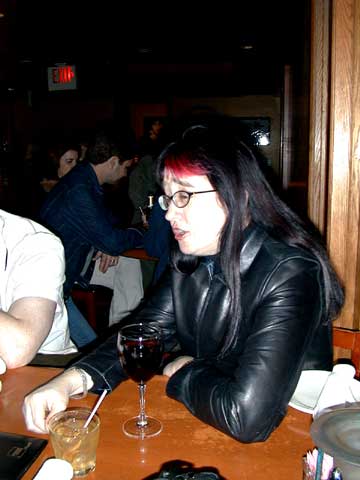 Dave's good wife and PFO reviewer/contributor, Carol Clark, digging the wine and the conversation.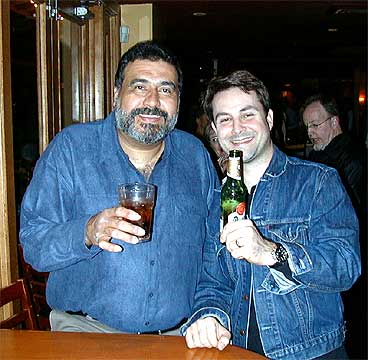 Yowzah! Two exceptional gents... that's PFO's Francisco Duran on the left, and reviewer Danny Kaey on the right. What great folks... this is what makes PFO so special, I think. The people, you see.
Then again, that's true of life, no?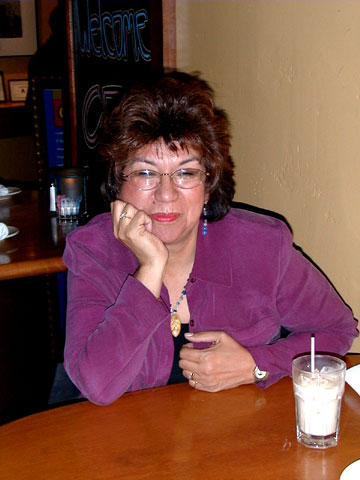 "Mrs. Francisco" staying mellow, and enjoying that fine "pre-dinner adult beverage." Cheers!
Once the PF Online dinner got going, it was free-form. Dave Clark and I welcomed everyone with a few totally extemporaneous remarks, now sadly lost to history. There was no particular agenda to the gathering…just eat, drink and be merry!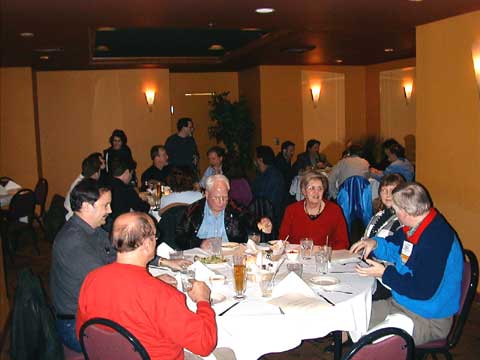 Works for us…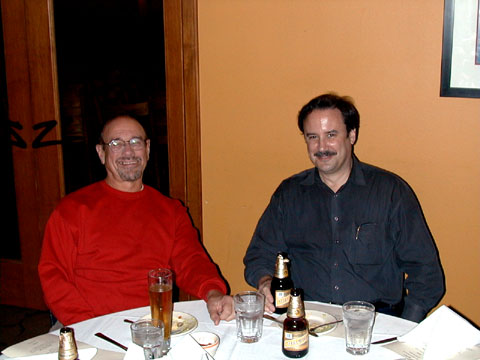 A-ha! A candid moment with PFO's Clark Johnsen (left) and Dave Glackin (right), two long-time senior members of the editorial group. "From Clark Johnsen's Diary" has been running as a column in Positive Feedback for many years... and Dave Glackin's show reports, special event coverage, and interviews are known throughout the world of fine audio as some of the very best done. They are among my very closest friends in audio... don't know what I'd do without 'em!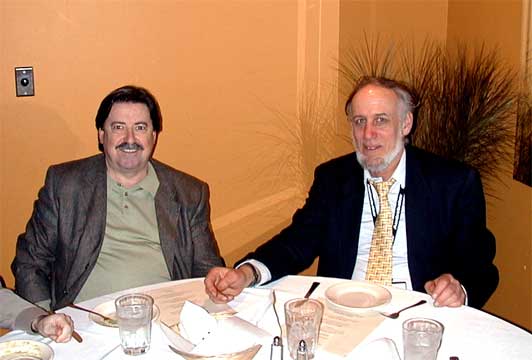 Another phine 'phile photographic moment: Paul Stubblebine and Tim de Paravicini, two exceptional audio guruskis... each a master in his own world.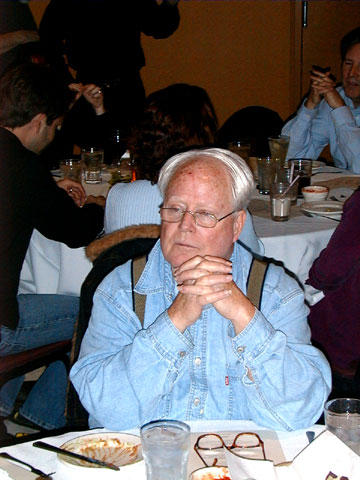 I couldn't resist—Stan "The Man!" Ricker in a moment of contemplation. (Sez Stan, "Yeah RIGHT!!!") We PFO'ers honor Stan, one of the truly unique "masters of mastering," and a guy who's forgotten more than a lot of folks ever learn.
Yeah. Really.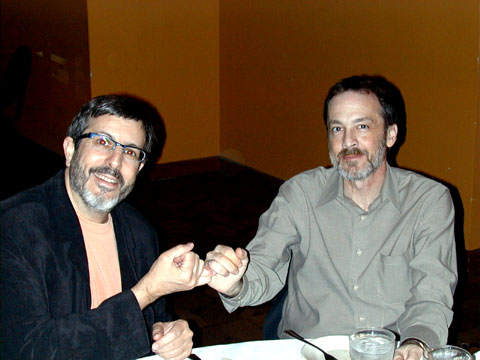 Forsooth! Here's a moment indeed: Good PF Online "friends of the family" Alan Kafton and Dan Meinwald engage in a bit of the ol' "male bonding routine" during the festivities.
You had to be there...!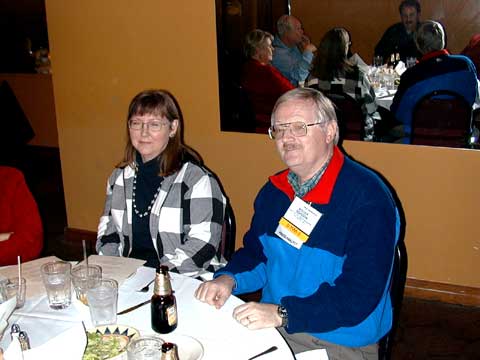 Two more long-time contributors to the Positive Feedback experience: Suzanne and Roger S. Gordon, checking out the Mexican munchies and guacamole. Hey, anybody who loves good Mexican food gets a plus in my book any day!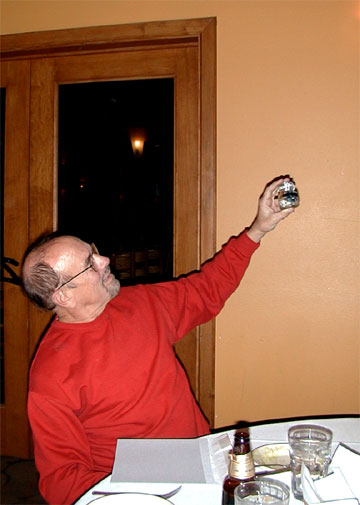 Another brilliant sight: No, that's not Clark Johnsen contemplating Yorick the Audiophool. Instead, yon good Dr. Johnsen meditates upon another fine audio tweak (truly!)…details if he finds it to be worthy of note.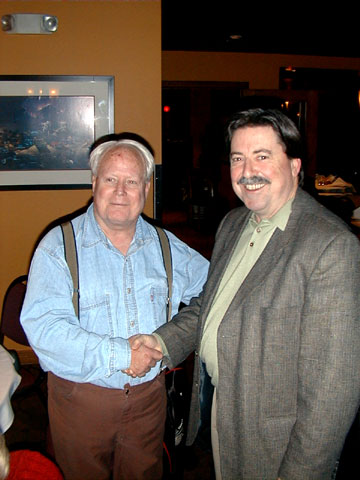 Master greets master... a goodly image in time: Stan Ricker and Paul Stubblebine bid each other farewell at the end of the PF Online dinner.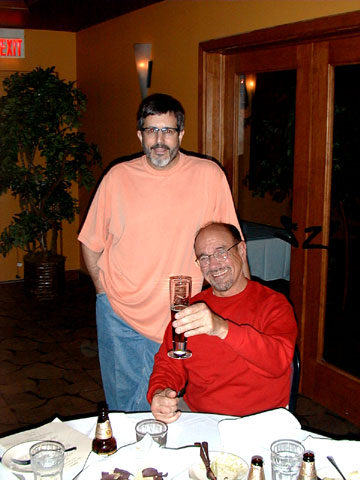 At the end of the dinner: On behalf of Positive Feedback Online, Alan Kafton and Clark Johnsen send beer-felt greetings to you all!
The Final Day: Sunday Morning
Time was all too short once more on Sunday morning. There was just time to catch a few more glimpses before our departure to River City. Among these: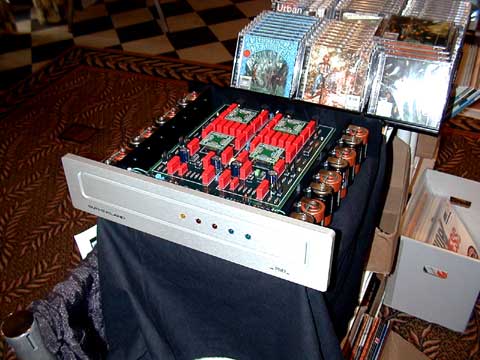 Back at the Acoustic Sounds booth, I got to spend a few moments examining the new Sutherland phono amp. Note the Duracells on either side—yes, a truly battery powered phono pre, all right. This was a static display only... don't know what it sounds like.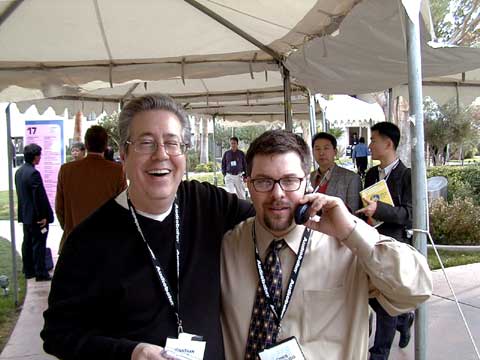 Yessir, you just never know what friends you're going to bump into at CES! Here are good PF Online buds Jonathan Scull of Monster Cable and Chris Sommovigo of Stereovox sharing a phone…a moment with me on the fly on the pavilion sidewalks... before flying away. Jonathan really seems to be enjoying his new position at Monster, and Chris is working hard to get Stereovox (another cable startup for him!) to the level of market awareness that he believes it deserves.
Having heard and reviewed the Stereovox, I would agree with him...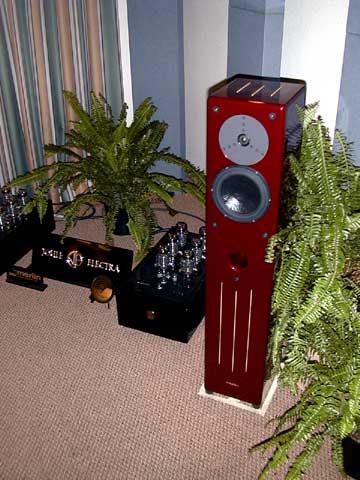 Couldn't resist another few moments with the Merlin Millenium/Joule Electra Marquis Mk. III's. The synergy between Bobby Palkovic's designs and those of Jud Barber are unmistakable. Certainly one of the best rooms of the show for me!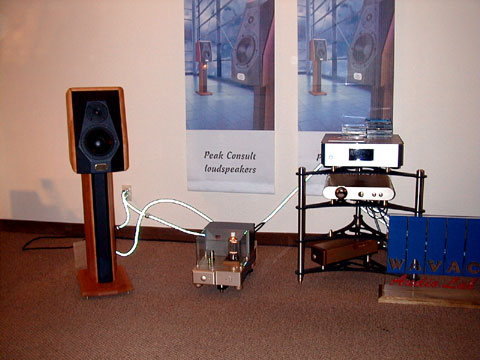 Here's another of the "best rooms of CES 2003" for me, and worth a return visit:Jim Ricketts of WAVAC/Peak Consult with his Richard Kern modified SCD-1 source feeding the PR-T1 reference preamp and MD-805m monoblocks was making big-time magic through the Peak 2-way monitors, without doubt. I plan to review more from the WAVAC/Peak lines in the upcoming year…stay tuned!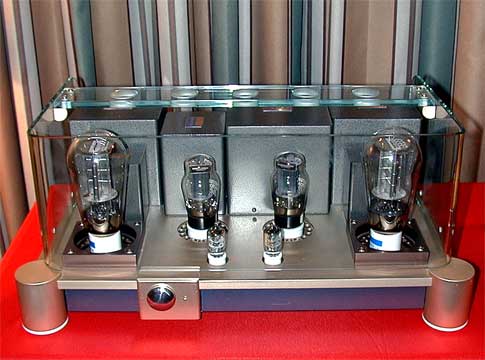 It's pretty hard to find any faults with the beautiful expressions of the audio arts that WAVAC produces. The above is their EC-300B amplifier, with 10 WPC @ 20 Hz-100kHz. Very impressive!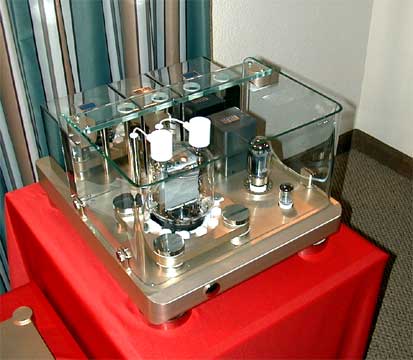 Here's a personal fave rave of mine—the WAVAC HE-833 monoblock. It uses either KT-88's or 6550's as front ends for that magnificent 833 tube. SET at 100 Watts per monoblock!!! I've been bugging Jim for a review sample of this magnificent chunk of audio coolosity for about a year now. He finally arranged to get a pair to me... none other than the very pair that my big-time audiobud Steve Hoffman has been using while mastering his delicious SACDs!
As I sit here, listening to the HE-833's... fed by the Meitner DAC6, and in turn feeding the Kharma Grande Ceramiques... well, let's just say that there will be a rave review coming out of this, amigos.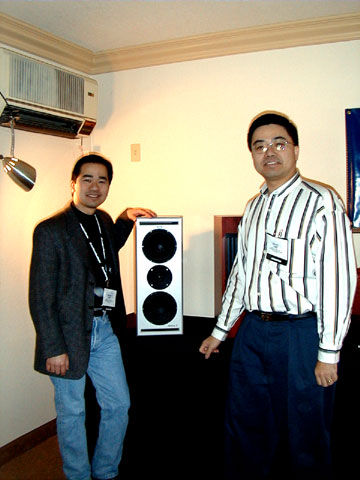 Here are two more long-time audio acquaintances: Kevin Lee of Nova Audio and David Lee of the new Threshold. They're now doing some serious work with both home theater and professional monitors. That's the silver-faced Applause S active monitor between them. Kevin's excellent Nova Rendition II loudspeakers continue to be a favorite of mine here at PF Online River City.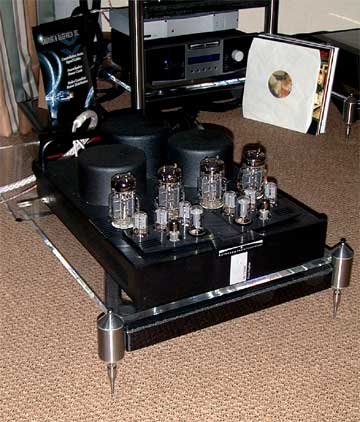 Last stop: The Balanced Audio Technology room. I dropped in to catch what was happening with BAT. I'm reviewing the new BAT VK-51SE reference preamp and the VK-6200 6 channel amplifier... here I get to see the new VK-150 monoblock amplifier on display. 150 Watts per channel... muscular!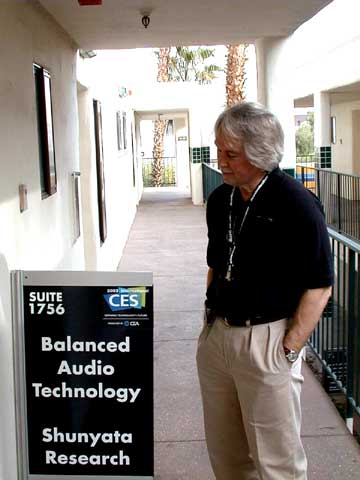 I got to talk with Geoff Poor outside for a few minutes. No, he isn't bashful…his eyes are just sensitive to light. I let him contemplate the BAT sign while making this photograph...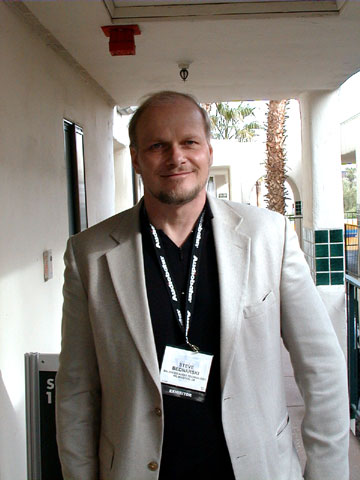 …then said hello to Steve Bednarski, president of BAT. Steve and I have talked via phone a number of times over the years, but had never met face to face. This was another one of those "oh, so that's what you look like!" moments.
BAT continues to produce some of the most beefy, rugged and reliable fine audio gear out there. (Must be that Viktor Khomenko guy…he builds 'em to last!) Certainly I've been impressed with the VK-51SE... and my Senior Assistant Editor Rick Gardner and Associate Editor Mike Pappas love their BAT components.
Conclusion... at last!
CES 2003 was a great time... the best that I've had in many years at CES. Tiring? Yes! Worth it? Definitely! This year's show was much improved over the past two years, and gives indication that good times for fine audio may be returning—at last.
More than that, the people that I get to see at CES remind me again and again of why I put up with the expense, the hassle, the sleep interruption, and the post-trip exhaustion. The real folks…not the jerks, jackasses, posers, and the self-inflated/self-anointed... but those who love audio as an art form, and who love the possibilities of recorded music, these are the ones that I go to visit with. And I was blessed with many good times with people like this... to you, I say, "many thanks, amigos!"
All of us here at PF Online have put a lot of effort into bringing you the sights and impressions of CES 2003. If you weren't able to be there this year, we hope that our reports have helped to give you a feeling for what makes CES special.
We hope to see you there next year, good Lord willing... all the best to you!