CES 2003 ta, Fiesta, part 1
by Steve Lefkowicz
It's that time of year again, that annual slog up the freeway from Riverside to Las Vegas, city of hopes, dreams and gambling. And once again CES (and its maybe not so welcome neighbor T.H.E. Show) is a four-day electro-fest of all things electronic, from the silly to the sublime. If it is for sale, and runs off batteries or a power chord, it's at CES. And once again, I managed to ignore about 95% of the all the action, spending my time exclusively at the "Specialty Audio" exhibits at the Alexis Park (CES) and San Remo (THE Show) Hotels. And though you've already seen lots of photos and read other descriptions of these events from other PFO writers, here are more, as I'll give a quick photo and caption rundown of things that I found interesting. But don't expect much from me in the way of descriptions of the sound. Good sound at shows is very hard to achieve, so it might get mentioned, but bad sound for the most part is to be expected, and therefore no real news.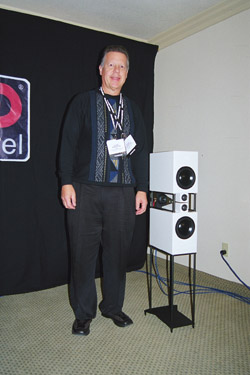 Here we have the Morel Octwin ($4400) speaker with importer Alan Warshaw. This unique stacked design can also be had as single units (the Octaves) for $2200 the pair. We expect review samples in the not too distant future. www.morelhifi.com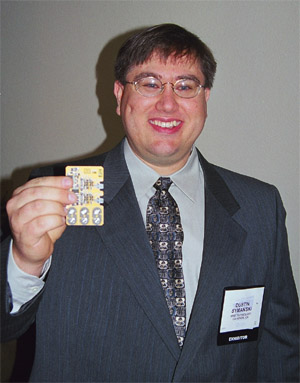 Winner of the coolest freebie award goes to MSB Technology for their Micro-DAC. Seen here with MSB's "Platinum Engineer" Dustin Symanski, this little DAC runs off three 9 volt batteries. Unfortunately, they don't sell these! Had to get your at the show for free. www.msbtech.com
There was a whole lot of cool analog gear on display. You would never know it's been almost 20 years since LPs were supposed to have died and gone to heaven. You can still get your little piece of heaven on earth listening to LPs on players like these: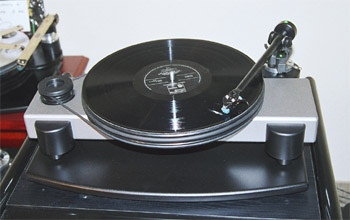 The Nottingham Horizon seen here with a Rega RB250 is under $1000 (by a few cents at least). Looks great and a review sample should be on the way soon. www.aslgroup.com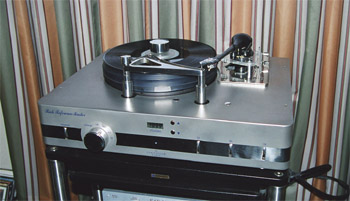 For those of you who feel the need to adjust VTA for every record (C'mon, we know you're out there) the Townshend Rock Reference might be for you. This $18,000 table has VTA adjustable via remote control. Perfect for the audiophile who already gets enough exercise walking across the room to flip the records over. www.ear-usa.com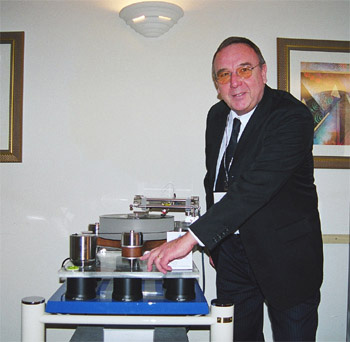 Clearaudio's Peter Suchy is showing off their new 25th anniversary turntable ($6000 w/o arm). The part he's pointing to is made of seventy layers of wood, laminated together with the grain patterns oriented to reduce and control resonance. We counted them just to be sure! www.clearaudio.de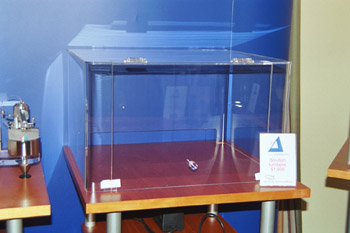 And for those of you who put transparency above all other criteria, Clearaudio had this. The most transparent turntable I've ever seen.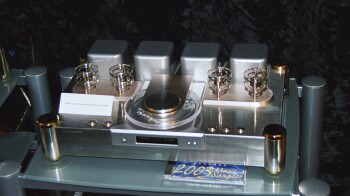 Shanling SCD-T200 SACD Player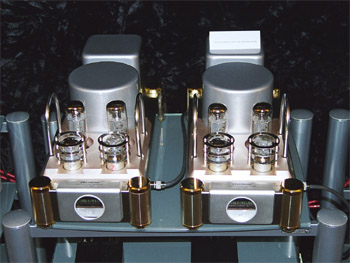 Shanling SP-80 monoblocks
Music Hall is best known as the importer of Creek and Epos products, their own line of Music Hall record players and CD players and dishing out really fine Scotch. But here are two new products from Shanling that Roy Hall is now distributing. The SCD-T200 SACD ($2695) and SP-80 mono block amplifiers ($2495 a pair). They looked great, and sounded darn nice too. Not seen is the new Music Hall MMF-9 turntable. For $1695 it looks like another winner, and a logical extension of the Music Hall lineup. www.musichallaudio.com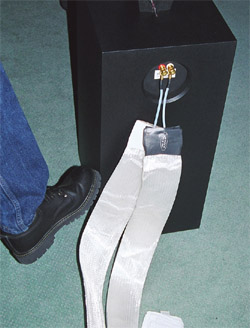 Winner of the biggest cable award goes to Audio Magic for their new Clairvoyant cable. At $4500 for an eight-foot pair, they might even through in Dave's size 9.5 boots (seen here just for scale)! www.audio-magic.com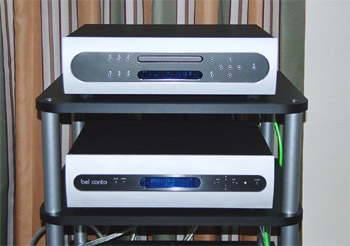 Bel Canto Design showed their very cool eVo 2i digital integrated amp. For $3200 you get a sleek and very high tech piece. And of course, a review sample will be here soon! Also shown is the not quite ready to be released universal digital player, which for around $8000 will play SACD, CD, DVD-V, DVD-A and anything else that will fit. www.belcantodesign.com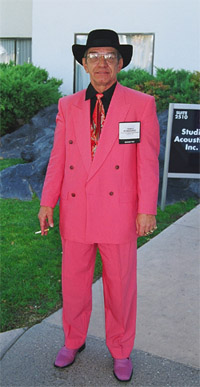 Of course it just wouldn't be CES without James Bongiorno. This was just his Thursday outfit, can't imagine his Sunday best. He was also demonstrating his Ampzilla 2000 ($5000 pair) mono blocks and the brand new Son of Ampzilla ($3000) stereo amp, which we hope we'll have in to play with sometime soon. Also demonstrated (in the VMPS room) his new Trinaural Processor, which won Tech TV's "Best Of Show" award for audio. www.ampzilla2000.com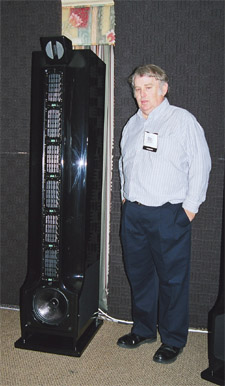 And speaking of VMPS, here's Brian Cheney with his new statement product, the RM/X. At a show with too many speakers selling for $30,000 or more, that these only cost $9800 is quite a statement in and of itself. The neo-ribbons in these are different from the ones used in the RM-40 and RM-2, as is the new ribbon tweeter mounted in an adjustable unit on the top. Not sure if we'll see a review on the RM/X, but the much more affordable 626R stand-mounted speakers (using one ribbon panel and the new super tweeter) are on the way . www.vmpsaudio.com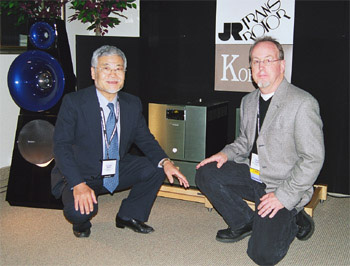 Dave with Atsushi Miura and Airtight Reference amps
Have an extra $50,000 lying around? Need some new amps? Why not try the Airtight Reference Power Amps? Seen here with Dave and Airtight designer Atsushi Miura, these sounded sweet through the Odeon horns. www.axiss-usa.com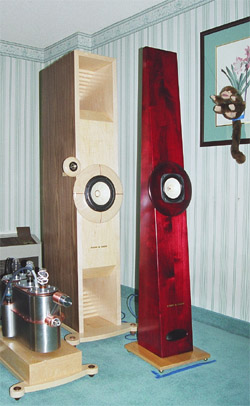 Cain and Cain Abbey
Speaking of horns, the Cain & Cain rear loaded horns, using Fostex drivers, were looking as good as they sound. The tall, narrow Abbey is only $1500 the pair (including drivers) and will be in for review in couple of months or so. The bigger speakers in the background are a little pricier at $12,000! And if you want a fully custom built office or wine tasting studio, Cain & Cain might be the guys to do that too. http://cain-cain.hypermart.net/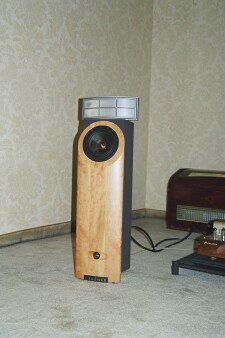 The Cadence Avita hybrid speaker was sounding very nice driven by beautiful looking Nightingale (all tube) amplifers. We expect both the Avitas and Nightingale's Armonia integrated amp for review as soon as importer Randy Bankert can get them to us. www.ossaudio.com
Coming Soon – Part 2
All photos - copyright Steve Lefkowicz 2003