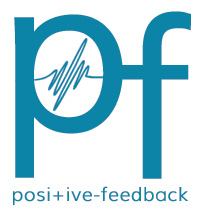 You are reading the older HTML site
Positive Feedback ISSUE 5
february/march 2003
MAXimum SACDs! One from Decca, Two from Telarc
by Max Dudious
It's great to see what the independent labels like Telarc can do in revving up their limited resources for the promotion of a new album. And it's outright stunning to see what one of the majors, like Decca-London, can do with the same goal. When the product hasn't much to recommend itself in competition with the field, both have a sorry task: but when the newly released albums are truly outstanding, it's fun. I enjoy seeing the promotion-machine flexing its muscle when the artists are some of my favorites, as they are this time, and I'm rooting for them. In this instance the records are three: Telarc's version of Reinhold Glière's Symphony No. 3, "Il'ya Murometz," London Symphony Orchestra, Leon Botstein cond. (SACD-60609); Telarc's The Romantic Harp, Yolanda Kondonassis, harp (SACD-60581); and Decca's Under The Stars, Bryn Terfel and Renée Fleming, The Orchestra of The Welsh National Opera, Paul Gemignani, musical direction. (289 473 250-2).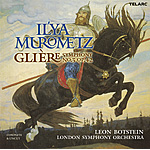 I've been hearing about Leon Botstein for a long time. He became president of Bard College in New York state's Hudson River Valley in 1975, as a twenty-eight year old. He was an "education reformer" wunderkind of roughly my generation. People I knew who knew him said he was one of those guys who was always petitioning the Board of Directors with plans to improve matters at Bard. Rumor has it that the board made him "acting" executive of the college when he was in his mid-twenties (with the expectation that he'd fall on his face), and all he did was put Bard back on solid financial footing, and build it into an excellent small liberal arts college. He's the kind of a guy who, when he says, "Betcha I can make my Swiss Army knife jump out of my pocket and squirt champagne in your ear," you'd better have your handkerchief ready.
Of course it wasn't clear that's what kind of guy he was twenty-seven years ago, when he took over the reigns of Bard College. But it's clear now.
Leon was always interested in music, and trained to be a conductor. He is the music director and principal conductor of the American Symphony Orchestra, with which he performs regularly at Lincoln Center. He is the founder and co-artistic director of the Bard Music Festival, at the college. And he has been guest conductor throughout Europe with the NDR Symphony, London Philharmonia, Jerusalem Symphony, and the Budapest Festival Orchestra, among others. If you want to know more, do a Google on him. He is one very active dude. Between administering a college, conducting orchestras, and making recordings, you might say, "There ain't no flies on Leon." There might be flies on some of you guys, but there ain't no flies on Leon. Everyone (students, faculty, musicians) calls him Leon. He's an American original.
If Leon decided to record Glière's Il'ya Murometz Symphony, I figured, he must have seen something of interest in the piece, the musical telling of an epic Russian folk myth, something he thought others had overlooked. The symphony has a certain place among cognoscenti: for example, it was among the first works played by the Philadelphia Symphony Orchestra in its new home–Verizon Hall, at Philadelphia's new Kimmel Center–during its inaugural season. I decided to phone him up, and with a little negotiating after I'd explained myself to his secretary, she got him to accept my call. I figured he'd found something to explore in this "not over-recorded" piece. I asked, "What?"
To begin with, it was un hommage to his teacher, Howard Farberman, who'd introduced Leon to the piece. Secondly, the symphony interested him (and Bob Woods at Telarc) as a vehicle for the new technology (Multi-Channel Surround Sound). They thought it was an orchestral tour de force filled to the brim with all the tricks in the book, and a few not-yet-codified; they found it an encyclopedia of Glière's skills at orchestral scoring and coloring. Within its range of orchestral modes, from its quiet echoes of Wagner's dark forest murmurs, to the after-images of flashing climaxes in Richard Strauss's tone poems, Glière created a series of moods, a palette of sonic effects that would best serve (and be served by) the new, high-resolution technology.
In addition to the improved ability to capture and reproduce the subtlety of performance—texture, nuance—the special capability of multichannel SACD is to better capture the spatial qualities of an orchestra in its acoustic domain. This reading of the LSO at Watford Town Hall, in Watford, England—while it doesn't depend on this quality—is greatly enhanced by it. The piece, written for large forces and taking over an hour (72:20) to play, needs a steady propulsive cohesion to keep it from bogging down in detail. This brisk approach, Leon feels, might help the symphony become recognized as a piece that captures the spirit of Late European Romanticism, as it does. Such recognition could result in Il'ya Murametz's being more regularly scheduled on programs of performed music.
The recording certainly achieves these ends. It moves along apace. The music is by turns other-worldly and here-and-now, dark and sunny, nationalistic and universal, programmatic and pure music. The second movement has some of Glière's most memorable scoring–including a horn call for eight French horns, for example—and the high resolution medium allows us to hear the subtle chordal relations between the notes each horn is playing at any given instant, while the rest of the orchestra builds toward something vaguely resembling a "love's death." Later, in the final movement, there is a brass choral of truly Brucknerian size and force.
Once again, the Telarc engineers elicit fantastically detailed sounds from the digits. True to his word, Leon keeps the performance propelling right along. [In his role as an educator, I might ask him when a conductor becomes a propeller? No disrespect meant here: just another questionable pun.] Maestro Botstein does a great job leading his forces between the Scylla of delicacy and the Charybdis of bravura playing without reveling overmuch in detail or bounding exuberantly over the top. Perhaps our collective exposure to longer works by Bruckner and Mahler has moved me beyond the usual dichotomy of long and short works. If a work grips me, and I found Il'ya Murometz gripping, I'm content to give it my complete attention. If it is long, so be it. If it is a miniature, like Ralph Vaughan Williams's Fantasy On A Theme By Thomas Tallis, say, and is only fourteen minutes in performance, it is no less a masterpiece. Maybe we need a new classification: Miniature Masterpieces. Conversely, though lengthy, Glière's Il'ya Murometz should not be penalized for being an epic. It contains some wonderful stretches of orchestral writing, some moments musicaux unrivaled in any genre. If it is panoramic in vision, it is first rate and deserves a wider audience.
In the course of writing this article I happened to borrow the much-respected Hermann Scherchen reading of Il'ya Murometz from a friend, and he asked me, "How can you explain to a reader a method for listening to such a work?" I gave that a lot of thought. If I dare rush in (again) where wiser heads fear to tread, I hope you'll stay with me while I parade my ignorance once more.
I think Glière is more influenced by Bruckner than even Wagner or Strauss. While he borrowed specific orchestral techniques of Wagner and Strauss and developed them to his own purposes, his overall architectonics are most similar to Bruckner's. While some see Bruckner's symphonies as "superbly organized and complex... in the Austrian tradition of Schubert's last symphony... admired for their combination of contrapuntal splendour with intense melodic beauty and grandeur (but not extravagance) of orchestration;" (The Concise Oxford Dictionary of Music: Oxford University Press, 1980; Kennedy, Michael, ed.), I see a typical movement in a Bruckner symphony as developed from a simple, you'll pardon the expression, "riff."
I see Bruckner as Count Basie and Mahler as Duke Ellington. If Mahler's symphonies are filled with radical (for their time) new harmonies, musical burlesques and sometimes nightmares, Bruckner symphonies are filled with simpler figures, usually in the brass, gathering force by repetition, only slightly varying in harmony, but building by engaging larger forces with each repetition, and moving toward a great climax at the end of most movements. Mahler's adagios, by means of counter example, usually begin with a powerful statement, and grow quieter through the variations, typically ending with modest forces diminishing into silence.
How does one listen to Duke Ellington? Well, one way is to attend the orchestration which often has (in "Mood Indigo," for example) a lead instrument (muted trumpet) playing over a combination of supporting harmonic instruments (clarinet and muted trombone), and the interest is generated as much by the artistry of orchestration (contrasting timbres of clarinet, trumpet and trombone, say) as by the melodic line played against the harmonic support. This tune has had singing groups perform the first melody ("You ain't been blue/ No, no, no") and then the second melody, ("Can't get over this Mood Indigo/ since my baby said goodbye."); and then, in the repeat, play the parts simultaneously (like "Three Blind Mice" as against "Frere Jacques"). It is harmonic, subtle, orchestral writing, often (as with Mahler) instantly accessible to the average listener.
How does one listen to Count Basie? Well, one way is to note the call and response structure of a typical riff-based Basie tune ("Jumpin' At The Woodside," for example). The saxes call, "Min nah min nah," and the trumpets answer, "Bop, bop, bop!" This starts in a modest range of volume, and we can hear the stalwart Basie rhythm section pumping away, with a kind of "walking-bass" figure, up then down: "Do, re, mi, fah, sol, fah mi, re." And of course, the Count himself, in the high trebles of the piano, punctuating each major section with, "Plink, plink; plink, plink." And this simple arrangement of musical phrases (or "riffs") gathers momentum, gains force, grows in volume with each repetition. "Min nah min nah; bop bop bop," becomes "Min-nah-min-nah, bop-bop-bop," and "MinNah-MinNah; BopBopBop;" with the saxes finally calling, "MINNAHMINNAH, MINNAHMINNAH, MINNAHMINNAH, MINNAHMINNAH," and the trumpets answering, "BOP, BOP,BOP!" And, this simple structure never fails to get me tapping my toe, and smiling. It is rhythmic, simple, orchestral writing, and (as with Bruckner) its power and drive instantly accessible to the average listener. With Bruckner the music is religious and stirring in the way of Handel's "Hallelujah Chorus." With Basie the music is secular and stirring in the way of "The Charleston" and other dance music.
In Basie, such "riff"tunes were originally limited to three minutes in length for the jukeboxes. In Bruckner's Symphony #4, the final movement bears the reminder, "not too quick." My recording of it takes 20:08 (Sir Georg Solti, The Chicago Symphony Orchestra; London, 410 550-2), though it is not much different from a Basie "riff-tune"if boiled down to its essentials. Which is not to say jazz=symphonic music. But, both being music and sharing the same basic atoms (notes, phrases, melodies), I hope you'll see the metaphor I'm straining here as not being inapplicable. In any event, metaphor is either a thrust at truth or a lie, depending on how you feel about figurative language. I like to see it as an attempt to reveal a new relationship by placing what has been thought of as unrelated things side by side: Bruckner is to Mahler, as Basie is to Ellington, for example. I hope you'll allow me the space to make that analogy.
Glière borrows some of Bruckner's structural forms to order his movements, and they similarly use "riff" based figures as the building blocks for a series of variations. Glière uses more of the lighter instrumental combinations of the orchestra, and less brass (though he is certainly unafraid of brass), with which to paint the various colors of Il'ya Murometz. So, one way to listen is to follow the basic structures, the motifs, the phrases, that Glière uses to comprise his larger constructs. His music is not like Bach, Beethoven, and Brahms: it is more like Wagner and Bruckner. There are few melodies to whistle or hum along with. To come to know it is to put it on the CD player and listen to it for days. It gets to a point where (like most thoughtful music) it pulls you into its orbit. It is quite something when dealt with in this manner. Those too impatient to give Glière a good listen will probably come away using a bunch of negative terms to describe Il'ya Murometz, which I must admit was my initial response. Given an adequate listen, like waiting for a set of speakers to break in, you'll find the music can hit that plateau where everything clicks into place, and you'll understand how this symphony has developed into a work for cognoscenti.
Only time will tell if Maestro Botstein is successful in resurrecting this complex work to the standard repertoire, but Leon, the London Symphony Orchestra, and Telarc have combined forces to give it an heroic performance! If you want a demo-disc to show off your new surround-sound rig, or if late romantic music is your thing, or if you like Count Basie, have I got a symphony for you! Thanks to Leon Botstein and Bob Woods at Telarc for this one.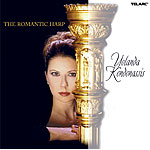 In the liner notes to her album The Romantic Harp, Yolanda Kondonassis offers an apologia and assures the reader that this album is not just another dinner and candlelight effort. She's right: it's not just another dinner and candlelight harp album. It is the best damn dinner and candlelight harp album to ever tickle these tired ears. And while solo harp albums are not my passion, I did manage to accumulate a handful of Nicanor Zabaleta albums back in my student days.
Then, I was interested in how well an early stereo recording could capture the sound of a solo instrument. According to its liner notes, it was among the first attempt at really high-resolution, "recorded by 'Counterpoint/Esoteric' using Telefunken and Altec condenser microphones, on Ampex Stereophonic tape equipment; reproduced and mastered with Class A amplifier, on Scully lathe equipped with Western Electric Feedback cutter head, with full frequency range conforming to RIAA playback characteristics." My LP [Music Written for Harp, Niconor Zabaleta, harp (Counterpoint CPT 523)] consisting of contemporary music (similar to the Kondonassis album) sounds OK, but nowhere near the up to date recording Telarc offers. The Kondonassis solo recital was recorded in the excellent Peggy and Yale Gordon Center for Performing Arts, Owings Mills, Maryland, and I can vouch that the room's spacious acoustic was captured. The equipment was Telarc's usual "state of the art" rig, complete with "custom engineered ADC and DAC by Ed Meitner, EMM Labs."
I was eager to hear how the best recordings of 1960 and 2001 stacked up against each other. Zabaleta's was a state-of-the-art recording around 1960 (there is no published date), but it suffers from "groove noise" or "needle rush," it has noticeably limited dynamic range, the timbre of the instrument sounds a bit "tinny" and "thin" to me, and it doesn't give the illusion of filling the room the way a harp would. The SACD-multi channel technology won going away: it featured inky-black backgrounds, startling dynamic range ("zotz"), faithful reproduction of the tones and timbres of the harp, and it filled my listening room with spatial cues that surprised me.
I was secondarily interested in music for the harp, which Zabaleta segregated by century. Here, I must apologize for not being more literate in the ways of the harp, and I'm sure there are technical terms for the many different ways of sounding the strings. There is a wide variety of music in this Kondonassis album: transcriptions and adaptations like Puccini's "Musetta's Waltz" from La Boheme; Fauré's "Après un réve"; Debussey's "Valse Romantique"; Saint Saens's "Fantaisie"; Lecuona's "Malagueña from Andalucia;" and another group of pieces composed just for the harp, by lesser known composers, such as Grandjany, Salzedo, and Pierné. There are a variety of techniques, developed in various places at various times, for harp playing on display in this album; from rippling harmonies to guitar-like strumming, from contrapuntal two-part inventions to undulating dreamlike reveries. There are muted tones and brilliant tones played from pianissimo to triple forté, and eerie effects created on the "harmonics" of the strings, all performed in scintillating fashion by the flawless Yolanda Kondonassis.
This album is also meant to be an exercise in multi-channel recording and to get one instrument recorded in a space (chosen for its acoustic) to sound good in other, less than ideal (in my case, lots less than ideal) listening environments. The luxury of having two rooms with audio systems is here evident: I can play this harp recital downstairs in full SACD stereo on my killer rig, then immediately run upstairs and listen to it in SACD-multichannel Surround Sound. A kind of audio Upstairs/Downstairs.
Downstairs, (in SACD Stereo, in my mostly untreated room) there was a certain masking or smearing of the harp's sound. It wasn't terrible, but it was a noticeable tad imprecise. Upstairs, the same record, in SACD Multi-Channel, in a more problematic room, was (surprise!) a tad cleaner. When I tried this experiment with the complex orchestration of the Il'ya Murometz, first downstairs (SACD stereo), and then upstairs (SACD Multi-Channel), it, too, was a little cleaner. Maybe more than a little.
For verification, I subjected a couple of my audio buddies to some upstairs/downstairs sampling without explaining my purpose. They each, in more or less similar language, noticed the improved clarity. This bears out my hunch; that the electronic reproduction of the "ambient" sound could (at least somewhat) "correct" the errors of an un-treated room. Recently, with full orchestral pieces, it was harder to tease out this variable because some parts of the orchestra naturally mask or smear the sounds of other parts of the orchestra. In comparing the solo harp, I felt, I was limiting the variables such that it would likely be my various rooms that were causing the unwanted effects. This was best observed in listening to the unaccompanied harp selections in the two rooms, in rapid succession. Which leads me to repeat my earlier hunch: a good multi-channel rig can yield good results in a heretofore "difficult" room. In a near field system, the surround channels are closer and a tad louder than the reflections from the back and side walls. Since we can control them, in theory, they can be more accurate. In practice, this seems to be the case. I say "seems" because I haven't the equipment or the research design background to make a good experiment. I offer this as an hypothesis for others, more learned than I, to verify or disprove. I offer it as a hunch.
In any event, Telarc has issued a new recital of solo harp music that is a delight. It is largely romantic music (in most of the meanings of that loaded word), all velvet and candlelight, mostly composed in the late nineteenth or early twentieth century. If you are in the market for a great album of dinner music that will charm your favorite guest into that romantic state of mind, this is the one. If you want to have an album of solo harp music, played by the fine virtuoso hand of Yolanda Kondonassis, this is the one. If you want to compare your stereo rig to your multi-channel rig, your stereo room to your multi-channel room, this is the one.
I guess I'm trying to say, this is an album of interesting, romantic music, as well as a helpful listening tool. For many reasons, this is the one.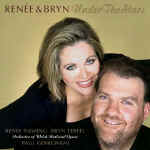 Renée & Bryn: Under The Stars (Decca 289 473 250-2) is just dropdead gorgeous. It is a must-have for show-tune fans, opera fans, Renée Fleming fans, or Bryn Terfel fans. That is, in a nutshell, what I think of it. Let me explain.
But first, I'm reminded of a story attributed to the life of T.S. Eliot (likely apocryphal). Old Thom was teaching a course on Shakespeare somewhere, and one of his students, replying to a leading question answered merely, "It's great because it's Shakespeare, and I love Shakespeare." To which he is alleged to have replied, "Yes Virginia, as we all love Shakespeare. But here it is not enough to love Shakespeare: you must tell how you love him."
I shall attempt to tell how I love Renée & Bryn.
This is a collection of show tunes, more exactly show stoppers, from the musical stage of decades past, featuring the voices of Renée Fleming, soprano, and Bryn Terfel, bass-baritone, and the Orchestra of Welsh National Opera, Paul Gemignani, musical direction. It is something else. From Sweeny Todd, to The Mystery Of Edwin Drood, The Happy Time, Woman Of The Year, The Beautiful Game, Passion, Les Misérables, The Phantom Of The Opera, The King And I, Roméo et Juliette, Parade, The Music Man, The Secret Garden, Kiss Me Kate, to Ragtime, it is a knockout.
To begin with, I'm not sure how many Pos-Feed readers follow this genre, because it is not for everyone. So I'll say a few perfunctory words about Renée & Bryn. Some say Renée Fleming is the reigning diva of the current generation of opera stars. She is the diva among divas, to her fans. That her voice is an impressive instrument, and she can cover with technical assurance the demands of nearly any role, is taken as given. What seem to be her particular gifts are that she is touched by grace and charisma unusual even among divas. She has elegant good looks, she can act, and her voice, with its exquisitely controlled high notes (which make lesser sopranos susceptible to the green-eyed monster), its voluptuous middle octaves, and its earthy (Dare I say "sexy"?) lower register—her voice can take audiences on unexpected emotional journeys. Her operatic career over the past ten years has proven she can do it all. The New York Times' Matthew Gurewitsch points out, "She's sung Mozart in Salzburg, Wagner in Bayreuth, Massenet in Paris, Richard Strauss in Munich, and Andre Previn in San Francisco." She's even recorded an album of jazz singing with Dave Grusin and Lee Ritenour (Two Worlds, Decca 012 157 960-2). Her idol is Joni Mitchell. She brings all her credentials, talent, charm, and virtuosic chops to this recording of Under The Stars.
The story of Bryn Terfel is like something out of a Hollywood musical biography starring Mario Lanza. The young Welsh kid singing in a choir is heard by someone with connections who gets him enrolled in London's Guildhall School of Music. From there his natural talent leads him to train with the best teachers who all marvel at his startlingly mighty bass-baritone voice and help him refine his technique, polish his delivery, and exploit his larger than life stage presence. Without missing a beat he is swept up (at age 24) into the Musical Establishment; first in Wales, then London, and then in Europe and the U.S., he's given major roles to perform with major opera companies. In only four years he is recording, and the recording sessions themselves (even the rehearsals) are the stuff of myth.
There is one story on its way to legend that may bear retelling, but I wasn't there so it amounts to just another apocryphal story. I didn't make it up: I think I heard it as I was driving while an opera talk-show was in progress. In the notes to Bryn Terfel: Opera Arias (Deutsche Grammophon 445 866-2) Bryn writes how difficult recording sessions can be. "Recording several arias a day can be very tiring and the last thing you want to have to do is ten takes of 'Die Frist ist um' in one session." Which he did. What he doesn't mention is the standing ovation he received, as I was told by an anonymous radio commentator, from The Metropolitan Opera Orchestra (who've heard everything) when he finally nailed Wagner's fiendishly difficult piece.
I've seen great orchestras give a hand to a deserving soloist in Summer Festival settings where it might be considered good manners, but I've never seen them rise. From their chairs they customarily tap their music stands with their bows, or they might less politely applaud by stamping their feet. To give a standing O to a newcomer in a recording session (where no audience is present) strikes me as an acknowledgment by his peers of a great talent who was recording only his third album. I think I understand, because every time I play 'Die Frist ist um' from Der fliegende Holländer I get goose bumps. Bryn Terfel's singing gets my autonomic nervous system to do that. I'd like to believe the Met Orchestra applauded more out of respect for his precocious artistry than for his youthful effort.
Bryn Terfel's a big dude, NFL linebacker size if I can judge by seeing him on TV, with a voice big enough to take on the Met's orchestra and cover the spread. His voice is very large and resonant in the way only a live performance in a familiar acoustic venue could display, until this generation's high resolution recordings. We are lucky to have technology that can capture the power of Bryn Terfel without compression or other forms of adjusting such a voice to suit the average listener's sound system. The Decca engineers do an admirable job with both Renée's and Bryn's voices, the orchestra, and the balance among the three. The production values are outstanding.
The tunes selected are each among the red-letter moments of their shows, written and designed to show off the talents of the performers, to give them each room to do a "star-turn," whoever is singing. Though written by a range of composers, such as Andrew Lloyd Webber, Cole Porter, Rodgers & Hammerstein, Stephen Sondheim and Lucy Simon, these tunes have a common rhetoric of their own. They are designed to be "show-stoppers." Neither Bryn nor Renée disappoint. As a matter of fact, they come at the score full bore, as if to knock our socks off again and again, with performances that range through the emotions generated by the most gifted of song-writers and lyricists, many designed to be done just before the second act curtain.
The people who designed this album had to be en guard against creating a roller coaster of momentum. From the opening line, they take a wistful duet of protective nurturing, "Nothing's gonna harm you, not while I'm around," and follow it with a dreamy song of physical love, "Moonfall," by Renée. Then, from Bryn, two bitter songs of love gone wrong, "I Don't Remember You," and "Sometimes A Day Goes By;" followed by a husband and wife's farewell on going off to war, "All The Love I Have." If your eyes haven't moistened by then, there's more. In "I Wish I Could Forget You/ Loving You" Renée brings unrequited love to the recital, along with a hymn of selfless devotion to the loved one. Bryn answers with a tour of lust for vengeance, "Stars" from Les Mis. And, presto chango, we're off on a duet of soul-mates who have finally found each other in "All I Ask of You." Renée returns for a wistful remembrance of her long-ago love, "Hello, Young Lovers."
Bryn returns with a sly song of unrequited longing, "Pretty Women." And having established the longing, they offer longing fulfilled, "Aimer," by no less than Romeo and Juliet. With "All the Wasted Time," we have Renée as if a penitent Scarlet O'Hara who'd suddenly caught on that Rhett had really loved her all along. Not to put a too maudlin cast on the album, Bryn answers as Professor Harold Hill leading the ensemble through a high spirited reading of "Seventy Six Trombones." The two return as a duet again with "How Could I Ever Know," yet another account of a couple who has found each other only to be separated. Renée changes gears to become more the cabaret chanteuse for "So In Love," and Bryn accompanies her new persona with one of his own, as they sing of their newly discovered, if a bit kinky, love. Finally, as a couple with a child, they sing an optimistic on-the-road song, "On the Wheels of a Dream."
We have an embarrassment of riches. We have an emotional roller coaster ride. We have an album of songs, each so strong, so moving, we are as if at a banquet where each course must be just so carefully balanced that the meal avoids becoming overmuch. I think it is a testament to the accumulation of talent on this album that I would have such a reaction. This is one of the most powerful albums I've heard in a long time. It is so moving, so artistically well-done, so well sung, well played, and well-recorded that I have a hard time imagining it improved upon. It ought to be sampled gingerly.
But, this is an album of which my favorites can be so moving I would have to make sure I was in the right mood to hear them without being overwhelmed.
To be a little more balanced, this album can be a bit too much of a good thing if you're not in a receptive mood. I'd have enjoyed a little comic relief, say, the duet "So Sue Me" from Guys and Dolls, or a Stephen Sondheim patter song.
But what do I know?
Anyway, that is not the business of the musicians, but of the A&R men. This prompts another discussion: "Is the medium of recorded music getting too powerful?" We'll have to leave that for another time.
To Renée Fleming, Bryn Terfel, the Orchestra of Welsh National Opera, Paul Gemignani: Good Job! This is a very high powered album, and not for the faint of heart. But if you're still sitting on the fence after having read this, I'd say; "Go for it! No guts, no glory."
This time around we have three new albums to consider. I've tried to give you some
stuff to consider: Surround-sound Il'ya Murometz as a surprise compendium of late-Romantic music, an excellent solo harp recital that doubles as a test CD for surround-sound, and an album of killer show tunes, or "show-stoppers" by a pair of performers who are in and of themselves "show-stoppers."
Catch you next time.