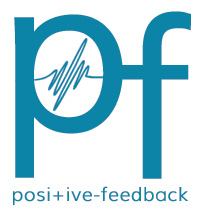 You are reading the older HTML site
Positive Feedback ISSUE 50
july/august 2010
Notes of an Amateur: Bach and William Schuman
by Bob Neill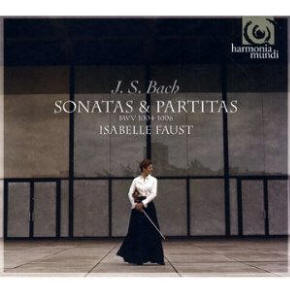 J.S. Bach, Sonatas and Partitas BWV 1004-1006. Isabelle Faust, violin. Harmonia Mundi HMC 902019.
What does it take to justify another new recording of Bach's solo violin Sonatas and Partitas? A performance that refines other approaches? An exciting and idiosyncratic new angle that will throw all of the others into question? Or simply the realization that this music has not yet given up all of its secrets.
I heard Jennifer Koh play BWV 1004 'live' two months ago in Amherst College's Buckley Recital Hall, the first time I'd heard this music in a long time, and was first surprised and then transported: I thought I had used this work up. I announced to myself and the person next to me, who agreed, that this was the most moving performance of the work I'd ever heard. I couldn't say why or what caused it to stand apart. Just that it made time stop and the world go away, the usual report we give about such experiences. A 'live' performance can do that sometimes - and there are lots of factors involved, not least that a musician is more likely to just let it go, transcend herself, in a performance that's just for an occasion, not being recorded for all time.
I sought out Isabelle Faust's new Bach release because Ms. Koh had put me back on the Bach Sonata and Partita hunt again, which is comparable to the Bach Cello Suites hunt and the Goldberg Variations hunt. I daringly sought to make the magic recur. I like what Faust has done with Bartok and more recently with Beethoven. I had no particular expectations for her Bach, but it wouldn't have mattered if I had. Because, in a distinctly different but equally compelling way, Faust's recorded performance matched the power of Koh's 'live' one, throwing aside any expectations I might have had. Where Koh had passion and forward momentum, Faust has an extraordinary combination of beauty and control. She is 'classical' in the best sense. If there is anything obvious going on in this recording that can be singled out, it may be the slightly slower tempos, which seem to give phrases, even individual notes, emotionally longer lives, time to take and hold us. Bach almost always benefits from deliberate rather than hurried or even uneven tempos. What this kind of approach sometimes gives away moment by moment in immediate expressiveness, it more than gains back in overall accumulated power. And the power is truly here. And so I captured the very thing we hope for in such hunts, the sense of having heard something again for the first time. Twice in two months.
There is no need to itemize Faust's individual performances of the three works here. Rather, I'll just urge you not to miss this release and to wait impatiently for its companion CD to complete the oeuvre.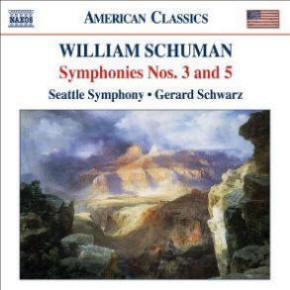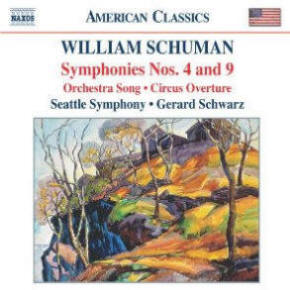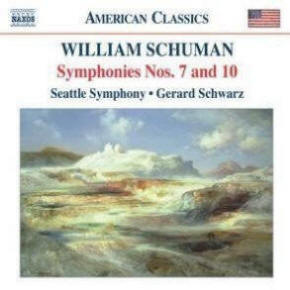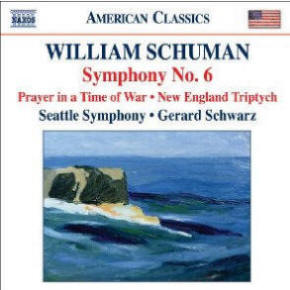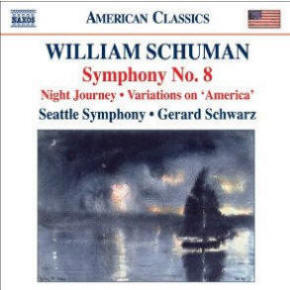 William Schuman, Symphonies and other Orchestral Works, Gerard Schwartz, Seattle Symphony. Naxos.
Just as many of the twentieth century pastoral English composers take a lot of grief from tough minded modern critics for getting the English dream right, their American romantic counterparts get slammed for getting the American dream comparably right. I have no idea what Aaron Copland, Roy Harris, and William Schuman sound like to Europeans. Probably something like what Frederick Delius, Ralph Vaughn Williams, and Gerald Finzi sound like to Americans. Meaning it is likely the case that you have to be an American to hear it the way we do. It plays to our national self-confidence and love of simplicity and innocence (in all senses of the word). Unless my personal irony machine is turned on, this music takes me home, home to a place that never was but surely is. Innocent sexuality that is not in the least puritanical; sentiment that is poignant and not sentimental; pathos which is not pathetic; martial and heroic fanfare that spills not a drop of blood; conflict without irony; simplicity that is not reductive; darkness that hides no evil; a rural landscape with no tics (!) All is ultimately well, which is essential to the dream.
To write music that captures this dream for an audience who know it is a dream but who can be moved by it nonetheless, a modern composer must be sure-footed. We are not less romantic than our ancestors but we have been taught to be more defensive about being so. Modern romanticism shares some of the affected sophistication of late adolescence. In modern American romantic music that is successful, the dream comes with chromaticism, dissonant shading, and cross rhythms.
The Naxos series of the symphonic music of William Schuman (1910-1992), five CD's so far, is a continuation of the Gerard Schwartz's landmark American symphonies project with his Seattle Symphony begun for the late Dorian label toward the end of the last century. All of these recordings of Schuman's work were done in the first decade of the twenty-first. Schwartz and his musicians have a way with modern American romantic music that is respectful rather than indulgent, which is much to their credit and our benefit. To overplay this music would kill it dead, which has been done.
Schuman's romanticism is tougher and less melodic than that of most of his peers, especially in the latter half of his symphonic output. Symphonies 6-10 come out in essentially the same place as the earlier works, but they make us work harder to get there. They must also be more fun to play. Symphony No. 6, for example, is sufficiently bold, brassy, and craggy that its initial audience (in 1948), whose expectations of romanticism grew out of Brahms, Tchaikovsky, and Richard Strauss, couldn't find the romanticism in it at all. And they hadn't even heard symphonies 7-10 yet. If they heard it now, with a half century more of modernism in the books, they'd likely have a different experience. Schuman's audiences much preferred his (most popular work) American Triptych (1956), which presents the composer's romanticism undefended. This work is included (perhaps with a smile) on the disc with Symphony No. 6.
World War II definitely pushed Schuman to the edge of innocence, and while his imagination couldn't take him over the edge, in Symphony No. 9 it definitely got him as far as anger. Symphony No. 10 ("American Music") takes the furious anger of No. 9 and first redirects it toward a more positive kind of fury, then diffuses it into a restless but quieter section which seems to be buying time for some kind of concluding resolution or musical statement. When it arrives in the last section, it is far from innocent and less than confident, but it is the least troubled music we've heard from him since Symphonies 4 and 5. The twentieth century finally seems to have taken its toll on Schuman's muse without showing him a new musical place to go. By the time we've reached this, his final symphony, it's hard to call it modern romanticism anymore. The last notes are full of bravado rather than true confidence.
All of Schuman's symphonic music is worth listening to, both for its own considerable musical appeal and for the story it dramatizes about why other composers found modernism necessary.
He was not unaware of modernist music around him—we can sometimes hear strong hints of Stavinsky-like neo-classicism wander into and out of a Schuman work. And of course Copland, the presiding spirit of modern American romanticism, is also present to be drawn on and resisted both.
I was not a fan of Naxos sonics in the earlier days of the label, especially on orchestral works. They're very fine on these albums. Success may have increased the recording budget, which is all to the good. Naxos' American Classics catalog is a rich source of music most of us would not otherwise have access to.
System used for the audition: Audio Note CDT3 transport and Dac 4.1 Balanced Signature. Blue Circle FtTH hybrid integrated amplifier. Jean Marie Reynaud Cantabile Supreme loudspeakers. With Blue Circle BC6000 line conditioner. Audio Note Pallas and AN/Vx interconnects; Audio Note Lexus speaker cables.
Bob Neill, in addition to being an occasional equipment and regular music reviewer for Positive- Feedback Online, is also proprietor of Amherst Audio in Amherst, Massachusetts, which sells equipment from Audio Note, Blue Circle, and JM Reynaud, among others.