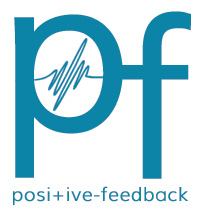 You are reading the older HTML site
Positive Feedback ISSUE 50
july/august 2010
Building a Compact Digital Music Server Based on an iMac and an Apogee Duet: The Swiss Army Knife Approach to Digital Audio
by Andy Schaub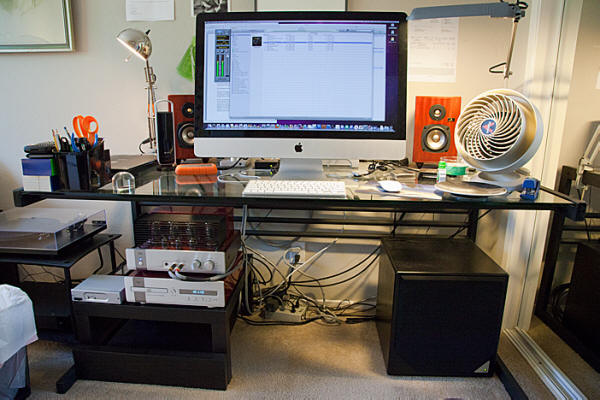 Through serendipity and/or synchronicity—depending on how tightly you hold onto your paperback copy of The Portable Jung—I managed to put together a really lovely sounding digital music that doesn't require very much in terms of hardware and software, isn't insanely expensive and—depending on which iMac you use and how you equip it—can actually be used to read email, browse the web and processes images in Photoshop and/or Aperture with no degradation in sound. My personal version of this system consists of the following:
(1) A 27" Quad Core iMac with the i7 processor, 16GB of RAM, a 2TB hard drive and a 4TB G-Technology RAID 0 drive to use for Time Machine backups of the internal hard drive as well as a 7 port NitroAV FireWire 800 powered hub, the only device that does what it does though some have grumbled of speed; to me, it's better and faster than FireWire daisy chaining and the only competing device only converts 1 port to 2 ports:
http://www.networktechinc.com/hub-1394.html
instead of to 7 ports:
http://www.nitroav.com/product/113/
If you only need two ports, the NTI might be better and faster; for me, the NitroAV was a dream compared to daisy chaining.
(2) An Apogee Duet FireWire 400 ADC/DAC used here exclusively as a DAC.
(3) The Locus Design Herald FireWire 400 cable with an adapter—if you need it—to connect to a FireWire 800 port. I will tell you now that in choosing peripherals, you need to think of the Apogee Duet as costing $5000 rather than $500, even though it does only cost $500.00.
(4) The Locus Design custom-built Vision "breakout cable" for the Duet. The Duet comes with its own "breakout cable", and it's well constructed, but there are 6 wires coming off of it and even then the two yet need will require an adapter to fit an RCA interconnect, whereas the Locus has two of their very remarkable Vision cables with locking carbon fiber RCA connectors on one end and the infamous "breakout connector" on the other, to suit the Duet. The difference in sound is extraordinary and there's no point in doing it if you don't make arrangements with Locus Design to build that cable, but it will be line out only!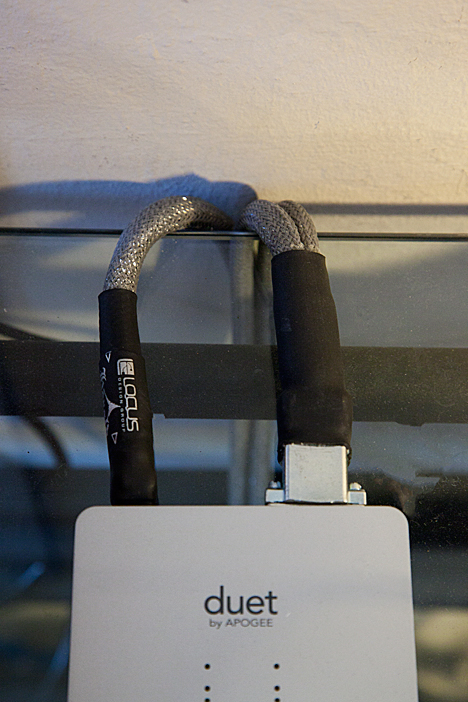 (5) Amarra 2.0, which has dropped in price to $695. Don't get Amarra MINI or Amarra Junior, get the full blown version of Amarra 2.0 with the iLok dongle and just have that stick out of the back of your iMac.
Apart from a stereo system itself, that's really all you need (although I should technically mention iTunes, but that comes with the operating system).
I think I can safely say that, even though I'm using an Audio Note AN-Vx interconnect between my Triode Audio Corporation TRI TRV-CD4 SE tube front loading CD player and TRI TRV-88SE KT88 tube 45w push-pull class AB integrated amp, in many ways, the same CDs—imported using error correction and Apple Lossless Compression—sound better using the music server than the CD player. If I took my 17 foot Vision interconnect and used it to couple the CD player and integrated amp, would that tip the equation in favor of the CD player? Good question. I may try it. I just know that digital music server sounds lush and musical and the thing that really brought it together was the full version of Amarra, and with my particular iMac, I can play music through iTunes and Amarra while I'm working on multiple 21.1MP Camera Raw files in Photoshop CS5 with no degradation in sound quality at all.
So what does this suggest? Well what it suggests to me that if you wanted to invest in a 21.5" iMac with 8GB of RAM and a 1TB hard drive as well as the Apogee Duet, Locus Design Herald FireWire cable, custom built Vision-level "breakout cable" and the full version of Amarra plus any hubs you might need (or not), you could actually have a very good digital music server for much less than the cost of my RAID 1 based system about which there is so much more to discuss.
So, apart from listing a nice array equipment that—depending on your personal circumstances and aesthetics—isn't necessarily TOO pricey, what makes this "compact digital music server" interesting? Well, it's kind of how it all fell together out of what were—in relationship to each other at the time—spare parts.
First, I ordered the 27" Quad Core iMac with 8GB of RAM (later upgrade to 16GB) and a 2TB internal drive because I wanted the closest thing I could get to a Mac Pro without actually having to have a separate tower and monitor; the only limitation was the paltry single FireWire 800 port, but the NitroAV hub fixed that. I already happened to have the Duet because I had been having trouble finding an affordable USB 2.0 based DAC and it was before I discovered the Ray Samuels Predator and the custom-made ALO Audio mini-B USB cable (the predecessor to the better sounding and more professionally-constructed Locus Design Polestar mini-B USB cable). I was using the full version of Amarra in the main digital music server at the time and, quite honestly, it hadn't occurred to me that getting an audiophile-quality FireWire cable and a custom made, high-quality, line out-only "breakout cable" would make that much of a difference because the Duet was already pretty good; but Lee "The Wizard" Weiland at Locus Design suggested that he send me his Herald FireWire 400 cable (I already had some pretty cool looking FireWire 400 to 800 adapters from Amazon: http://tinyurl.com/2cuzsrt) and make a line out-only "breakout cable" with the breakout connector on one end, his rather remarkable Vision interconnect cable in between and some locking, carbon fiber RCA connectors on the other end to go straight into my integrated amp. I figured sure; some time passed and then the Herald arrived alone.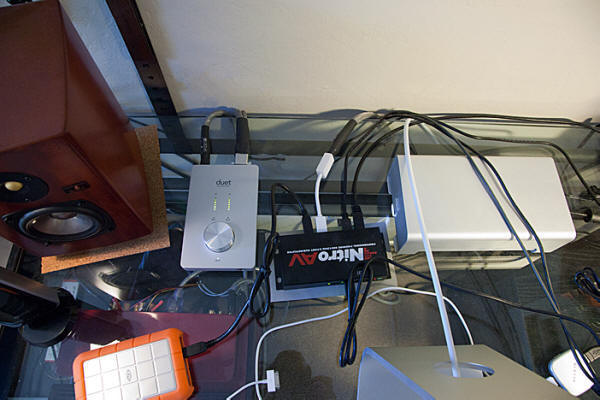 Well, I also had the Duet coupling my iMac and office stereo system and I was already using a machine-locked version of Amarra MINI and I was using Apogee's own breakout cable with six wires and a set of adapters to feed my integrated amp through an Audio Note AN-Vx silver interconnect cable, so I found the flexible white FireWire 400 to 800 adapter in my Ikea wicker cable basket and removed Apogee's own pretty but quite thin FireWire 800 to 400 cable from the system and inserted the Herald with the adapter and it really started to sound a lot better. There was a slight roughness around the edges and the midrange might have been a little forward—for whatever reason—but I liked it. I could tell things were going in the right direction. So I continued to listen to music and wait for the Vision line out breakout cable which was being held up by a lack of parts, a minor and temporary setback.
Some more time passes. Then, huzzah, the Vision line out breakout cable arrived; so I plugged the breakout connector in and tightened the set screws using a "screwdriver toolkit" my Dad had in which it really had every type and size of screwdriver ever invented going back to Medieval times. Then I plugged the Vision carbon fiber locking RCA's in to where the AN-Vx Eichmann Silver Bullet plugs had been and started up Amarra MINI and iTunes playing my reference albums, and it was just SO much better than I could have imagined; and that's when I started thinking of the Duet as having an extra 0 in the price (i.e., $5000, not its actual price of $500).
Now you might ask why did I have any reason to take things farther? Well, I didn't and had no plans to; but a funny thing happened. Nick and Lee "non-Weiland" had been over for a listen to—I believe—the "beta" version of the digital music server in the main system, and we had discovered that with my particular arrangement of components (more to come in future articles), it actually sounded better without Amarra 1.2, the "full" version of Amarra that cost $1K at the time. It was bizarre but things like happen; so, in an effort to hope that I hadn't lost a grand, I plugged the iLok dongle into the back of my 27" Quad Core iMac and after grumbling a little at Sonic Studio got a download link to Amarra 1.2.1 and installed it and started playing one of my favorite test albums, Jerry Garcia and David Grisman's "Shady Grove"—and all of a sudden it all came together. There was cohesiveness to the music that I have never experienced from the Duet before and it was definitely HIGH END. And I am pleased to say that—while listening to my new Audio Note DAC 4.1X being driven by my CEC TL-0 through a an Audio Note Pallas digital interconnect and into the amp through Audio Note Sogon analog interconnects, so my ears were in the right place—I went in and compared Amarra 1.2.1 to Amarra 2.0.1, the new version which has also dropped to $695 but as a recent owner I got for free—had the same cohesiveness but it also had added clarity; so it was that much more high-end; and all on a computer that I can use to process '15' 21.1MP Camera Raw files while playing music with no bogging down. Life just can't get very much better, now can it?
So why did I subtitle this, "The Swiss Army Knife Approach to Digital Audio"? Because, as it comes from the manufacturer, the Apogee Duet with the 6 wire breakout cable and phone plug to RCA adapters does a lot of amazing things and IS both an ADC and a DAC; however, when you let Locus Design build a line out only version of the "breakout cable" using their highest quality Vision analog interconnects with locking carbon fiber RCA connectors, they are effectively taking a Swiss Army Knife—which is a perfectly serviceable instrument—and removing the magnifying glass, the scissors, the tweezers, Etc. and installing just one very sharp blade that is made to surgical standards. Dr. McDreamy on "Grey's Anatomy" could use it for brain surgery. So that's what you get when you think of the Duet as costing $5K instead of $500 and let it be a line out only DAC, adding in the other cable (the Herald FireWire 400) and accoutrements (such as Amarra 2.0.1 not to mention a really decent subwoofer—I have an Essex SW2—to render all that bass you're suddenly going to get, not that anything will be lacking from the highs nor that there will be a penalty for listening to it, like any brightness or harshness associated with the first several generations of standalone CD players). Given all this, I should probably provide you with some links about where to get this equipment:
Apple iMacs
http://tinyurl.com/ybhw7xg
Apogee Duet
http://www.apogeedigital.com/products/duet.php
Locus Design Cables
http://www.locus-design.com/
Amarra
http://www.sonicstudio.com/amarra/faq.html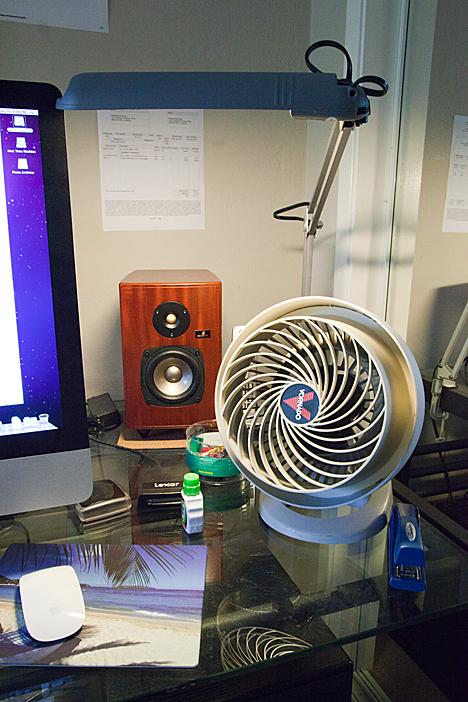 I am sitting at my desk now finalizing this review listening to "Trinity Revisited"—a must have—by Cowboy Junkies going through my "turbocharged" Apogee Duet with Amarra and my KT88-based push-pull Tri amp with a pair of slightly modified Micro Pure CZ310ES Mini Speakers and an Essex SW2 12" subwoofer and really, if this was the ONLY source of music I had, I would be very happy. I'm just lucky that I have "big" system—for lack of a better word—sitting in the other room. And I just got a new, quieter, more efficient, brushed nickel fan at Restoration Hardware for ½ price—because my apartment bakes—and moved the Vornado turbo fan stabilized from rattling with my favorite audio accessory, a small strip of neatly cut Blu-Tack, to blow air on my face, and Margo and I are both as cool as cucumbers; and, yes, I have, "seen a Robin weep", and it was a sad site indeed; but it had nothing to do with my delight at having constructed, with the help of Lee Weiland at Locus Design and through serendipity, a compact digital music server that also functions as a Mac Pro substitute!
Kindest regards,
Andy