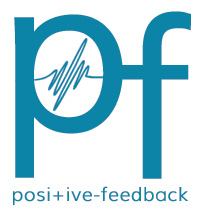 You are reading the older HTML site
Positive Feedback ISSUE 50
july/august 2010
Classical Gems from BIS, RR, CSO, Naxos, Oehms, PentaTone, Telarc, and Tudor plus a HeadsUp jazz
by Karl Lozier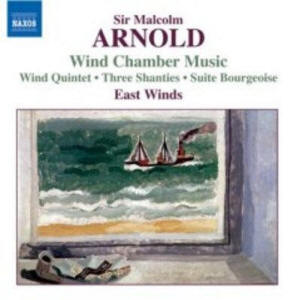 Malcolm Arnold, Wind Chamber Music. Musical Group: East Winds (plus guest players). Naxos CD 8.570294
This particularly enjoyable and most highly recommended recording offers simply excellent sound quality with a regular CD recording. Though certainly not the equal of good SACD releases, I have found this to be true of many of the latest recordings as manufacturers are trying to do ever better to satisfy demand for ever better sound quality. Beyond that, on a personal basis, my purchase of the latest VSE upgrades, including Uber and Terra-Firma clocks, for both my Sony SCD-1 and SCD-5400 ES players now being used regularly with Keith Herron's latest amplifiers and particularly the new tubed model PSA 3-A preamplifier are responsible for a significant improvement in overall audio quality. They have seemingly removed the last vestiges of 'digitis' or harsh edgy distortions from many CDs as with this one of Arnold's music. I certainly hope that impression continues with coming releases.
Here is another side to the famous composer of large scale symphonic works and the great orchestrator of his many film scores. His best known score was the Oscar Award winning The Bridge on the River Kwai. This CD has thirty tracks of some of the most attractive, unique and entertaining music that I have heard in quite a long time. The quintet, East Winds, with piano added on this release is composed of flute, oboe, clarinet, horn and bassoon. Guest wind players added for the octets are a second oboe, clarinet, horn and bassoon. The scoring for unusual combinations of players at times adds a bit of extra uniqueness and ultimately more enjoyment. An added benefit is that if you have a few quests over to listen with you, there is plenty of room for all the musicians; different than when the hundred plus musicians of the London Symphony Orchestra are belting out forte passages; that seems a bit crowded in many listening rooms. My absolutely top recommendation is hereby given to this outstanding release; simply buy it and enjoy, enjoy and enjoy. The excellent audio quality is as good as it gets without SACD and for the featured instruments, perhaps sounds more nearly real or natural than those with Britten's Guide to the Orchestra.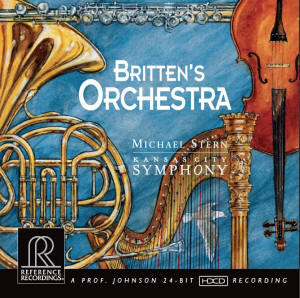 Benjamin Britten's Orchestra, The Young Person's Guide to the Orchestra. Sinfonia da requiem. Peter Grimes: Four Sea Interludes + Passacaglia. Orchestra: Kansas City Symphony. Conductor: Michael Stern. Reference Recordings Hybrid Multi-channel SACD RR-120 SACD
As I said when I reviewed "this same music" in PFO Issue No. 48 a few months ago that every classical music lover should have music by Benjamin Britten or be introduced to it. This wide-ranging group serves as a reasonable introduction though not his most famous or very best compositions. Actually these fine compositions are from his early years that spectacularly launched his long composing career.
I am inserting two unrelated comments at this point. First, though it has been alluded almost to the opposite, the recorded facts indicate that his outstanding (really a symphony) early composition, Sinfonia da requiem was rejected ultimately (political stuff). The other questioning comment I have is as follows. Note the attractive interior of the recording venue, (picture on back cover) a variation on a large "theater in the round". How do think the surround channels should place you as if you were seated there or where?
The reason for this seemingly duplication is, as you may have noticed, it is presented in the high definition and multichannel SACD hybrid form. It is playable on any CD or SACD player. There is some background information that should be included here. More than thirty year ago Harry Pearson founded The Absolute Sound magazine. Among his small early group of reviewers was John Coolidge an old friend and pediatrician from Atlanta. Eventually Dr. Coolidge left reviewing and to this day his bass vocalist role is heard with the Atlanta Symphony's Chorus. David Wilson started developing loudspeakers and after leaving has become quite famous for his top models and a few earlier recordings.
Pat Donellycott left and in recent years has been rumored to be with APC products developing outstanding power conditioners (I am currently using three of them); I have not been able to corroborate that. Those early reviewers also included J. Tamblyn Henderson, Jr., known as Tam Hendrson and now quite famous for founding Reference Recordings and helping the development of RR's early promotion of HDCD. Harry Pearson asked me to write a few "Guest Reviews" starting with issue No. 2. That I did and left soon after, still stuck with writing about things rather developing ideas as did the others. Some years ago talking to Tam by phone I asked him why he was not bringing out SACD releases. His answer basically revolved around his continued belief that the HDCD process developed by, I believe, Pacific Microsonics was inherently better in some respects than SACD though it could not offer surround sound channels. It is true that in some measurable respects is not as good as it should be, not always superior to other recorded procedures. Few people really know really knew or know how good HDCD can sound as few had players or receivers that had the additional costly HDCD playback chip. Tam was correct, that, I can vouch for. I had players that had the needed chip; however by that time SACD was relatively firmly established and that was that.
At this place in time, this new release of Britten's Orchestra is a superbly done SACD featuring multichannel high resolution audio quality for players so equipped. The improvement in audio quality is readily apparent as more realistic, fuller and richer overall. The sense of airy three dimensionality is almost palpable; the overall quality is significant and will be desired by all serious music lovers. This is true even in the two channel stereo SACD layer. Brief listening sessions in my surround sound/ home theater room in multi-channel (7.2 mode) seemed to favor the overall audio quality from the highly upgrade Sony SCD-XA5400 with Terra-Firma Lite clock over that of the equally VSE upgraded Oppo BDP-83 SE also including the same now well known clock. HDMI outputs were used with both players for those relatively brief sessions using 7 channel output plus left and right subwoofers by Nola.
The extensive two channel listening sessions all were done with VSE's ultimate upgrade packages as installed by Bill Thalmann of Music Technology, including their Uber Clock on my Sony SCD-1 player. I must give this new SACD release by Reference Recordings my absolutely top recommendation and suggest that music lovers that have the regular non-SACD version that this release must be heard. Of course it requires the use of a truly good quality SACD player to give the ultimate listening pleasure and that is why you read PFO reviews to know what to use with outstanding recordings.
"Waiting in the wings" revealed by Reference Recordings new sampler disc, a DVD-R data disc referred to as very high resolution HRx recordings of WAV files, is the next thing to tempt audiophiles. Playable now, most music lovers will be waiting for many things to happen first including lower prices for the recordings and nearly all will need to also purchase some new equipment depending on which direction is chosen to be able to listen. If it can catch on, Reference Recordings is certainly not going to be lagging behind other companies as happened with SACD. Advanced computer users may lead the way with this technology. Who is willing to bet on what will be the norm or the latest thing in listening pleasure in just the next two years? As readers of PFO we realize we are in a sinking minority that cares about higher quality and not convenience and wider choices at lower prices. What company is going to bet on us for its future? Keep tuned for future updates.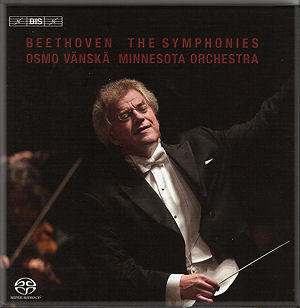 Beethoven, Symphony No. 2, Symphony No. 7. Orchestra: Minnesota. Conductor: Osmo Vanska. BIS hybrid SACD- 1825/26 Disc 2
Continuing Vanska's complete set (5 discs) of Beethoven's deservedly famous nine symphonies, here are the early Symphony No. 2 and the much later and particularly famous No. 7. With its well known melodic and strong rhythmic drive, the famous composer Richard Wagner called Beethoven's Symphony No. 7, "the apotheosis of the dance and supposedly it has been done by some ballet corps.
Conductor Vanska definitely lets some passages in this particularly fine version of the second symphony to reveal some strong hints of the seventh symphony. As a result, I believe this version of Beethoven's second symphony is as good as any I can remember; definitely a strong recommendation for it in every respect. The seventh symphony differs from some other versions though not in major but in relatively subtle ways. Part of that difference is the smaller size of the Minnesota Orchestra compared to others such as the relatively recent release of the London Symphony Orchestra's Beethoven cycle and a differing recording perspective. Raising the volume/gain control on your preamplifier or AV receiver by about two decibels will counter much of that difference. If that is not done the end result is that this fine performance would sound just a bit closer to the sound when first played almost two hundred years ago. This symphony was accepted immediately for its greatness by audiences everywhere unlike with some of his earlier works that had a startling effect at times. The music world by this time realized that Ludwig Beethoven was the greatest composer in the world. The beauty and melodic power of this composition should appeal to all. The orchestral playing is solidly sound and in harmony with conductor Vanska's vision as far as I can tell. My slight reservations are to realize that the apparent orchestral size is a bit smaller than often used nowadays and the generally fine (no digital harshness) audio quality is a step away from the best SACD quality available at this time. Easily recommended though newcomers might best be served by purchasing a large Beethoven set containing his symphonies with concertos included. It is tough to stop purchasing samples of the great music created by this musical genius.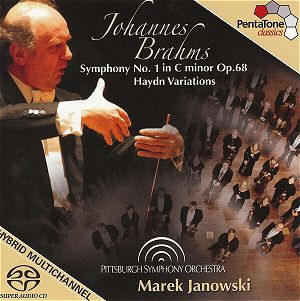 Johannes Brahms, Symphony No. 4. Hungarian Dances for Orchestra. Orchestra: Pittsburg Symphony. Conductor: Marek Janowski. PentaTone SACD Hybrid Multichannel PTC 5186 309
Brahms fourth symphony is his ultimate foray into the symphonic world. As with Beethoven and his ultimate ninth symphony, here Brahms' very different last symphony may have been written for knowledgeable music lovers. There are so many appealing rhythmic and tonal variations that pop up all through this outstanding composition to appeal to casual listeners as well as serious music lovers.
This recording is not to missed. Again the Pittsburg Symphony demonstrates why it can be ranked with almost any in the world. This is helped immensely by the superb PentaTone SACD recording. Beautiful melodic touches abound here, abundant fine details and captured naturally by the recording engineers.
As a music lover I must pause and give a great deal of credit to two other music lovers, Keith Herron and Allen Wright. In my long time quest for a superb music system at an almost affordable price they have filled in the final pieces. Herron has done it with his new superbly musical tubed preamplifier and solid state power amplifiers releases and Allen Wright (known for fine tubed gear) with his recent VSE solid state upgrades to SACD players. His favorite players to upgrade (not merely modify) are some of the earliest Sony SACD players, particularly the heavy weight top-loader models (nobody builds them like that anymore) and the recent Sony model SCD-XA5400. His top upgrades are audibly competitive with new models in the five figure range at a substantial saving. I know, I own three of them. On this SACD recording the result is great musical enjoyment. The sprightly propulsive third movement precedes the vigorous and powerful final movement with attractive details abounding. Listen carefully, there is much to enjoy with seemingly small details in all four movements superbly captured here.
For colorful melodic enjoyment it is difficult to better the added Hungarian Dances. The superb recording here captures some powerful, deep and palpable drum strokes. Sharp-eyed listeners may notice that only three of these folk music dances were orchestrated by Brahms; the remainder by Dvorak! The immensely popular piano duets of his Hungarian Dances led his publisher to repeatedly request orchestral versions. Tiring of this, Brahms eventually responded to his publisher, "I wrote them for piano duet; had I wanted to write them for orchestra I would have written them differently!" Brahms did relent a bit and eventually orchestrated numbers one, three and ten. Dvorak did the others and here they are in outstanding audio quality for our musical enjoyment. Once again SACD listeners are treated even better whether in regular two channel stereo or multichannel. My written evaluations here are based on two channel SACD, not multichannel. Recent audio releases seem to be getting better and better and so has my audio components and my enjoyment is even greater than ever. As you would guess, this excellent release deserves my top recommendation as have other recent PentaTone SACDs!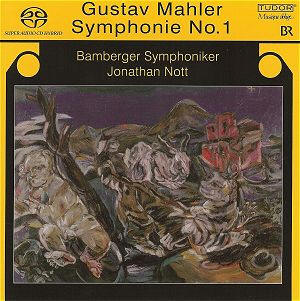 Gustav Mahler, Symphony No. 1. Orchestra: Bamberg Symphony. Conductor: Jonathan Nott. TUDOR Multichannel hybrid SACD 7147
Here we go again; another simply outstanding recording and production on the Tudor label in sublimely beautiful SACD sound quality. Again this release features Jonathan Nott conducting the Bamberg Symphony Orchestra; as usual they perform as if of one mind. Mahler took fourteen years from starting to write this symphony until final changes were again made after preliminary concerts. Yes, Mahler was a stickler for details as a composer and as a well known conductor. A pet idea of mine has been how many good, really good first symphonies have ever been written and of course performed? The number totals around five in my estimation. Three are easy to identify; by Brahms, Sibelius and Mahler. Nott and the Bamberg Symphony handle the first three rather lyrical and melodic movements to almost perfection. This superb recorded SACD audio quality is not to be faulted. I do not know where to shower the most praise, so I shall just say that the brass and wind sections were particularly notable.
So far all listening sessions were done with the two channel SACD layer and using the VSE upgrades to the Sony SCD-1 and SCDXA-5400 SACD players with Herron's preamplifier and power amplifiers. If you hear any hint of congestion, harshness, edginess or lack of clean detail, you have a problem with audio system! The last movement almost qualifies as an audio/musical demonstration selection. As you might guess, this release easily earns my highest possible recommendation and may be a candidate for best recording of the year!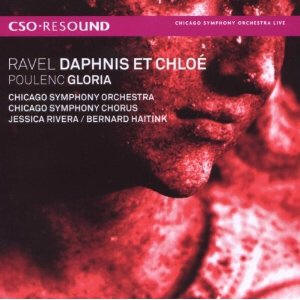 Ravel, Daphnis and Chloe. Poulenc. Gloria. Orchestra: Chicago Symphony. Conductor: Bernard Haitink. Chorus: Chicago Symphony. CSO Hybrid SACD CSOR 901 908
What a nice, very nice surprise! I was not familiar with Poulenc's Gloria. Though it certainly qualifies as a sacred composition you would not guess that from listening to much of it. It is melodic, musical, surprising and simply entertaining for the most part-really. Try it and you may get hooked on it as I did.
It is so unusual for the most part that I do not feel that I can come close to accurately describing it. Soprano Jessica Rivera's lovely voice is featured with a few solos adding even more interest. Nothing to compare to in my experience, so I will simply say that the conductor and orchestra handle the unusual score excellently.
Ravel's well known and very popular Daphnis et Chloe here treats us with as good a performance as I have heard in quite a long time. The orchestral playing and recorded sound quality are close to as good as it gets. Choral music lovers are in for a real treat and love the chorus' performance that is slightly high-lighted with a great sense of presence. This is classical music making at its best and the SACD audio quality is rich and fully detailed and is as good as SACD sound usually can get. Obviously a top recommendation is easily earned here. The overall soundscape, depth and airy atmosphere subtly add a dose of realistic reproduction. Another top recommendation is added here and we hope many more are in the works.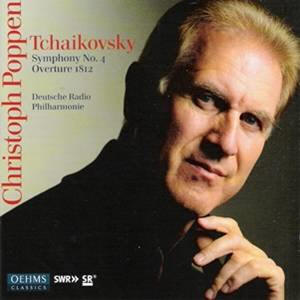 Tchaikovsky, Symphony No. 1. Capriccio Italien. Orchestra: German Radio Philharmonic. Conductor: Christoph Popper. Oehms CD OC 760
Without going into any of the unusual details, it took Tchaikovsky twenty two years from start to finish completing this his first symphony. The subtitle "Winter Dreams" might paint a mental picture to help explain the music's title. A relaxed or possibly a pastoral image might be created, though if it were titled "Spring or Summer Daydreams" a very different mental image would present itself. So keep the winter part of "Winter Dreams" firmly in mind while listening to this music. The melodies are a bit subtle and tend to be a bit drawn out or longer than is often the case, all of which goes with the winter setting I assume.
The Capriccio Italien is absolutely at the top in my long time list of favorite show-piece compositions along with Rimsky's Capriccio Espagnol. For me and others that I found over the years that dearly love the Capriccio Italien, the ultimate reading (conducting) and recording was performed by a conductor's recorded debut. I have only seen one written review in all this other than my own of that release. That unheralded conductor is Kenneth Alwyn, leading the LSO with the addition of the Band of Grenadier Guards. That addition was put to good use with the 1812 overture included on English Decca SPA 108 along with a superb performance of Marche Slave. It was also released numerous times many years ago under various Decca owned labels and for awhile in the USA as London STS 15221 and eventually in CD guise, LON CSCD6038. This is/was the best performance of these three Tchaikovsky showpieces for orchestra plus the sound quality was outstanding for its time and in many respects to this day.
Here Poppen's performance with the German Radio Philharmonic (Now a combined group of two previous separate German Radio Symphonies) goes a long way toward equaling that long time favorite Alwyn recording. A slight negative is the muffled quality of the first group of cymbal clashes. The problem is corrected with all the remaining cymbal efforts. All in all, quite an excellent performance of the beautiful and festive Capriccio Italien. The slighted, by me, first symphony by Tchaikovsky is a very pleasing and entertaining light classical music for the first three movements. The more serious though appropriate last movement finishes the composition quite well and logically in my opinion.
I think the conducting and orchestral playing are not to be faulted and I was very impressed by the fine and sweet tone of the entire string section. If these works interest you, I can think of no reason to look further than this definitely recommended recording. Hey guys, how about doing the same for "The Little Russian," symphony No. 2 sometime soon…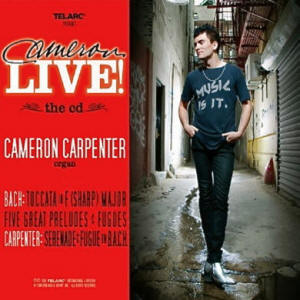 Cameron Live! The CD+. Cameron Live ! The DVD. Cameron Carpenter. Organ. Bach, Schubert, Liszt, Shostakovich. Widor, Sousa, Vierne, Carpenter. Telarc CD 31980-00. Telarc DVD 31980-00
This unique pair of recordings is a "Must Have" for anyone interested in organ music or playing or listening or learning. The DVD features video, much music and a great deal in the way of commentary by Cameron Carpenter. It and the enclosed booklet are informative in the extreme.
There is too much to attempt to even briefly cover it all; I was almost shocked at the amount of included information. The performances are fine and the recorded audio quality is excellent and very full range.
Getting some ice out of the freezer door during a listening session, a couple of pedal note passages had the heavy door vibrating almost forty feet away. This was the first serious reviewing session with VSE's upgraded Oppo BDP-83SE including a Terra-Firma Lite clock. The performance went well beyond my expectations. Briefly; buy this release if you have even a slight interest in organs and what they can do. The CD is all music by Bach. The DVD has a very wide range of selections and explanations by Carpenter. I shall end this review with the following quote from the liner notes:
Encompassing the organ in all its iterations-virtual, pipe, classical and popular-Cameron's is a unique voice. He is renowned not only for his playing of the great organ works, but also for his compositions which-in their emphasis on color, secularity, performative freedom and the constant pursuit of greater technique-follow in the footsteps of Percy Grainger, Sigfrid Karg-Elert, Leopold Godowsky, and others.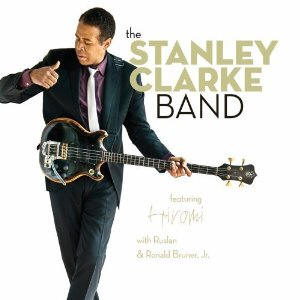 Stanley Clarke Band, Hiromi, Ruslan & Ronald Bruner, Jr.. Plus Guest Artists. HEADS UP HUCD 3161
This recent release can almost be considered an extension of a previous favorite release of mine titled "The Stanley Clarke Trio". It also is expanding on the Trio release in many ways including the addition of guest artists and some more variations and deeper exploration of musical depths.
The mix is similar and going from straight ahead acoustic jazz to a form of jazz fusion and now this recording even has hints of big band jazz or swing. The recording is big and kind of in your face, but sure is powerful and clean. Do remember that Clarke is really an outstanding musician and one of the few ever to really be good on both electric and acoustic bass. Know any other bass player to have invented a couple of new instruments as with his piccolo bass and the tenor bass that extends the melodic range? Again Hiromi demonstrates her ability to play beautifully and subtly with the acoustic piano. Enjoy the outstanding bassist Stanley Clarke again on this new release.