After extensive listening to this $24,500 tour de force Musical Life LP setup, I am reminded of the famous phase uttered by Clint Eastwood in Firefox, the famous 1982 supersonic jet espionage film. "What a machine!" This German made, mass loaded turntable, adorned with magnetically suspended steel and wood tone arm plus extraordinary lapis decorated ZYX Omega-X cartridge, is perfectly aimed at the perfectionist LP playing fanatic and connoisseur like me. It hit me right between the eyes, or shall I say ears, and it shouts winner in at least three languages. What a machine, indeed!
Musical Life Symphony MK. III Turntable [$9500] weighs in at 55 kilograms or about 120 pounds. It's a mass loaded design with an elegant "shale" carved 50 pound plinth that sits on three supplied adjustable robust tiptoes for basic leveling. Place it on any solid, steady shelf. The shale plinth acts as both base to the platter/arm/motor and as massive vibration absorber. It is simple and splendid all at the same time. The 100 mm tall platter is machined from a composite rock-like material and is also nearly 50 pounds. It rides on a vertical rod with flawless frictionless accuracy.
The elegant motor sits on a steel riser off to the left and connects to the platter with a minimalist tiny round belt. The arm sits on the right on its own steel riser. There is no chrome, glass, Plexiglas, sorbothane, plastic, or the like used here as in other more ostentatious designs usually found in this price range. How refreshing. The two speed controller box sits to the right or left of the turntable and is fine tunable to perfect speeds. You must use an external speed checker to initially tweak the speeds. The Symphony is the epitome of form follows function.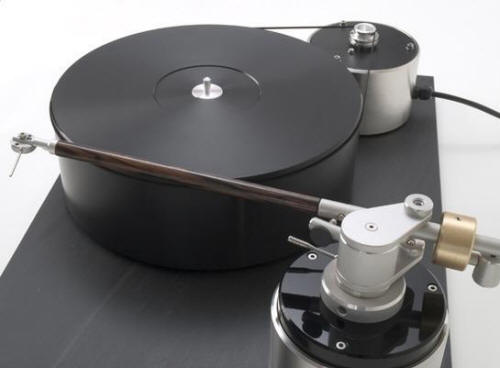 The Musical Life Vocalitas 12" Makassar Ebony Tone Arm [$8500] is mind blowing. Suspended in a magnetic field and steadied by magnetism and what looks like the head of a tiny ball bearing in an indention at the top of the wand, you have to see it to believe it. More finished looking and sophisticated than its other wood competitors, it's the real deal. Sporting magnetic anti-skate, it even allows for smoothly changing VTA while playing an LP without missing a note or slurring a phrase. I have seen many wood arms as well as wood and steel arms, but this Ebony beauty is the very best yet developed. I can find nothing to criticize in the way it plays LPs. The tone arm cable extends from the cartridge to the preamp and is elegantly terminated in silver bullet plugs. Very nice. Though a bit shaky when handling, it settles down nicely when the cueing is dropped.
Vocalitas Info and Specifications:
Unipivot magnetic bearing tonearm

Magnetic antiskating

Wood armtubes available in Ebony, Cocobolo, and Makassar Ebony

Different lengths 9 ", 10 ", 12 "

Effective mass 15-35 grams

Cryo Fine Silver pick-up arm wire with Bullet Plugs or balanced connectors
The ZYX Omega-X Moving Coil Cartridge [$6500] is my third ZYX to test. The Omega has a copper plate on top and a blue sculpted ball of lapis on its nose for stability. A well constructed moving coil design from Japan, it is double cryo'd and hand selected. At $6500 it should be! Best into 125 ohms, the low output cartridge tracks flawlessly at 2 grams. Setup is easy and VTA is best at just a degree or two down in the back from level.
ZYX Info and Specifications:
In Addition to ZYX 4D feature, Omega incorporates 18K Solid Gold Terminals and Sapphire Terminal Board to eliminate audio coloration and extra vibration.

Lapis Balancing weight (1g weight, 8mm Diameter) is attached to cartridge top tip to coincide with the sweet spot of cartridge body and point of gravity of the stylus vibration system.

Material nature of Lapis Lazuli eliminates vibrating wave running from the north pole to the south pole on the surface of the cartridge.
Technical Data:
Type: Moving Coil (Dynamic) "REAL STEREO GENERATOR SYSTEM"

Cryogenic Treatment: Temperature -196"C (-320'F)

Output Voltage: 0.24mv (o.48mv) (3.54cm/sec, 1kHz)

Frequency Response: 10 Hz - 100kH

Channel Separation: >30dB (1kHz)

Channel Balance: < o.5dB (1kHz)

Tracking recommended: 2.0gm (20'C - 25'C)

Tracking Force Range: 1.7gm - 2.5gm

Trackability: >80 M/2.0gm

Compliance Horizontal: 15 x 10cm.dyne

Vertical: 12 x 10 cm/dyne

Internal Impedance: 4ohm

Load Impedance: 100 ohm

Coil Wire X type: 6N Crystal Copper 0.035mm/cryo

Cantilever Material: Boron Solid 0.30mm

Stylus: Micro-Ridge solid Diamond 0.07mm

Output Terminal: 1.25mm 18K Solid Gold

Terminal Board: Pure Sapphire Plate

Net Weight: 7.8gm
One advantage of a built in tone arm cable like the one included with the Vocalitas arm is no testing or matching is necessary. The superb cable included here is a beauty and a joy to use. A ground wire is attached to the cables terminated in a small spade. The 12 inch arm is the longest I have ever tested and was a dream to use.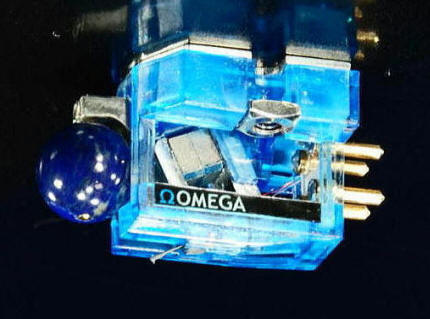 My reference turntable remained next to the Musical Life setup and included the Grado Statement1 and London Reference phono cartridges for comparison [of course on different arms.] The phono stage used for testing is the stellar E.A.R. 324 Solid State unit featuring simultaneous hookup to two tonearms, a huge selection of values to choose from, plus balanced connection to my preamp for minimal loss and low noise. I utilized the superb top of the line Kubala-Sosna Elation Balanced Interconnects to span the 5 meters to my E.A.R. 912 preamp as well as Elation and Emotion Power Cords. This was high cotton indeed!
Performance
The Musical Life + ZYX Omega did not disappoint! Once dialed in, record after record sprang to life. Adjectives like sophisticated, even natured, fast, snappy, solid, extraordinarily detailed, and intensely entertaining are quite appropriate and accurate in describing overall performance of the Musical Life package. This mass loaded turntable was deathly quiet and supremely solid sounding. The arm behaved without a hint of trouble. The ZYX Omega-X outperformed any previous ZYX I have ever experienced or used and is surely the equal of the best moving coils for sale today. If one made a list of the top ten MCs, this new lapis adorned ZYX must be included.
Must Own Reference LP's
From Cisco Music and still available from Eastwind Import, www.eastwindimport.com , Ilona Knopfler Live the Life [CLP7044-1] has some of the finest female jazz vocals recently recorded and is a reference LP of the highest caliber. On the Musical Life setup, the voices float in the room with a suavity and specificity you have to hear for yourself. The jazz accompanists are spot on exciting. Their solidity and timbral accuracy are amazing. This is music to enjoy and immerse oneself in. The ZYX lacked little from the more matter of fact London and was even a tad romantic. This is a good thing when listening to female vocals. Bass definition is outstanding and rock solid imaging at all frequencies is extraordinary.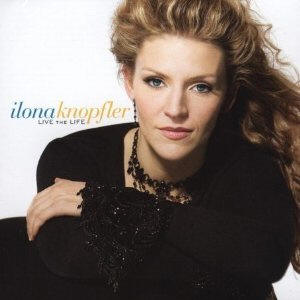 From Pure Pleasure Records, U.K., comes the historic Columbia [CS8341] of Duke Ellington and his Orchestra playing the Nutcracker Suite and sweet it is! This is the first reissue by a third party of this Strayhorn arranged masterpiece. Available from Eastwind Imports and a must own reference disk, it sounds like the master tape on the Musical Life gear. The top notch jazz artists are playing with every ounce of energy and creativity they can deliver. This is a WOW. Compelling and entertaining to the max, the Musical Life delivers the goods. It may have been recorded in 1959, but it has been well preserved and gorgeously recreated on this 180 gram vinyl masterpiece. Imaging on this reissue is very similar to Sheffield direct to disk recordings.
You want outrageous mono, try Blue Rose, Rosemary Clooney with Duke Ellington and his Orchestra [CL872.] The ZYX digs dynamic definition and lots of it from its pristine mono grooves. This Pure Pleasure reissue from Columbia is killer and the best mono reissue I own. It is a reference recording of top quality. Forget that it's mono, just play it and enjoy to the max. She lives again with this wondrous ZYX and Musical Life setup, and it's just remarkable to hear. Recorded in 1955, this is mono to believe in. Hear a young Clark Terry with Ray Nance, Harry Carney, Johnny Hodges, Paul Gonsalves, and the Duke, too. Arrangements by Billy Strayhorn, Rosemary Clooney projects pure sex.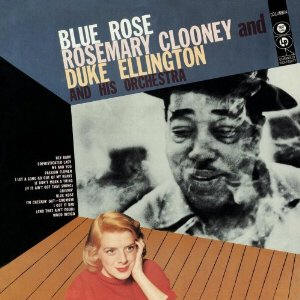 Keep your eyes peeled for a good used Country Gardens [SR90219] from Mercury Records. On the Musical Life gear, Percy Grainger will be there almost live to play his fun and entrancing favorites just for you. The sound is remarkable and in the room. Violins are silky and rosiny with air abounding. There's lovely front to back depth and lots of width. With Mercurys, just lower the rear of the ZYX a touch for even sweeter, richer sound from these ultra lively, uncompressed recordings. This is a reference LP of the highest quality. Dynamic swings eclipse SACD with the ZYX in this Makassar tone arm.
Try to find this rare Shostakovich No.5 from Mercury [SR90060] and be prepared for an ultimate experience with Musical Life. Conducted by Stanislaw Skrowaczewski with the Minneapolis Symphony, the boys [and girl] at Mercury pegged the VU meters and let 'er rip. Plus, the conducting is world class. On the Musical Life gear, the 5th sings for its supper as well as lunch and breakfast. You will truly understand the importance and satisfaction of our high-end hobby when you hear what great gear like Musical Life provides with a fourth generation cartridge like the ZYX Omega-X! So very airy and ambient, you feel like there are rear channels at work in your listening environ.
Quibbles
After a month of constant auditioning for myself and audiophile friends, my quibbles are few and far between. It takes about 6 turns for the large platter to come to speed. Give it a push and you can do it in 3. Stability after that is perfect and the motor is dead silent. This is pretty typical of high-end mass loaded designs. If your hands tremble, so will the arm when you place it over the groove you wish to play. That makes it a bit hard to hit the desired spot on the LP accurately. The arm settles down nicely when you drop the cueing lever. Wish my hands did not shake. Overall, the Musical Life is the most trouble free, set and forget, turntable/arm/cartridge high-end package I've ever seen or auditioned. Once set up, the Musical Life is sort-of like my Beamer, the ultimate playing machine.
Conclusions
The Musical Life Symphony MK. III Turntable, Musical Life Vocalitas 12" Makassar Ebony Tone Arm, and ZYX Omega-X Moving Coil Cartridge are a pricey, but powerful high end solution for playing your treasured LP collection now and for many years to come. Trouble free to maintain, it's a joy to listen to music hour after hour on this most realistic sounding and handsome gear. I very much liked the table and cartridge, but I am gobsmacked by the Makassar wood and brushed steel 12" tone arm. Since tracking and overall sonic performance of the new ZYX was a big league home run, the neutrality and accuracy of this arm must be spot on. I have never used a 12" arm, but I'd gladly, happily, and joyfully use this one! So here's my recommendation. The Musical Life Symphony MK. III Turntable, Musical Life Vocalitas 12" Makassar Ebony Tone Arm, and ZYX Omega-X Moving Coil Cartridge are a 21st Century, well conceived and engineered, unfussy and uncomplicated design, that will thrill and entertain. With the ZYX, it was all fabulous. With your own favorite transducer, I am confident it will serve you well. This is only the second turntable etc. in this exalted price category I have ever recommended, and a top recommendation it clearly deserves. Well done Musical Life! Robert H.Levi
Musical Life Symphony MK. III Turntable
Retail: $9500
Musical Life Vocalitas 12" Makassar Ebony Tone Arm
Retail: $8500
ZYX Omega-X Moving Coil Cartridge
Retail: $6500
KT Audio Imports
http://www.ktaudioimports.com/Index.aspx
Musical Life
www.musicallife.de