In my book, the folks at SoundSmith are audiophile heroes. They single-handedly saved thousands of very good Bang & Olufsen turntables from the scrap heap by introducing a range of replacement phono cartridges after B&O discontinued production and inexplicably trashed the tooling. (B&O cartridges are proprietary, for you non-turntable geeks out there.) I've had models from SoundSmith's SMMC range on my old RX and TX2 and to be frank, I think they're better than the real McCoy.
When SoundSmith started supplying universal-mount adapters for the SMMC cartridges, and more recently, complete universal mount models, I was curious to hear how the design would translate to non-B&O tables. That turned out to be easier said than done. SoundSmith isn't a typical audio manufacturer. They not only handcraft components from amps to speakers, but also operate a repair super-center that functions as a college of sorts for apprentice technicians.
The owner, Peter Ledermann, was one of those really smart kids in school who won a bunch of awards and accomplished a lot of science stuff outside of audio that a liberal arts grad like me can barely grasp. He's also a horrible self-promoter. I got him on the phone once but the conversation was on the esoteric side and I somehow never ended up with a review sample of anything. I've emailed from time to time over the years with little success. Then, SoundSmith finally went and hired a marketing director. Eureka! A sample of the $499 Carmen cartridge was soon at my doorstep.
Truth be told, as frustrating as it was to deal with SoundSmith as a journalist, the experience is wonderful when you're a customer. They're decidedly un-slick, building everything basically by hand and to order. Until recently, they spent next to nothing on marketing and promotion, allowing the products to speak for themselves. Perhaps that's why virtually all of their line strikes me as a good value.
In the case of the Carmen phono cartridge, my value-meter spiked at around a 9.5 out of 10. This wood-bodied, handmade product offers phenomenal specs and promises great tracking for under five bills. It also has a healthy output, meaning there's no need to spend additional dollars as you would with a low-output moving coil cartridge.
Mounting the Carmen was exceptionally easy thanks to the threaded screw holes. The stylus guard is a little tricky, and you can't fit the cartridge leads without removing it, so care is required. However, because of the fact that the partially exposed cantilever is clearly visible from the top of the cartridge, it's very easy to rough in the alignment before tweaking. I found that my headshell leads were just barely long enough to get the cartridge where it needed to be on one table, while on another, it had to be smooshed all the way back—awkward but not impossible. (According to SoundSmith, new production models have slightly longer pins to better accommodate a wider range of headshells.)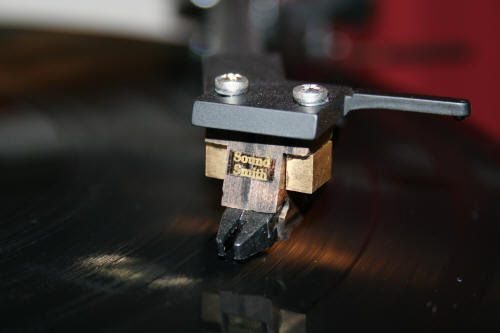 Virtually every other cartridge manufacturer on the planet could take a lesson from SoundSmith's instruction manual. In addition to a basic spec sheet, the Carmen is supplied with a complete tutorial on setup, from mounting and basic alignment to optimization of anti-skating. The only thing that stops it from being stellar is a complete lack of photos. Still, SoundSmith obviously wants their customers to get every penny's worth of performance. Don't be surprised if you receive additional, handwritten tips on setup for your particular system. Remember, every order is a special order.
As such, there are options. First, you can have SoundSmith cartridges in medium compliance, for use with most modern tonearms, or high compliance, for generally older tables and arms, which fill a neglected void in the marketplace: high-end sound for light tonearms. Anyone who still owns an old Dual with ULM arm, for example, or one of Harman/Kardon's 1980s-era turntables equipped with Ito arms will appreciate the chance to take their still-capable analog front end to the next level.
Second, you can choose from capacitive loading of 100pF or 400pF. The latter is for expert-level analog folk who like to tweak their cabling and fine-tune the loading on their expensive phono stages until they get the sound of those cymbals juuuuuust right. That's not me. The former works just fine for the rest of us, and plugs into any standard moving magnet phono input. The company admits the 400pF version is really a special order on top of a special order.
Appearance wise, the Carmen looks the part of a small-batch, handcrafted product. Stickers are used in place of screened logos and graphics, and there's a general lack of visual coherence, which makes sense given its design roots. But the cartridge is unquestionably carefully—you might even say lovingly—assembled. I grew to like its looks.
Performance is what counts, and the Carmen didn't disappoint. From my very first listen, it stuck a nice balance of moving magnet smoothness and moving coil speed. The midrange had remarkable presence, without a trace of leanness or harshness. Treble was absolutely lovely as well: detailed and precise but without any brightness or harshness. Break-in didn't seem to be an issue at all, and as far as I know, the review sample received none from the manufacturer. It sounded fine right out of the box and didn't change dramatically over the next 100 or so hours except that it seemed to sound a little less stiff and a little more expansive at the end than the beginning.
Recommended stylus pressure is a scant 1.2 grams. At that weight, the Carmen tracked very well. I was hard-pressed to find material that sent it reeling. It just tended to breeze through even the most heavily modulated passages with pshaw ease. Be careful with the antiskating, though. I was warned that simply setting the dial equal to VTF might not work, and indeed, I ended up lowering it.
During a few weeks of listening, additional strengths emerged. The Carmen proved itself to be one of the quietest cartridges I've ever used. Even through a tube-output phono stage, backgrounds were as black as you can expect this side of megabuck cartridges, and surface noise was a total non-issue. Channel separation was also exceptional, but not what I'd call vicious. The downside is, you have to make sure the cartridge is perfectly situated in the tonearm to avoid a level imbalance.
Weaknesses were few. Soundstaging was fine but unexceptional. The perspective was nearer the back row, and I tended to listen to the Carmen at a slightly higher volume than I do with some other cartridges. It also lacked the sparkle and verve of similarly priced moving coils, instead offering a more laid-back and listenable—some might say more natural—sound. I preferred partnering it with solid-state phono stages and as luck would have it, SoundSmith makes those, too. They're probably well worth a listen.
I like my analog to sound like analog, so it was a pleasant surprise to discover that the Carmen is equally good at balancing the somewhat clinical nature of today's high-tech turntables, without sacrificing something in the bargain. And once again, anyone thinking of dusting off a vintage turntable should really consider mounting one of Sound-Smith's cartridges and a Herbie's Way mat. You might be surprised at how good that old warhorse can sound.
SoundSmith's Carmen is a technically excellent cartridge: exceptionally quiet, tonally balanced, smooth, and with remarkable tracking and channel separation. It's also very musical: rich, present, endlessly listenable. Paired with the right components, this is a great cartridge at a remarkably low price. Add in SoundSmith's excellent customer service and the pride of ownership that comes with owning a lovingly handcrafted product, and you've got something special. Ed Kobesky
Carmen
Retail: $499.95
The Soundsmith
8 John Walsh Blvd., Suite 417
Peekskill, NY 10566 USA
(914) 739-2885
(800) 942-8009
admin@sound-smith.com
www.sound-smith.com