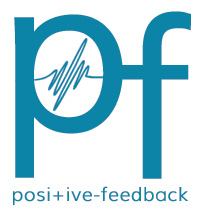 You are reading the older HTML site
Positive Feedback ISSUE 51
september/october 2010
The Future Is Here - Audio Still Rules
by Karl Lozier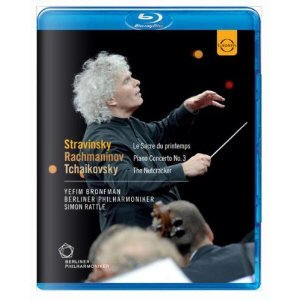 Stravinsky - Le Sacre du printemps. Rachmaninov-Piano Concerto No. 3. Tchaikovsky-The Nutcracker (Excerpts). Orchestra: Berlin Philharmonic. Conductor: Sir Simon Rattle. EuroArts Blu-ray 2057754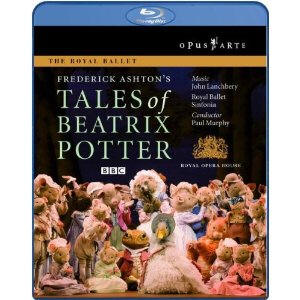 Ashton's - Tales of Beatrix Potter. Music by- John Lanchbery. Orchestra: Royal Ballet Sinfonia. Conductor: Paul Murphy. Opus Arte Blu-ray BD7058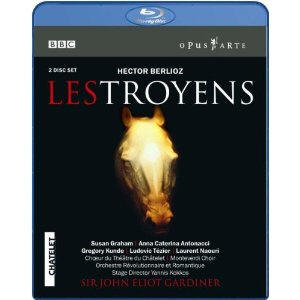 Berlioz - Les Troyens (Grand opera in 5 acts). Orchestra: Revolutionnaire et Romantique. Conductor: Sir John Eliot Gardiner. Choirs: Monteverdi and Chatelet Theatre. Opus Arte Blu-ray BD7059
Blu-ray recordings may be video, audio or commonly video plus audio; if the video is a distraction turn it off though I would suggest watching the video at least once as at times it can be interesting. The first review in this issue is a notable and fascinating example. The setting is an outdoor theater, the Waldbuhne, near Berlin and while the concert progresses it is rather fascinating to see the bright afternoon setting darken, rain starting and all continues as night arrives and lights are turned on. The concert is particularly outstanding, by the way. All reviews feature the use of the Oppo BDP-83 SE with the VSE upgrade package by Music Technology with the well known Terra Firma Lite clock and use of the HDMI outputs.
The Berlin Philharmonic concert seemed to have really affected me and I have deliberately delayed returning to it. Almost perfectly burnished gold is my peculiar description of the collaboration so beautifully realized between Simon Rattle, the Berlin Philharmonic and an outstanding pianistic display by Yefim Bronfman. Hopefully return visits to them will not change my feelings. Sound quality is simply outstanding despite the outdoor setting. The Nutcracker excerpts are very satisfactory though not the real reason to purchase this outstanding release. The biting edges of Le Sacre seem to be "smoothed off" subtly by Rattle here making it a bit more appealing to many listeners. The video is particularly appealing to me on this release and it clearly shows Simon Rattle playing around with the cymbals on a special encore of "Berliner Luft", Lincke's famous marching song. An outstanding recommendation is tentatively awarded here.
I should say that this well known ballet is often loved by adults as well as children. Yes, it is true that all the dancers are wearing costumes depicting animals and creatures that appeals to some more than others of course and is nicely captured visually here. The music is as melodic as usual with John Lanchbery and recorded with fine fidelity here. What more can we ask of the Tales of Beatrix Potter?
This opera starts out with the Trojans celebrating the end of the Greek' long siege of their town of Troy. They go out of their town's gate to look at the giant wooden horse left behind by the Greeks. Does that ring a bell with a story you heard years ago and so did Berlioz. Well, he used that as a starting point for this opera-do not expect to spot a giant wooden horse here. No telling what to expect to see in the way of stage scenery nowadays; no matter, it is other things that really count. What you will get here in this rather long opera is plenty of excellent singing, fine choral and orchestral performances with excellent audio quality. What more can we ask of a very serious Grand opera in Blu-ray?