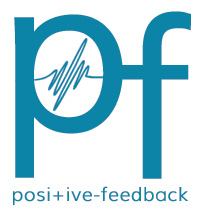 You are reading the older HTML site
Positive Feedback ISSUE 51
september/october 2010
A Mélange Of 10 Recordings From Naxos
by Karl Lozier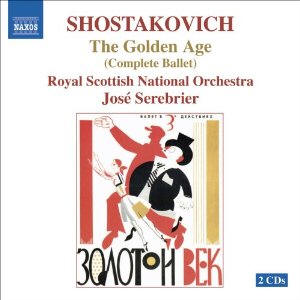 Shostakovich, The Golden Age (Ballet). Orchestra: Royal Scottish National. Conductor: Jose Serebrier. Naxos CD 8.570217-18
As with most ballets there almost has to be melodies and rhythmic passages that ballet performers can dance to. Here there are definitely some modern touches or passages that at times stretch the beauty usually present. Sections named, "Exhibition Hall" and Workers Stadium definitely add contrasts, but none go too far. All in all an enjoyable relatively contemporary offering. The performance is quite simply excellent and the audio quality is top tier; relatively full and rich with no audible distortions to be exaggerated by less than the better playback players and preamplifiers. That means simply clean, clear and non fatiguing. This is definitely a recommended recording totaling well over two hours. For audiophiles there are a fair number of powerful drum thwacks to exercise their woofers.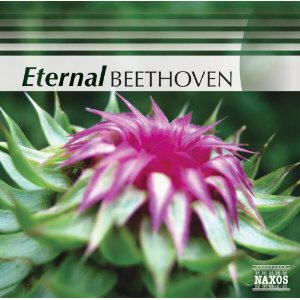 Eternal Beethoven, Various Orchestras, Conductors and Performers. Naxos CD 8.572131
As you probably guessed from this release's title, this is a compilation recording from nine different releases. It includes a movement from symphonies three, five and nine, a piano trio, the Egmont overture, a cello sonata, the "Moonlight" sonata and so on. Yes, a good choice perhaps as an introduction to Beethoven for a friend or whoever I thought. However the mood caught me and I listened to every minute of it and repeated a number of the selections. I shocked myself! I can not believe the overall audio consistency. Big, bold, and close up and with rich powerful performances describe all on this rather surprising release taken from other releases literally from all around the globe. It does what it is intended to do and quite excellently, so a top recommendation is easily earned.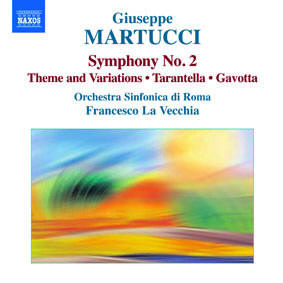 Giusseppi Martucci, Piano Concerto No.2. Misc. Orchestral selections. Orchestra: Sinfonica di Roma. Conductor: Francesco La Vecchia. Naxos CD 8.50932
From Beethoven to whomever; I do not remember Martucci though I should. Call it a new find for me. My reference books mention him as an "Italian Brahms" leading Italian composers to write orchestral music instead of operas. That is certainly okay with me. I thoroughly enjoyed this show-off concerto. The last movement is really a stunning virtuoso oriented composition. Supposedly much of Martucci's fame is from his symphonies and two concertos. Naxos makes the symphonies and the other concerto available on three other releases. I shall have to investigate them as I am very impressed here with the second concerto and the other shorter selections. The audio quality is simply very good as has become very common with Naxos lately and still at bargain prices. Anyone looking for something new can stop right here and that is definitely a recommendation.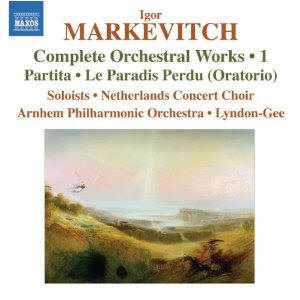 Igor Markevitch, Partita Le Paradis Perdu (Paradise Lost). Orchestra: Arnhem Philharmonic. Conductor: Christopher Lyndon-Gee. Choir: Netherlands Concert. Naxos CD 8.570773
Wow, I have to completely rethink my relationship with Markevitch. When I started delving more deeply into classical music, many years ago he was one of the better conductors, in my not so humble opinion. It is only rather recently that I now fully realize that conducting was his second career and started at the age of twenty -nine. He was famous as a composer in his twenties and unlike any other in musical history before or since, he quit while while enjoying great success and then became an excellent conductor (not promoting his own compositions). I had it backwards by thinking he gave up conducting to become a composer! No wonder I hear no hints of any other composer in his compositions. This recording of "Paradise Lost", an oratorio, is regarded as either his best composition or at least one of the best. His compositions recorded here are certainly unique and I have not yet warmed up to all of them. Recorded quality is solidly adequate if not outstanding and Naxos offers other releases of all of Markevitch's efforts.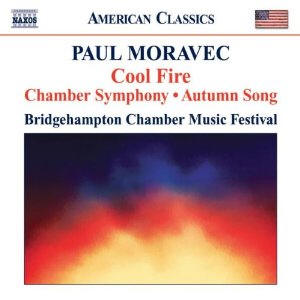 Paul Moravc, Cool Fire, Chamber Symphony. Autumn Song. Bridgehampton Chamber Music Festival Various Artists. Naxos CD 8.559393
Paul Moravec is the Pulitzer Prize winner for music in 2004. His compositional abilities are quite good in my opinion. Unfortunately the three very different compositions here, whether with solo, duet or group passages, all feature the flute! The playing and recorded audio quality are solidly good though in my opinion not outstanding in any respect. The soundscape is certainly not particularly outstanding and not expansive. Flute lovers will find this release to be a "must buy". Nonlovers of the flute even with many guest artists, will find it to be just too much. It appears as if everything on this recording is either commissioned by or dedicated by the flutist Marya Martin playing or composer Paul Moravec. Such is often simply the way of new contemporary compositions. The compositions are quite varied and not "way out"; some very melodic and interesting passages are definitely to be heard here.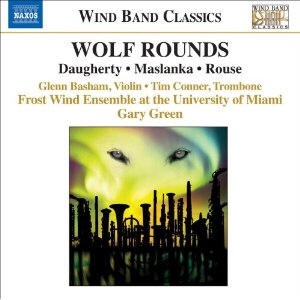 Wolf Rounds, Daugherty *Maslanka* Rouse. Frost Wind Ensemble University of Miami,FL. Naxos CD 8.5572439
The album title is simply the title of the third composer's (Rouse) composition. Here the featured instruments are the violin and trombone. This particularly fine recording features fine soundscaping while being full, rich and expansive revealing everything very cleanly from a natural sounding bass drum not trying to overwhelm as in audiophile oriented releases to the very last hint of shimmer from a cymbal clash. Though contemporary in nature, all seemed appealing with either some melodic or almost romantic passages. The trombone played by Tim Conner is captured close to perfection and so are most of the performers playing in Gusman Hall, Coral Gables, Florida just down Dixie Highway from my home. How about some more like this guys; obviously highly recommended to anyone willing to wander a bit into contemporary chamber music that is big and full sounding.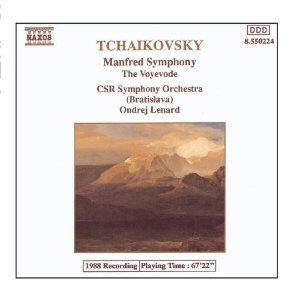 Tchaikovsky, Manfred Symphony. The Voyevoda (Symphonic Ballad). Orchestra: Royal Liverpool Philharmonic. Conductor: Vasily Petrenko. Naxos CD 8.570568
This named symphony seems more like an extended symphonic poem and was written between Tchaikovsky's fourth and fifth symphonies. Melodic phrases here tend to be less compact and more extended than with his better known typical six symphonies and perhaps a bit more subtle. As always, Tchaikovsky's melodies are simply very popular with most of the music going public though this composition is still not as well known as many of the others. The performances on this disc are quite good and rather straight forward (that means performed pretty much as written). The basically good audio quality is not quite the equal of the very best by Naxos, lacking a tad in overall detail and a live feeling or sensation. Few music lovers will be disappointed and recommendation can be awarded. Newcomers to classical music should have a number of recordings by this composer and this disc is not really aimed at newcomers. First get some of his ballet music and his piano and violin concertos plus a couple of his symphonies.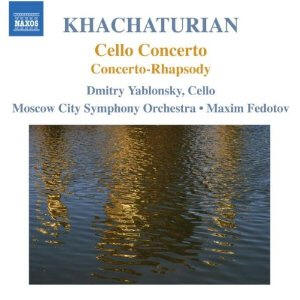 Khachaturian, Cello Concerto. Concerto-Rhapsody. Orchestra: Moscow City Symphony. Conductor: Maxim Fedotov. Naxos CD 8.570463
As along time cello lover, one of my two favorite musical instruments along with the piano, I really like this concerto though Dvorak's is still my favorite. A couple of Khachaturian concertos for other instruments are better and/or more melodic compositions in my not so humble opinion. There are not very many really excellent concertos for the cello in more modern times; piano and violin compositions are definitely leaders in numbers and I am not certain exactly where concertos for the viola are ranked. Readers desiring to add compositions by Khachaturian to their CD or SACD collections have a number of popular and very melodic choices including other concertos (though I shall be keeping my cello concerto) and the music from his ballets are extremely enjoyable and popular. The audio quality on this cello concerto is surprisingly excellent even letting the cello to be heard more cleanly or clearly than in many recordings featuring the cello (a pet peeve of mine). As a result I can easily recommend this release highly-good listening to you…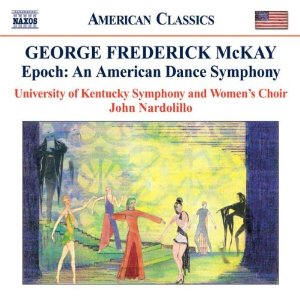 George Frederick McKay, Epoch (An American Dance Symphony). Orchestra: University of Kentucky Symphony. Conductor: John Nardolillo. Naxos CD 8.559330
This ambitious composition was first performed almost seventy-five years ago. It was supposed to express a new art form and to also express or honor the spirit of four great American poets. Namely they are Poe, Sandburg, Whitman and Lanier. This composition was well received when introduced quite some years ago and efforts were made to keep it or parts of it going but to no avail. I have gotten hooked on it and have listened to it quite often and I am still impressed while letting you know that I am giving it a top recommendation plus excellent audio quality rating. The brass are well reproduced and in some sections, particularly the last movement there are some excellently captured deep bass drum strokes, not the hyped ones aimed at audiophiles but the real thing felt and heard rising seemingly from the floor. If it sounds fairly loud or punchy to you it means that your woofer or subwoofer is doubling and that is not rare with lesser quality woofers. The first two movements "Symbolic" and "Pastoral" are easy going relaxed music making and the more I listen the more I believe that the Pastoral movement is perfectly named and featuring excellent choral work. The more I think and write about this interesting composition, the more I realize how outstanding many of the performers are doing! The third movement , "Westward" somehow winds up appropriately sounding. The "Machine Age Blues" tries to depict a rather bleak future and has definite hints of jazz/blues done in a contemporary style that fits in just right. All in all one of the most impressive "new releases" I've heard in quite some time and an obvious highest recommendation.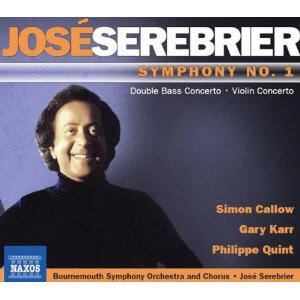 Jose Serebrier, Symphony No.1. Nueve: Double Bass Concerto. Winter: Violin Concerto. Tango in Blue. Almost a Tango. They Rode Into The Sunset-Film Music for a never made film. Orchestra: Bournemouth Symphony. Conductor: Jose Serebrier. Naxos CD 8.559648
This release is partly a remake of a recording done years ago with some newer compositions added. The first three listed above, though spanning a very wide period of time, certainly show great compositional similarities to my way of thinking. Yes, that seems to be true even though the three are seemingly so different; a symphony, a concerto for the usually neglected double bass and a concerto for the violin
(very common). Unlike the first three compositions, the last three starting with "Tango in Blue" are very upbeat, the "Almost a Tango" is rather reflective and low-key in nature. The last composition does sound like a film score and you are free to let your vivid imagination add visual images in your mind to complete it. I found the last three pieces more to my very personal likening than the first three though all are accorded equally excellent audio quality.