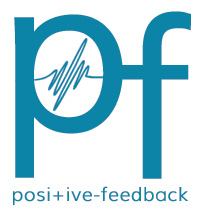 You are reading the older HTML site
Positive Feedback ISSUE 51
september/october 2010
RMAF 2010
by Marshall Nack
You couldn't have asked for better weather. Denver's skies were at their touristic best, although, truth to tell, Lynn and I didn't have a chance to log many minutes outside the confines of the Marriot Tech Center Hotel. A shame that, I'd like to correct it in a future visit.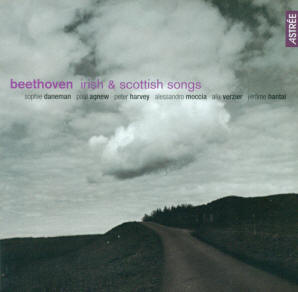 My test CD this year was Beethoven Irish & Scottish Songs (Astree E8850), a delightful, yet little-known, compilation of settings of folksongs performed on period instruments including a fortepiano. The three singers, soprano (Sophie Daneman), tenor (Paul Agnew) and baritone (Peter Harvey), have distinctive voices that I'm well acquainted with.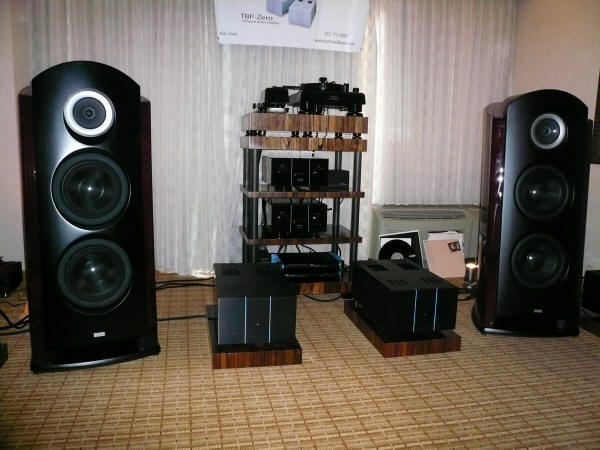 TAD Floorstanding Speakers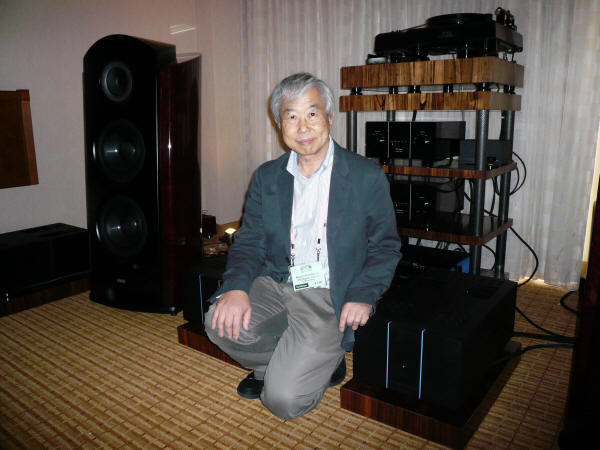 Tech Brain designer Naoto Kurosawa
Technical Brain, TAD, Walker Audio
These manufacturers exhibited in a pair of rooms. The sound was clean and immaculate in both, with lifelike dynamics and wide-band frequency response. Curiously, the only quibbles I had were in the room with the top-of-the-line TAD Reference One floorstanding speakers. It was a bit lean and lightweight to my ear.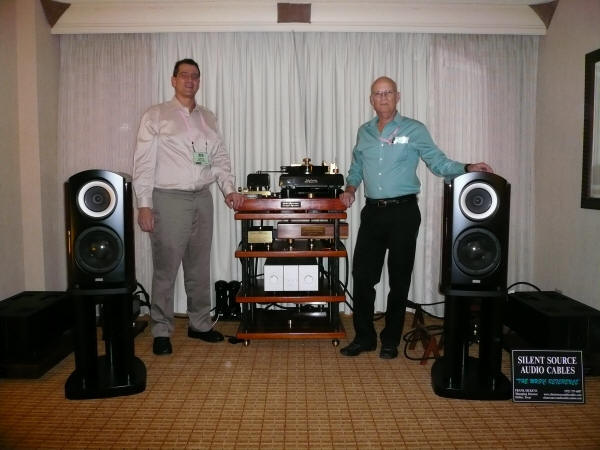 Lloyd Walker and Fred Law with the monitor speakers
TAD CR-1 Monitor Speakers
The set up in the room with the smaller TAD CR-1 monitors was outstanding. It just goes to show the importance of matching the speaker to the size of the room and with appropriate electronics.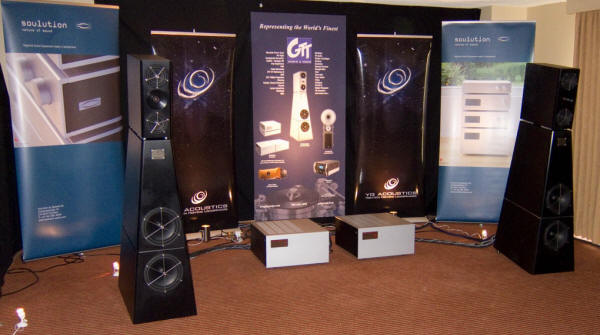 YG Anat II, Soulution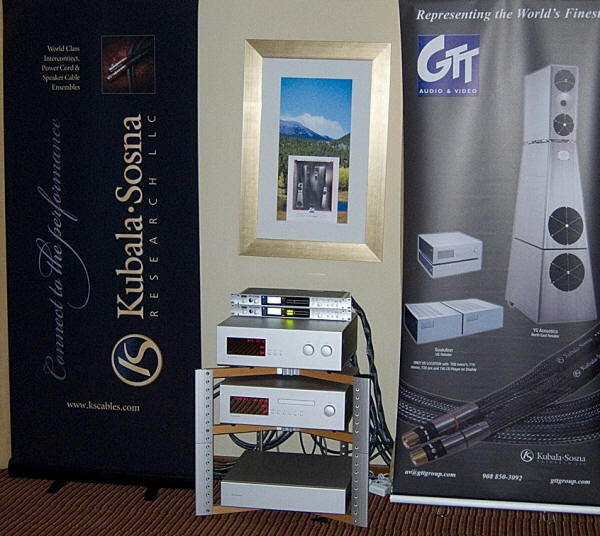 Soulution rack
GTT Audio, YG Acoustics, Soulution, Kubala-Sosna
I shouldn't have stopped by on Friday: The sound was closed in. The Anats were too new, they needed more burn-in and speaker placement was still being optimized. By Saturday, however, they had it worked out, and it was mesmerizing.
The source was vinyl, only there wasn't a turntable present. LPs were transcribed from a VYGER turntable direct to a Korg Pro Recorder at double DSD. The Korg played back into a Soulution preamp. The claim was that double DSD is indistinguishable from the source. Was it? Don't know—I'd have to hear an A/B to determine that—but it did have many of the hallmarks of analog.
For overall presentation, I figure this room came as close as you're likely to get at an audio trade show to the concert hall experience. It played big and without compromise. If anything, it erred to the over-sized. Gets my vote as best of show.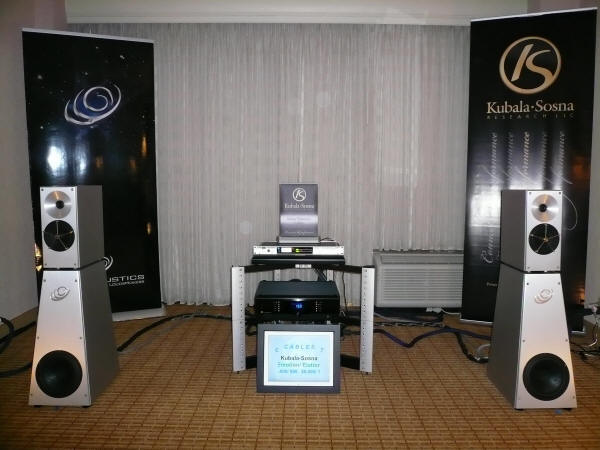 YG Acoustics Kipod, mbl, Korg, Kubala-Sosna Research
Kubala-Sosna, YG Acoustics, mbl/GTT Distribution
Again, playback here is analog, but where's the turntable? The same source was used as in the YG Anat room: LPs and high-res digital streamed via a Korg Pro Double DSD Recorder.
Where the big YG room swung a little to larger-than-life, this smaller room came across a tad reduced in scale. Surprisingly, it developed one of the more convincing soundstages.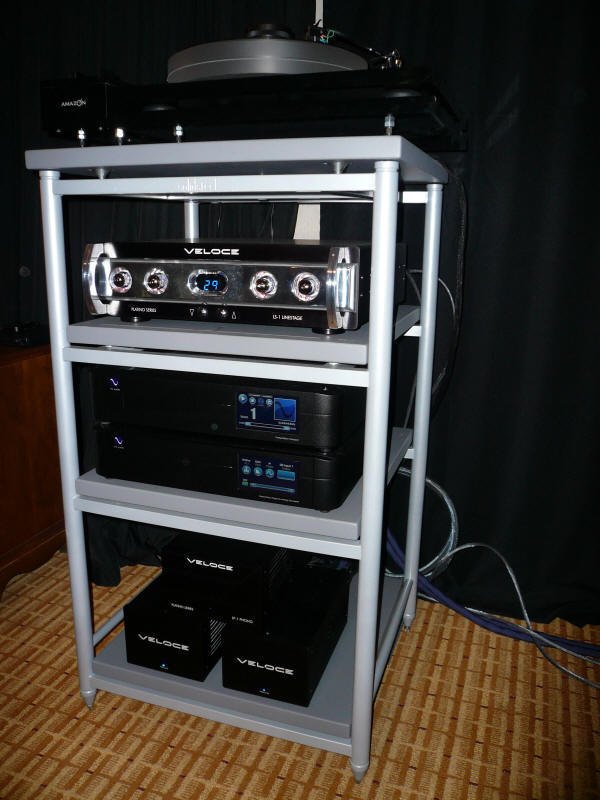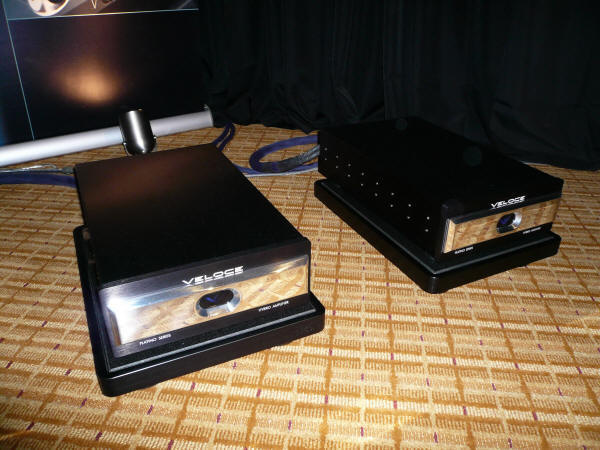 Veloce electronics
Veloce, YG Acoustics Carmel
Here again, it sounds like analog, but now there was a turntable front and center—and sounding great. Scale was smaller than the other YG rooms, but very satisfying in terms of tone, timbre, resolution and dynamics.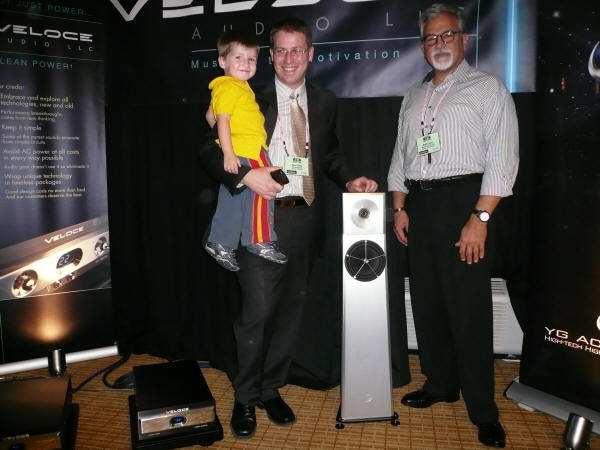 Yoav Geva and Veloce Managing Director Mark Conti
Veloce electronics have an uncommon purity. All components, including the 120 watts/channel amps, are battery-driven. For practical purposes, the system is disconnected from the wall AC. Quite nice!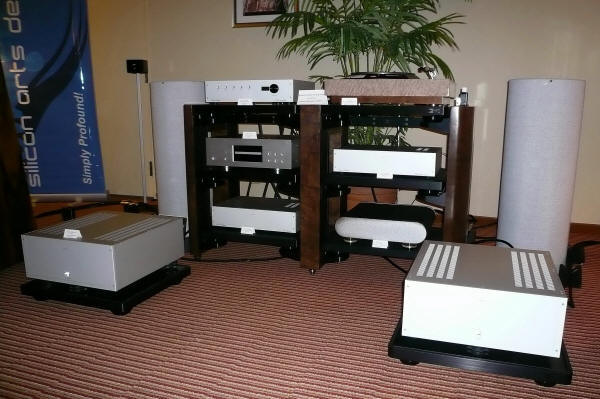 Concert Fidelity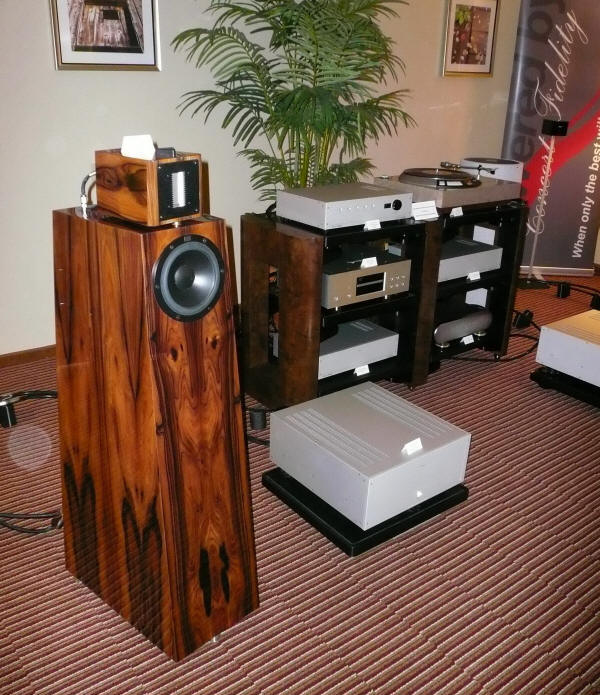 Concert Fidelity, Silicon Arts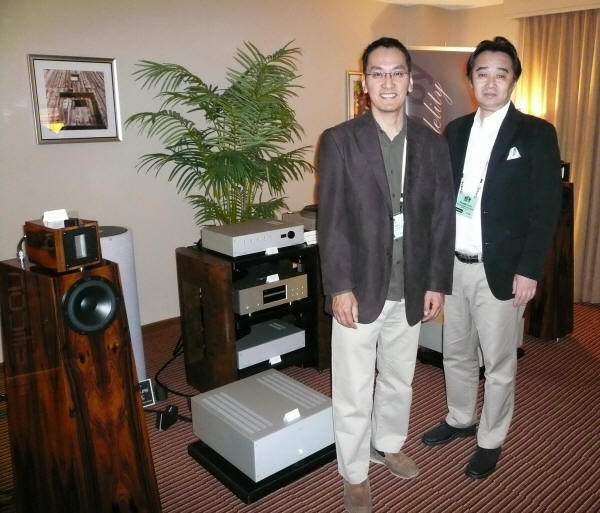 Concert Fidelity importer Hajime Sato and designer Masataka Tsuda
Silicon Arts & Concert Fidelity
The Concert Fidelity DAC and preamp are hybrids, while the Silicon Arts ZL-200 is a solid-state monoblock. A compelling sound: full-bodied, rich and dynamic in the "beautiful sound" vein. This was the first room where the tenor Paul Agnew sounded like himself.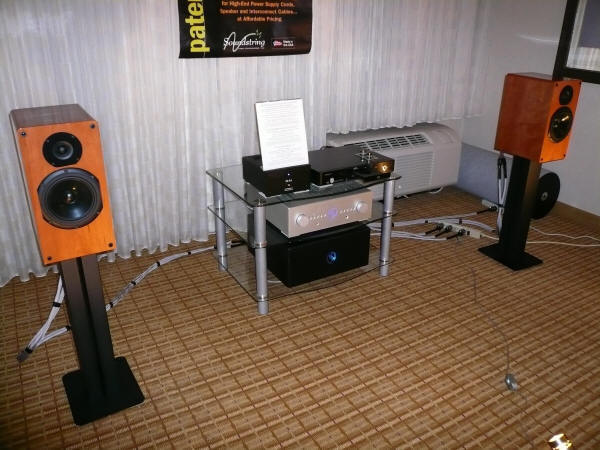 ModWright, Nola speakers, Soundstring
ModWright electronics, Nola speakers, Soundstring cables
One of the things about a tradeshow like RMAF is the chatter and note swapping in the hallways. Just so, we were advised to check out the Nola speaker rooms, and this one was a discovery for high value/low cost. It held my attention twice as long as some of the big boys. There were no flaws of commission, while many things were right. With an approximate system cost of $15,000, it represents very good value.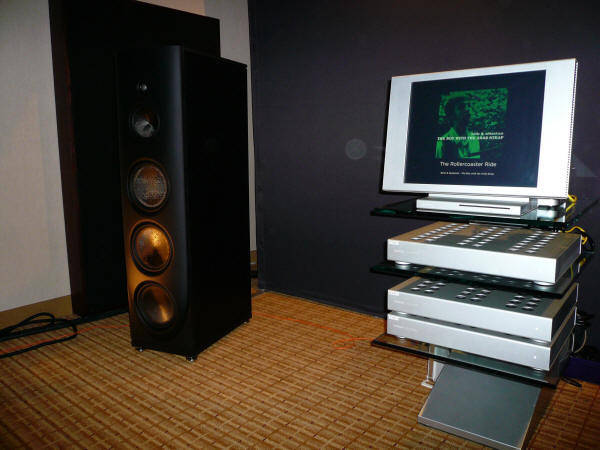 Magico Q5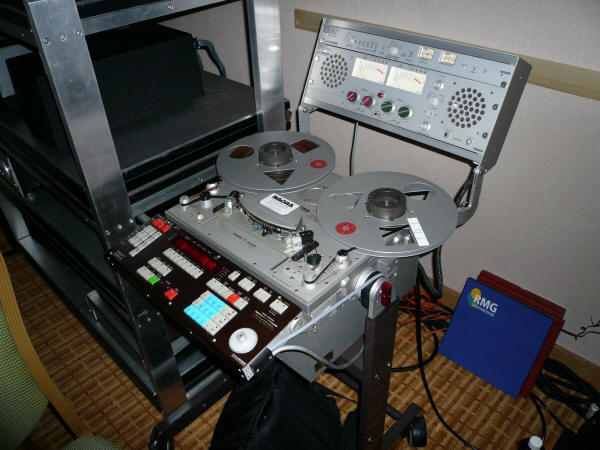 Nagra tape deck
Marutani Consulting, The Audio Salon, Magico, Nagra
However, this room, with the big Magico floorstanders and some very expensive electronics, including a Nagra tape deck, just didn't do it for me. The tone was dry; the soundstage was flat. I even went back the next day to double-check my impression.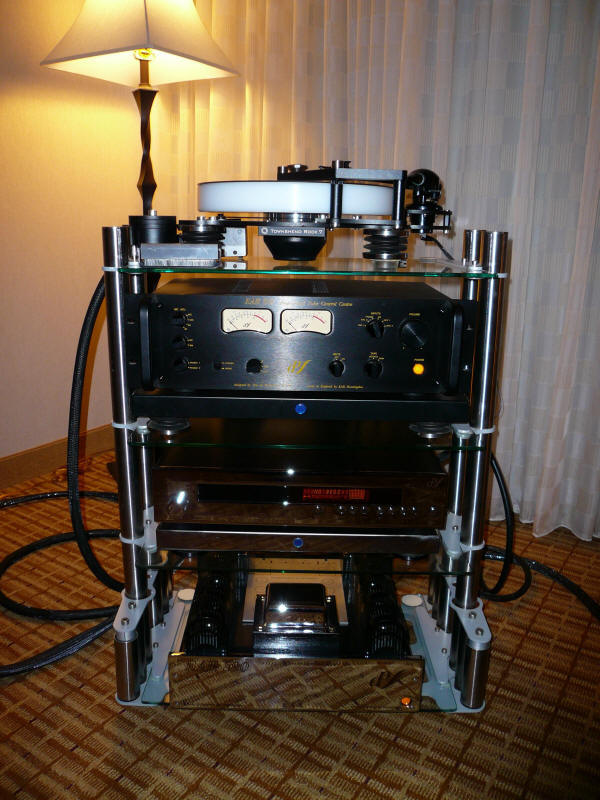 EAR USA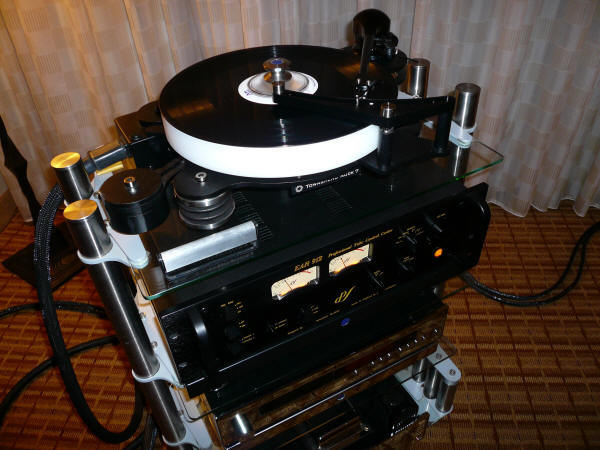 Townshend Audio Rock 7
EAR USA, Townshend Audio, Marten
Vinyl was very well served in this mid-level $$ system. EAR once again proved holistic and musical. I especially enjoyed an ORG test pressing of the famous Mendelssohn Hebrides Overture with Peter Maag and the London Symphony Orchestra.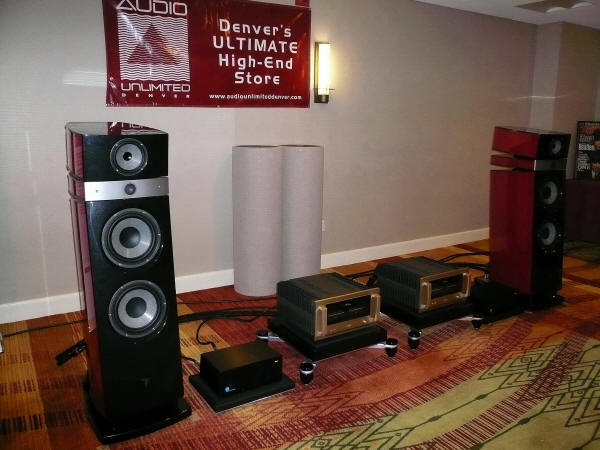 Audio Unlimited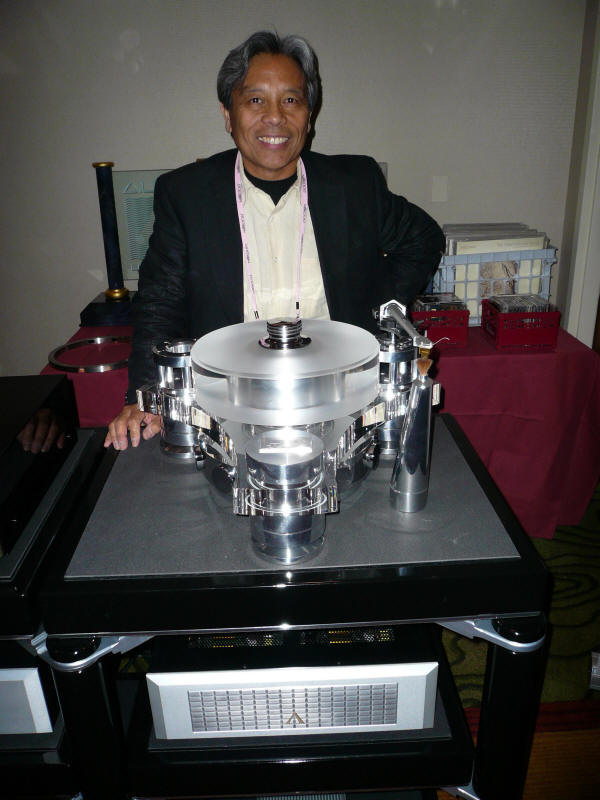 Arturo Manzano and Transrotor Tourbillon
Audio Unlimited, Transrotor, Accuphase, Focal, TARA Labs
Fast, integrated and dimensional, this was one of the few rooms where imaging had a vertical component. Paul Agnew, the tenor on my CD, sounded top notch here.
But analog was killer, via a Transrotor Tourbillon turntable with Airtight PC-1 Supreme cartridge. I have never heard Accuphase electronics sound so good. Where past exposure led me to associate the line with refinement and purity, but light in weight and soul, this room had fully expressed overtones and massive substance and body. I must revise my opinion of the line, and give this room my vote as second best of show.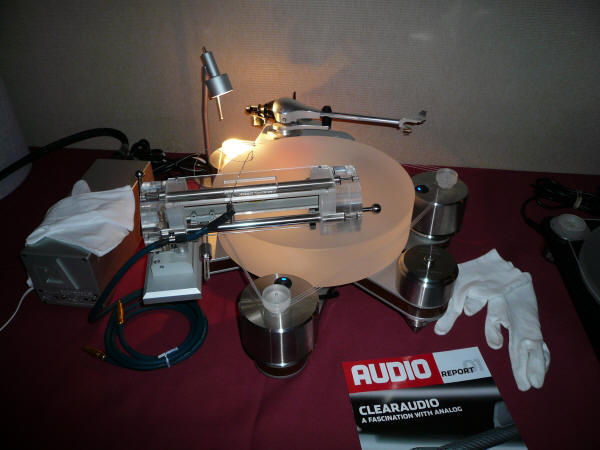 Clearaudio turntable for sale
Audio Unlimited, Clearaudio turntable, Aesthetix electronics, Hansen spkrs
Audio Unlimited's second room was almost as good as the first. The Clearaudio turntables on display had the appearance and features of much more expensive turntables.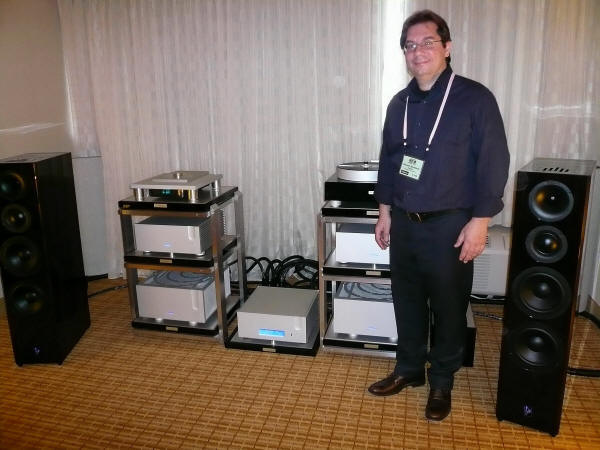 Ypsilon, Lansche speakers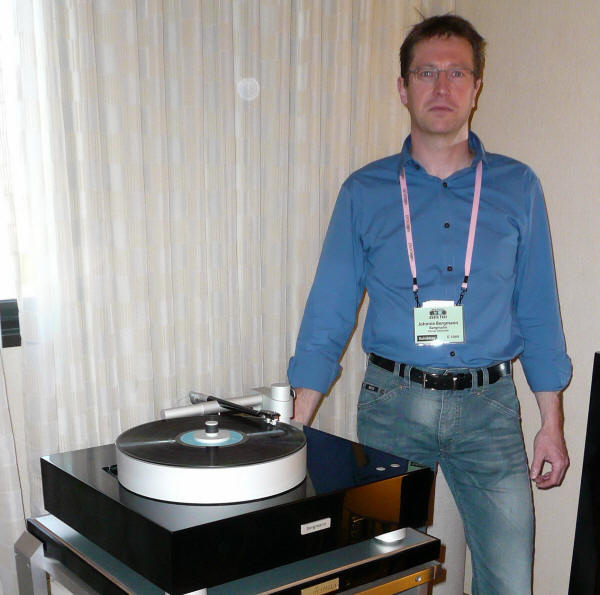 Johnnie Bergmann and his turntable
Aaudio Imports, Ypsilon, Lansche, Bergmann
Many good things were happening in this room. The three singers on my Beethoven CD were in their respective ranges and their distinctive vocal character was coming through. Rich timbre, notable dynamics, and intimate in feel, of special note was the smooth and sweet, and yet extended treble of the Lansche speaker's plasma tweeters.
Vinyl sounded smashing on the Bergmann Sleipner turntable. Somehow they got their hands on the LP of Marc Minkowski performing Rameau: Une Symphonie Imaginaire—this was to die for. (I only have the SACD).
I'd position this room in third place at the show.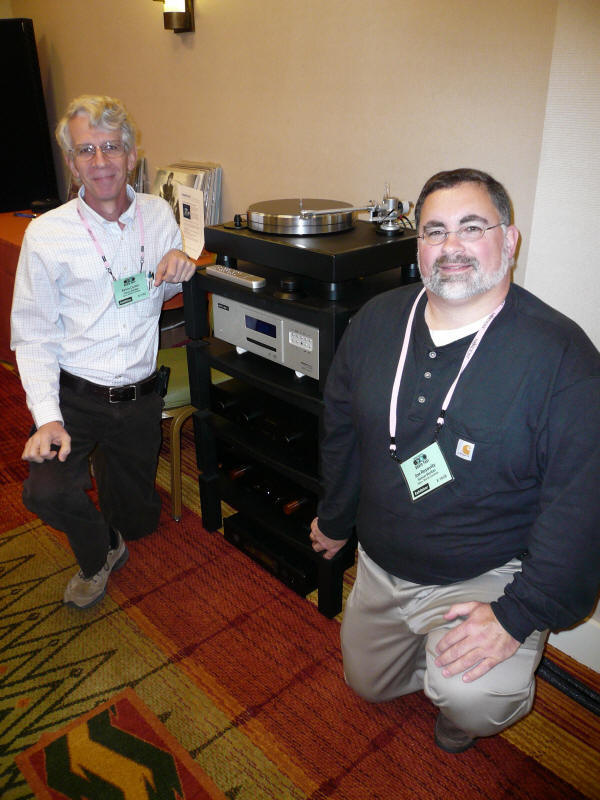 Sonus Veritus designer Kevin Carter and Joe Rosovitz
Analysis Audio, Arion Audio, Sonus Veritas, VPI, EMM Labs
More excellent vinyl was played back here. Talk about speakers disappearing! This rig developed a lovely stage. On the other hand, the digital did not thrill me. This event marked the introduction of Kevin Carter's new firm, Sonus Veritas, with his Venice Phono stage and Genoa line stage.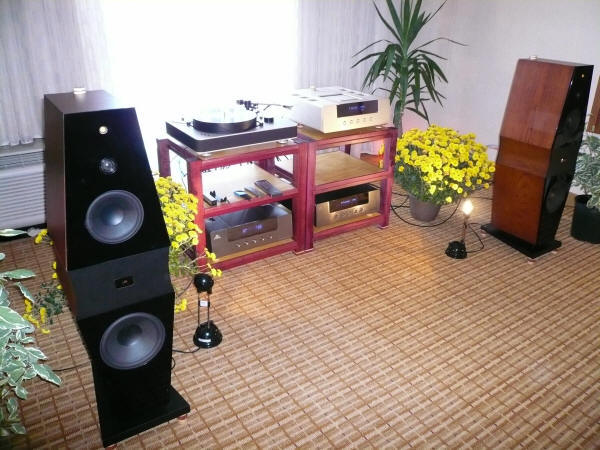 Rosso Fiorentino spkrs, AMR electronics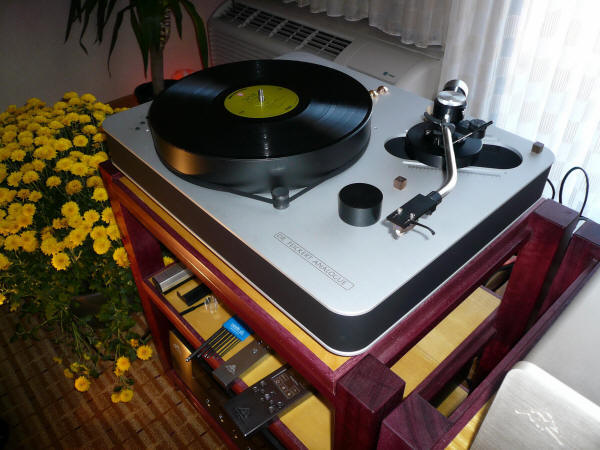 Dr. Feikert table
Avatar Acoustics, AMR, Rosso Fiorentino, Dr. Feikert
Paul Agnew: man of a thousand voices. By this time, I'd heard Paul a dozen times and sounding like that many different singers. About four of these Agnew variations were credible. This room presented one of them.
Analog via the Dr. Feickert Blackbird Turntable threw a notably precise stage containing realistically sized, focused images.
This was one of the few rooms that didn't suffer from a lower midrange/upper bass shadow. The commonality of this overhang in rooms on every floor makes me think it had to do with the hotel's construction. The repercussions included extra fullness and slower pacing.
Avatar's room escaped this. It was fast and plumbed the low end with authority and tunefulness. Must be those funky Acoustic System Resonators and Sugar Cubes peppering the walls. With that hypothesis in mind, I visited another room that Avatar had been asked to treat. Yup, this one also eluded the bloated low end. Those things work.
Here are some other rooms that caught my attention: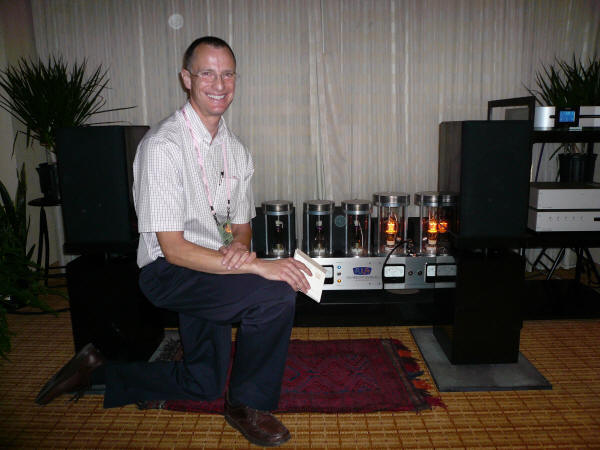 Reference Audio Visual, Amber Wave, Concert Fidelity, Intuitive Design
Direct from Dr. Frankenstein's lab and delivering 200 watts/channel come the Amber Wave 304TL monoblocks. They are more dynamic than they have a right to be: at normal listening levels, vocal crescendos popped out of the speakers. We couldn't settle on a volume level.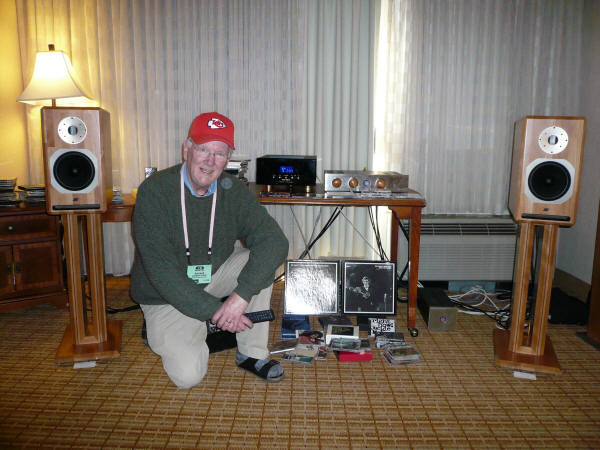 Amherst Audio, Audio Note, Blue Circle, JM Reynaud (Bob Neill)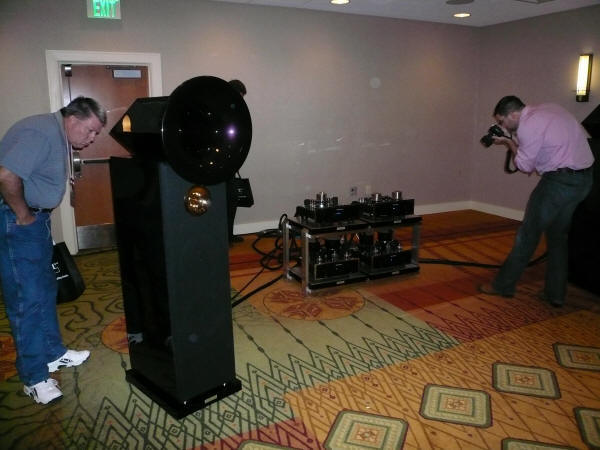 Acapella Speakers, Einstein electronics, Stage III wires (Aaudio Imports)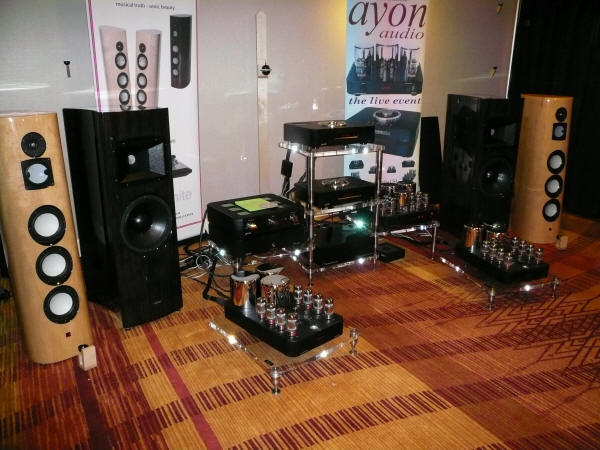 Ayon electronics, Lumen White speakers (Ayon Audio USA)