Psvane (pronounced Pavane as in the 17th Century dance music) is a new tube line from Shuguang of China. Grant Fidelity of Calgary, Canada is the importer.
Shuguang is China's oldest and largest manufacturer of vacuum tubes. They have been in business since 1958 and claim to make 40% of the world's tubes.
Grant Fidelity imports and sells generic Shuguang tubes as well as their high-end counterparts for amplifier use, the Treasure Series®. The Psvane Reference T Series of tubes was created to offer an equally high-end line that included common small signal tubes—the 12AX7, 12AU7, and 12AT7.
A pair of Psvane 12AX7-T tubes costs $95. A pair of generic Shuguangs is $20. Clearly Shuguang believes these tubes to be substantially better than their everyday siblings. The following benefits are noted for the Psvane Reference T Series tubes on GF's web site:
Dramatically increased sound quality over the standard Shuguang 12AX7B tubes

Gold coated pins to enhance connection over long term

All parts are selected to the highest grade plus only highly experienced workers to assemble

Suggested burn-in time is 75-100 hours

30-days manufacturer's warranty from date of purchase

Grant Fidelity will re-test and re-match all tubes before shipping to ensure top quality.
I recently re-tubed my Dodd preamp with a set of Sovtek 12AX7LPS tubes ($16 each), the same tube that the preamp came with. Prior to that, I had been using some JAN GE 5751s, which sounded quite good in their own right.
While the sound quality of these tubes has been very good, they do not exactly push the performance envelope of the preamp. The nagging audiophile question of whether the system could sound better was always present. At the same time, the cost of vintage NOS tubes is so high that I just couldn't justify investing in them at all. When I saw the information on the GF website about the Psvane tubes, I felt the time had come to try something higher end, especially since the price of doing so was within the realm of rationality, $190 for a set of four.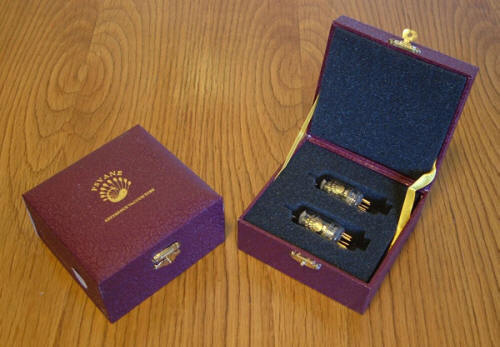 The Psvane tubes arrived as two matched pairs. They are presented in attractive little foam-lined Chinese boxes. This packaging is certainly a lot classier than white cardboard boxes without leaving you wondering if you are paying for the packaging instead of the product.
The construction of the Psvane 12AX7-T Reference tube is unique. These tubes have three internal spacers, two of which are at the top of the tube. Every other 12AX7 that I have seen has only two spacers. I suspect that this additional spacer exists to limit the potential for microphonics. Whatever the reason for the addition, there has clearly been some fundamental re-thinking of the design of the tube on the part of Shuguang.
And then there is the gold. It is the gold Psvane stylized peacock logo on the tube body and gold on the pins that differentiates these tubes from their more humble counterparts.
Ultimately, no matter how attractive a tube looks, no matter how nicely it is packaged, no matter what claims are made for it, it is only its performance that really matters.
My listening system was comprised of my Sony SCD-XA5400ES SACD player, Dodd preamp, Rogue 90 amplifier, and Magneplanar MG1.6 speakers. Cables came from DH Labs, Zentara, Supra, and PS Audio.
Since the tubes in the Dodd were only about a month old, I felt that comparing them to a new set of Psvanes was a fair comparison. The Sovteks would not be at any disadvantage due to their age, while they would have the advantage of being fully broken-in.
With my system warmed up, and the Sovtek tubes in the Dodd, I started listening and taking notes. I relied heavily on Tierney Sutton's On the Other Side CD (Telarc CD-83650), which is full of interesting nuances that help in hearing small differences. The way Tierney juxtaposes her interpretations of these songs against their usual and expected presentation, changes their feel dramatically.
I also used the Beatle's Love CD (Apple/Capitol 0946 3 79810 2 3). I really enjoy the music and the sound quality is superb. It is also full of spatial effects, some quite delicate, that are very useful for evaluating low-level information.
With a sonic baseline in hand, I then switched over to the Psvane tubes. I gave them several hours of running-in before sitting down to listen. I know that, in theory, this lack of break-in time was unfair to them. In actual fact, it really didn't matter.
Bass performance via the Psvane tubes was immediately improved in both depth and impact. The MG1.6s are not renowned for their bass performance but what came through them was unquestionably tighter and more vigorous than I had been hearing with the Sovtek tubes. In particular, the lower registers of the piano had an energy to them that felt extraordinarily realistic.
There was also an improvement in Tierney Sutton's vocal quality that I would characterize as both somewhat sweeter and more refined. I think there may be some small level of distortion missing with the Psvane tubes, which left her voice with greater clarity and focus. Her voice, which is an incredible instrument, was simply gorgeous and seemed to come out of a darker background as well. Her vocal performance on this CD is stunning even in comparison to the rest of her work.
"Because" on the Love album just absolutely knocks me out. Through the Psvane tubes it was absolutely gorgeous and the silences within this track felt charged with a potential energy that simply wasn't there before.
There was also greater soundstage width and height present. I was hearing information outside of the speakers to a degree that had not been there before. The cello on "Eleanor Rigby" sounded well outside of the right speaker. All this CD's spatial effects were more evident and, at the same time, more intrinsic to the overall presentation.
The difference that I heard was almost exactly the same as going from a really well recorded CD to an SACD. The SACD does with ease what the CD suggests but cannot quite reach. The Psvane 12AX7s provided this sort of improvement to my overall system.
The Psvane Reference T Series 12AX7 tubes have unquestionably upgraded the performance of my Dodd preamp to a new level. It has always been excellent sounding but now it has become gorgeous. At a total cost of $190, this improvement has also been accomplished—in high end terms—very economically as well.
As these tubes are not broken-in yet, there exists the potential for yet more improvement. That is an exciting prospect and I will come back to this article to report on any changes that I hear after 100 hours of use or so. With the Rocky Mountain Audio Fest coming up—October 15-17th—and a visit with the grandkids on the way home, it will be a while until I can get these tubes fully broken-in. I felt that they sounded way too good to wait until then to relate what I have been hearing.
Psvane is offering a significant level of sound quality at a reasonable price. This is a welcome alternative between ungraded generic tubes and often dubious and overpriced NOS tubes. Try them; I think you will be as impressed as I have been. Very highly recommended. Kent Johnson
Psvane Reference T Series 12AX7
$190 for a set of four
Grant Fidelity
36-2323 Oakmoor Drive SW
Calgary, Alberta
Canada T2V 4T2
web address: www.grantfidelity.com
TEL: 888. 477. 5379