Genesis
When I first learned that Albert Von Schweikert was replacing his entry-level product (the venerable VR-4jr) with a new, potentially revolutionary product named the Vortex VR-33, I knew we were in for something VERY special. Even with that understanding, I wasn't prepared for just how remarkable a product it would turn out to be.
I have been a VR listener, owner, and lover, now since the mid-1990s, literally from the moment I heard a pair of the original VR-4s in southern Maryland. I got my first pair (Mk II's) in '97, and for the next decade, one iteration or another of the VR-4has been in house, right up until mid-2007, when I was fortunate enough to be able to move up to the amazing VR-5 Anniversary. As much I have come to respect and be impressed with Albert's work over the past, the Vortex VR-33 is perched to set an entirely new standard.
The inclusion of the name "Vortex" for this new model inevitably triggers a strong recollection; that of Albert's mid 1980's now near legendary, highly innovative loudspeakers, the Vortex Screens. Much like their namesakes, and the original VR-4s, besides being possibly even more remarkable, they are also a throwback to the "sock" covered cabinet that both the original "Screens" and the early VR-4s sported.
A mere re-visitation of an exceptional product from days gone by wouldn't be enough for someone as innovative and creative as Maestro Von Schweikert. No, what is remarkable here is that this is an entirely NEW product, unlike anything Von Schweikert Audio, or any other house out there that I am aware of, has produced.
The Vortex VR-33 was developed with two design goals in mind, that of uniting Albert's personal desire to realize a truly high performance loudspeaker at an affordable price with providing a solution to the clamoring of customers asking for a loudspeaker that could be placed up close to a wall. Employing lessons learned from the successful realization of the exciting and well-received UniField 3 loudspeaker combined with lessons from historically successful designs developed to be place against or near a wall, Albert gives us the Vortex VR-33.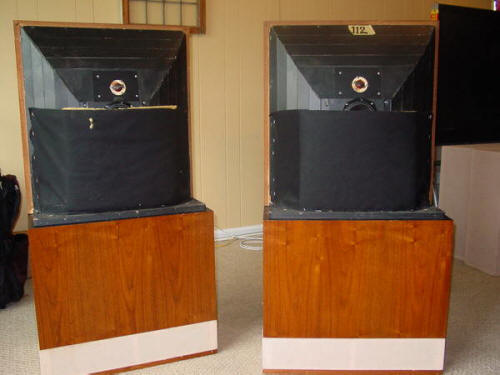 The original Snell Model A, "naked," circa 1977
Albert cites the groundbreaking work of Peter Snell's (1946-1984) Type A as a partial influence for this "close to the wall" design. While I can see (and certainly hear) that, the look is also reminiscent of the likes of the Snell Model B, the Allison Model One, with a bit of the Acoustic Research LST thrown in.
Construction
Designed to replace the VR-4jr, the Vortex VR-33 is constructed entirely in the USA employing European drivers and crossover parts. This is a no-nonsense, serious-as-a-heart-attack cabinet design, as the cut-away view showing the interior of the cabinet and all the components reveals.
Standing 50 inches tall, the baffle is just 8 inches wide. Trapezoidal when viewed from the top, the sides taper away to the 16-inch wide rear panel, with a total depth of just one foot. The D'Appolito M-T-M array is high on the 8-inchwide front baffle, while the woofer is located near the floor (just above the Cardas binding posts), and the large port is very nearly centered vertically, both on the 16-inch wide rear panel.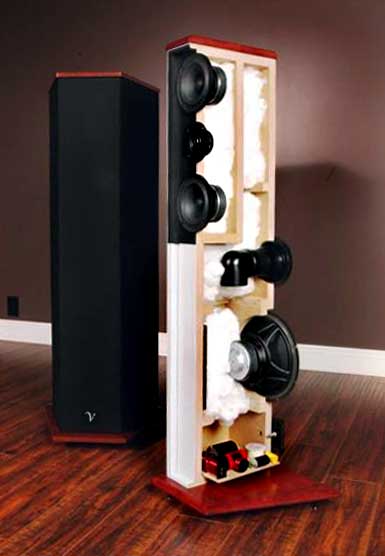 A cut-away view shows just how much you are getting for your money
The enclosures are built from resin-impregnated MDF and are highly damped and braced. The bracing is 1" thick and it is custom cut to control the airflow inside the enclosure. You can easily see how this speaker ends up weighing over 100 pounds! A quick rap with my knuckle returned an impressively "solid" sound, one with no resonance or coloration.
The woofer tuning alignment is a hybrid, consisting of a bass reflex port for pressure release at 25Hz, combined with a high stuffing density to create a 6th order Chebyshev alignment. The transient response of this alignment is said to be as fast as the sealed 6" bass-mid drivers, which just may have something to do with how effectively and seamlessly the front MTM module integrates with the single ten-inch driver. More about that aspect soon enough.
Looking at the front of the baffle, you will see that the twin 6" bass-mids and the silk dome tweeter are completely surrounded by thick acoustic foam to absorb reflections from the baffle. The bottom and top caps come in African Hazelwood, brushed aluminum, and Steinway Hi-gloss finish, all synthetic, and all just as great looking. As well as offering an option for bi-wiring (for an additional nominal fee), VSA also is offering a budget bi-wire speaker cable built just for this model, pricing yet to be announced.
Components
The seriously solid and non-resonant cabinet is not the only trick Albert has up his sleeve with the Vortex VR-33. In fact, he is employing a new series of drivers from ScanSpeak, ones not offered to mass production houses like Bose, Polk, J.B.L., Klipsch, and Infinity. Rather, they are available only to "boutique" speaker houses like VSA, YG Acoustics, and Wilson.
Rather than being hand-made in Denmark with individual serial numbers stamped on each unit, these drivers are produced on an assembly line and carry no serial numbers. Albert confided in me that this driver line affords him something on the order of 95% of the performance of the hand-made units, at about one third of the cost! Now if that isn't a great compromise for the budget-minded music lover, I don't know what would be.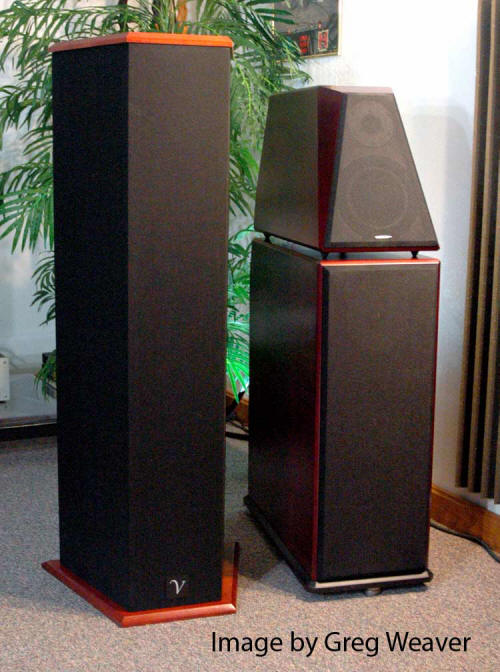 The Vortex VR-33 standing next to one of my VR-5 Anniversaries.
The tweeter is a one-inch treated fabric dome of the dual-ring design, with a large rear chamber for low resonance and powerful response down into the midrange band. It features what Albert calls a Low Distortion Motor and a specialized voice coil/top plate design for long throw, high power use.
The two Danish designed six-inch treated paper cast-frame bass-mids feature these Low Distortion Motors, elevated spiders, copper clad pole pieces, and composite laminated cones using a cellulose acetate pulp, plastic resin, and carbon impregnation in an effort to eliminate standing waves on the cone surface. These remarkable midrange drivers are listed as being capable of playing 60Hz to 11kHz!
The Tympani woofer/sub-woofer is a Peerless-designed ten-inch driver, again employing the Low Distortion Motor, a laminated composite cone, elevated spider, long throw voice-coil, and a copper clad pole piece. It was developed as a "high speed" driver, with optimized transient response. The pièce de résistance comes as all three drivers are matched for efficiency and voice.
Internal wiring is from Analysis Plus, and the first order crossovers, a serious departure from Albert's convention of using custom-designed fourth order acoustic crossovers, employ audiophile-grade Solen Coils and Mundorf capacitors. Albert says of this filter departure, "I've been asked by many potential customers why I've abandoned my traditional "custom-designed" 4th order acoustic crossovers (GAIN). The reason is that these drivers were custom-built with an inherent 12 to 18dB per octave roll off, and my new 1st order crossover employs additional EQ circuitry to achieve the same type of rapid acoustic roll-off as my other designs. In fact, the circuit was designed using the VR-4 SR Mk3 as the target."
As mentioned, the unique aspect of the Vortex VR-33 is that it was conceived and designed to be placed close to a wall—as close as 3 to 20 inches away in fact. No, REALLY! When placed further out into the room the bass response and image depth suffer significantly, as the design goal was for proximate boundary placement. Further, they must be listened to off-axis, with no toe in, since that is how the radiation pattern was engineered.
Voice
Fresh from the shipping cartons, they were just the slightest bit cold and un-involving—just as every "virgin" loudspeaker. No notes for this review were made until they had seen some 200 hours of playing at medium to loud volume; I find it to be a complete waste of time trying to characterize the sound of a speaker with any less run in.
Treble from this little upstart is markedly smooth and clear, with considerably more resolution than I would have expected given their modest asking price. No matter what source I fed them, unless the recording itself was harsh or edgy, this tweeter stayed liquid, articulate, and defined. No, it's not a revelator, but damn, it is decidedly more accomplished and expressive than I would have expected at this price point.
Midrange is portrayed with delightful nuance and texture, with a remarkably lifelike sense of body. They breathe vibrancy into piano works that borders on uncanny at this price. The virtuosic noodling's of the likes of Glenn Gould or Vladimir Horowitz, whether vigorously attacking the keyboard to create that explosive attack of felt hammer on string or delicately brushing a key to a mere whisper, are accomplished on a heightened emotive level, and in a manner unlike I've experienced from many loudspeakers at twice, even three times, their price! Voices, be they human, stringed, wind, or brass, are actualized with a near haunting degree of reality. This substantive and corporal midrange presentation serves to enhance their ability to render the mood of the composition, to more clearly convey and reveal the musical message.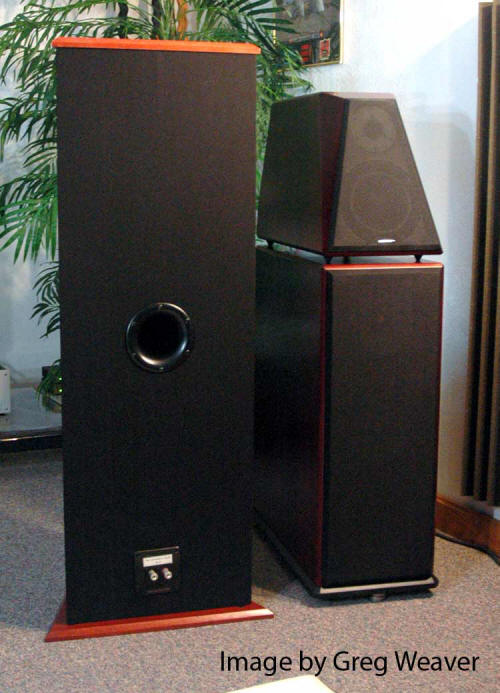 Standing next to one of my VR-5 Anniversaries, you can see the enormous port and binding posts
After fussing with them and moving them closer to the wall (I started about 20 inches away), I settled on a location that was just 10 inches from the wall behind them. As exceptional as the tweeter and midrange are at this price, the bass this speaker creates just blew me away—literally. I found myself scrambling for the spec sheet, wanting to verify that the Vortex VR-33 used only a single ten-inch driver.
Talk about bass authority! I'm not exaggerating at all when I say that I've heard speakers that sell for over $10,000 that don't come close to offering the speed, extension, or impact that they are able to create in my room. While I have grown accustomed to the world-class bass performance from my VR-5 Anniversaries, to say that I was surprised by the utter power and resolve of the bass from this unpretentious little sibling, at one-sixth the price of the VR-5 Anniversary, no less, would be a gross understatement.
To me, one of the biggest surprises was just how bloody coherent they are! With their low-mounted, rear-facing, 10-inch woofer crossing over at 80Hz, I would have suspected an almost blatant disconnect with the high-mounted, front MTM array. To this point, I've never heard any such disparity. In fact, the Vortex VR-33 continually regaled me with its enchantingly cohesive voice.
This speaker also enjoys the gift of an extraordinary balance of timbre. It sings with an indisputable and inherent rightness in a singular voice, especially from about middle C upwards, an attribute that is most conspicuous with piano, strings, and female vocals. Listen to the Classic Records reissue of the Lalo Symphonie Espagnole (RCA LSC 2456), featuring Henryk Szeryng on violin and the Chicago Symphony to get a taste of this delicious voicing.
They allow the frugal listener to revel in the self-deprecating sarcasm of Tori Amos on Little Earthquakes (Atlantic 7 82358), the wile and charm of Rickie Lee Jones on her eponymous debut (Warner Brothers BSK 3296), and the effusive passion of Sarah McLachlan's Fumbling Towards Ecstasy (Arista ARCD 8725), and you will find them all equally exposed and accessible. Stevie Ray Vaughan's constrained angst on Absolute Analogue's 180-gram re-mastering of Couldn't Stand The Weather (Epic 25940) becomes a visceral assault on the listener through this new VSA product.
Have I mentioned their resolution? The longer I played them, up to about the 350-400 hour mark, the more resolute and open they became. Prior to the arrival of the Vortex VR-33, this remarkable degree of fine, gradient detail, subtle microdynamic shading, and delicate, expressive articulation simply was beyond reach at this price. To be honest, this degree of resolve is often hard to find from many entrants at twice the price or more. Yet I'm consistently drawn into recording after recording, whether with Metallica or Mozart, the Turtle Creek Chorale or Muddy Waters, Neil Young or Marillion.
Yes, I've saved the best for last! The image focus and soundstage space and size that they recreate is unbelievable! I STILL have to pinch myself when listening to them, as they are just so complete in their vanishing act in my room. They create a convincingly large yet remarkably focused, cavernously deep, CinamaScope wide, and compellingly accurate sound space—recording permitting! Instruments are located where they belong; whether that is well behind the wall, off to stage left or right, or deeply forward into the room. And have I mentioned that they sit right up against the wall, for goodness sake!
Take Harp Attack (Alligator LCD 4790), which features Carey Bell, Billy Branch, James Cotton and Junior Wells, each playing their own respective blues harp (that's a harmonica for those of you who are instrumentally challenged). In the opening cut, "Down Home Blues," the four are lined up left to right and take turns soloing with their instruments. Unreal! Both their location within the soundstage and the resultant sounds of their voices and harps are vibrant, lifelike, and so well recreated in space that you might be convinced the four were actually in your room—some three to four feet behind the wall!
Then too, there is something very raw about the sound of a harp blown live, right in front of you. There is a roughness to the edges, a bite if you will, and a resultant growl that is very hard to get right—under even the best of circumstances. Well, the Vortex VR-33s get it right, completely right—and in a big way. I'm just not used to a speaker in this price range offering me anywhere near as accurate a recreation of solo piano and massed strings, the power of full scale orchestral works, or the air and space around a chamber orchestra as the VR-33 pull off, day in, day out.
I also admit that I have been known to pull out Madonna's Immaculate Collection (Sire/Warner Bros. 26440-2), the first recording ever released using Q Sound (and the only Madonna recording I have ever bought). I love to fire up "Vogue," with its ultra-spacious sound effects (Madonna's voice alternates between, and well off, each shoulder at your listening position) and stoopid powerful bass track. Splendidly raucous! Talk about slam and drive? Oh yeah!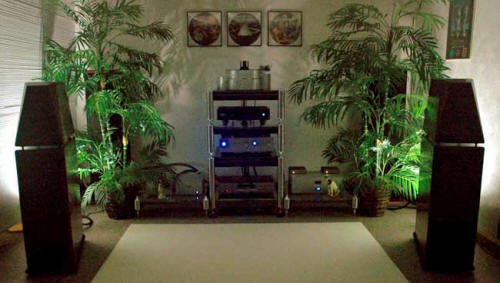 Look closely… The Vortex VR-33s are in their "stealth" audition position, behind the plants just 10 inches from the front wall in my room
Something that I really enjoyed doing with the Vortex VR-33's in place in my listening room was what I refer to as a "Stealth" audition! If you look closely at the photo above, you will notice the Vortex VR-33s, partially obscured behind the plants, up against the front wall of my listening room. With the exception of having to remove my Shakti Hallographs to install the VR-33s, everything else looks just as it normally does in my room.
I set up three of my audio pals, not telling them that the VR-33s were in play, or even that they were in the room, then playing some music to ask them what they thought of the "changes" I'd made to the system. Two of them hadn't even noticed them some 3 or 4 cuts into their respective demos. In fact, not until I explained to them what they were listening to did they notice! Both were more than merely surprised—one cursed me for the trick! I cannot think of a stronger endorsement of their over-achieving abilities, could you?
Accomplishment
As much as I know about and respect the achievements of Albert Von Schweikert, I simply was not prepared for something so affordable to sound so spectacular. The new Vortex VR-33s are fabricated to an exceptionally high standard of build and parts quality. Yet you save huge money because you are buying a "no frills—all business" design. By not paying for the non-performance-affecting expense of a Steinway or automotive paint job finish or some exotic (read really expensive) hardwood veneers, the hard working music lover is only paying for things that pack the sonic results, not aesthetics.
In my experience, there is no way you are going to find a speaker that can keep up with, let alone outperform, them at anywhere near this price, period. They will easily equal or best most anything I've ever heard under about $10-$12k, and judging by any number of criteria. By putting the bulk of the money into the essentials (the drivers, crossovers, and design), and by choosing to fabricate a "no frills," super-solid cabinet, the Maestro has found a way to do it yet again—they truly redefine and set an unprecedented new "standard" for "entry-level" high end loudspeakers! All this, for so little, and they don't have to dominate your room! Your Wife/Significant Other will be very pleased as well. Yet another desirable accomplishment of these remarkable speakers.
Don't get me wrong. I'm not saying anyone will mistake them for $30,000 loudspeakers. They don't (nor were they intended to) have the same scale of resolve, center-of-the-earth bass capability, or anywhere near the utter transparency of something like the VR-5 Anniversary. But, when set up right, I can say with complete confidence that I have heard nothing that can begin to touch them in terms of accuracy of imaging and soundstaging, utter musical resolution, coherence, truthfulness of timber, retrieval of musical detail, and overall bass performance for anywhere near their price.
If you have gotten the impression that the Vortex VR-33 from Von Schweikert Audio is an exciting, bold, innovative, and groundbreaking new product, you'd be correct. These speakers will drastically reset the bar in the price to performance category for entry-level high-performance loudspeakers. There is simply nothing else like them at anywhere near their $3750 price point in today's market! They are a singular achievement, one that will be the source of hosts of copycats and knock-offs.
Further, if you've gotten the impression that I was taken with them, you'd be right again. So much so that they aren't leaving—I bought them! I'm not exactly sure in which listening space in my home they will ultimately land, but at this point, the extra punch, resolve, clarity, and sonic finesse they bring to the party has them singing away supremely in my theater/second listening space. I just could not allow something this exciting and exemplary in performance to slip through my fingers. Most ENTHUSIASTICALLY recommended. Greg Weaver
Von Schweikert Audio Vortex VR-33 specifications:
Frequency Response: 25Hz to 30,000Hz, +/- 3dB.
Sensitivity: 90dB @ one watt/one meter when mounted close to wall.
Impedance: 8 ohms nominal, with a minimum of 5 ohms @ 25Hz.
Size: 50" tall x 8" wide (front) x 16" wide (rear) x 12" deep. Crate dimensions are 52" x 20" x 16"
Weight: 103 lbs., 140 lbs. in crate (each). Shipping weight is 280 lbs./pr.
Subwoofer: Peerless-designed Tymphany 10," laminated composite cone woofer
Midrange: Two Danish-Designed 6" treated paper cast-frame bass-mids
Tweeter: 1" treated fabric dome, Dual Ring design
Crossover: First order, cross points at 80Hz and 6kHz
Woofer Alignment: Quasi-transmission line, triple-chamber design
Power Rating: 35 watts minimum, up to 500 watts on peak music.
Warranty: Five years parts and labor (excluding abuse), nontransferable
Von Schweikert VR-33 Vortex
Retail: $3750 a pair
Von Schweikert
www.vonschweikert.com