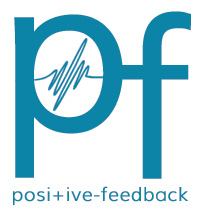 You are reading the older HTML site
Positive Feedback ISSUE 52
november/december 2010
Notes of an Amateur: Gardiner's Bach Cantata Cycle Concludes
by Bob Neill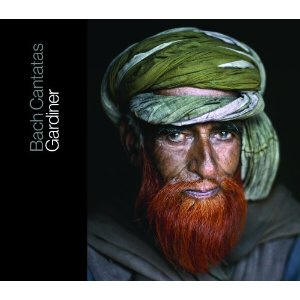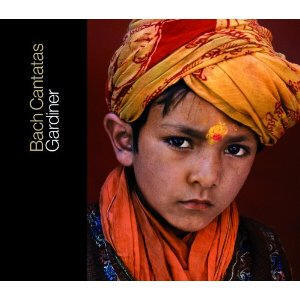 Bach Cantatas, Gardiner. Vols 12 and 18. Monteverdi Choir, English Baroque Soloists, John Eliot Gardiner, Director. Soli Deus Gloria. SDG 171 and 174.
Sitting down this week to listen to and write about the final two installments of John Eliot Gardiner's brilliant and life-giving Bach cantata cycle, I tried to let the experience of having done the same for the previous twenty-five volumes intrude as little as possible in hope of finding something new to say. I listened with as open and fresh a mind as I could call up; but to be honest, these two albums were recorded at the end of the year-long pilgrimage, so there's no escaping some sense of the occasion for the musicians, and for us.
What struck me most immediately (again) was the 'live' quality of these, in fact, live performances. We can feel the mikes set up not for absolute capture of intimate detail, the congregation be damned; we hear everything but in natural rather than spot-lighted balance. So we hear and feel the venue: churches. Churches, even small ones, are large venues, in which both human and instrumental voices have more time and space to move about than recording studios provide. We also feel an energy that comes from singing and playing 'live'—one time, no re-takes, for a congregation as well as a tape recorder. A 'this is it' quality that is part of the secret behind the whole series' emotional and aesthetic power of expression. It is as if it's always "it." And finally, we hear and feel the overall ease that is a dominant quality in these performances. "It" does not require intensity, it requires a sense of being wholly in the music, a sense that athletes talk about when asked impossible questions about their performances.
The soloists here, as always, are leading professionals, with names recognizable to even just partly knowing listeners like me—Joanne Lunn, Robin Tyson, James Gilchrist, Peter Harvey, Magdalena Kozena. But there is some of the amateur (in the best sense) in their singing. It as if they have been called away from their day jobs to perform on the weekend for the 'Gardiner Project.' Their professional reserve is down, their youthful amateur spirit recalled, for the pure love of singing this extraordinary music. I have heard this quality throughout the cycle. It is a version of the unaffected energy of Harnoncourt's and Leonhardt's cycle done a decade ago at the onset of the early music movement, when musicians were still just learning now to blow horns without valves and play gut strung instruments without vibrato. Gardiner's forces are far more polished and accustomed to their instruments (and he uses female rather than boy supranos!); but they have the same brio and lack of concern for the hyper-refinement and spirituality that can kill the essential humanity in this music dead.
Another observation, now drawing on the previous twenty-five volumes, is how consistent in spirit and musical point of view these two final performances feel with earlier ones, despite the considerable variety of soloists, choir singers, and instrumental musicians Gardiner has used. There have been some fairly regular participants, several of whom write valedictory notes at the end of each volume; but as a whole the EBS and MC number a great many folks. I have said before that much of the remarkable consistency of spirit has to be attributed to the power of Gardiner as conductor and leader. Gardiner, and the power of his pilgrimage itself. A full year, singing Bach every Sunday according to the dictates of the liturgical calendar, under the direction of a man who has Bach in his mind and heart.
Listening to BWV 140 in the final volume, No. 12, singled out by Gardiner has "the most famous and enduring cantata," we can hear the whole cycle: the 'live' energy of the choir, an exquisite violin solo that completes a trio with eloquent soprano and bass, all suspended in a huge sacramental space, its size emphasized by the organ continuo. And it all seems to rise from the floor of the church into its upper spaces, much as we hear from the a capela group, Stile Antico. This is men and women raising their vocal and instrumental voices to remind us where great human art comes from.
I understand that buying twenty-seven double CD albums amounts to a substantial investment, around $1000. But now that I look at that number, it makes me smile. What else could we spend $1000 on and get so much in return? I suspect nothing.
System used for this audition: Audio Note CDT3 transport, Blue Circle BC501ob dac, BC FtTH integrated amplifier. Jean Marie Reynaud Offrande Supreme, V2 loudspeakers. With Blue Circle BC6000 line conditioner. Audio Note Pallas and Sootto interconnects; Audio Note Sogon 40/40 speaker cables.
Bob Neill, in addition to being an occasional equipment and regular music reviewer for Positive- Feedback Online, is also proprietor of Amherst Audio in Amherst, Massachusetts, which sells equipment from Audio Note, Blue Circle, and JM Reynaud, among others.